12 Ways to Wear Ear Cuffs
Ear cuffs are one of the latest trend in fashion right now, and today I am going to show you 12 ways to wear ear cuffs to create different looks/styles.
They come in different shapes, themes and designs that can easily represent your style. The ear cuff looks like a bobby pin attached to your ear.
The most favoured ways to style these beautiful pieces is either by placing them on your helix for a cool hipster casual wear or accessorizing the ear with a bold crystal ear cuff for an astounding style.
A beautiful long piece that can complement your earlobes or helix in a very feminine or extravagant way.
If we go back in the history of fashion we can discover that the ear cuffs were worn by many women since ancient times.
Ear cuffs were worn by women since ancient times for decorative purposes
They were popular among different cultures around the world in the past to represent their styles, ranks, marital status, age and were seen as an art form on the ear. The alteration of the earrings' designs has changed a lot since the beginning of their existence to make them more comfortable to wear or simply to respond to the changes in fashion.
One of the first ear cuffs were called "kaffa"
However, the main reason to wear earrings throughout history was their decorative function. For example, centuries ago, the ear cuff was called "Kaffa" and it was meant to be put on the outside part of the ear as an embellishing element, which didn't require women to have pierced ears.
We can see these beautiful adornments coming into fashion every now and then, but for different reasons and styles.
For instance, if we go back in the 50's and 60's, we can spot celebrities like Marilyn Monroe wearing ear cuffs, and again they were so favoured and trendy that the person who created the "earrites" in the 1920's, Marcel Boucher, decided to get legal rights on his designs.
Marylin Monroe rocking this beautiful ear cuff
Nowadays, we can find various kinds of the ear cuff that respond to today's fashion. For example, tribal looking pieces are very popular, but we can also accessorize our ears with very elegant or extravagant ornaments.
So why would you stop at the earlobes when you can decorate all parts of your ear?  The good thing about ear cuffs, or as many people call them ear sweeps or ear pins, you can place them on your ear without piercing your skin, therefore they could be a great alternative for the ladies who don't have holes in their ears.
Ear cuffs are back and they are so cool so let's explore the possible ways we can wear them!
1. The majestic ear cuff for an over-the-top fashionable look
This majestic full ear cuff is definitely a statement piece that looks very fashion forward because of its unrealistic size and sublime details. This full ear ornament would give you a very extravagant and edgy look, therefore no matter of your outfit you would still turn some heads.
Add a majestic ear cuff for a fashionable look
Featuring "Rock Chic Statement Full Ear Cuff In Silver"
This massive show off item is fully decorated with rhinestones and it will sparkle as you walk like an over-the-top fashionista. You'd be impressed to learn about the many ways you can wear the ear cuff.
A bold detailed ear cuff is great for an over-the- top fashion style
Featuring "Rock Chic Statement Full Ear Cuff In Silver"
Even though we can select from so many different appearances of these decorative pieces, the full ear cuff is one of the most spectacular ones out in the market because it is an unforgettable staple piece. Whichever way you prefer to style it, either casual, street style or trendy, people would be staring at your daring style.
2. A subtle ear jacket for a discreet and girly look
A cool way to add decoration to your outfit is by embellishing your ear with a subtle, yet very girly looking ear jacket. This is a rather clean design compared to the majestic ear cuff, but definitely an elegant one.
If you are the type of lady that likes to show her inner fashionista, then you are more than welcome to adorn your ear with such a conversation starter.
A subtle ear jacket is the perfect add-on for a girly look
Featuring "Tree Of Life Crystal Ear Jackets"
Try complementing this beautiful crystal piece with a dress or more girly outfits to get an instant romantic style. However, such a fine piece is very easy to style with pretty much any of your favorite clothes.
Combine many earrings and an ear jacket for a remarkable style
Prepare yourself to get some compliments because this discreet and cute piece will make your otherwise plain outfit very interesting and recognizable.
After all, don't forget that a girl should be two things.

3. Wear helix ear cuff for a fake piercing effect
The helix ear cuff resembles the the back clip earrings, that you are probably familiar with, that need no piercing in order for them to be worn. Well, even though the back clips are out of style right now, the good news is that helix ear cuffs are back and they are simply amazing!
Get the fake piercing effect with a helix ear cuff
source unknown
The vast amount of ear cuffs permits you to find the exact one that will suit you and your kind of style. If you love the look of decorated ears, but can't stand the pain of piercings, then I suggest that you get a fake piercing ear cuff that you can place on your helix or any other part of your ear.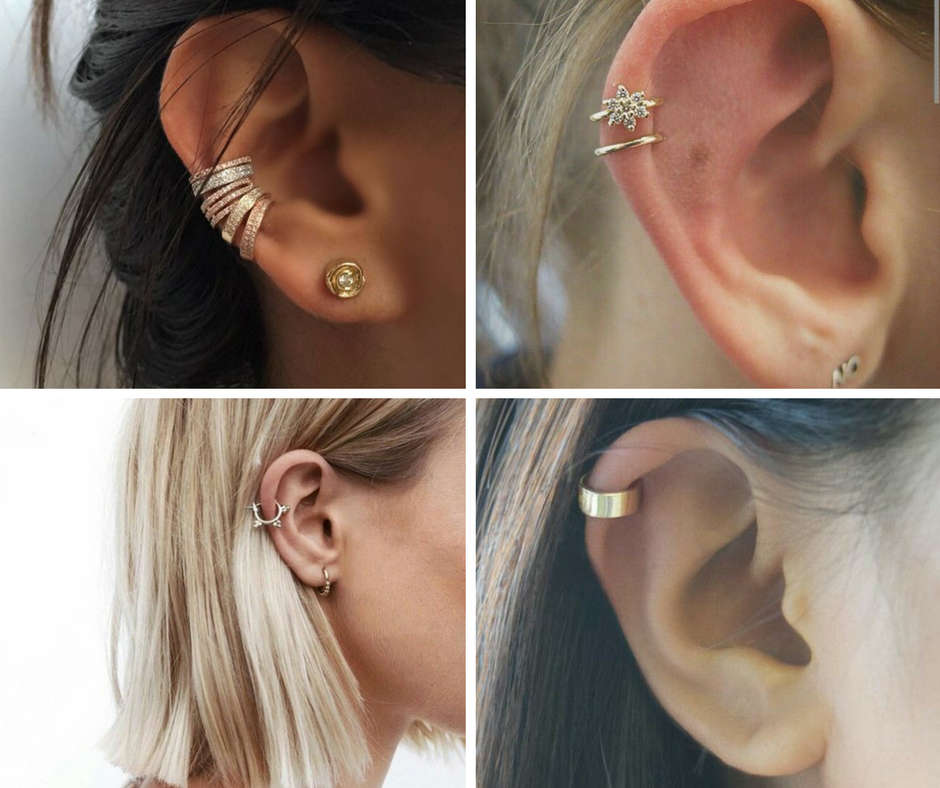 Endless options to achieve a cool fake piercing effect
Also, you can combine one, two or as many helix ear cuffs as you want for a very hipster multi pack effect. The big variety of designs will allow you to play around and see how you want to style your ear cuff. These pieces can give you a very indie-rock vibe, especially if you pair them with some old school sneakers and tight jeans.
4. Combine different ear cuffs for an authentic look
In contrast to the fake piercing effect, try to combine different types of ear cuffs to get an authentic and unique look, especially if you are one of those people that has already a couple of piercings and it is not afraid of the pain.
Different types of earrings and ear cuffs for a distinctive look
This is definitely a style to remember!
Beautiful crystal ear jacket for a feminine style
Featuring "Tree Of Life Crystal Ear Jackets"
Arrow stud earrings are great to paired with an ear jacket
Featuring "The Sign Curved Arrow Stud Earrings Rose Gold"
If you like more girly and chic looks, then you can try to match this beautiful crystal ear jacket with these delicate and feminine full of rhinestones curved arrow stud earrings in a rose gold color. Combining two types of earrings will definitely give you a very original and individual style.
5. Wear crystal ear cuff to add sparkles to your outfit
If you find your outfits a little boring, then why don't you put a sparkling ear cuff on your ear? It is so fun to decorate your ears and get a distinctive look just by adding an ear crawler to your ensemble. Having this jewelry on your ear will give your outfit a particular character right away, therefore you don't need to worry if your clothes are basic.
You can style such pieces with your casual, trendy or night-out clothes depending on your occasion. The C
rystal Ice Ear Crawler
and the C
rystal Wings Ear Crawler
are very easy to style and they look so cool from every angle.
Team up your crystal ice ear crawler with other types of earrings for a cool look
Featuring "Crystal Ice Ear Crawler"
The crystal wing ear crawler is a great embellishment for a daring chic style
Featuring "Crystal Wings Ear Crawler"
The large diversity of shapes and designs that are offered can be perfectly suitable for every event you need to go to. There is no doubt that you will be able to find the right one just for you!
Try rocking these crystal pieces with a leather jacket and ripped jeans for a cool and chic look. Or, you can dress them up with your trendy outfits for a fashionable and glamorous style.
6. Add the double chain ear pin for a fashion catwalk look
Another way to show the world your inner inspiration and desire for fashion is to wear the double chain ear pin for a look that is definitely a conversation piece. There is no doubt that you will be rocking the style if you add such a jewelry to your outfit.  
For a fashion forward look decorate the ear with a double chain ear cuff
Up: source left: source right: source
Golden or silver, the doubled chain ear cuff is the one piece you need for your outfit to make it more distinguishable and stylish.
A dazzling fashion piece such as the double chain ear cuff comes in so many variations. You can get a very joyful and fun piece or an extravagant fierce chain that will give your outfit a cool chic vibe.
The double chain ear cuff is a dazzling fashion piece that can make your outfit very stylish
If you don't like the bold style of such a statement jewelry, you can get a dainty chain that can delicately dangle as you walk because it is so light and easy to wear.
7. Accessorize the ear with a fringed ear cuff for a seductive look
If you want to style the ear cuff in a more seductive and tempting way, then you can add this beautiful fringed piece to your collection. You can pair this stunner with a simple black dress because the jewelry already compensates with its beautiful feminine detailing. 
For a seductive style accessorize your ear with a fringed ear cuff
The benefit of this piece is that you can wear it without any additional piercings of your skin. If you are trying to achieve the glamorous and chic look, be sure that this golden fringed ear cuff will make it happen. Don't you just love the appeal of this long piece that highlights the neck in a very sophisticated way?
8. Delicate ear cuffs for an everyday wear
If you don't have any special occasions coming up or you are not a fan of the nightlife, then you can wear a delicate clean design such as this asymmetrical ear crawler, an exclusive product by Happiness Boutique, that will simply accentuate the shape of your ear without being too noticeable and daring.
Add the asymmetrical ear crawler for a very feminine and delicate style
Featuring "Inspiration Asymmetrical Ear Crawlers In Silver"
A subtle, yet interesting piece that could be styled with any of your casual outfits. You can wear this type of ear crawler at school, work, to walk around the city or any other event. This is an absolute must have accessory because of its effortless styling. You cannot go wrong with this fine piece.
Accentuate your ear by adding a delicate, yet interesting ear crawler
9. A bold detailed ear crawler or ear wrap for an opulent style
If you want to add a timeless and unforgettable piece that looks very daring and extravagant to your ensemble you can add an elaborate design like the forget me not type of ear cuff, which is definitely a key accessory that you can't help, but notice.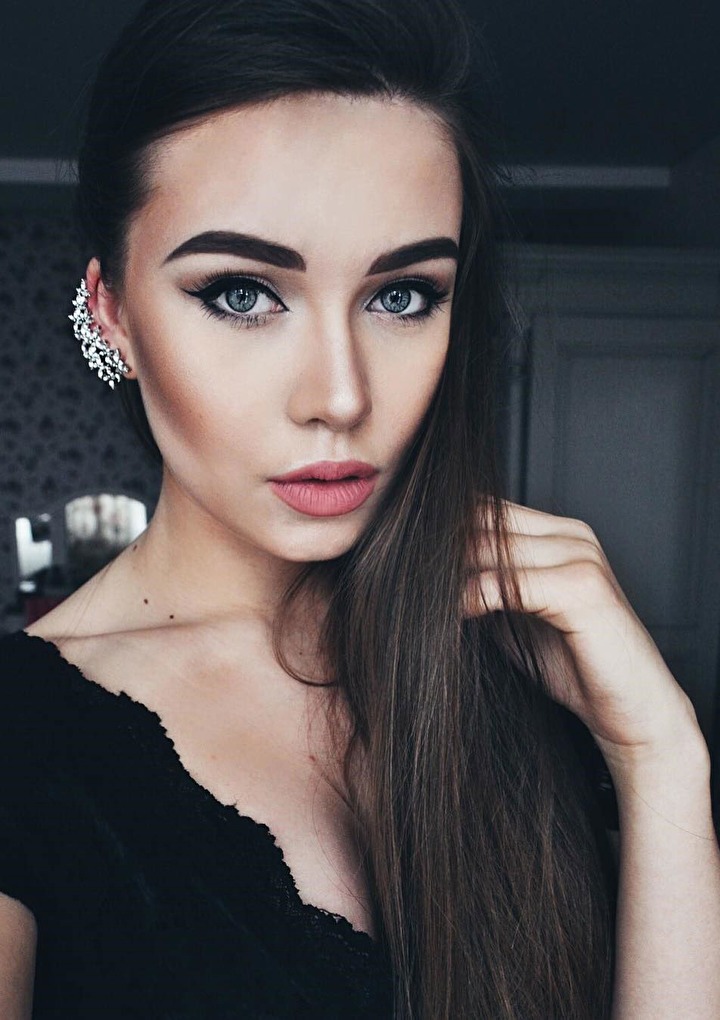 A bold detailed ear crawler is hard to miss
A very fascinating ear adornment that you can style with your classy and chic clothes. It is great for night outs or special occasions to give your look a very sophisticated touch.
Try complementing this beauty with rather simple outfits as this enchanting ornament is already enough to make a statement to your style. Regardless of its size, this item is very easy and  comfortable to wear.
10. Asymmetrical ear cuff for a distinctive look
The ear cuffs can give you a distinctive look right away, but not just any ear cuff. The perfect addition, for a fearless trend, to your outfit could be the asymmetrical ear cuff that will project a more dramatic, rebellious and bold allure to your style.
For an instant transformation of your look add the asymmetrical ear cuff
The beauty of having so many fashion styles is that we can express ourselves through them. Our clothes can speak louder than words therefore we use accessories and clothing to tell the world who we are and what we like or dislike. And, we all like from time to time to show our confidence, courage and unstoppability through fashion. 
The asymmetrical ear cuff is a perfect adornment for a fierce and daring style
The asymmetrical ear cuff is a cool way to show your feelings, interests and personality. You can easily style it for different events.
For example, you can add this unique design to your chic and classy outfits or combine it with your flamboyant style to get a more dramatic look. Create an impression by topping off your look with such an adornment.
Asymmetrical ear cuff are great for you to show your inner fashionista
Featuring "Asymmetrical Ear Cuff"
You can indulge yourself into many shapes and designs of the Asymmetrical Ear Crawler that could make your look a stunner. Due to its elaborated design you don't need to add any other jewelry to your look therefore it is very easy to style it.
Project your personality through a unique detailed asymmetrical ear crawler
Featuring "Asymmetrical Ear Cuff Earrings"
11. Wear an ear cuff for an urban street style
 We all have a certain style that we stick to for years. You can be either classy, punk, goth, chic, rock, business, street style or whatever your fabulous style is. However, if you are a little tired of your style, then go ahead and accessorize yourself with an ear cuff to achieve a rather urban look that will refresh your old ways of dressing up.
The ear cuff is great for urban street stylers
Simply add such a stunning and interesting piece to your outfit and you will see the instant results. You can underline your ear in a way that will transform your whole outfit completely.
It is up to you to choose how to wear the ear cuff because now you know that ear crawlers are not only for the runway fashion shows, but rather for everyone who wishes to give them a try.
Make your look more interesting and distinguishable by adding an ear cuff to your look
source unknown
If you don't want to get a lot of attention then you can get a clean and delicate design. On the other hand, if you want to make a statement it is better to select a bold and majestic ear cuff.
It all depends on you!
12. Add a feathered ear cuff  for a boho vibe
If you are a fan of the bohemian and hippie vibes you can get an ear cuff that has some feathers to achieve the boho look. You can combine such a piece with some patterned dresses or a crochet halter top.
Also, if you want to show your free spirited style whether for a festival or strolling around the streets while you are on vacation, then you can pair this ear cuff with round glasses, an Indian printed tank top and some shorts. Plus, feel free to add some flowers to your messy hair for careless moments!
For a gypsy boho look add a feathered ear cuff to your outfit
I recommend that you pick up the boho-inspired ear cuff that matches particularly to your style because after all there are so many we can choose from! As for clothing, you can focus more on free and flowy fabrics that will bring the happy times vibe to your look.
The feathered ear cuffs are perfect for the people who like the unconventional lifestyle and have an artistic heart!
Hopefully this was interesting and informative for you! If you got inspired and triggered by these cool pieces of jewelry  you can go in front of the mirror and create yourself a unique design that you can rock on a daily basis or simply to give a refreshed look to your outfits.
Happy styling!
Save
---