Today we are going to share with you 16 ways to wear chokers. The chokers are a huge trend right now, but definitely not one that we have never seen before.
If we go back to the 90's we can see many celebrities rocking the choker style. There are different types of chokers that could be styled either alone or in a combination with other necklaces.
If I got your attention, feel free to keep reading and you will be able to explore about 16 ways to wear chokers. The good news is that chokers can go from a simplistic style all the way to glam and chic looks that can sparkle on your neck. All I want to say is whatever style you prefer or event you want to attend, there is a choker waiting for you out there.
1. Minimalistic Choker for a delicate look
If you are looking for the everyday choker necklace, then you can go with the minimalistic choker look because it is very delicate, yet it can give your outfit a twist of elegance and uniqueness. The minimalist choker is simple and it can easily be styled with most of your clothes that sit in your wardrobe. Simply throw on a plain top with jeans and add a dainty choker to complete your look. If you are interested in the choker shown in the photo below, feel free to check the ones from Happiness Boutique.
Accessorize your outfit with a minimalist choker
Featuring "Silver Bar Minimalist Choker"
Or, if you like more detailed, but subtle pieces, you can give a try to this beautiful choker necklace by Happiness Boutique that is accessorized with many tiny studs and can delicately shine on your neck.
Give a try with our more detailed minimalist choker
Featuring "Boho Choker Black"
2. The choker with a charm that means something to you
Lucky charm chokers are perfect add on to your outfit
source unknown
If you like to wear necklaces that you believe can bring you good luck, then you can choose the lucky charm choker. There are so many different varieties and lucky charms you can select from.
Once again, these necklaces are effortlessly styled because of their delicateness. You can express yourself easily by selecting a choker with a talisman that represents your interests and personality.
You can combine this choker with casual or dressed up looks.
Wear your choker with a charm for casual outfit.
3. The has it all choker for a complete look
You would ask yourself what that means, but I just want to say that this type of choker has it all. Meaning that you are combining the usual simple choker with a dainty golden necklace attached to it. This is the all-in-one look that will definitely make a statement to your otherwise simple style.
Featuring "Layering Choker"
If most of your outfits are basic, you can add this "has-it-all" choker, which is a combination of golden chain with a shiny pendant and a velvety soft string that will perfectly wrap around your neck. Prepare your outfit, grab your all-in-one choker and you are ready to go!
4. A mixture of long necklaces and a choker for a sophisticated look
Chokers are best worn when mix with other necklaces
The mixing up of different types of necklaces could be seen a lot among the fashionistas around the streets. Simply use your imagination and create yourself a unique combination of your long necklaces and one of your chokers. For example, take 1 or 2 of your favorite long necklaces and see if they go well with the choker.
If you have one of those basic black chokers, then definitely you will be able to design a distinctive look. Get some inspiration from the photos on how to mix up your long necklace with a choker.
Accessorize your outfit with a mix of choker and a long necklace
Featuring "Black And Pink Velvet Choker Set"
5. The layering effect mixture for a distinctive look
The second mixing alternative, similar to what we have seen above on how to style a choker, is to pair it up with a layered necklace.
This is the easier version because you don't have to choose between a couple of necklaces that you have and waste time on wondering, which one would be suitable for your choker.
You can simply buy a layered necklace and match it with your choker to create dimension to your outfit and give it a personal touch.
Combine your choker with layered necklaces for a complete look
Here are some examples of layered necklaces that could go very well with a choker. Find more like these necklaces from Happiness Boutique.
This layered necklace is a perfect combination for your choker
Featuring "Layered Geometric Necklace"
In this photo you have a golden necklace with geometric shapes that looks very elegant and discreet on the neck.
Great layered necklace for your choker, too!
Featuring "Layered Lucky Charms Necklace in Gold"
The above photo displays a layered necklace with circle pendants and in the middle a bar that you can personalize by engraving your initials. How cool is that?! 🙂
Find more like these necklaces from Happiness Boutique 
6. For festive vibes and bohemian influences - the boho choker
Wear your choker with bohemian outfits
The boho choker is still very hot right now even though summer is almost over. There will be many more festivals and events next year so don't worry if you didn't have the chance to wear the trend this season. Also, here we see how the super cool choker is combined with a mini bohemian dress. Don't you just love this festive and hippie-inspired look?
Combine your choker with chic bohemian mini dress, too!
If you want your outfit to be an eye-catcher, trendy and at the same time sending out a casual vibe, then go ahead and combine your choker with a cute and chic bohemian dress that can pass on a careless and joyful feeling to your aura.
7. Work appropriate choker for a business look
Chokers also go well with business attires
If you are a working lady who is a fan of the chokers don't worry, because chokers are suitable for professional outfits as well!
The choker is not meant only for the teenagers, street styles or summer vacations.
You can rock the choker to go to work without looking too sexual or trashy. Try to find a sophisticated, yet simple looking choker and throw on your stylish and chic clothes to work.
Don't hesitate to turn your normal looking clothes into a fashionable podium outfit. 
Perfect choker for your black business outfit!
8. For glamorous and chic night-outs - the sparkling choker
So far we were focusing on more casual and everyday chokers. However, we can find some very fancy and chic looking chokers that are perfectly suitable for a night-out or a special event.
In this case you can try to find a sparkling choker with some rhinestones or gems to decorate your neck and make a statement to your dressed up outfit.
If you are interested you can always try to make such a glitz and glam choker by yourself.
DIY projects are so fun and permit you to create an exclusive design that you can rock! Simply purchase a glam chain and a simple string to combine them together.
For more information, feel free to watch this tutorial: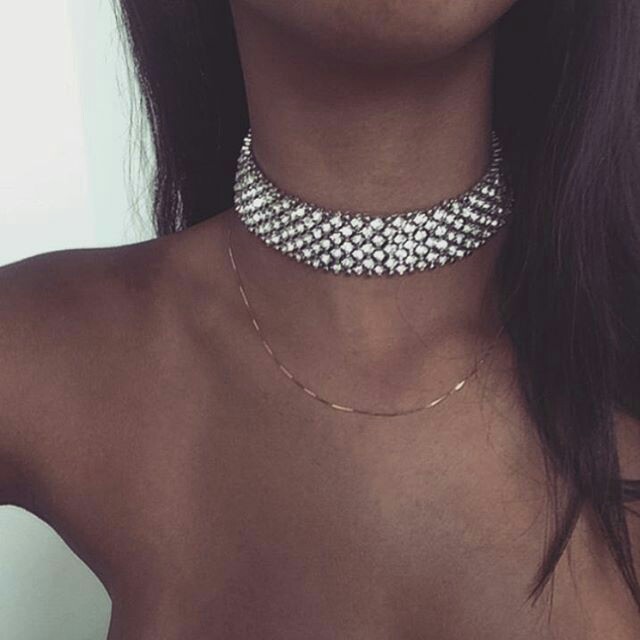 Wear your glam chokers with your dressed up outfit.
The chic and glam chokers are definitely a good way for you to show your fashionista side and taste in fashion.
As mentioned before, you can find a ton of different chokers out there that could be paired with your casual or fancy looks. Don't be reluctant to experiment in front of the mirror and find the best way on how you can rock this type of necklace.
9. Metallic choker for top fashionistas and a diva look
The metallic choker is definitely a "can't miss it" staple piece that will accessorize your neck in a very modern and delicate way. You will be able to attract people's attention with such a stunning design. You can easily style them by adding your night-out makeup and chic clothes.
Accessorize your neck with metallic choker for your chic clothes
If you are interested in such choker necklaces you can check the ones from Happiness Boutique shown in the photo below.
Featuring "Bubble Bliss Pearl Choker Necklace in Gold"
Featuring "Bold Metallic Choker"
You can pair your golden choker with longer necklaces if you have a deep décolleté to your outfit. Also, I recommend that you combine a simple, yet elegant dress with the metal choker because the necklace itself can serve as the main detail to complete your look.
Mix and match until you create the on point trendy style for your special event or soirée.
Combine a simple, yet elegant dress with your metallic choker
10. Do you like sexy styles? The sensual choker can make it happen
The choker can be worn in different styles, but let us not forget that it can look very sensual and pleasurable to the eye. If you want to attract your loved one, then go ahead and give your look an arousing touch by adding a choker to your neck.
Blend your attractive and elegant outfit with a choker
As ladies, we like to dress up sexy from time to time to turn some male heads around. If you are tired of the sweat pants, then you can blend together your attractive outfit with a choker to give yourself the look that will be tempting, but at the same time elegant and chic.
On the other hand, you can create an attractive look without dressing up as you are going out. For example, take one of those trendy lace bras and pair it up with a deep V-neck and at the the end give a final touch by adding your choker to get the sensual look.
Pair your choker with a trendy lace bra and a deep V-neck blouse
11. The eye-catcher and make a statement choker for a fashionable look
Obviously, having a choker on your neck makes a statement right away, but if you have one of those thick chokers that almost covers most of your neck, in that case you will definitely make a statement.
Chokers can be perfectly worn depending on your style.
Thick chokers could be combined either in a casual or dressed up way depending on your situation.
Neck accessories are a great way to make a statement and an effortless way for you to top off your look.
Accessorize your casual outfit with thick choker
As you can see, they can be worn in unlimited styles and methods or in combination with other chokers or types of necklaces.
12. The illusion of a long neck look
You can combine your choker with a layered necklace, but what about layering a couple of chokers together?
If you layer your chokers you can get the illusion of having a very long and feminine neck. There are chokers that are already sold as layered or you can buy two, three or as many as you like chokers and arrange them beautifully on your neck.
For instance, you can simply accessorize your neck with this half moon layered choker as shown in the photo and get an instant effect of the long ladylike neck.
Featuring "Half Moon Layered Choker"
Also, you can layer different types of chokers.Try to put together a golden delicate choker mixed with a simple all black choker.
As long as they look good together you can mix and match chokers of different colors or materials such as faux leather, lace or suede. Then, throw on a plain top and jazz it up with your uniquely created design.
13. Long wrap choker for the nomad gypsy style
Long wrap choker can be suitable for a deep V-neck blouses or casual top
The gypsy wrap choker is very easy to style and you can play around of how you want to wrap it around your neck.
It can be suitable for a deep V-neck blouses or a casual top if you twist most of the strings and make a bow at the end.
The good thing about this type of choker is its versatility because you can tie it, wrap it, leave it to hang, etc. You can create a variety of looks according to your outfit.
14. The Lace Choker for a feminine look
Just like the lace underwear bra is a top trend this season, the lace choker is also very popular among the fashionistas.
The lace choker looks very feminine on the neck and you can easily style it to create a more girly and chic look.
Simply take one of your favorite tops and pair it up with a single colored lace choker. However, you need to take into consideration that the lace choker is not as versatile as some of the others types of chokers. It is suitable for a cute or stylish outfit rather than a complete casual wear.
Lace Choker is suitable for a cute or stylish outfit
Black or white, the lace choker is a timeless piece that softly embraces your neck and gives you a very ladylike and classy vibe.
Match your black lace choker with your favorite black top
Featuring "Lace Style Layered Choker"
15. The bandana choker for a hipster look
If you don't have a choker at home - no worries! One of the major comebacks this season is the neck scarf. Look in your closet and try to find your old forgotten bandana from high school or simply take a scarf that could do the job and tah-dah!
Use neck scarf or bandana for your chic outfit as choker substitute!
You can create yourself a truly unique and hip style by making your own choker necklace like a pro and reviving the 90's fashion. Try to combine your bandana choker with faded high-waisted jeans and a basic t-shirt or tank top.
Combine your bandana choker with faded high-waisted jeans and a basic t-shirt or tank top
If you like the bandana trend, but not so much the 90's styles, then take a cute blouse or a buttoned up shirt for a more fashionable and dressed up look that you can wear to work or when you go out with family and friends.
16. Back to basics look - the tattoo choker
If you are a fan of the 90's fashion or you have watched some TV shows from this period, then most probably you are familiar with the tattoo choker. It is one of the first chokers presented to us in the 90's.
It is the most basic choker of them all because you simply need to pull it over your head and place it where you want it to be on your neck. The tattoo choker is very easy to style and it can fit any type of lady. However, it is better to be worn with casual everyday outfits.
Tattoo Choker is better to be worn with casual everyday outfits
You can easily become the ultimate top representative of the 90's by rocking this piece on your neck.
Overall, chokers are really a cool trend and they can be styled in so many ways! After reading this post I hope that you can choose one of our 16 ways to wear chokers that best describes and suits you!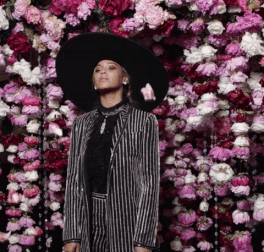 Find your choker and show the world your taste for fashion!
For more how to wear choker style inspiration, please also check out choker street style.
---