The art deco jewelry is highly associated with the 1920's and 30's where many things such as architecture, clothing, furniture, etc. were all inspired by this style. In addition, the art deco jewelry could easily be recognized by its geometric shapes and symmetrical designs.
Today there are still people who seek to find the authentic vintage and antique jewelry pieces from this period but many others prefer to go for modern jewelry that has art deco details on it.
The art deco jewelry is timeless
Via Pinterest
I hope these following suggestions and ideas on how we can wear and style art deco inspired jewelry will be entertaining and helpful for you.
Also, we will mainly focus on contemporary fashion jewelry that has been inspired by this era and brings this jazzy 20's and 30's vibes.
Happy Reading!
1. Statement rings with art deco inspired elements for a free spirited look
These boho looking statement rings that also have art deco and vintage vibes to them are great if you want to achieve a style from this era but in a more modern way. They are great to be worn not only with bohemian outfits but also with casual or chic outfits. 
In addition to your normal outfits wear art deco inspired statement rings
The very detailed designs, geometric shapes and almost Egyptian looking elements is what makes these rings very special and unique. From far, one could think that they are very precious and expensive.
For a remarkable look wear statement rings
In addition, you can easily pair them with other rusty and vintage looking jewelry pieces such as a bracelets or a necklace.
The best way to make your look more unique and personalized is by combining different fashion styles together. For example, an overall that was mainly seen during the 90's in combination with antique inspired jewelry.
2. Art deco inspired statement necklaces for a chic look
As mentioned before, many people and fashionistas prefer to wear art deco jewelry pieces but in a more modernized way. In addition, it is more preferred to find different elements of the art deco style than buying an authentic piece.
Give style and elegance to your looks by wearing art deco necklaces
The contemporary fashion jewelries are so amazing and a true treasure to have in our jewelry box. They have a very special and unique appearance that could make your ordinary outfit more chic and fashionable.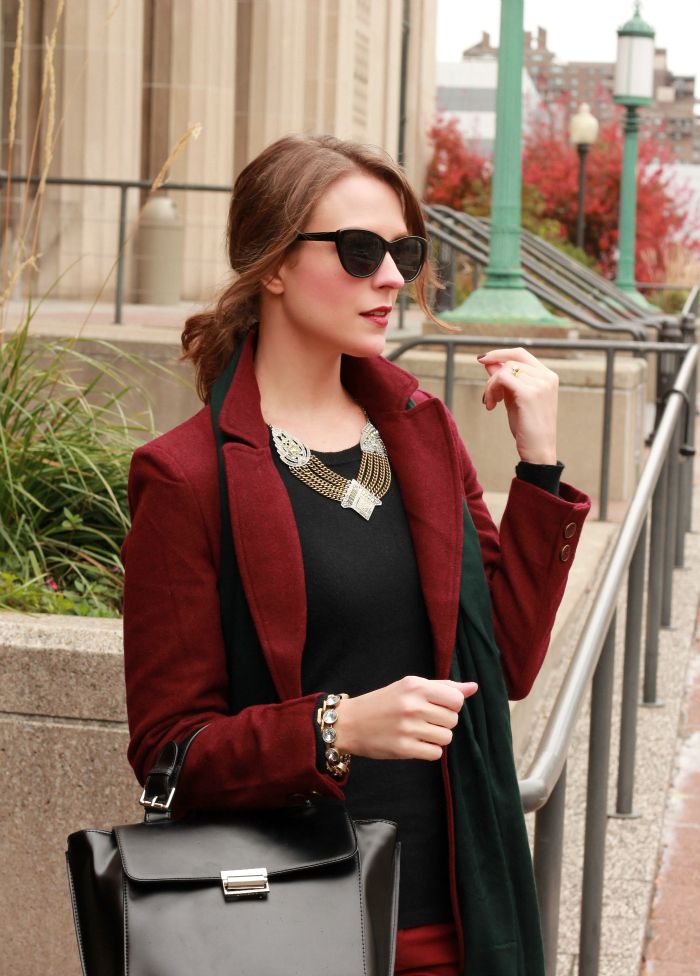 Wear an art deco inspired necklace to give interest to your outfit
Also, with no effort you can wear similar statement necklaces to work, business meetings, wine tastings or various cultural events. Plus, these art deco necklaces could be worn by all age women and different fashion styles.
Be different and daring by wearing art deco jewelry
Golden Rays Bib Necklace By Happiness Boutique
Here is a lovely necklace from Happiness Boutique that could bring a lot of chicness and art deco vibes to your looks. Don't hesitate to check it out!
3. Vintage inspired statement bracelets for a truly unique look
If you happen to find a vintage and antique inspired statement bracelet it could be a sign that is art deco inspired. In addition, many of the art deco jewelry pieces are inspired from the African, Egyptian, Mesopotamian and American Indian cultures.
Vintage art deco jewelry for a noticeable style
This mix of different inspiration make these art deco jewelry pieces so special and unique. They can instantly make any of your looks more eye-catching and interesting. Also, they could be a great conversation starter pieces.
Jeweled art deco statement bracelets for a stylish look
The bold colors are also a main element from the art deco period. Therefore all the ladies that like to give their outfits some color and distinctiveness could accessorize their looks with a similar bracelet or a stack of bold bracelets.
Accessorize any of your looks with art deco jewelry pieces
Left: Precious Jewels Statement Bracelet; Right: Inspiration Statement Bracelet
By Happiness Boutique
These two statement bracelets are a true inspiration. They look very luxurious and valuable. Definitely these two jewelry pieces could make your looks more attractive and elegant.
In addition, they are not the typical bracelet that you could see on the streets, which makes them even more special.
4. Contemporary rings with art deco elements for a modern look
There is no doubt that some of the most fashionable and modern jewelry pieces could have inspirations taken from the art deco period. For example, a stack of delicate rings with small little details that could take us back in the 20's and 30's. 
In addition to your trendy outfit wear modern art deco rings
Via Pinterest
The almost vintage looking appearance of these contemporary rings makes them very suitable if you want to achieve this look from the early 20th century.
You can wear similar rings with your professional outfit, to go to a meeting or just when you do your regular activities like shopping, walking or a brunch with friends.
Wear modern art deco inspired rings for any of your styles
The small but significant detailing on these rings make them even more interesting to wear. However don't hesitate to combine them with your spring and summer girly outfits.
Also, you can dress them up with heels or wear them in a more comfortable way by pairing them up with sandals, loafers or any other cute flats.
Don't hesitate to make your outfit stylish and trendy by wearing modern art deco jewelry
Left: Stackable Ring Set Gold; Right: Crystal Tail Chase Wrap Ring
By Happiness Boutique
To recreate a similar modern yet art deco inspired style feel free to check out these stackable delicate rings from Happiness Boutique.
Also, you can combine your stack of rings with another normal rings to accentuate the look. The crystal tail chase ring has a triangular shape on top, which makes it a perfect modern art deco ring.
5. Long art deco inspired necklaces for a cool urban look
For all the ladies that like to accessorize their looks with long necklaces could take advantage of this next styling tip.
You can get a necklace that almost looks very boho or African, but this is perfectly fine because the art deco jewelry pieces were also inspired by these cultures.
Embellish your modern looks with long art deco necklaces
These long necklaces go very well with one-piece outfits or with more bohemian outfits as well.
For example, you can pair your art deco necklace with a simple tank top and a flowy loose flowery skirt. To finish off the look you can add some cowboy boots or sandals depending on the season and weather.
In addition to your casually chic clothes wear a long art deco necklace
In addition, if you have a long dainty chain with a smaller art deco pendant you can even wear it to work or school. The subtle design of this art deco jewelry allows you to easily pair it with heels and more elegant and chic outfits.
Add to your jewelry collection a timeless art deco inspired necklace
Art Deco Style Statement Necklace by Happiness Boutique
Here is another art deco jewelry piece that is just perfect if you like to wear long necklaces with unique pendants.
Very symmetrical, bold and trendy, this necklace is not only suitable for the women that want to achieve an art deco style but also for anyone who wants a cool and free spirited style
6. Classic pearls for a sophisticated art deco inspired look
For a super classy and 20's inspired art deco look you can always accessorize your look with a very long pearl necklace or multiple necklaces worn as a stack. This way your necklace will give dimension to your style and definitely a touch of elegance.
Stay classy and fabulous by wearing long pearl necklaces
Via Pinterest
You can wear this type of necklace with very deep V-necks or even with open backs. Since pearls never go out of style you don't need to worry that you will end up with a necklace that is only a one time thing.
Working outfits and layered pearl necklaces are a perfect combo
In addition, you can modernize your art deco inspired pearl necklace by combining it with very modern and trendy outfits. For example, a cute fashionable top and a blazer for a very professional and chic style.
Be girly and stylish by adding long pearl necklaces to your look
Many women love their long pearl necklaces because they always look good. Plus, these jewelry pieces are very versatile and simple, which makes them very easy to dress up or wear casually.
Art deco jewelry – because it's so unique and different
Left: Be Elegant Pearl Statement Necklace; Right: Glamorous Pearl Statement Necklace
By Happiness Boutique
In case you want to wear a pearl necklace, mo matter of its length, we can offer you from Happiness Boutique these art deco inspired short statement necklaces. The vintage inspiration makes them so unique and interesting to look at.
7. Modern cuff bracelets appropriate for your art deco style
These chunky bracelet worn in a stacked way look very trendy and cool. Feel free to style them with casual looks such as t-shirts and a pair of jeans. Or, with your chic outfits that could be trousers and dressy shirt.
Mix and match modern and art deco style for a truly unique look
In addition, they are very easy to pair with other jewelry pieces if you want more accessorized style. However, these fashionable bracelets are just enough to give you this special vibe to your look.
Modern geometric bracelets for your art deco inspired days
Via Pinterest
Another way to get the art deco vibe through modern jewelry is by wearing a minimalist inspired cuff bracelet that has a geometric shape. It looks very futuristic but if you want a more 20's and 30's look you can achieve through your outfit.
8. Bridal art deco jewelry for a vintage inspired look
If you want to look unforgettable at your wedding you can always go for a retro jazzy art deco style. It looks so chic, elegant and unique. The bridal art deco jewelry pieces look very luxurious and one of a kind.
Have an unforgettable wedding style by wearing vintage art deco jewelry
A typical accessory from the art deco period is the headpiece. It looks so glam and remind us of the Great Gatsby. In addition to your headpiece you can wear some bridal art deco inspired statement earrings.
Of course, a bold lipstick and the wedding dress itself. You can select a straight silhouette dress with trims or fringes at the end.
Art deco inspired bridal jewelry for your special day
Source unknown
Or, you can go for a dress that goes well with your body silhouette and simply add a pair of earrings that is inspired by the early 20th century. It looks very classy, elegant, but unique in its own way.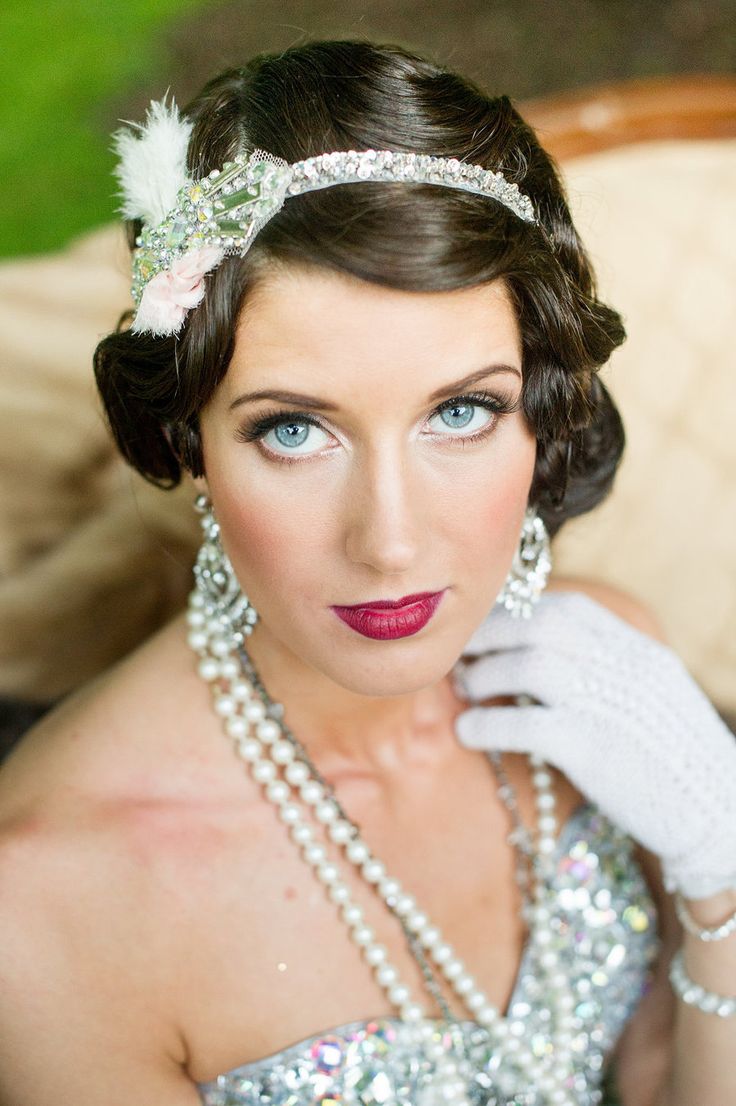 For your wedding don't hesitate to be different, but classy
For the daring brides that love the black and white movies and this period, you can fully dress like women used to dress back then.
This means the long pearls, the headpiece with feathers or other fluffy elements and big statement earrings that will give a very glamorous and luxurious appearance. In addition, you will definitely get many compliments on this look.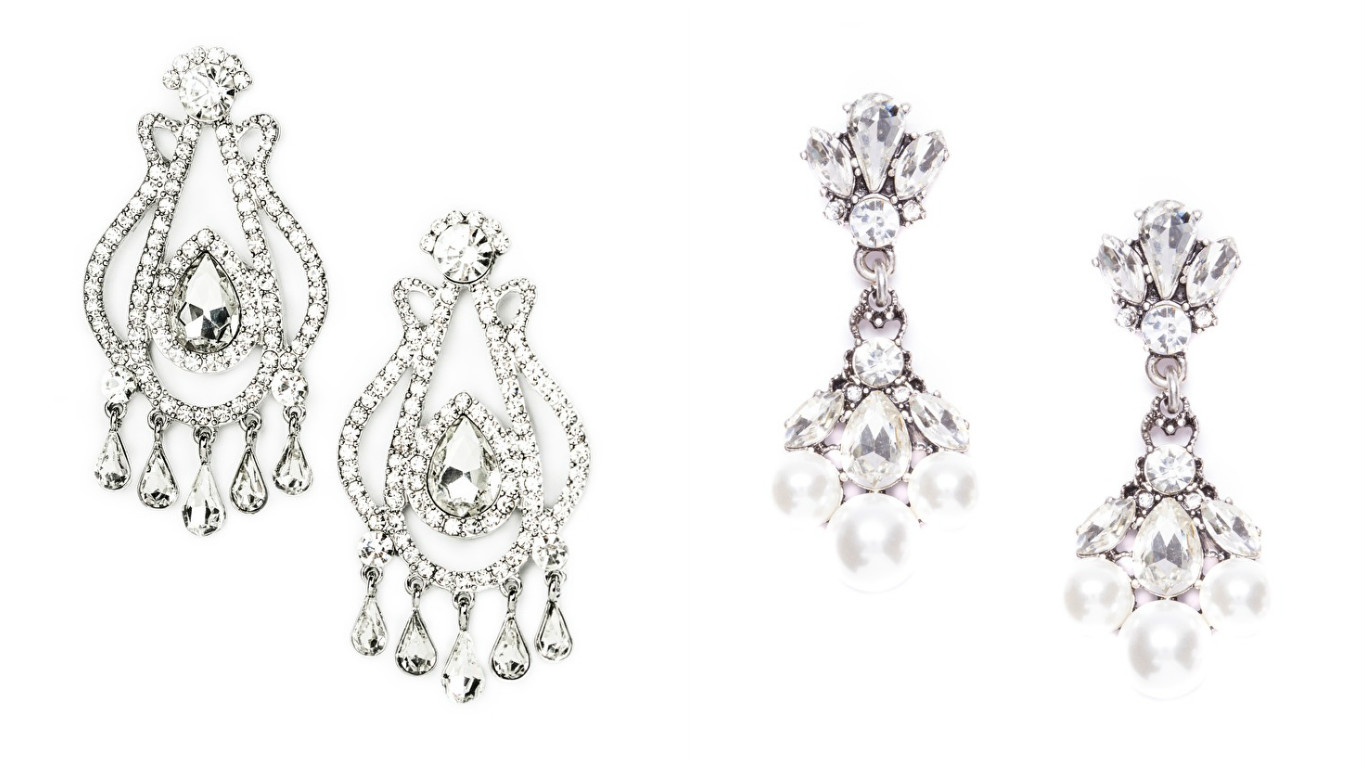 Glam statement earrings for your art deco desires
Left: Glamour Statement Earrings; Right: Dream Statement Earrings with Pearls
By Happiness Boutique
These two pairs of statement earrings from Happiness Boutique could be a great options for all the brides that want a non-typical look for their special wedding day.
9. Art deco statement earrings for a 20's look
The triangular shaped earrings are a great complimentary piece to your 20's look. As we mentioned before, the art deco is really about geometric shapes and symmetry, therefore if you already have similar jewelry pieces then you can recreate this look.
In addition to your 20's inspired looks wear art deco jewelry
Via Pinterest
It is better to have very sleek and simple hairstyle if you leave your hair down. Otherwise, you can go for some very elegant and chic hairdos, especially if you have a special event on your agenda.
Geometric art deco earrings for an artsy look
Via Pinterest
Another art deco jewelry earring that you could style with any of your looks. It is possible to wear this type of earrings even with a graphic t-shirt or a truly inspired art deco outfit.
Furthermore, the best thing about these statement earrings is that their design is very versatile and you don't need to wear it only in a 20's style.
The art deco fashion is all about geometrical shapes and symmetric designs
Source unknown
For all the ladies that prefer to go very art deco here are a couple of outfit ideas that could inspire you. You can clearly see the straight silhouettes and the specific prints on the dresses.
Overall, the 20's were really about the cocktail parties, feeling fancy and glam, but in a more comfortable outfit because these dresses are a true pleasure to look at and to wear.
Modern art deco geometric earrings in addition to your stylish outfit
Left: Shapes of Style Statement Earrings in Black; Right: Classy Black and Gold Drop Earrings
By Happiness Boutique
The perfect geometrically shaped earrings that could be worn with literally any outfit. You can dress up your casuals to achieve the perfect art deco look or wear them with evening dresses. Also, don't hesitate to check out these chic and adjustable according to your personal style earrings from Happiness Boutique.
Finally, I hope you enjoyed these styling tips and suggestions on how you can achieve an art deco inspired look. I hope you got some inspiration and learned more about the 20's and 30's.
If, yes, please don't hesitate to leave a comment about what you think of these style. In addition,, feel free to share your favorite art deco jewelry.
Thank you & Happy Styling!
Save
Save
---