How to Wear Bangle Bracelets
Accessorize any of your looks with these trendy bangle bracelets that look so sleek, well-polished and modern. Since they became such a hit among the fashionistas, in today's blog post we will discover the different ways we can style these stylish jewelry pieces.
The modern design of these bangle bracelets makes it a perfect on-the-go accessory that will instantly add interest and elegance to any of your outfits.
In addition, they could be appropriate for all aged ladies no matter of their profession or fashion style. The versatile characteristics makes them very adjustable and flexible when it comes to styling.
Bangle bracelets are always appropriate
Via Pinterest
I hope you will enjoy these styling tips and hopefully this blog post will help you to get some inspiration and confidence the next time you want to style your favorite bangle bracelets.
Happy Reading!
1. Silver bangle bracelets for a casually chic look
If you want to give your look a sleek and sharp touch, then you can stack up some very well-polished silver bangle bracelets. They are great in combination with a pair of jeans and a girly or even simple top.
Wear your bangle bracelets in a stacked way for a trendy style
In addition, the silver bangles are able to be dressed up, if you add a pair of heels or classic shoes, or dress them down with sneakers or flats for a comfortable wear. Plus, don't hesitate to combine them with a single statement ring to complete the accessorization of your outfit.
Chunky bangles look great with more simple outfits
Via Pinterest
Based on the design of your bangle bracelets you can achieve different types of looks. For example, if you want you can add a couple of vintage inspired or very chunky bracelets. Then, add a simple top and comfy pants and there you go.
2. Bangle bracelets with pearl accents for an elegant style
For all the ladies that like to stay chic and classy, they can take advantage of the beautiful bangle bracelets that have pearl accents on them. These jewelry pieces are absolutely stunning and could be a great add-on when you dress up with your elegant and dressy outfits.
For a classy look wear pearl bangle bracelets
Although pearls are always thought to be only for the super classic or even conservative so to say styles, they can be part of a very modern and cool jewelry piece such as this minimalist and contemporary delicate bangle bracelet.
In addition to your stylish look wear bangles with pearl accents
Also you can try the stackable trend and combine a couple of bracelets together to create a fuller and more visible effect on your look. The pearl, red and black combo are such a classic and timeless combination. You can never go wrong with it!
Spice up your stylish look with this vintage inspired bangle
Vintage Pearl Bracelet by Happiness Boutique
All the ladies who want to give this style a try, feel free to check out this versatile and trendy bracelet from Happiness Boutique. This jewelry piece is in gold and it is topped off with couple of pearls that are just enough to make your looks more elegant and feminine.
3. Boho inspired bangles for a summer free spirited look
As the summer is approaching, we can't stop thinking about our summer looks. The boho fashion style is definitely a must have look for the season. In this case, you can go for super loose, comfy and floral prints when you shop for dresses or skirts.
Boho inspired bangle bracelets are perfect for the summer
Overall it is better to focus on settled and earthy colors when you try to go for the boho look. Try to blend your vision and aura with Mother Nature by wearing such colors. Also, the boho fashion style is great for the ladies that like symbolic, animal inspired or over accessorized looks.
Vintage inspired boho bracelets for your summer looks
Via Pinterest
You can stack up as many bangle bracelets as you like to achieve a boho inspired look. Also, you can add up one or two statement rings with stones for a meaning and beachy look.
Add a boho stone bracelet to your free spirited outfits
Strength Statement Bracelet by Happiness Boutique
This delicate piece from Happiness Boutique has a very typical appearance of the bohemian fashion because of the turquoise stone that reminds of us of our careless ocean days.
Stones, crystals or beachy and pastel colors make them very versatile and adjustable according to your own preferences. You can wear them with dresses for a romantic beach look or with shorts and simple tee.
4. Wear elongated cuff bangles for a remarkable style
For a remarkable and unforgettable style wear an elongated cuff bangle, which could be simple or embellished with crystals and other elements. This style is great if you want to have only one, but a statement piece.
For a professional look wear an elongated bangle
Via Pinterest
Once again, based on the design and appearance of bracelet, you can wear similar jewelry pieces to work in combination with your dressy suits and skirts.
In addition, you these elongated cuff bracelets are very easy to style because you don't need to add any other jewelry pieces if you don't want to.
Elongated bangle bracelets are great with dressy looks
Here is, for example, a more casual design that is great to be worn with any type of a look. You can make it more girly by pairing it with a mini skirt and a loose top or wear them with jeans and sandals.
5. Glam bracelets for a sparkling girly look
Glam up any of your styles by wearing sparkling, chic and feminine bangle bracelets. You can try to get bangle bracelets with tiny rhinestones or crystals to achieve this sparkling look. Also, you can add a statement ring with tiny rhinestones or with a minimalist inspired design to complete your look.
Shine up with a glam bangle bracelet
This style is definitely more appropriate for special occasions and events where you need to dress up nicely and show your elegant side. To accentuate the accessories on your wrists try to go for a darker nail polish.
For a night out look war a glam bangle bracelet
Via Pinterest
To also highlight your newest jewelry trends you can pair them with a black outfit so they can really stand out from the rest of your look. Don't forget to add a colorful lipstick, stud earrings and a pair of heels or wedges.
These dazzling bracelets are perfect for special occasion looks
Left: Morning Dew Crystal Cuff Bracelet in Gold; Right: Jewel Cuff Bracelet Gold
By Happiness Boutique
Here are two very elegant and glamorous bangle bracelets from Happiness Boutique with rhinestones that could brighten and glam up your outfit.
6. Super trendy bangle bracelets for an outstanding look
These super trendy bangle bracelets have a very sleek and timeless design.  You can wear them alone or in combination with similar bangle bracelets for a stacked look. Also, you can rock this bracelet to work with your professional outfits or wear it to romantic dinners.
This on-trend bangle bracelets is so stylish
Via Pinterest
To finish off this trendy and feminine look you can leave your hair down and curl it for an attractive look. And, of course, don't forget to add a pair of golden or silver stud earrings for a feminine style.
Arm Party Rose Gold Bracelet by Happiness Boutique
To keep up with the latest jewelry trends, try to add to your jewelry collection this bracelet from Happiness Boutique.
7. Delicate bracelets for a feminine style
In case that you don't like to wear statement jewelry pieces, you can wear a very fine and delicate bracelet. Delicate bracelets are always appropriate because of their versatile designs.
For a feminine look wear a delicate bangle bracelet
The good thing about the delicate bracelets is that you can play around with other types of jewelry pieces to end up with a truly unique style. For example, you can combine your delicate bracelet with a stack of simple midi and normal rings.
Be fashionable and girly with these delicate bracelets
Left: Sharp Point Double Spike Cuff Bracelet Rose Gold; Right: Sharp Point Double Spike Cuff Bracelet White Marble by Happiness Boutique
These two delicate bangle bracelets from Happiness Boutique have sharp points at each end to make them more remarkable. Don't hesitate to check them out!
8. Minimalist inspired bangle bracelets for a futuristic look
Another very trendy bangle bracelet that you can add to your wardrobe is the minimalist inspired bracelet. You have probably already seen these sailor knot bracelets that are as great in the summer time as in the winter when paired with modern outfits.
Bring the minimalism trend to your wardrobe
Via Pinterest
Very comfortable to wear and effortless to style, the knot minimalist bracelet has a very eye-catching appearance that is appropriate for chic, elegant or super casual outfits.
In addition to your fashionable look wear a minimalist bangle bracelet
Via Pinterest
The minimalist inspired bracelets are great when you pair them with a watch or a delicate bracelet with a colorful element to jazz up your normal outfit. Also, the simplicity of their design allows you to wear them all year round with any kind of a look.
9. Stone bangle bracelets for a symbolic wear
Give your looks a pop of color and symbolism by wearing bangle bracelets with meaningful stones. These bracelets are so personal because you can select a stone to go with your character, date of birth or feelings.
For a meaningful style wear a stone bangle bracelet
Via Pinterest
Furthermore, you can stack up your stone bangle bracelets with other bracelets for a more accessorized look, but even if you wear on its own it will look very beautiful and just enough to make any of your styles prettier.
For a unique style add a druzy bangle bracelet to your look
Source Unknown
There are so many different stones that come in different colors so you can select a stone that will go with your energy or the colors of the rest of your look for a well put together outfit.
10. Stylish bangle bracelets with geometric shapes for a sleek look
The geometrically shaped jewelry pieces are another absolutely trendy piece that you need to add to your jewelry box. Again, we have basic shapes and clean lines that are however enough to jazz up your looks.
In addition to your working outfit – add a geometric bangle bracelet
Feel free to combine your geometrically shaped bracelet with similar rings or minimalist inspired rings. Also, you can add a delicate necklace to go with your style.
For a modern style wear geometric bangle bracelets
The best thing about these bangle bracelets is that even if you wear a statement chunky bangle it will never look tacky or distracting because of the basic shapes. Therefore, don't worry when you add more jewelry pieces to your outfit such as rings, bracelets, earrings or necklaces.
Very sleek and modern bracelet appropriate for all occasions
Geometric Gold Bangle by Happiness Boutique
Here is a great geometric bangle in gold from Happiness Boutique that can accessorize your looks in a very sleek and chic way. It is a great on-the-go piece that will definitely receive many compliments.
11. Stacked bangle bracelets for a fashionable look
Stack up your jewelry pieces for a super trendy and modern style that you can rock with any look. You can dress them up with a jumpsuit or stylish skirts or wear it with shorts and sandals.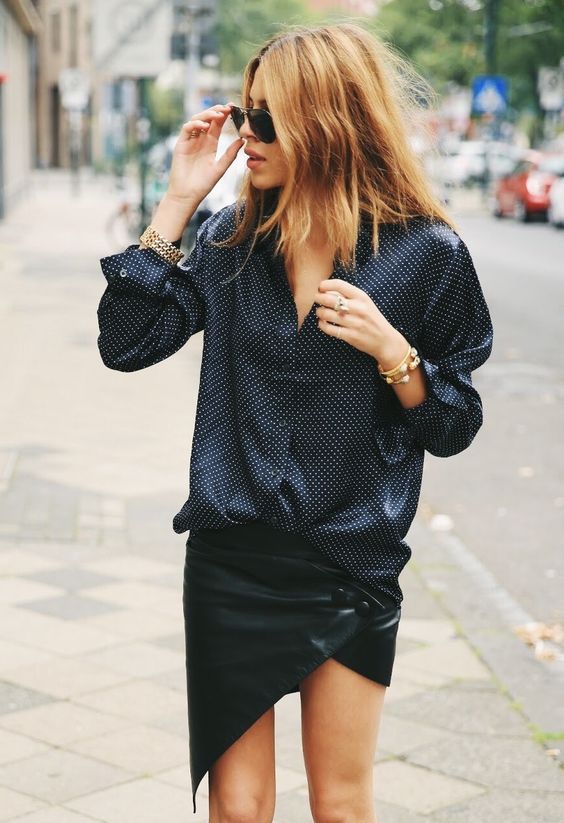 In addition to your fashionista inspired outfit wear a stack of bracelets
You can for example wear your stacking bracelets on one hand and only one on the other to perfectly balance out your style.
Stack up your bracelets to make a statement
In addition, you can effortlessly add a couple of statement rings  and a layered delicate necklace to complete this look. As you can see it doesn't look over accessorized even when you add a couple of jewelry to one part of your body.
I hope you enjoyed this blog and the tips on how to style bangle bracelets. Don't hesitate to leave a comment and share your favorite types of bangle bracelets and how do you like to style them!
Thank you & Happy Styling!
Save
---