Do you have a black choker in your jewellery collection?
In today's blog post we will discover the different ways we can style a black choker. They look very chic, sexy and modern, especially when paired with fashionable outfits. In addition, these jewelry pieces are very popular and versatile. Therefore, they are appropriate for any type of a lady.
Don't be afraid to accessorize your looks with a daring black choker because they are a show stealer. However, you can dress them down and wear them with your most casual looks. Black chokers look great with any kind of an outfit.
I hope that you will enjoy these styling tips and ideas on how to mix and match your black choker.
Happy Reading!
1. Black classic velvet choker for a stylish look
If you want a timeless classy, super versatile and comfortable piece of collar necklace, then you definitely need a velvet black choker. They are very soft and the texture will give instant interest and modernity to your looks.
A classic black velvet choker is always a good idea
Via Pinterest
The best thing about the velvet black choker is the softness and flexibility when it comes to styling. Feel free to accessorize your most casual or most elegant outfits with such a choker. In addition, they come in other colors if you want a more spring and summer vibes to your outfit.
In addition to your fashionable outfit add a black choker
Although this choker is very simple and basic it could still make any of your styles more eye-catching and outstanding.
You can wear this choker with fashionable and super trendy outfits such as wide legged pants and a crop top or you can style with your graphic tee and ripped jeans when you do your grocery shopping.
Give a modern touch to any of your looks with these velvet chokers
Black and Pink Velvet Choker Set by Happiness Boutique
If you want a classic black choker, but want to give a pop of color to your monochromes, you can get this velvet black and pink choker set from Happiness Boutique. This way you are certain to have these two pieces that will combine perfectly with any of your styles all year round.
2. Black choker in combination with other necklaces
If you want to take your choker look to the next level you can always wear its combination with another necklace or simply buy a pre-made set. This style is quite interesting and it could be great with girly dresses or basic outfits.
In addition, feel free to make a cute hairdo so you can be able to display the beauty and captivating appearance of this black choker.
Wear your black choker in combination with other necklaces
Also, you can use this type of mixed choker to contrast your light and springy looks. This way it will definitely stand out from the rest of your outfit and make it much more unique and engaging. You can wear similar looks with cute sandals or give your outfit height by wearing heels or wedges.
In addition to your black choker add other necklace for an eye-catching look
To accessorize your elegant and chic outfits in a similar way, then it is better to focus on a choker that is mixed with a metallic choker. It will glam up your your outfit even more. And, don't forget to add a trendy purse or clutch to your style to complete the look.
3. Layered black choker for a trendy look
To jazz up your basic black choker you can layer it with a longer delicate necklace. Or, you can add a couple of delicate necklaces that go well with the choker. The great thing about this style is that you can add the necklaces that you like and speak to your personality and mood.
Chokers and fashionable outfits are a perfect combo
In addition, by layering necklaces that you already have or have been sitting in your wardrobe for a while you are certain that you will create a unique and individual style. You can easily express yourself by being the creator of your own jewelry design.
Chokers in addition to your fashionable outfits - priceless
For a more delicate wear that you can rock to the office or to  business meeting, it is better to layer your black choker with a delicate necklace that has a pendant. However, if you prefer more accessorized and bold look you can even wear this choker with a more statement pieces.
For all the fashionistas – modern layered chokers
Left: Half Moon Horn Velvet Choker; Right: Tassel Layered Choker
By Happiness Boutique
These two chokers from Happiness Boutique are already layered, but still have a super unique and modern design. If you don't have the time to layer different necklaces together with your choker, these two are the perfect on-the-go accessory appropriate for many different outfits.
4. Embellished black choker for a sparkling look
For all the glitz and glam ladies, these following styling tips and types of chokers will be perfect. These decorated with stones, crystals, rhinestones or anything that sparkles chokers are great for special occasions or to allure your fashionable outfits. In addition, you can wear them with your favorite stud earrings with rhinestones.
Dazzling chokers are so glam and chic
Very textures and detailed, the embellished black choker could still be paired with other textured, colorful and interesting outfits. Or, you can wear them with basic and single colored outfits because the sparkling effect of these chokers will be completely enough to make your look more interesting.
In addition to your chic outfit wear a crystal choker
As you can see you can wear this type of choker with jeans with no effort. Simply try to add a top that is more girly and will match with your ornate neck accessory. Feel free to wear similar chokers with your daily chic outfits or with glam night looks.
Jazz up your outfit with any of these crystal chokers
Left: Flower Choker Necklace Set; Right: Vintage Flower Layered Choker Necklace
By Happiness Boutique
Very glam and sparkling, yet with a vintage touch, these two choker from Happiness Boutique are perfect if you want to spice up your casual or night out looks. Feel free to give them a try!
5. Jazz up any of your looks with a wrap black choker
If you already own a wrap choker you have probably know how many different styles you can create with it. This is one of the most adjustable and versatile jewelry pieces that just have a flawless fit when you wear it. In addition, it is possible to wear with all kinds of looks with no effort.
Add a classy timeless wrap choker to your collection for a trendy look
Via Pinterest
The only thing you need to look out when styling your wrap choker is the ends of the strand. Try to match the golden or silver ends of the choker to the rest of your jewelry pieces to end up with a super stylish and well put together look.
Velvet wrap chokers are a must have for this season
Even though wrap chokers are pretty simple, they can be paired with other necklaces or still could be your "dress to impress" neck jewelry piece. They are great with simple slip on dresses for the summer or sweater and jeans combo in the colder days. You can never go wrong with a wrap black choker.
Be a daring fashionista by wearing any of these two wrap chokers
Left: Timeless Wrap Choker; Right: Happiness Wrap Choker
By Happiness Boutique
These two timeless and classy wrap chokers from Happiness Boutique are effortless to style and very comfortable to wear. The reason for that is because of the soft fabric that will gently hug your neck. Don't hesitate to take a look at them and possibly add them to your jewelry collection.
6. Black lace choker for a professional style
For a very feminine, elegant and textured look feel free to get yourself a lace choker. It looks perfect even with wedding or prom dresses, especially if it is in a white color.
However, black is such a timeless and classy tone that is very professional looking. Therefore, this choker is great for all the working and busy ladies that like to stay trendy and modern.
Give interest to your professional outfits with a lace choker
The lace black choker is great with dressy shirt and black leggings or skinny jeans. You can wear this choker with any type of hairstyle and add other jewelry pieces with no effort. Since the choker is made out of fabric rather than metal it becomes very easy to pair with golden or silver rings or earrings.
For a feminine style wear a black lace choker
Lace chokers look very elegant especially when you wear them with more fitted and stylish outfits. They could be a great options for the working ladies, but you can wear them to music festivals, wedding, special occasions, birthday parties and many more.
In addition, they could easily be paired with spring, summer, fall or winter looks.
Accessorize your chic outfits with any of these two lace chokers
Left: Lace Style Layered Choker; Right: Gothic Lace Choker
By Happiness Boutique
Here are two lace style choker from Happiness Boutique that look very elegant and modern. They will rest smoothly against your skin and keep you comfy all day long.
7. Bandana black choker for a funky look
To accessorize your look in a more funky and different way try to add a bandana black choker. Many ladies actually prefer it instead of a real choker. It looks very unique and you can use an old scarf as well. The bandana choker is great for professional as well as for casual outfits.
For a remarkable style wear a bandana choker
For example, you can style your bandana black choker with a dress. In addition, it is very easy to pair with other accessories and it will give you a modern look that will receive many compliments. And, you can dress it up with wedges or wear it in a more comfy way with sneakers or flat sandals.
In addition to your on-trend look add a bandana choker
Weather you style your black bandana with a dressy shirt or a dress it will look very fashionable and cute. In addition, you can create a boho look by wearing a loose dress and a fedora hat or wear it in a more elegant way.
8. Vintage inspired black choker for a unique look
Another style you can create with these amazing black chokers, especially when they have different ornaments on them is a vintage inspired look. For example, a choker with an antique inspired pendant in the front could be a great way to make even your daily look more interesting and eye-catching.
Vintage chokers are such a treasure in one's jewelry collection
Via Pinterest
These silver or golden embellishments look very original and individual. You can wear them with punk, gothic, elegant or super casual looks. It is always great to have a statement piece that is standing out from the crowd.
Decorate your outfit with a vintage choker
Vintage Silver Choker by Happiness Boutique
In addition, if you like your black on black looks, these rusty silver pendants will make your look pop out and light up your style in a very precious way. Also, they are easy to pair with other jewelry pieces that are in the same color such as a statement ring.
In addition to your daily styles add a vintage choker
Left: Antique Pendant Choker; Right: Vintage Silver Choker
By Happiness Boutique
Don't hesitate to give a unique, yet stylish touch to any of your styles with these two antique and vintage inspired choker necklaces from Happiness Boutique. Also,  the pendants that are placed at the front are completely enough to jazz up your day to day outfit.
9. Rhinestone black choker for a glam look
Give your fashionable looks a sparkle by wearing a rhinestone black choker. Many ladies would think that these jewels are only appropriate for night out or dress to impress kind of looks, but the truth is they are pretty versatile. You can wear them day or night and still look very stylish.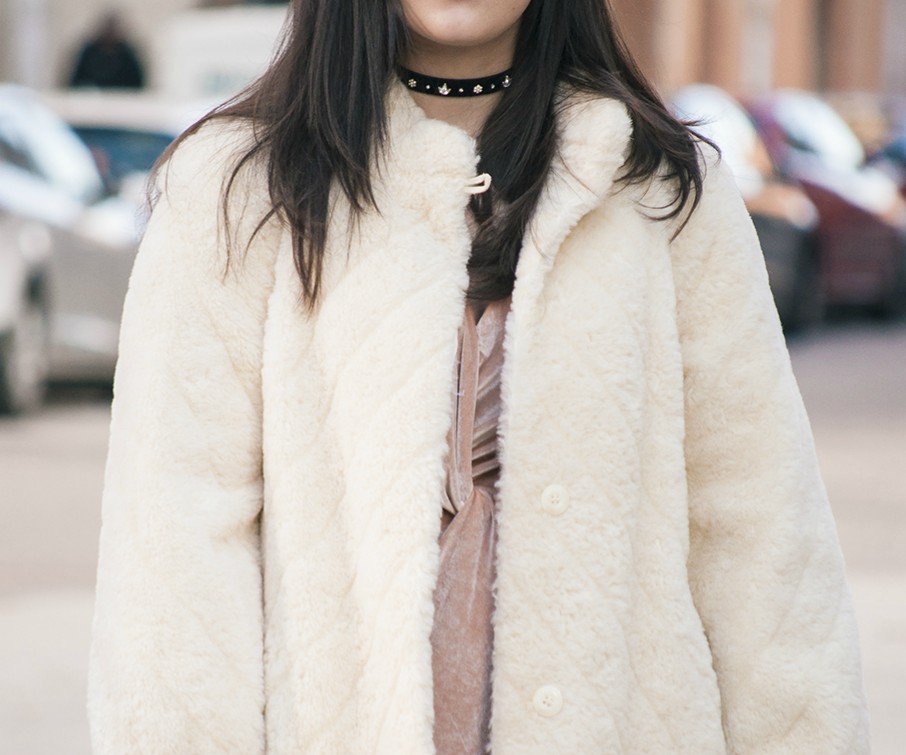 Glam up your daily look with a rhinestone black choker
In addition, feel free to get yourself a rhinestone black choker with a thin band so you keep it glam, yet more discreet, especially if you need to accessorize your working or daily outfits. This choker is perfect if you want to enhance your old outfits that sit in your wardrobe and you find them boring already.
Give an extra sparkle to your look!
Via Pinterest
However, if you have any celebration or special occasions coming up don't be afraid to give these glamorous and sparkling babies a chance.
Furthermore, they could be a great add-on to elegant dresses or dressy suits. Just try to also match them with the rest of your accessories and you are ready to rock the night.
In addition to your outfit add a rhinestone black choker
Left: Layering Choker ; Right: Boho Choker Black
By Happiness Boutique
Simple, yet modern and sparkling choker are a great way to make your dull outfit more sparkling and bright. Also, these two choker from Happiness Boutique could definitely put a smile on your face and modernize your look.
Finally, I hope you enjoyed these styling tips and ideas on how to style your black choker. In addition, don't hesitate to leave a comment and let us know do you like to wear chokers, and if yes, what is your favorite type of black choker! Can't wait to hear your opinion! 🙂
Thank you for reading & happy styling!
Save
Save
Save
Save
Save
Save
---