In today's blog post we will explore the mystical and whimsical beauty character of the bohemian jewelry. It is the perfect moment to see the different rising trends in the boho fashion and how we can style our favorite free spirited jewelry items.
In addition, we will see how to transform a piece of jewelry to go with your boho inspirations and vibes. There are many accessories that don't need to be boho from first sight to be able to style them with our nomad inspired looks.
Boho jewelry looks so magical and remarkable
Hopefully, these tips and ideas will be informative as well as interesting for you! If yes, don't hesitate to leave us a comment in the section below.
Happy Reading!
1. Chunky boho necklaces for an unpredictable style
Metallic silver chunky necklaces have always been very typical of the bohemian fashion. They are a great add-on if you want to give interest to any of your basics. However, you can rock this chunky boho jewelry with embroidered blouses or jeans, floral clothes or even professional attires.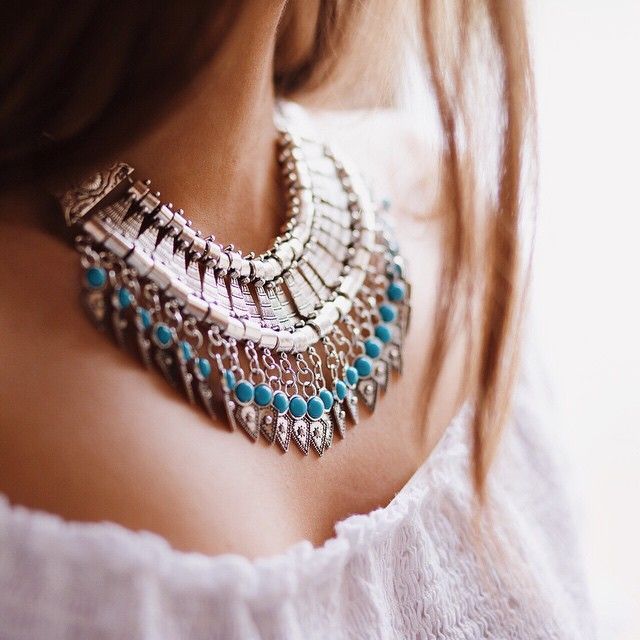 Jazz up your look with a chunky bohemian necklace
Via Pinterest
Feel free to add other accessories and boho jewelry such as a silver bracelet or rings with boho symbols on it.
In addition, you don't need to wear boho style outfits only in the summer because by adding a long pair of jeans and a sweater with elements from the bohemian culture you can easily recreate the nomad style.
Bold boho inspired necklaces for an unforgettable style
Another typical style of the boho fashion is wearing a fedora hat. It looks very chic, trendy and different than the usual everyday look. Don't hesitate to add length to your look by wearing heel booties.
These two bohemian necklaces could add interest to any of your looks
Left: Gypsy Statement Necklace; Right: Urban Boho Statement Necklace
By Happiness Boutique
These two chunky necklaces from Happiness Boutique are great for any of your boho inspiration. You can wear them in a casual, festive, elegant or night out way to show your gypsy and boho free spirits.
2. Boho tassel earrings for a playful look
The absolute favorite boho jewelry among the fashionistas has to be the boho tassel earrings. You can find many different variations of them, therefore there is no doubt that you will find the right piece for you.
These boho jewelry pieces could be great with super casual or super elegant looks. It is up to you to style them in a way that suits your personal preferences.
Wear long tassel earrings for a modern boho look
For example, you can give the illusion of a long and feminine neck by accessorizing your looks with a pair of very long tassel earrings. They are completely enough to make your outfits more elegant and trendy.
In addition to your outfit wear boho tassel earrings
Regardless of their design, textures or detailing you can still wear them with pretty detailed or colorful outfits. The best thing about the boho and gypsy fashion is that nothing has to match completely. And, you can always add more boho jewelry pieces to your clothes.
Accessorize your vacation outfits with vivid colored tassel earrings
Here is, for example, a pair of earrings that is boho but at the same time very exotic and noticeable. They will easily give color and a playful touch to your spring and summer looks. A great piece that you can rock to your next beach vacation.
Stand out from the crowd with these boho earrings
Left: Color Block Tassel Statement Earrings; Right: Boho Statement Earrings
By Happiness Boutique
Get yourself a pair of tassel earrings such as these from Happiness Boutique to make any of your outfits more interesting and eye-catching. You can literally wear them at any point of the year with any type of a look.
3. Long delicate necklaces for a stylish look
Long necklaces always look very attractive and especially great for professional outfits. However, these delicate long necklaces with boho vibes are an absolute must have for this season. You can style them with cute dresses or with a t-shirt and shorts. 
For a delicate, yet remarkable style wear delicate bohemian jewelry
Via Pinterest
In addition, regardless of their length they are pretty comfortable to wear. Plus, they will accessorize your outfits in a very unique and individual way. To dress them up you can combine this delicate long necklace with a dressy or sexy dress.
On the other hand, for an easy going look you can pair them with sneakers, flat sandals and your favorite jumper or denim shorts.
Bohemian jewelry always look appropriate in the summer
Via Pinterest
No matter of how detailed, colored or printed is your outfits you can still pull off this trendy and boho free spirited look. Delicate but long enough to instantly enhance your look.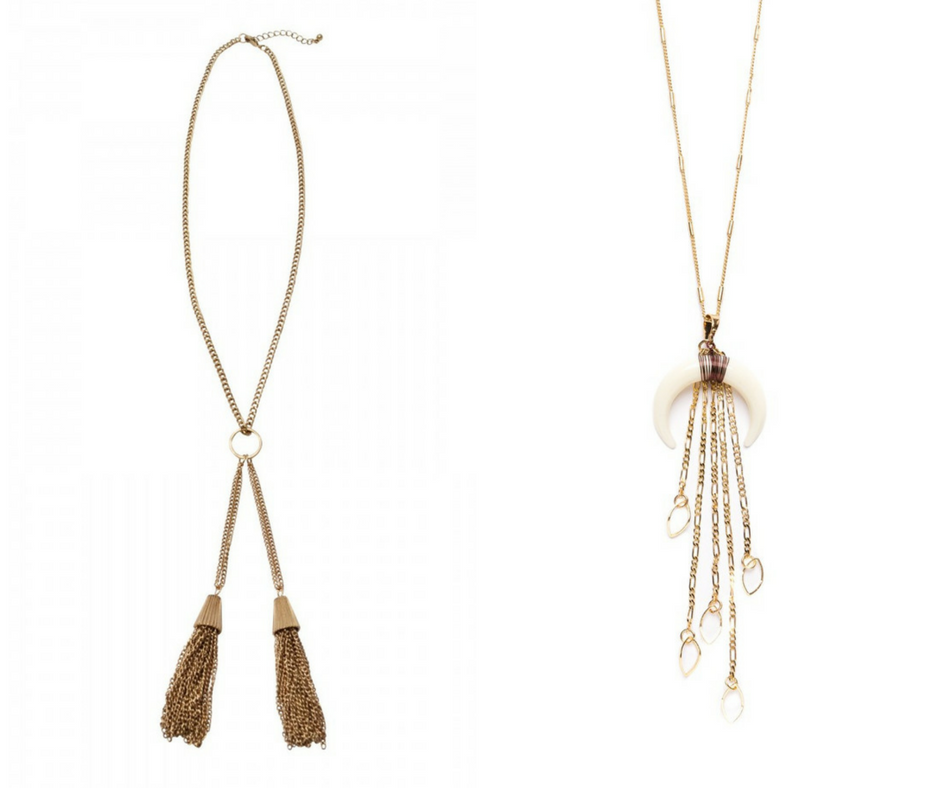 Spice up your summer outfits with these bohemian jewelry pieces
Left: Beautiful Golden Tassel Statement Necklace; Right: Half Moon Long Necklace
By Happiness Boutique
To jazz up your boho or any other looks feel free to check out these long boho inspired necklaces from Happiness Boutique. However, don't hesitate to look at the whole collection → here.
4. Stacked beaded bracelets for a whimsical style
The stacking trend is here to stay this season as well. The best way to show your love for this trend in the upcoming months is definitely by putting together many different boho beaded inspired bracelets.
For a fuller look wear bohemian bracelets
The colorful melange of all these bracelets could give you a very playful, happy and free spirited look. In addition, you can come up with your own style by adding the bracelets that you like and speak to you personally.
Stack up your bohemian jewelry for an outstanding style
You can stack up different beaded bracelets, but you can also mix them with other types of bracelets as well. For example, a bracelet with boho lucky charms is always very appropriate and cute for this look.
Wear a stack of boho bracelets for an easy going look
There are unlimited options, therefore you will be able to find the right color, design and shape to go with your outfit.
In addition, for a more chic style try to wear golden or silver beaded bracelets, but if you want a festive and beachy boho look you can try to go for the ones that are made of wood.
5. Boho inspired outfits and long necklaces for an easy going style
The perfect summer boho combo definitely has to be the kimono paired up with a long necklace. If you like to layer up your clothes, but the hot or humid weather say no to anything, but a t-shirt - try a kimono. You can find a kimono made of see through fabric that will give interest, yet keep you comfortable during the warm days.
In addition to your free spirited outfit wear long bohemian jewelry piece
Via Pinterest
Since kimonos are usually very colorful or detailed to some sort, you can easily pair them with a plain t-shirt and trendy pair of ripped or destroyed shorts. It looks simple, but then the kimono and the long boho necklace bring the magic to your clothes.
Long boho necklaces in addition to your trendy outfit for a perfect summer look
Via Pinterest
Or, if you like already wearing outfits with boho vibes, then you can just get a couple of boho inspired rings and wear a long layered necklace that remind you of the free spirited lifestyle you are all set.
For example, an off the shoulder ruffled top that you can style with simple booties and jeans unless it is a dress. To finish off this boho look simply add a long necklace with a crystal for a magical style.
6. Boho layered chokers for a sexy boho look
Every woman likes to feel sexy from time to time. In this case, you need a layered golden, rose gold or silver choker. These delicate chokers have the power to complete transform your look and make it so much attractive and dazzling. 
Layer up your delicate chokers for a subtle and sexy boho look
Source unknown
The small pendants on the choker will gently make a sound and dangle as you walk. In addition, these boho inspired chokers are very comfortable to wear and style with any kind of an outfit. But, to achieve a sexy look try to wear an off the shoulder or strapless tops.
Accessorize your neck with boho layered chokers for an attractive look
Via Pinterest
In addition, you can add a fabric choker to your golden, silver or rose gold choker to make it even more interesting and impressive. This is a great summer combo that you can combine even with your bathing suit. And, who can say no to a timeless comfy piece of jewelry?
Combine these two chokers for a sexy and modern summer style
Left: Half Moon Layered Choker; Right: Multi Arrow Choker Necklace Gold
By Happiness Boutique
These two boho jewelry pieces from Happiness Boutique are such timeless pieces that will not go out of style any time soon. Try them out and make your outfits more sexy and outstanding.
7. Boho inspired anklets for a remarkable summer look
For a truly unique and remarkable style feel free to accessorize your ankles with statement anklets with ancient coins or anything that dangles and make a sound.
In addition, this bohemian jewelry is so comfortable to wear and you can even style it when you go to work especially if you work in a clothing store, behind the cash or anywhere you like.
For a super trendy summer look wear boho anklets
Via Pinterest
Depending on your sandals you can select food bracelets that will match or go well with your sandals. This is a great way to decorate your looks and make them more trendy and noticeable. For example, you can wear this boho jewelry with a plain or graphic tee and a pair of jeans or shorts.
Boho anklets are always great for the summer
Via Pinterest
If you prefer a super accessorized look, don't hesitate to add a statement necklace, statement bracelet and body jewelry. It looks incredible and so sexy, especially when you wear with clothes where your boho jewelry can stand out.
8. Boho chunky pendant necklaces for a symbolic wear
Pendant necklaces are also another typical boho jewelry piece that is widely worn by the bohemian fans. The detailed pendant necklaces look so ancient and symbolic that there is no doubt that you will end up with a very cool and meaningful look.
Embellish your summer outfits with a boho pendant necklace
You can effortlessly style these chunky pendant necklaces with jumpers, jeans or dresses. In addition, you can a pair of studs and a couple of boho inspired rings to accentuate the boho look.
In addition to your free spirited look wear bohemian jewelry
Via Pinterest
Furthermore, these necklaces are great to be worn even with your most basic outfits. Try to spice up your monochromes and you will see how many people will notice and compliment you on your look. Necklaces with pendants are such a great complimentary piece to any basic look or even detailed outfits.
9. Wear bohemian jewelry for a free spirited look
Cuff bracelets have been so popular lately. Feel free to add to your jewelry collection a couple of boho inspired cuff bracelets for a free spirited look. You can add a couple of bracelets if you prefer a more accessorized way, but it is complete enough also to wear only one.
Bohemian jewelry look very precious and luxurious
Via Pinterest
Cuff bracelets are very interesting jewelry pieces. You can wear them all year long and make any of your looks more remarkable and stylish. Feel free to dress them up with more modern and stylish outfits. However, feel free to wear them at the beach with your bathing suit because it will look amazing!
In addition to your casual outfit wear bohemian jewelry
Via Pinterest
In addition, you can find the perfect boho jewelry that will go with your style. Weather it is a more minimalist or statement bracelet, they both look very dazzling.
Make your style more eye-catching with any of these bracelets
Left: Minimalist Style Arrow Bangle in Gold; Right: Vintage Leaf Bangle
By Happiness Boutique
These two bracelets are perfect if you'd like to recreate a boho trendy look. Whether you choose a statement or minimalist, they will do the job. Try to pair them with clothes that also have boho elements such as tassels, fringes or symbolic components.
10. Boho inspired dangling earrings for a chic style
Sometimes you will find jewelry pieces that you can hardly tell whether they are boho inspired or not. However, if you get a little creative with your clothes you can turn a piece of jewelry that is not meant to be boho to become one.
Dangling earrings in addition to your boho inspired look
You can turn your dangling earrings into boho inspired earrings by wearing outfits that are super typical of the bohemian fashion. This way you can play around with your jewelry and style it according to your occasion.
Bohemian jewelry is always a good idea
It is always possible to look more elegant even when we talk about the most relaxed, nomad-ish and free spirited fashion style. This style is meant for the artistic and easy going hearts that seek adventures and being outside the comfort zone.
However, just a small detail such as earrings could change this easy going look and turn into a very chic, but bohemian inspired style.
Take your boho outfit to the next level with any of these trendy earrings
Left: Peach Passion Statement Earrings; Right: Circle Drop Earrings Rose Gold
By Happiness Boutique
These two pairs of earrings from Happiness Boutique could  a great options if you want to achieve a chic boho look. They look very elegant, settled and appropriate for many different occasions. Feel free to check them out! 🙂
Finally, I hope that you enjoyed these free spirited boho jewelry pieces and the ways you can style them. If something is missing in this list, don't hesitate to leave a comment and share your ideas on how to wear boho jewelry.
In addition, feel free to let us know what are your favorite boho jewelry pieces and how do you like to style them the most. Let's indulge ourselves into these mystical and playful boho jewelry items.
Thank you & Happy Styling!
Save
---