It's important to be updated the latest bridal jewelry trends since the warmer days are stepping in. This means wedding season is approaching and we need to get ready.
In addition, if you are not planning your own wedding, then you can help your girlfriend to get ready and help her accessorize her dress in the best possible way.
Most girls love to watch wedding dresses, bridal jewelry and everything related to weddings because many of us dream for the perfect wedding day. It is the one day that everyone's attention is focused on us and we are treated like a princess.
Make your special day unforgettable by looking just fabulous
Via Pinterest
I hope you will enjoy looking at these amazing and princessy dresses and classy bridal accessories.
Happy Reading!
1. Crystal drop earrings for an elegant look
Being a bride is no easy job. All the preparation and organization could be very tiring. Therefore it is important at the end to see the perfect results and the perfect wedding look. After all, everyone will be watching you.
Wear crystal drop earrings for an elegant wedding look
A pair of crystal drop earrings is a very elegant and classy choice, There is no chance to go wrong with these bridal jewelry pieces. They look very feminine and they are easy to style with any type of a wedding dress. In addition, they go well with all kinds of hairstyles.
In addition to your stylish dress add a pair of crystal drops
You can accessorize with a long pair of crystal earrings, especially if your hair is pulled back in a lovely and chic way.
Crystal earrings look very luxurious and attractive when placed on the ear. Therefore if you decide to go for this style you will definitely receive a lot of compliments on your look.
These earrings could make any wedding dress more sophisticated
Left: Charm Statement Earrings; Right: Timeless Classy Pearl Drop Earrings
By Happiness Boutique
Two amazing options from Happiness Boutique that could perfectly compliment your wedding dress. They have a mix of crystals, rhinestones and pearls, which make them very suitable for a wedding.
2. Bridal jewelry pearl sets for a classy look
For a very classy and complete style you can get a bridal jewelry set. The set, of course, could be a melange of a delicate necklace and a pair of earrings or earrings with a bracelet. There are many choices out there.
For a well put together wedding look wear pearl jewelry set
Via Pinterest
Very gentle and feminine, this pearl set of a delicate pendant necklace and pearl earrings is very appropriate. No matter of your dress, detailed or not, it is possible to go with a similar set because it looks very subtle.
Pearls are so classy, elegant and feminine
Via Pinterest
If you want to spice up the classic vibe of the pearls you can always add other jewelry pieces such as a smaller stud on your ear or even combine your necklaces with another one for a layered effect. The beauty of this set is that is very adaptable and versatile.
Give your wedding dress style by wearing pearl bridal jewelry set
Left: Opulent Pearl Drop Earrings in Gold; Right: Timeless Single Pearl Necklace
By Happiness Boutique
A classy and feminine combination of delicate pearl earrings and a dainty chain with a single pearl on it from Happiness Boutique that could compliment your wedding dress.
3. Pearl necklaces for a sophisticated wedding style
Another classic piece is the all times favorite pearl necklace. This necklace could be worn not just to your wedding but at any point that you want to achieve a very sophisticated style. However, they just look so pretty and ladylike when paired with a wedding dress. 
In addition to your wedding dress wear a timeless classy pearl necklace
The shorter pearl necklace go very well with strapless dress so they can be the accent on your look. In addition, you can pair them with pearl studs or a beautiful ring with a crystal. Don't forget to make an elegant hairdo so you can display your necklace better.
Chunky pearl necklaces for a retro inspired wedding look
Source unknown
Furthermore, the chunky pearl necklaces also have their charm. They can give a fuller and more fun look compared to the classy pearl necklace. Therefore if you want to take your wedding look to the next level, don't hesitate to give them a try.
Any of these necklaces could give you the perfect wedding look
Left: Pearl Galaxy Statement Necklace; Right: Pearl and Diamond Statement Necklace
By Happiness Boutique
From Happiness Boutique's collection - these two statement pearl necklaces that could instantly make your wedding dress more remarkable and interesting. Feel free to check them out! 🙂
4. Glamorous statement necklaces for a sparkling wedding day
Sparkle all the way with a lovely glowing statement necklace with crystals or rhinestones. In case you want your dress to be more simple, then what a better way to make more complex and eye-catching.
Glam necklaces for the girly girls
Via Pinterest
Also, you can combine your statement crystal necklace with a statement bracelet and ring. For a refreshed look you can get a necklace that has a mix of golden and silver parts. Again, try to have your hair pulled away so you can show your beautiful necklace.
Statement necklaces and wedding dresses are a great combo
Via Pinterest
To make a simpler dress more catchy you can also go for a vintage and retro inspired necklaces. Also, this look could take us back in that time where women showed their silhouettes that resemble an hourglass.
Wear a statement glam necklace to your wedding for a glowing style
Left: Vintage Glamour Statement Necklace; Right: Vintage Inspired Pearl & Crystal Statement Necklace
by Happiness Boutique
To recreate this attractive style feel free to check out these two vintage inspired necklaces from Happiness Boutique. Their detailing will bring a lot of sophistication and elegance into your wedding look.
5. Long crystal earrings for a princessy look
In contrast to the drop crystal earrings that we mentioned before, these long crystal earrings are great with your hair down. Their size allows you to wear your hair the way you feel more comfortable, which is awesome.
Feel like a princess at your wedding by wearing long crystal earrings
Via Pinterest
This type of earrings are a perfect add-on to all the ladies that want to feel like princesses at their wedding. You can style them with detailed and Disney inspired dresses with no effort.
In addition, feel free to only accessorize with these statement earring because their design makes them completely enough in terms of bridal jewelry.
Bring the magic to your wedding by looking like a Disney Princess
Source unknown
Similar bridal jewelry pieces could be combined with any neckline wedding dress. They are very chic and could give you the illusion of a long and feminine neck that will look very attractive even if you have a boat or jewel neckline.
Long earrings for your magical wedding look
Left: Crystal Fern Statement Earrings; Right: Glimmering Mirror Statement Earrings in Gold
By Happiness Boutique
If you happen to love this look and go for it on your wedding day, we have two very suitable earrings for you from Happiness Boutique.
These jewelry pieces could give you the confidence that you may need on this very special day, especially if you feel nervous.
6. Bridal jewelry appropriate for casual wedding looks
Nowadays we can see that brides could choose a very contemporary chic, casual, boho or you name it type of look for their wedding. Therefore if you are one of those ladies, then these next suggestions are just for you.
Casually chic bridal jewelry for the untypical wedding looks
Via Pinterest
Instead of pearls, crystals or anything fancy, feel free to wear a simple delicate necklace with a stone hanging off of it. Although this looks simple or casual, it would give you color, joy and a distinctive look. Who says that we always need to follow standards where we can be unique.
Be different by wearing a more casual bridal jewelry
Source unknown
Another bridal jewelry that is appropriate for more casual style is a simple layered necklace. This is a great addition for a more visible and fuller look. Also, you can pair it with crystal or even colorful earrings for a truly individual style.
Great additions to any wedding look
Left: Opalescent Boho Necklace; Right: Like a Feather Layered Necklace
By Happiness Boutique
For a different wedding look we have these two very feminine, contemporary and trendy necklaces from Happiness Boutique. Also, wear a semi precious stone for a boho style or a layered necklace for a modern and untypical wedding look.
7. Glowing statement bracelets for a chic wedding look
In addition, to your beautiful earrings, necklaces or rings feel free to add a sparkling statement bracelet to your dress. You can wear it in combination with other bridal jewelry pieces or solo because this glowing bracelet is absolutely enough to accessorize your whole look.
Wear sparkling statement bracelets for a glam look
Via Pinterest
This is also a great Princess inspired style that looks very magical and luxurious. You can leave your hair down and add a veil to it to definitely take it to the next level. You can get many compliments with this wedding style.
Make your arms the statement of your look by wearing glamorous bracelets
Source unknown
To spice up the usual bridal style you can add a head accessory in addition to your statement bracelet.  This way you can end up with a very remarkable and distinctive boho or vintage inspired style.
Classy and girly bridal jewelry pieces for a perfect wedding style
Left: Sparkle Statement Bracelet Silver; Right: Glam and Glitter Statement Bracelet
by Happiness Boutique
Also, if you want to give your look elegance and jazz it a little as well make sure to take a look at these two feminine and trendy statement bracelets from Happiness Boutique.
8. Bridal jewelry suitable for your bohemian wedding desires
For all the bohemian loving ladies we have prepared some styling tips for you as well. Boho inspired wedding dresses look very loose, comfortable and whimsical.
In addition, for the perfect boho style you would need a wreath of beautiful and fresh flowers, which the boho wedding look is associated with.
Wear comfy and loose wedding dresses for a boho wedding look
Via Pinterest
This cute and girly flowery child look is so feminine and unique. You can incorporate the flowers into your hairdo or just add a flower wreath. Most boho wedding dresses are very lightweight and comfortable to wear.
A flower wreath is a must have to achieve the perfect boho wedding look
Source unknown
The bohemian wedding looks are better with more natural makeup and less sparkling jewelry. However, feel free to add a pair of dangling or tassel earrings to complete your wedding look.
Flowers, trendy earrings and loose fabrics is what makes a great boho wedding look
Via Pinterest
Furthermore, when looking for a boho inspired wedding dress try to focus on dresses that don't have an expressed silhouette and have a flowy fabric. It is possible to go for a very detailed dress that has flower embroidery, lace or some sort of beads on it.
9. Elegant rings for the perfect wedding day
Feel free to add a tradition wedding ring to your look because it is just classy. Classic jewelry pieces always look very good and appropriate. If you don't want to escape the traditional way then you can get a white gold, gold or silver wedding ring to wear to your special day.
In addition to your wedding dress wear an elegant ring for a stylish look
Via Pinterest
Of course, if you want to be a little different you can add another element to your bridal style such as a veil that looks very antique.
If you happen to like the style, try to wear minimal amount of makeup because, again, for this look is best if you look as natural and "virgin" so to say as possible.
For a trendy and remarkable look wear a stack of glam rings
Source unknown
However, if you want to give a pop of color and modern touch to your wedding style feel free to add a stack of statement rings.
For example, a rose gold rhinestone ring that will brighten up even more your happy day. Or, add a statement ring with a fresh color that will make it unique and trendy.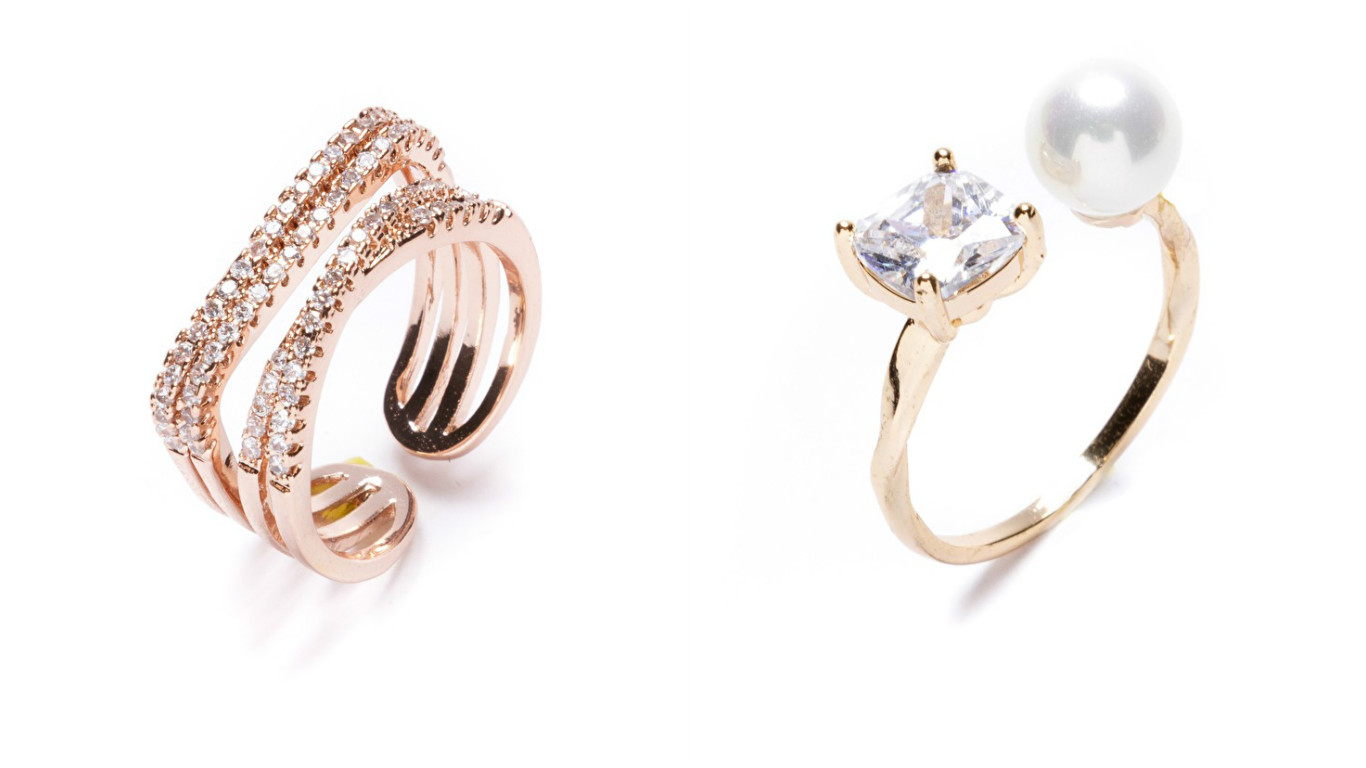 Pretty and sparkling rings for an elegant wedding look
Left: Rose Gold Glamour Band Ring; Right: Glint of Glamour Pearl & Rhinestone Ring in Gold
by Happiness Boutique
Our collection offers you these two marvelous rings that are such a perfect add-on to weddings. They are rich in texture, have a story behind them and could be a great part of your wedding story.
10. Body bridal jewelry for an unforgettable look
If you want  a super noticeable wedding look you can always accessorize your body with a body bridal jewelry such as shoulder jewelry, which looks very attractive and different than the usual looks.
For a remarkable style wear bridal body jewelry
Via Pinterest
This style looks very retro and original because nowadays we are not used to see this type of body jewelry at weddings, but if you want a strapless dress this is one of the best bridal jewelry for a very original style.
Accessorize your shoulders with bridal jewelry for a noticeable style
Via Pinterest
You can choose between a very bold and detailed necklace for the shoulders or a more feminine and subtle one. Both look very remarkable and original. Plus, they are appropriate for any type of lady no matter of her dress and hairstyle.
Hopefully this blog post helped you with your bridal jewelry and made you more confident when it comes to accessories. In addition, I hope that even if you are not a bride to be, this was informative and interesting for you.
Please let us know, which bridal jewelry you like the best and what type of jewelry would you wear or wore to your wedding.
Thank you & Happy Styling!
Save
---