12 Ways to Style a Choker Necklace
 In today's blog post we will go through one of the most trendy and adjustable jewelry pieces - the choker necklace. In addition, these jewelry pieces can make any of your style more chic, daring or simply cooler.
Get your trendy choker necklace today & make any of outfit super trendy
And, if you'd like to learn more on the different types of chokers and their possibility of styling and wearing, then keep reading. You  will find out some really interesting style tips on how to rock these babies.
Happy Reading!
1. For a flower child inspired look wear a boho choker
If you are into the whole bohemian and hippie inspired fashion and chokers, then you are more than welcome to accessorize your free spirited looks with a choker that has some flowers or boho elements on it.
Printed outfits, loose fabrics, flowery chokers for a boho look
Via Pinterest
For example, a choker with pendants such as feathers, tassels or flowers is perfect to achieve this look. Don't forget to pair your accessory with a dress or skirts with flower prints.
Turquoise pendant choker for a gypsy inspired look
Source unknown
In addition, chokers with turquoise pendants could also be appropriate for this type of a look. Don't they just remind you of the careless bohemian days?
Accessorize your bohemian outfits with a boho inspired choker
Left: Dreamcatcher Boho Choker; Right:Feather Choker Vintage Silver by Happiness Boutique
The perfect boho choker could be the one that keep you from bad nightmares such as the dream-catcher boho choker or the one with a little feather pendants that will gently sway around as you move.
2. Simple black choker for your casual days
Chokers are a great way to make your casual and every outfits more interesting and catchy. You just need to get a simple black band and there you go!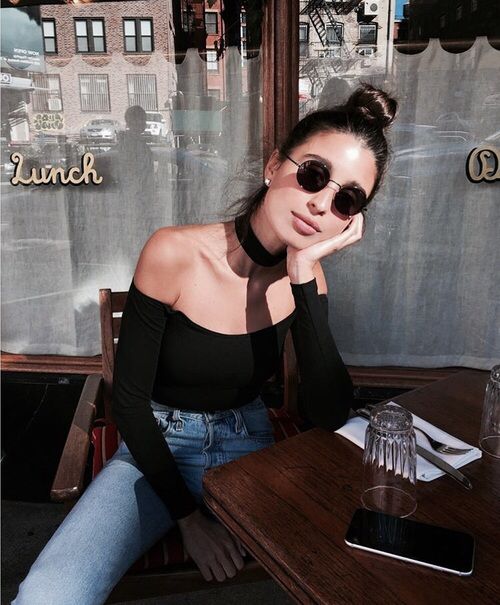 Wear a simple choker to make your basics catchier
Via Pinterest
For an even cooler look try to create a cute hairstyle, throw on a pair of skinny jeans and shades to finish off the look. Feel free to wear this style with comfy sneakers, trendy shoes or even heels.
Basic choker and trendy outfits for a perfect casual look
Also, these jewelry pieces are so easy to pair with any type of an outfit. Plus, you can add all kinds of other jewelries and still look very sleek and stylish. No matter of your style you will always be able to find the choker that suits your personal style!
3. Add interest to your trendy looks with a wrap choker
The perfect add-on to literally any outfit is the wrap choker. Very delicate, yet so adaptable and versatile to any look.
For instance, you can leave the stands hanging or tie them up in a bow, but one thing it's for sure - it looks very refreshing no matter which way you decide to wear it.
Wear a wrap choker with your fashionable outfits
The best thing about the wrap choker is that it could be worn by any type of a lady, any time of the day and any time of the year. In addition, it comes in different colors and designs, therefore it will be easy to pair it up with your looks.
In addition to your outfit wear a wrap choker
Via Pinterest
Also, it is possible to recreate any type of fashion style, you just need to get creative and imaginative with your wrap choker.
Versatile, timeless and classy – the wrap chokers
Left: Timeless Wrap Choker; Right: Happiness Wrap Choker by Happiness Boutique
Get your timeless classy wrap chokers from Happiness Boutique to make your dull days more brighter and your boring outfits more cool and trendy.
4. Lace choker for a romantic look
For a more soft and romantic style you can go for a cute lace choker. It will gently hug your neck, but it would still make a statement to your whole outfit.
Again, you can pair this type of a choker with jeans, dresses, skirts or any you like, especially if it is a single colored one.
For a romantic look wear a lace choker
Via Pinterest
Besides from being very romantic, it could make your looks more attractive, chic and sexy. For example by combining it with a leather jacket, heels and don't forget to finish the look with a dark lipstick.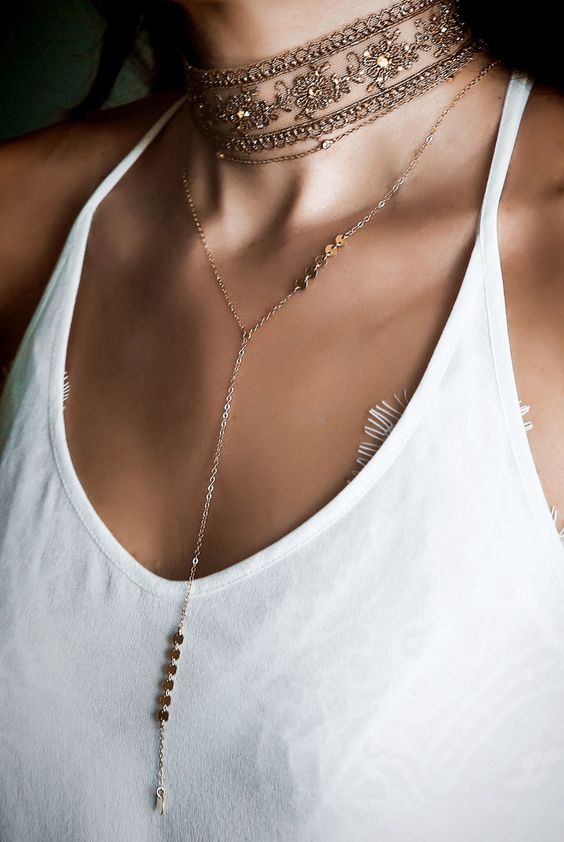 Lace chokers are the perfect add-on for your romantic looks
Via Pinterest
If you like to wear your basic outfits, then the lace choker is perfect for you because it will transform your look within seconds. Even the plain and casual tank top can be modified into a stylish top that you can wear to a special occasion.
Furthermore, you can easily combine it with other jewelry pieces such as longer silver or golden necklaces to highlight your neck.
In addition to your outfits decorate your neck with a lace choker
Gothic Lace Choker by Happiness Boutique
For your lacy inspired days we have a lace choker called gothic lace choker, but you are more than welcome to style even your most feminine looks with it. In addition, this choker is so comfy to wear all day long.
5. Be a daring diva by wearing a metallic choker
To achieve a more rebellious and daring style feel free to spoil your jewelry collection with a metallic choker. It looks very bold and gutty, but at the same time stylish and fashionable.
Get your diva look by adding a metallic choker to your outfit
One of the best things about this type of a choker is its adjustable characteristics.
For example, the possibility of wearing it daytime and nighttime with almost any outfit is just great because instead of having many different jewelry pieces we can play around with only one piece. As a result, we can style it according to our looks.
For a feminine and daring style wear a metallic choker
Source unknown
Also, as you can see, it can look very stylish without being overpowering and distracting. It all depends on the design of the metallic choker. It can even become a great piece to wear at work.
Be daring and edgy by accessorizing with a metallic choker
Left: Edgy Chain Choker Gold; Right: Bubble Bliss Pearl Choker by Happiness Boutique
Here are our two suggestions for metallic chokers that could beautifully decorate any of your looks. Feel free to check out the edgy chain choker in silver as well, if you prefer silver jewelry pieces.
6. Sparkling choker for a glam look
For your Hollywood glam inspired looks the best accessory for this season would be a glowing and sparkling chic choker around your neck. It goes perfectly well with cute and elegant dresses, especially if they are more of the simple kind. 
In addition to your Hollywood outfit wear a sparkling choker
Via Pinterest
It is possible to wear such a glam choker with more girly dresses, and of course, with a long elegant chic dress as well. In addition, you can easily style your glam choker depending on your mood, vibe and taste.
In addition to your glam look add a glowing choker
However, don't forget to get a shimmering makeup as well to get that extra sparkle. But, overall, as you can see, the glam choker is really enough to make a statement to your look.
7. Velvet all the way for a stylish look
If you like velvet and turtlenecks, then these next suggestions are just for you. You just need to replace your turtlenecks with a cool and soft velvet choker and get your all in velvet look for a super girly and stylish look.
For a comfy, yet stylish look dress up in velvet
Via Pinterest
Furthermore, velvet chokers come in many different colors, therefore you will be able to easily combine it with your outfit. In addition, their soft fabric makes them one of the most comfortable accessory to wear.
In addition to your velvet tops add a velvet choker for a girly look
Via Pinterest
Whether you like to wear your skinny jeans or wrap dress, the styling is still easy and looks absolutely gorgeous. Very feminine and subtle regardless of the size of the band.
For a super girly and stylish look wear a slip-on dress and a velvet choker
Source unknown
Who can resist to this slip-on velvet dress with a matching velvet choker necklace and beige shoes? For an easy to put on look that looks so sexy, yet feminine and classy - this is your look.
In addition to your casual outfits wear a velvet choker
Black and Pink Velvet Choker Set by Happiness Boutique
To recreate the velvet looks you can go ahead and check out the black and pink velvet choker set by Happiness Boutique. Depending on your outfit, you can switch between the two colors.
8. Vintage inspired chokers for an original style
On the other side, if you don't feel like incorporating the latest fashion clothing pieces go for your own style. For example, a vintage inspired choker necklace combined with your normal everyday outfits for a very standing out look.
Vintage inspired chokers are so cool and eye-catching
Here, it is definitely important to pay attention to the little details that are finely polished and made on the choker.
Also, the rusty shades of the silver takes us back in time, but your basics are contemporary and this mix and match is perfect for an original style.
Antique chokers in addition to trendy tops for a remarkable style
Source unknown
And even when paired up with your casual looks, the vibe of the vintage choker is very powerful and will give you this specific old-fashioned touch right away.
Make your outfit more interesting by wearing a vintage inspired choker
Left: Vintage Silver Choker; Right: Antique Pendant Choker by Happiness Boutique
Give your everyday looks a personal touch by accessorizing them with an antique vintage inspired choker necklace such as these well polished chokers from Happiness Boutique.
9. Trendy choker for a cool look
Ripped jeans, crop tops, off the shoulder tops and many other clothing pieces that became very popular and trendy lately. However, let us not forget the choker necklace that is also inseparable part from for achieving this trendy look. 
For a super cool look wear a trendy choker
Based on your occasion, feel free to style this look with heels or a pair of sneakers for a more comfortable wear.
Leather jacket, ripped jeans and a trendy glowing choker for a cool style
And, to finish off your trendy look you can also layer your outfit with a cool leather jacket. It will bring a lot of style and chicness to your look.
10. Layered choker for a fuller look
Another trend that we have been seeing a lot are the layered necklaces, but in this case a layered choker for a fuller look.
In addition, it looks very authentic and original because you can mix and match your choker with anything you already have in your jewelry collection. Therefore you end up with your own unique creation, which is so cool. 
Give interest to any of your basics by wearing a layered choker
Via Pinterest
The chokers could be of different texture and design depending on your occasion and mood.
Also, in the summer what a better way to make your outfit more fun and cute than by decorating our necks with a layered choker with pendants in the shape of a pineapple, palm trees and cute animals.
Because layered chokers are always a good idea
Or, if you have a deep décolleté lariat necklaces in combination with a choker look very stylish and sleek.
The perfect accessory to any outfit – the layered choker
More and more people prefer to wear original and one of a kind clothes and jewelry pieces by creating their own designs or applying different patches to jazz up their basics.
Here, is you chance to get creative with your layered choker and other necklaces.
In addition to your trendy outfit wear a layered choker
Left: Layering Choker; Right: Tassel Layered Choker by Happiness Boutique
Furthermore, for a more subtle and casual wears you can go for a delicate layering choker.  But if you want to be more chic and sleek with a touch of personal character to your look, then a piece like the tassel layered choker could be a great choice such as this one from Happiness Boutique.
11. For a glowing look add a rhinestone choker to your outfit
Give sparkles and shines to any of your outfit by wearing a choker topped off with rhinestones. Looking very luxurious and stylish, the rhinestone choker is in fact very easy to pair up with even casual outfit.
For a feminine look wear a rhinestone choker necklace
Via Pinterest
In contrast to the glam choker, rhinestone chokers are also appropriate for daytime wear. For instance, they could be a great addition to your working outfit or leisure looks where you still want to look sharp and chic.
Give a little sparkle to any of your looks by adding a rhinestone choker
Left: Shine Velvet Choker; Right: Layered Choker Necklace by
Happiness Boutique
If you'd like your outfits to be extra sparkling and more eye-catching, then these stylish rhinestone chokers from Happiness Boutique could be a good options for you.
12. Get your retro classy look with a pearl choker necklace
Last, but not least, chokers with pearl accents are always a good idea. Whether you want to achieve a retro classy or just classy look, they are there for you. Also, pearl chokers are effortless to pair with jeans, skirts and dresses, therefore you can end up with a very attractive outfit within seconds.
Pearl choker necklace in addition to dressy outfits
Also, many people consider the choker as an accessory suitable only for night out looks, but in fact, they could reach a much wider range of fashion styles.
For example, try to pair your pearl choker with a cute off the shoulder top and a skirt and finish off with a pair of comfy shoes for a super girly look.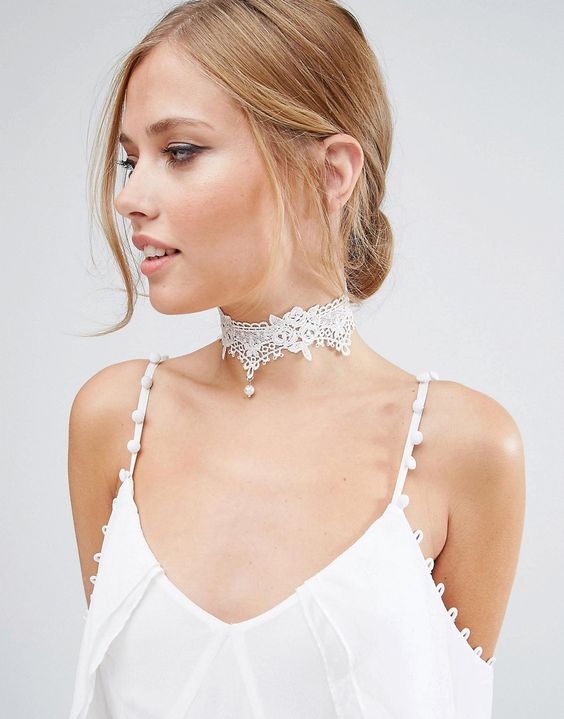 Choker necklace with pearls for a timeless look
Via Pinterest
On the other hand, if you'd like to recreate a rather feminine and alluring look embellish your outfit with a lace pearl choker. Again, it s very easy to style, yet the final result is just fabulous.
In addition to your dressy and smart look wear a pearl choker necklace
Classic Pearl Pendant Choker by Happiness Boutique
Also, for all the classy ladies, we offer you this classy pearl choker from Happiness Boutique that could be a great add-on to any type of a lady no matter of her fashion sense.
Hopefully you enjoyed these style tips of how you can wear and style your most trendy and cool choker necklaces. In addition, they are perfect for any type of a lady. Therefore if you had any doubts, I hope they are gone now! 🙂
In addition, please leave us a comment to share your opinion regarding the choker necklace trend and how do you like to style them.
Thank you & Happy Styling!
Save
Save
Save
Save
---