Chunky earrings or statement earrings? You name it. The important thing is that there are so many amazing and modern designs of chunky earrings that could perfectly spice up a little of our looks. After all, we all want to look sleek and also fashionable, especially in the summer.
Wear chunky earrings this season
Via Pinterest
In addition, in today's blog post you can learn different ways on how to rock your favorite chunky earrings and style them so you look super trendy and outstanding.
It is not very hard to combine these jewelry pieces with other accessories, but in case you have doubts, then this is just another reason to continue reading.
I hope you will find these styling tips interesting and informative.
Happy Reading!
1. Chic chunky earrings for a glam look
In the summer times we have a bigger chance to attend a wedding or any kind of special occasion. It seems like the warm weather tend to predisposes people to go out more and feel happiness and joy, which leads to more celebrations and gatherings with friends.
Glam up your style with a pair of chic chunky earrings
In case you have a special occasion coming up marked on your agenda, then these chunky, yet modern and chic earrings could be a great choice for you. For example, a pair of these horn or half moon statement earrings is a perfect touch to your stylish wear.
Give an extra sparkle to your outfit with a pair of chunky earrings
Via Pinterest
If you want something very girly and chic these glamorous flower inspired rhinestone earrings are a great option. In addition, they look very luxurious and glam, therefore they should be perfect for your special occasion if you like to wear chunky earrings.
Any of these two pairs of chunky earrings will enhance your looks
Left: Aqua Crystal Statement Earrings; Right: Radiant Light Statement Earrings
By Happiness Boutique
Try any of these two glamorous and dazzling pairs of earrings from Happiness Boutique if you want to glam up your special occasion looks. They are very rich in texture, yet super comfortable to wear.
2. Tropical earrings appropriate for your summer looks
Summer is already here so we can't help, but think about our vacation. Also, if you happen to already know when your vacation dates are or if you are about to go on vacation, then you need to check out these following suggestions about summer ear accessories. 
Add a pair of tropical earrings to any of your summer outfits
Furthermore, these colorful and tropical earrings are perfect for any of your summer looks. Even if you don't have plans to visit a tropical country, these earrings are awesome with girly outfits such as loose dresses, flowy tops or they could even spice up your normal tee and denim shorts look.
Colorful earrings with tassels are a must have for this season
It is always better to add a pop of color and freshness to your spring or summer outfits. And, it brings your energy up and would definitely put a smile on your face. Don't be afraid to experiment with vivid colors in the summer because they look very appropriate and stylish.
Give a pop of color to your summer looks
Left: Timeless Classic Statement Earrings; Right: Color Heaven Statement Earrings in Orange
By Happiness Boutique
The beautiful blend of these joyful and tropical colors is perfect for the summer. These earrings from Happiness Boutique are great for dresses, stylish or dressy looks. Fee free to check them out by clicking on links below the photo.
3. Colorful tassel earrings for a modern look
The most on-trend earrings this season has to be a pair of tassel earrings. They are so colorful, playful and absolutely amazing.
In addition, you can wear your tassel earrings with so many different kinds of outfits. For example, try to style your night out looks and you will be amazing. Or, spice up your casual style with a pair of colorful tassels.
Be a top fashionista by wearing tassel earrings
Via Pinterest
These earrings come in so many different colors. There is no doubt the you won't be able to find the right colors or size to go with outfit. In addition, the threads that hang off from the main part of these earrings is so lightweight and it will keep you comfortable all day or night long comfy.
For a joyful look wear tassel earrings
Furthermore, tassel earrings look very luxurious, precious and playful, especially when you style them with shorter or off-the-shoulder dresses.
However, they are even great for weddings. Don't hesitate to give them a chance because they are like a choker, but in the world of the earrings. Absolutely trendy and sexy!
Be trendy with any of these chunky earrings
Left: Sunshine Knot Tassel Earrings; Right: Turquoise Tassel Earrings
By Happiness Boutique
Add any of these two chunky tassel earrings from Happiness Boutique to your look and it will instantly become more attractive and eye-catching. Bright colors and smiles on the face!
4. Wear big hoop earrings to make a statement
Another trend that has been going on for quite some time is the hoop earrings. There are many different types of hoops, but today we talk about some statement chunky pieces. Very visible and bold, yet it will add an instant interest to any of our styles. 
To make a statement wear chunky hoop earrings
Via Pinterest
In addition, hoop earrings are appropriate to be worn all year long so you will end up with a timeless piece in your jewelry box. They can even brighten up your monochrome outfits in a very chic and sleek way so don't hesitate to try them out, if you haven't already.
This season's must haves – large hoop earrings
Source unknown
If you want to make a statement feel free to get yourself a pair of thick hoop earrings and you will be certain to give your outfit a touch of freshness and coolness. These type of earrings would be great for the working ladies, if you travel or while you have brunch with friends.
In addition to your chic outfits wear modern chunky earrings
Hoop earrings are great with super fashionable and trendy looks. They could look very feminine, yet you can wear them with cool and swagger inspired outfits as well. These are one pair of versatile earrings that will definitely come in handy to make your outfits prettier.
Be fashionable with any of these hoop earrings
Left: Fine Hoop Earrings; Right: Circle Hoop Earrings Gold
By Happiness Boutique
Based on your preferences you can call an earrings chunky or not. For some people could be delicate, for other a statement piece, but the important thing is that whichever pair of these two you decide to add to your look, it will look great.
5. Chunky earrings on-trend for a super fashionable style
The crispin ball drop earrings are also very popular this season. If you pay attention you will notice that there is a pretty big amount of popular trends this season, therefore it could be something that is just right for you. These earrings are also very elegant, yet appropriate to embellish the casual look as well.
Crispin chunky earrings have such an eye-catching appearance
Via Pinterest
These is nothing wrong to give a pop of color to your brand new outfits or to revamp your oldies. If your crispin earrings contain a couple of colors then you need to take into consideration to either match one of the colors from the earrings to your look or to keep it very simple in terms of prints and colors.
In addition to your fashionable style wear pompom earrings
Source unknown
Aaahh..the pom pom earrings! ? They are appropriate as well for winter as well for the summer, especially if you select more vivid colored pom pom pair of earrings. In addition, you will be certain to add a playful, yet very comfortable to wear pair of earrings to your wardrobe.
Triple ball earrings – the way to go this summer
The ball drop earrings look very elegant, sleek and the simplicity of their design allows you to experiment with more detailed and fashionable outfits. Feel free to create a cute hairstyle so you can display the beauty of your earrings better.
Try to be unique with any of these two pairs of earrings
Left: Fuschia Pom Pom Earrings; Right: Double Ball Drop Earrings
By Happiness Boutique
Put a smile on your face by adding a colorful pair of pom pom earrings from Happiness Boutique. These are the most lightweight and cute earrings ever. Don't hesitate to check them out.
6. Boho inspired chunky earrings for a festive flower child look
Boho chunky earrings are an absolute must have for the summer. It doesn't matter if it's this season or next season. The boho style will always be trendy so if you happen to be a fan, definitely make sure to add to your collection a pair of boho chunky earrings.
Boho chunky earrings are always appropriate
Via Pinterest
So colorful and free spirited, these earrings are great with other colors outfits because the boho fashion style is all about being mismatched and over accessorized. This look is especially great to music festivals where it is full of young and joyful people who also wear colorful accessories and outfits.
Off-the- should tops and chunky earrings are such a perfect combo
Via Pinterest
Don't be afraid to add a pair of boho chunky earrings to your super fashionable outfits because these jewelry pieces will add a very mysterious and magical touch to your look. A great way to escape the summer hot weather is by wearing light colored outfits.
For example, an off-the-shoulder blouse that will allow your skin to breath in the summer days. Try to pair it with sandals for comfy wear or heels if you have a special night out.
In addition to your summer outfits wear cute chunky earrings
Left: Bohemian Boho Teardrop Chandelier Earrings; Right: Playful Tassel Earrings
By Happiness Boutique
Beautiful, colorful and trendy! These two pairs of boho inspired earrings from Happiness Boutique are a great combo with all kinds of looks. You can make your casuals more boho inspired or accentuate your boho look with these earrings.
7. Add a geometric pair of earrings for any kind of occasion
Geometric earrings have definitely their own charm and character. They look very sleek, sharp and symmetrical. These jewelry pieces are great for the working ladies, but based on the design you can rock them with your super urban cool, swagger, or trendy looks.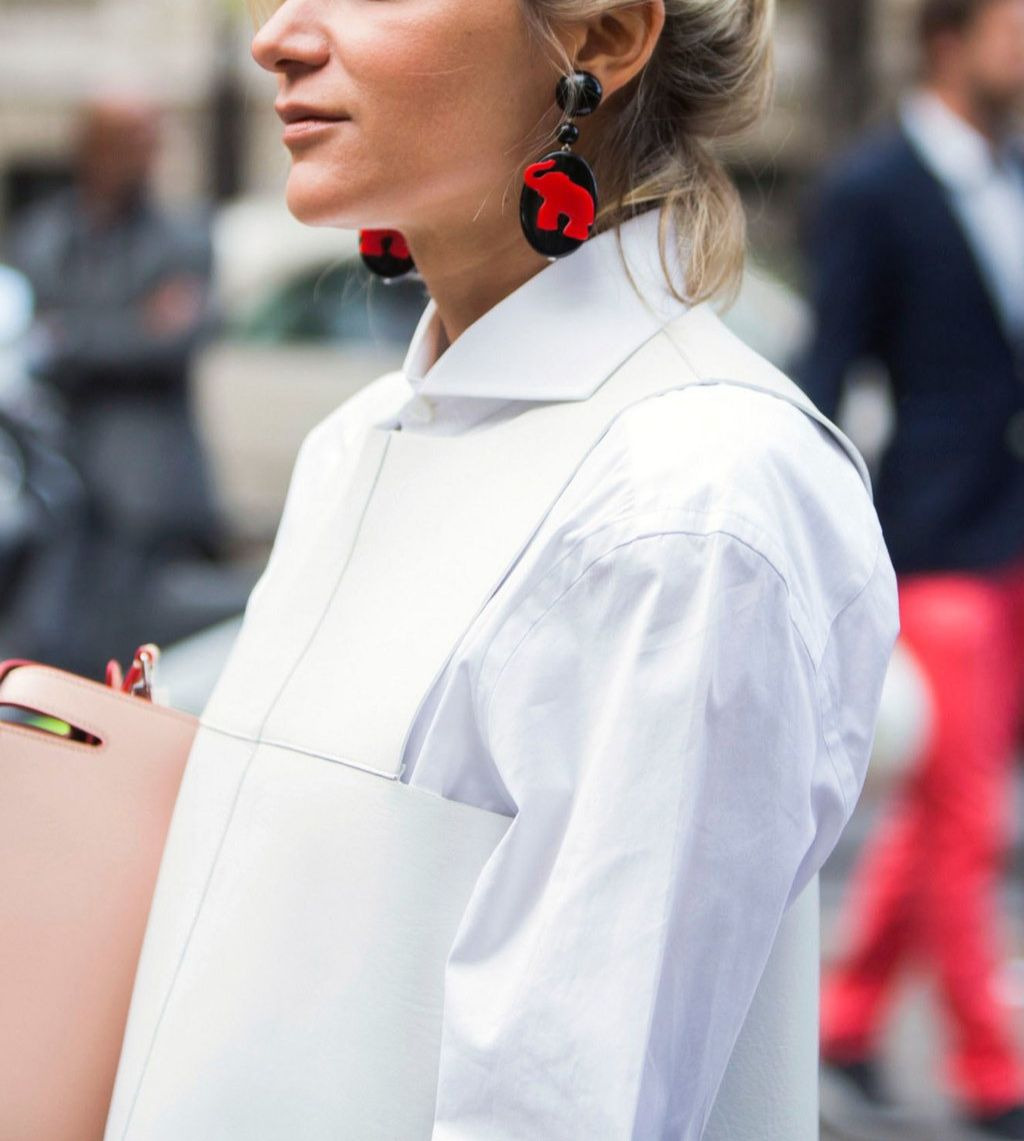 Geometric earrings are definitely a remarkable piece of jewelry
Via Pinterest
They could be colorful, plastic, metal, minimalist or you name it. Based on your personal preferences you can choose the right pair for you and your outfit. If you have very printed clothes, then try to go for a minimalist geometric pair of earrings.
Accessorize your chic styles with a pair of geometrically inspired earrings
Feel free to indulge yourself into a pair of chain earrings with geometric pendants, in this case triangular shapes. It looks very professional, sleek and modern. You can easily pair these earrings with other jewelry pieces in the same color to keep it stylish.
Be a modern woman with a pair of geometric earrings
Left: Double Hoop Earrings; Right: Geometric Drop Earrings
By Happiness Boutique
In addition to your fashionable looks you can add a pair of geometric chunky earrings. No matter if they are circular, triangular or rectangular, they will look very sharp and sleek with any type of an outfit. These from Happiness Boutique are one of the best sellers so feel free to check them out!
9. Chunky drop earrings for a fresh and modern look
Wearing chunky drop earrings is very daring, yet playful. Don't be afraid to wear anything bold, colorful or detailed because summer is here and we are allowed to do and wear what we want. In addition, to your drop chunky earrings add a cute handbag, lovely shoes, and of course, your smile.
In addition to your trendy outfits wear chunky drop earrings
Via Pinterest
Summer is all about smiles, feeling sexy and joyful while wearing super cute and trendy pieces of jewelry. Although this pair is very bright you can balance it out with more single tones outfits. For example, monochrome outfits or try to focus on one color and you won't have any doubts about your look.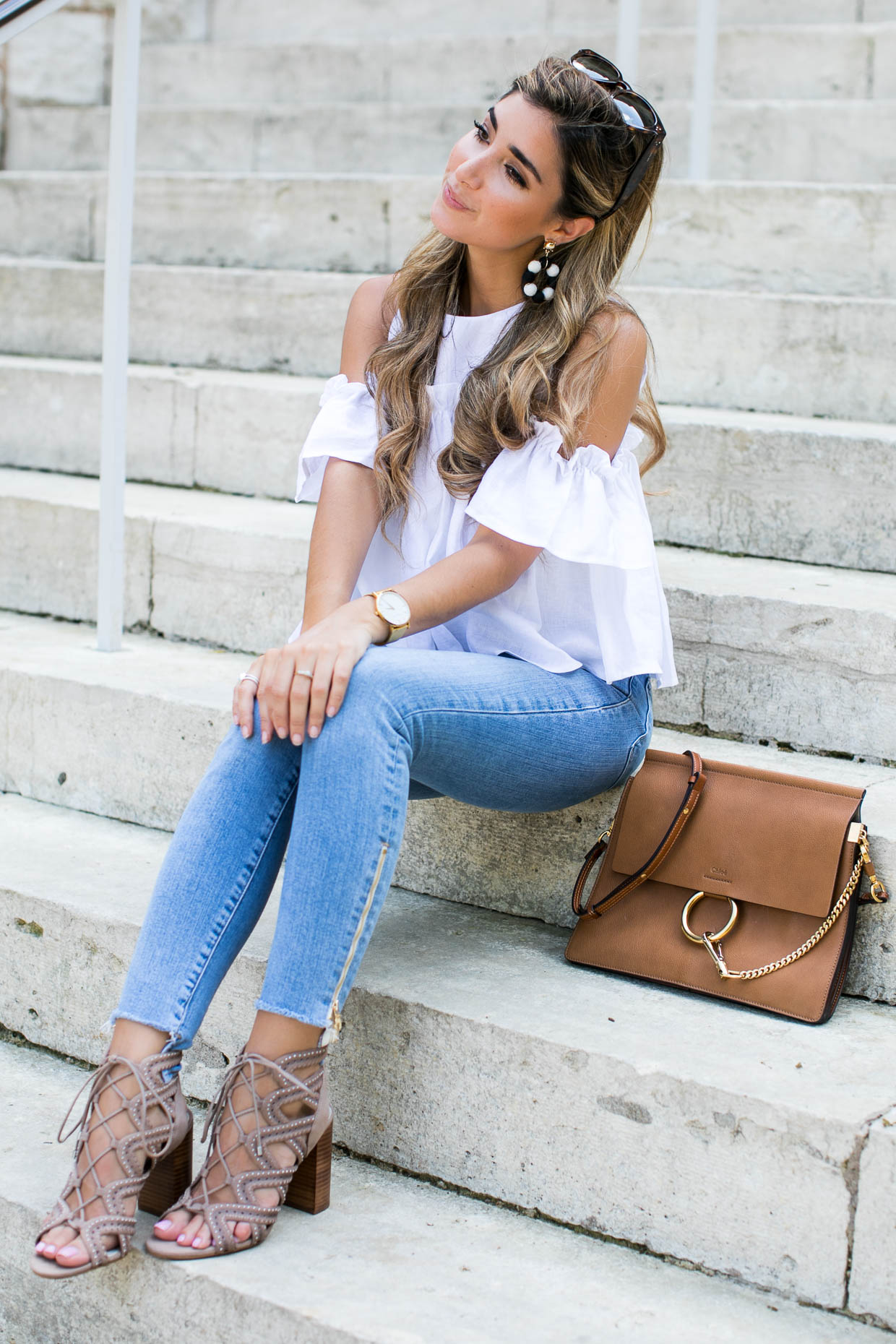 Be happy and wear chunky drop earrings
Feel free to rock all kinds of chunky drop earrings with the outfit that you like because they look gorgeous on all types of looks. You can wear them to work, while shopping, travelling or any activity that you do.
In addition to your stylish looks wear chunky earrings
Left: Classy Statement Earrings in Pink; Right: Pink Statement Earrings
By Happiness Boutique
Give interest and a modern touch to your looks with these chunky drop earrings from Happiness Boutique. They look very glam, yet still appropriate for casual look. Add a pair of super versatile earrings that you can style according to your taste.
Finally, I hope you enjoyed these styling tips and ideas of chunky earrings. Follow us on social media to learn more about the latest trends in the jewelry world or hit the like button if you find this blog helpful and engaging.
Thank you & Happy Styling!
Save
Save
---