As the name suggests, cocktail rings are particularly awesome for parties because of their glamorous appearance. A majestic and bold ornate ring with an interesting history behind it.
In addition, their name comes from the prohibition era in America in the 20's where some beverages were banned. Yet, women still attended those soirées and as many people love to seek attention the result was the birth of this cocktail ring trend.
Therefore, if you try to escape the simplistic and everyday look feel free to get one of those rings. They are definitely the type of jewelry that gets a lot of "Where can I get one", and there is a reason why they get this vibe. Also, the detailed elements on these jewelry pieces are amazing and have a lot of value.
Make your looks more interesting by wearing a cocktail ring
Treasure Statement Ring by Happiness Boutique
However, for all the creative ladies that don't have a special occasion on the agenda you can still rock them to your casual brunches with friends and family.
Also you can wear them with your ripped jeans or casually chic dresses, if you leave your imagination to take over.
In addition to your party outfit wear cocktails rings for a remarkable style
Via Pinterest
If you are looking for an eye drawing ring that will completely transform your look - you are at the right place. Please keep reading to explore further the beauty of the cocktail rings.
Happy Reading!
1. Elegant dresses and cocktail rings for a feminine look
For special occasions and elegant evenings, the cocktail ring makes the perfect addition to your stylish and classy dress.
They have a very powerful appearance that will hardly go unnoticed, therefore it becomes a great conversation piece, especially if you are attending an event that you don't know many of the guests.
Elegant dresses call for an elegant cluster ring
For example, you can combine your dress of choice, depending on your occasion, with a pair of heels and a small clutch that would match with your ensemble. Besides your cocktail ring, feel free to add a delicate pair of earrings or a discreet bracelet to finish off the look.
Girly outfits and statement rings are a great combo
Also, for more casual events, you can for a shorter and flowery dress that will look super feminine and trendy because of the little details. In addition, this type of dress is great with a pair of drop pearl earrings paired with a big statement ring.
In addition to your chic look wear a stone cocktail ring
Via Pinterest
Detailed outfits can also be easily combined with a cocktail ring. In addition, it is possible to wear your statement ring with other accessories such as a watch, which has been a big trend lately.
For the ladies that prefer more jewelry pieces when styling their looks, don't hesitate to add a delicate bracelet that matches your ring. It could be a bracelet with just a couple of rhinestones to give you that extra sparkle.
Glittering Heart Gold Bracelet by Happiness Boutique
In case you feel like adding some more precious jewelry pieces to your look, we have a suggestion from Happiness Boutique that might do this job perfectly. With just a slight touch of rhinestones for a very elegant and clean look.
2. Wear a cocktail ring with your girly outfits
For your summer romantic looks, you can also go for cocktail rings, especially if your dress is monochrome. The ring could possibly give a splash of color and interest to your otherwise simple look.
In addition, this is a great style for all the ladies that like to look on point while traveling, but at the same time keeping it comfy.
Wear a cocktail rings with your girly dresses
Don't you just love how simple, but romantic and stylish this outfit looks? Plus, it is very convenient for all the traveling ladies because it is very easy to style, wear and combine with other accessories.
On top of that, you will end up with really beautiful photos with such an outfit and we all like to have pretty photos from our unforgettable travels.
Add a pastel cluster ring in addition to your summer outfits
Left: Via Pinterest; Right: Ornate Coral Cluster Cocktail Ring by Happiness Boutique
Here is another way on how you can incorporate your favorite cocktail rings to your look. Cluster or cocktail rings with pastel colors are just perfect for a cute summer outfit in the same color palette.
Feel free to check out this gorgeous coral cocktail ring from Happiness Boutique. It would look great with any of your summer outfits.
3. Skinny jeans and cocktail rings for a stylish urban look
Are you obsessed with your skinny jeans? We all are because they look absolutely amazing on anyone and they are the perfect casual everyday look. However, if you want to rock your cocktail ring on a daily basis, we would understand because they are such cool and amazing pieces.
For a cool and chic urban style wear a stone statement ring
Source unknown
Don't hold back your love for these rings because they can be effortlessly styled with your casually chic outfit on a daily basis. Just add a pair of comfy booties or heels, a nice and trendy purse and you are ready to finish off the look by adding  your cluster ring.
Give a pop of color to your everyday looks with a cocktail ring
Via Pinterest
Cocktail rings also come in different sizes, colors and designs, therefore you can always accessorize your outfit with a ring that is appropriate for your look.
They are sparkly, glamorous, valuable and so classy regardless of their size.
4. Casually chic outfits and a cocktail ring for a distinctive look
Cozy and chunky sweaters are so pretty, comfortable and stylish to wear during the colder days. Therefore, if you want to wear your cocktail ring with your sweater - no problem.
Seriously, no problem because these jewelry pieces are more adjustable to your fashion style than you can imagine.
Make your casuals more interesting by adding a cocktail ring
To go the extra mile you can always go for heels, but a long fitted skitted skirt combined with a sweater and sneakers will be also very stylish and trendy.
In addition, there is no need to wear your cluster rings only at special occasions because they can perfectly jazz up your basics.
Stack up your cocktail rings with other rings for a noticeable style
Furthermore, you can stack other types of rings with your cocktail rings for a bolder and more remarkable wear. Try to focus on rings that are related to your cocktail ring to keep the same vibe.
In addition to your everyday look wear cocktail rings
Left: Faceted Black Cocktail Ring; Right: Gypsy's Treasure Ring
by Happiness Boutique
If you happen to love this style, feel free to take a glimpse at these cocktail rings with a black stone on top and rhinestone details for a casual, yet very elegant and stylish wear.
5. All things vintage for an original look
For all the fashionistas that just love to stay away from the simple everyday looks, the all things vintage style could be just the right style for you.
Having very detailed outfits with elements that remind us of previous eras and rings that just highlight our love for this look and complement it in just the right way.
Cocktail rings and vintage inspired outfits are a perfect combination
Being very close to the haute couture, but at the same time possible to wear as a daytime look, this fashion style is definitely not for anyone.
However, if you want to attract people's attention with a remarkable and luxurious style you are more than welcome to try something similar.
Complete your vintage inspired look by adding a cluster ring to it
Via Pinterest
Also, you can wear a similar look to work, especially if you are part of the fashion industry. It is very neat, stylish and absolutely trendy. Don't forget to add your cocktail ring to give a the final statement to your overall outfit.
6. Glam nights call for a cocktail ring
The next style tips is great if you have a wedding, prom night or a very special occasion because it's very glam, shiny and sophisticated.
The main purpose of the cocktail ring is to attend parties where you can take a glass of wine and show your original and unique accessory on the hand.
A statement ring is a must have to your glam looks
A one off the shoulder dress paired with a dainty collier and a cocktail ring looks very stylish and fashionable. In addition, you will hardly look over accessorized, especially if you decide to go only with the statement ring.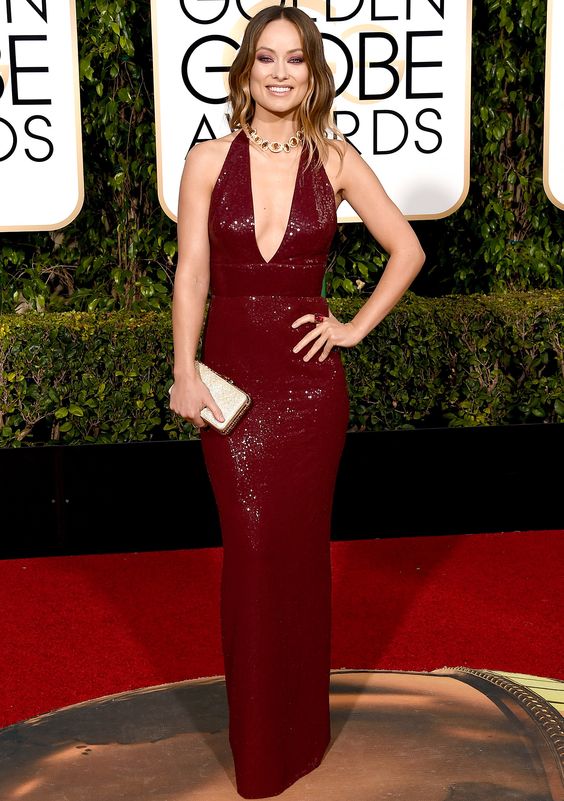 Make your ring the statement of your look
Via Pinterest
Who doesn't want to look good at their prom, at a wedding or a special event where most people took time to put together their stylish ensemble.
The best way to style, especially if you have doubts, is to wear only a cocktail ring and small clutch. However, feel free to experiment with a necklace or a bracelet if your dress allows you to.
7. Cocktail rings make the perfect engagement ring
This part of the blog post is probably best for all the gentlemen who want to take their relationship to the next level. Being engaged is not an easy step in our lives, but it is very exciting and based on lots of trust and loyalty.
However, I am pretty sure all the ladies who a ready to take this step would hopefully find this part of the blog  inspiring.
Cocktails rings make the perfect engagement ring
Many recognized fashion bloggers got engaged and showed their precious jewelry pieces not to show off but rather to spread their love and happiness. It is a true inspiration and we admire their intentions.
So what a better engagement ring than a cocktail ring that has a lot of value, detail and stands from the crowd of engagement rings.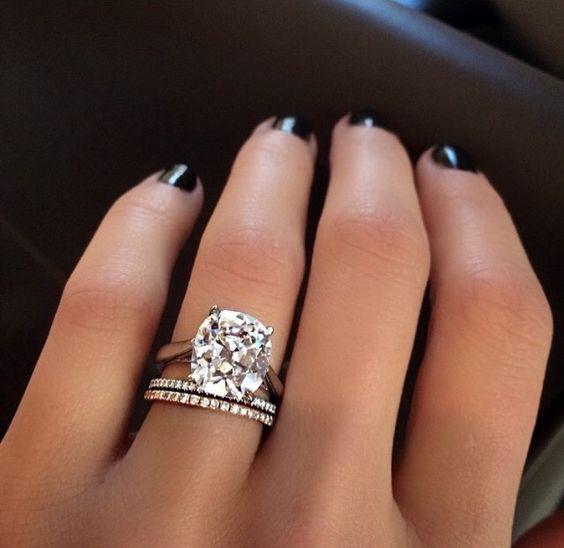 For an unforgettable engagement get a cocktail ring
Via Pinterest
For the more traditional ladies, your loved one could get you a beautiful and sparkling statement ring with a crystal that will definitely brighten up your days.
In addition, this is a very classy and timeless type of cocktail ring that looks very attractive and priceless.
8. Make a statement on a daily basis with a cocktail ring
Jewelry lovers would understand this almost over accessorized looking style. The fact is that cocktail rings could be styled with no effort with your graphic t-shirt or striped tops. Also, it is a great way to stand from the crowd but in a rather comfortable outfit. 
Jazz up your casuals by wearing a statement piece of jewelry
There is no doubt that you can look fashionable with just a graphic tee. The point is to add a stack of trendy accessories and turn your outfit into a masterpiece. The final result will definitely be a lot of stares on your way to work.
In addition to your daily outfits add a stack of chunky rings
Source unknown
For a bold and rusty type of a look, feel free to stack different types of bracelets in addition to your cocktail and vintage inspired rings. This is a truly unique wear that could effortlessly be worn with your casual tops.
Also, if you want even more remarkable style you can finish off the look with a statement necklace that matches the color palette of the rest of your jewelry pieces.
9. Glam up your summer outfits with cocktail rings
For a glam and attractive summer look, you can always add a cocktail ring to your outfit. They look very alluring, especially if you have a tanned skin. The beauty of the cocktail ring could be worn with any style and any type of outfit. 
For a glam luxurious summer look wear cocktail rings
Via Pinterest
A very alluring and sexy look that will definitely impress people. In addition, feel free to pair it up with a matching statement necklace that will also glow and sparkle in a beautiful way.
Also, this is a great style to wear at beach parties or summer special events where you can wear a more open and sexy outfits such as this deep V-neck dress.
Glam up your summer outfits with statement rings
Via Pinterest
Weather you are on vacation or a summer night out with friends, the cocktail rings are always there for you to make your outfit more pretty and stylish.
In addition, you can combine it with other cocktail or minimalist or dainty rings to emphasize this part of your look.
I hope this fashion blog post was interesting and engaging for you! In addition, the important thing is to get creative with your statement and detailed rings because as you can see you can wear them with daytime or night out looks.
Finally, feel free let us know what are your favorite looks for wearing cocktail rings. And also let us know if you prefer to wear them with your casual outfits or with your special occasion outfits. Share your opinion with us! 🙂
Thank you & Happy Styling!
Save
---