Contemporary jewelry are the jewelry pieces that are inspired by contemporary and modern art. In today's blog we will explore the contemporary jewelry and different types of and how best we can style our favorite pieces. Here, you will see all from layered necklaces and stacked rings to cuff bracelets and minimalist earrings.
For a unique look wear contemporary jewelry
In addition, most of these contemporary jewelry pieces look good on any lady and their designs are pretty versatile. Therefore you can play around with the different pieces and style them according to your personal fashion style.
I hope you will enjoy reading this blog post, and of course, I hope you can get some inspiration and feel more confident the next time you decide to wear your favorite contemporary jewelry.
Happy Reading!
1. Cuff bracelets for a trendy look
Cuff bracelets always look very pretty. Whether you wear them as a stack or separate, you can always find the right design that would go with your style. However, lately we see more and more these wrap bracelets that look so fashionable.
Wear modern cuff bracelets for a trendy look
Even when worn as a stack they look very feminine and cute. You can wear similar bracelets with trendy outfits, professional attires, casual looks or with evening dresses. Their versatile design allows us to easily adapt them to our personal fashion style.
In addition to your fashionable outfits wear contemporary jewelry
In addition, you can combine them with your vivid and bright colors. Or, you can effortlessly pair them up with other jewelry pieces such as rings or a delicate necklace of your choice.
Modern and trendy bracelets for any of your looks
Left: Black & Gold Marble Effect Cuff Bracelet; Right: Sugar Cube Cuff Bracelet by Happiness Boutique
If you happen to love this style, don't hesitate to check out these two trendy cuff bracelet from Happiness Boutique. Also, for more styles feel free to check out the whole bracelet collection → here.
2. Modern art inspired chunky necklaces for a distinctive look
Another way to show your love for the contemporary jewelry is by wearing a chunky modern art inspired necklace. These necklaces definitely have their own character and style. They are truly unique pieces that inspired and accessorize every look in a very artsy way.
In addition to your basic looks wear art inspired necklaces
Source unknown
In addition, you can wear them with art inspired outfits as well, but feel free to make any of your basics eye-catching and special by wearing your favorite contemporary jewelry. Try to wear such necklaces to art galleries, wine tastings or any cultural or musical event that you can dress up in a more artistic and free spirited way.
Get a contemporary jewelry set for an artsy look
Via Pinterest
You will be able to find all kinds of different art necklaces. They could consist of geometrical shapes, handcrafted design that are unique and beautiful on their own way.
Also, if you like oversized or very futuristic looking pieces would be great because those are definitely part of the contemporary jewelry style.
Minimalist art necklaces in addition to your creative looks
Via Pinterest
Many ladies that appreciate a unique piece of jewelry would like these styles. You can wear them to work if they ate more minimalist inspired or while you go out with friends on the weekend and you can get creative with your looks.
3. Layered necklaces for a fuller look
For a more visible and accessorized look we present to you the layered necklaces. They are perfect to be worn with basic t-shirts, dressy shirts or V-necks. You can easily pair them with formal or very casual outfits.
For a fuller style wear a layered necklace
In addition, layered necklaces come in so many different style and with so many different pendants that it would be almost impossible not to find the right one for you. And, these necklaces allow you to express yourself through the different pendants. How cool!? 🙂
Symbolic art layered necklaces for a trendy style
Via Pinterest
You can have a cute pendant with animals or for a symbolic wear you can wear a layered necklaces with stones that could help you cleanse your aura and energy. Plus, they look very feminine and trendy.
For any of your fashionable outfits wear layered necklaces
Left: Like a Feather Layered Necklace; Right: Layered Geometric Necklace
By Happiness Boutique
If you want to give them a try for a super trendy and modern look you can take a glimpse at these two layered necklaces from Happiness Boutique. Also, for more information on how to wear and style your layered necklaces feel free to check out our blog post → here.
4. Stackable rings for a cool urban look
Accessorize your hands with a handful of rings. So trendy, chic and easy to wear, these jewelry pieces look so cool. You can wear a combination of delicate and statement rings together for a fuller look.
Stack up your art rings for a modern urban look
Or, you can decorate your hands with rings that you bought in a pack and have the same design. You can get creative with your styling of stackable rings because you can mix old and new rings for a truly unique look.
Jazz up your normal outfits by wearing a stack of rings
You can hardly end up with a tacky or over accessorized look, especially if all of your rings are delicate or minimalist inspired. Try to pair them with dressy outfits for a feminine look or with your casual to give them interest.
Sparkling stacked rings in addition to your stylish outfit
Via Pinterest
Also, you don't have to stack all of your fingers if you don't like to wear many rings. Feel free to grab three of your favorites and place them on your hand.
Make your outfit more eye-catching by wearing stacked artsy rings
Left: Stackable Ring Set Gold; Right: Mountain Range Rhinestone Ring Rose Gold
By Happiness Boutique
Make your outfits trendy and sparkly by accessorizing with this stackable ring set from Happiness Boutique and combine it with a shiny and girly rose gold rhinestone ring.
5. Delicate bracelets for a feminine look
There is no way we can leave behind the super girly and cute delicate bracelets. If you like more feminine styles and dangling bracelets with pendants, then these are just for you.
For a feminine look wear a delicate bracelet
You can wear your delicate bracelets with sneakers and a cute top for a comfy, yet girly look. Or, try to wear them with more chic and elegant outfits as well. Also, you can stack your delicate bracelet with your favorite watch for a trendy style.
Wear delicate bracelets for a girly modern look
Love Delicate Bracelet Rose Gold by Happiness Boutique
So cute and adorable! You can even dress up your most casual t-shirt and make it stand out from the crowd by only accessorizing with a delicate bracelets.
Add a delicate bracelet to any of your looks for a feminine style
Love Delicate Bracelet Rose Gold by Happiness Boutique
Furthermore, you can combine your bracelet with other jewelry pieces such as a detailed statement rings. As you can see you can refresh your daily outfits by mixing your golden and silver jewelries together.
Delicate bracelets are always appropriate
Left: Love Delicate Bracelet Rose Gold; Right: The Golden One Delicate Bracelet
By Happiness Boutique
Here are two super adorable and amazing delicate bracelets from Happiness Boutique that you can style with no effort with any of your outfits. You can wear them all year long to any kind of events and occasions.
6. Minimalist earrings for a futuristic look
The minimalist inspired jewelry also gain a lot of popularity lately. We can see different accessories such as rings, bracelets, necklaces and earrings included.
For example, hoop earrings are part of this category, but you can go for minimalist studs or other types of statement earrings.
For a futuristic modern look wear minimalist inspired earrings
The importance of the minimalist jewelry is that all of the designs are very simple, yet trendy and so easy to pair with your outfits due to the simplicity in their appearance. However, they could make a great addition to any fashion style.
Plated gold earrings for a creative look
For a very unique and trendy look you can also add a pair of plated gold minimalist earrings to your jewelry collection. They look so appropriate for the working environment or for special soirées.
Again, if you decide to pair them with a very simplistic top - that is ok! They will make it super cool and fashionable.
Accessorize your outfit with minimalist art earrings for a distinctive look
Left: Minimalist Bar Earrings; Right: Classy Hoop Earrings
by Happiness Boutique
7. Contemporary jewelry for a different kind of look
For all the ladies that like to be different, yet comfortable all day, feel free to get some stud earrings, but not the typical ones. This means to go for a different color, a different shape than the usual circular stud that we are used to.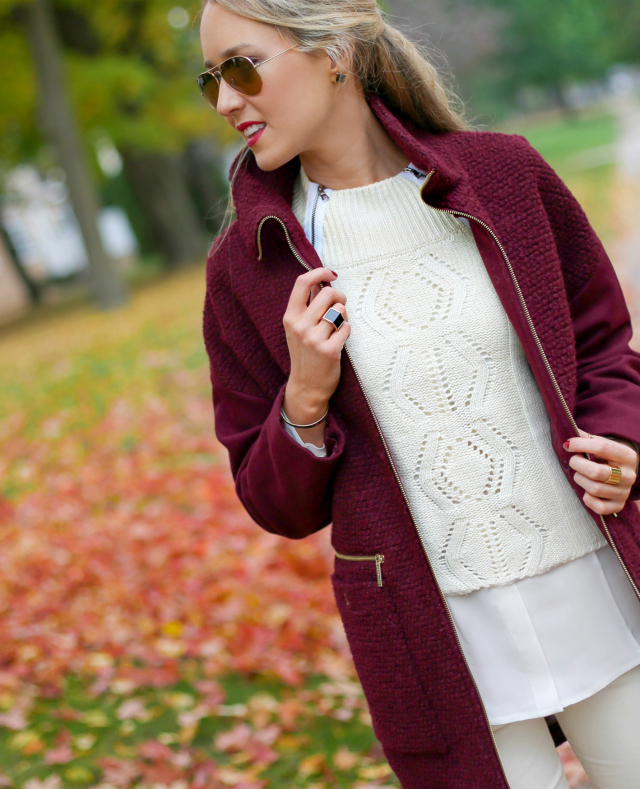 Make your outfit more interesting by wearing big stud earrings
As you can notice, you can give interest to your looks by wearing even a delicate stud. These jewelry pieces are very comfortable to wear and an absolute timeless piece that you can wear at any time.
Brighten up your outfit by wearing sparkling stud earrings
In addition, you can get the so to say statement delicate earrings, that are bigger than the usual studs, but look so sophisticated and sparkling. They will hardly go unnoticed if you decide to get a pair.
Stud earrings are always a good idea
Left: Black & Gold Lucky Dice Stud Earrings; Right: Dainty Floral Statement Stud Earrings
By Happiness Boutique
Here are two remarkable pairs of stud earrings from Happiness Boutique that will instantly refresh your oldies and add add sophistication to your newest trends.
8. Long necklaces for a fun style
Give dimension and a fun style to your overall look. Long necklaces have also been spotted to gain popularity and we can say why. They are so easy to pair with any kind of an outfit, but especially great with professional and casually chic outfits. 
Wear long necklaces to make your outfits more eye-catching
Via Pinterest
Simple tops are always great with long necklaces because the accessory could give interest and a personalized touch to the basic tops.
Long necklaces with pendants for an attractive stylish look
Pretty Leaf Pendant Necklace by Happiness Boutique
For example, this long necklace with a leaf could so appropriately represent the upcoming spring or fall because moth seasons are highly associated with leaves.
In addition to your chic outfits wear long art necklaces
Left: Pretty Leaf Pendant Necklace; Right: Turquoise Jewel Long Necklace
By Happiness Boutique
Here are two suggestions from Happiness Boutique that could instantly enhance your looks. Feel free to check them out!
9. Pastel statement earrings for the perfect spring summer look
As the spring is coming up, it is good to be prepared. A good options could be a pair of statement pastel earrings. They have a detailed and chunky design, but the matte colors make them suitable for almost any occasion.
For a girly modern look wear pastel statement earrings
You can revamps your old outfits or give a touch of feminine color to your looks. These earrings are suitable for girly outfits such as dresses or for simple and casual days where you like to put on your favorite skinny jeans and a t-shirt.
In addition to your spring summer looks wear pastel statement earrings
In addition, you can go for very big earrings that could be part of your "favorite of the month" because they are not the typical statement earrings. However, the pastel colors allow you to easily style them with all white outfits or even with all black outfits.
Pastel statement earrings and girly outfits are a great combo
Left: Peach Passion Statement Earrings; Right: Pretty Pastel Colors Statement Earrings
By Happiness Boutique
Our top suggestions from Happiness Boutique are these two amazing and girly statement earrings in pastel colors. They could be the perfect addition for your spring and summer outfits.
10. Delicate necklaces with symbolic pendants for a trendy look
Aahh..the beautiful delicate necklaces with symbolic pendants. So chic and pretty, these necklaces are probably great even with your pajamas. They are a true treasure for this season's jewelry trends because they look so amazing.
Symbolic pendant necklaces for a cool personalized look
In addition, you can effortlessly combine them with your statement or delicate rings. Also, you can make a layered necklace out of them where you are the creator. As a result, you end up with your own design that makes it so much more special and authentic.
Wear as symbolic necklace in addition to your fashionable look
You can style them with your favorite sneakers for a super comfortable outfit. To jazz it up a little or to make it more sexy you can pair your sneakers with an unbuttoned shirt or with a V-neck as the beautiful Jules from Sincerely Jules is showing us.
Trendy outfits call for trendy contemporary jewelry pieces
Easy Victory Necklace Rose Gold by Happiness Boutique
Don't hesitate to match your delicate necklace with a pair of earrings for an easy styling and well put together outfit. You can wear this combo with your summery tank tops or your chunky and fluffy winter sweaters because this mix is very classy, comfy and fashionable.
Spice up your casuals by wearing trendy necklaces
Left: Half Moon Necklace Gold; Right: Heart Pendant Necklace by Happiness Boutique
If you want to add an absolutely timeless, yet trendy piece of jewelry to your collection, try to check out these two delicate necklaces with symbolic pendants from Happiness Boutique. Very chic and delicate!
11. Contemporary art statement rings for a noticeable style
You can always get yourself a chunky and artsy inspired ring to achieve a modern, but crafty looking style. Contemporary jewelry could give you a very distinctive and different style that will get many compliments throughout the day.
Contemporary jewelry in addition to your normal looks
Via Pinterest
In addition, if you want to accessorize more you can always combine your chunky ring with a minimalist and geometric bracelet. This look you can wear with super simple and comfy outfits.
Art inspired rings for a noticeable look
Via Pinterest
These chunky art inspired rings could be worn alone or in combination with a necklace or bracelet that is also contemporary inspired. You will instantly refresh your old outfits and make them eye-catching.
I hope you enjoyed these styling tips and jewelry trends. Hopefully you will get some inspiration and motivation to try out something new from this season's trends.
Please don't hesitate to leave a comment and share your opinion with us about your favorite jewelry trends. In addition, feel free to share your favorite piece of jewelry that you would like to try out.
Thank you & Happy Styling!
Save
---