Costume Jewelry Style Guide
If you think of costume jewelry as how one can accessorize her or his stage outfits while performing a play, a musical show, a circus performance you will be mistaken.
In today's blog post we'll be exploring our favorite costume jewelry or as many people also call them -  fashion jewelry pieces.
Costume jewelry or fashion jewelry for any of your outfits
The term costume jewelry was used since the early twentieth century when women used to wear clothes that would rather look more like a costume. However, nowadays, costume could be replaced by the the word outfit and as for jewelry, you know how it goes. 🙂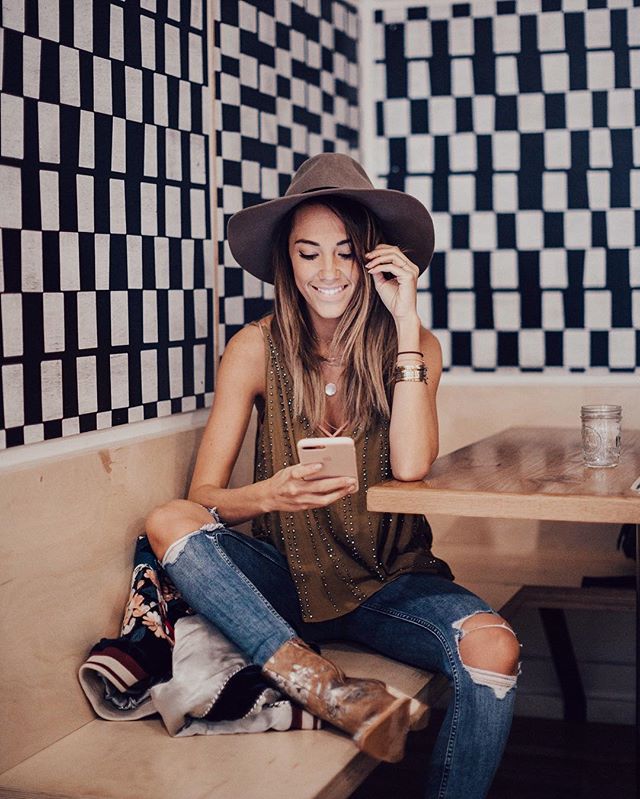 Accessorize your casual looks with a delicate pendant necklace
Also, costume jewelry or if you prefer fashion jewelry has its fame to the fullest right now, therefore it is just impossible for us to leave this topic unspoken and unexplored.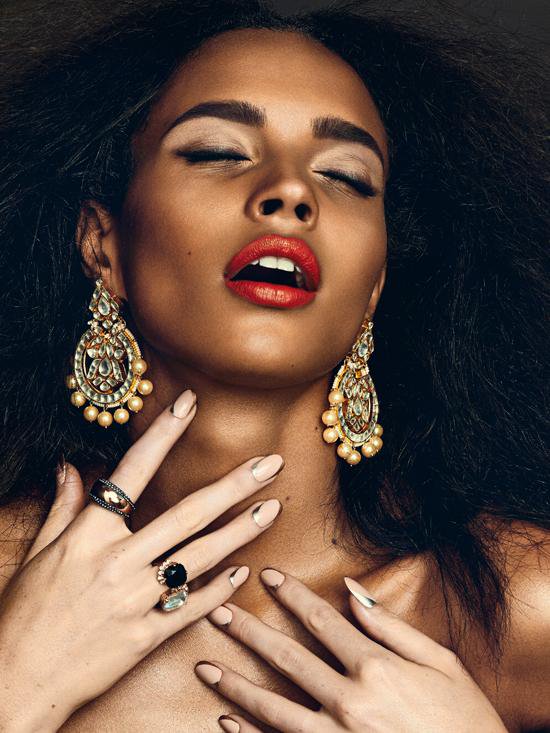 In addition to your glam outfits wear a pair of statement earrings
Let us begin looking into some very interesting ideas on how you can accessorize your outfits so they look pretty and trendy. And also, let's check out what types of jewelry pieces are the trendiest at the moment.
1. Minimalist inspired bracelets for a modern style
The costume jewelry pieces that are minimalist inspired have very clean and basic lines and so are their designs. Therefore they are super easy to style with any outfit.
For example, take your all times favorite and comfortable look and turn into a super modern and trendy look when you add a minimalist bracelet.
Delicate minimalist bracelet for a very simple, yet trendy look
Simple and minimalist inspired bracelets look more effective and impressive than we can image. The bareness and simplicity makes them such timeless costume jewelry pieces that no one can resist.
Minimalist inspired bracelets are perfect for your modern looks
Source unknown
Their design allows us to add as many as other jewelry pieces as we want. For example, a stack of rings or detailed outfits that would never look over accessorized. Try to pair your favorite minimalist costume jewelry with your trendy jeans and a simple top.
In addition to your casually chic outfits wear a minimalist bracelet
Also, you can add a beautiful geometrically shaped bracelet to your jewelry collection for a piece that will definitely never go out of style. Feel free to wear it with your casual, professional or chic looks.
For all the ladies aiming at achieving a similar look the bracelet collection from Happiness Boutique allow to experiment with many different types of minimalist inspired bracelets. However, these two are one of the most favorite ones.
2. Bold earrings for a bodacious look
Ranging from bold drop earrings to over sized chandelier or statement earrings, the choice is your, but one is certain - the final result would be amazing and very attractive. Yet, it is possible to rock these beauties even while you are having a casual brunch with your girlfriends.
Statement earrings and pretty outfits for a cute look
This is just another great way to give your outfits a sparkle of glam, chicness and almost a bossy and confident vibe to them. No need to take out your elegant dresses and skirts because just a pair of skinny jeans a simple t-shirt would do the job.
Wear bold earrings with your modern outfits
Of course, if your style is to be sleek and trendy, then don't hesitate to accessorize your looks until they are perfect. For example, a distressed denim overall paired with a comfy top and pointy heels. All you need now - a pair of bold earrings.
Detailed colorful earrings in addition to your bright and joyful looks
Left: Vintage Style Pink Statement Earrings; Right: Gemstone Splash Statement Earrings
By Happiness Boutique
If you happen to love these beautiful and attractive costume jewelry pieces by Happiness Boutique, don't be reluctant to click on the links below the photo. Also, make sure to check out the rest of the collection with amazing statement earrings.
3. Wrap choker for a comfortable and casual look
A gorgeous piece of jewelry that is so simple, yet very trendy and adjustable to any of your looks is the wrap choker. Widely worn costume jewelry that is so effortless to style and a perfect add-on to your day to day looks.
Velvet wrap chokers are a great add-on to your everyday outfits
Via Pinterest
In addition, you can style the way you want. For example, tie it up around your neck until no stands are hanging, make a bow or leave the ends to hang and move gently as you walk.
Whether you choose a black, nude, beige, pink or any color that you like, the outfit would still be perfectly accessorized.
Stack your wrap choker with other costume jewelry pieces for a remarkable style
Via Pinterest
Plus, you can easily wear it T-shirts, simple tops or even elegant dresses. Furthermore, the beauty of the wrap choker is that it is possible to combine it with other chokers, delicate necklaces or anything you want. Get creative girl!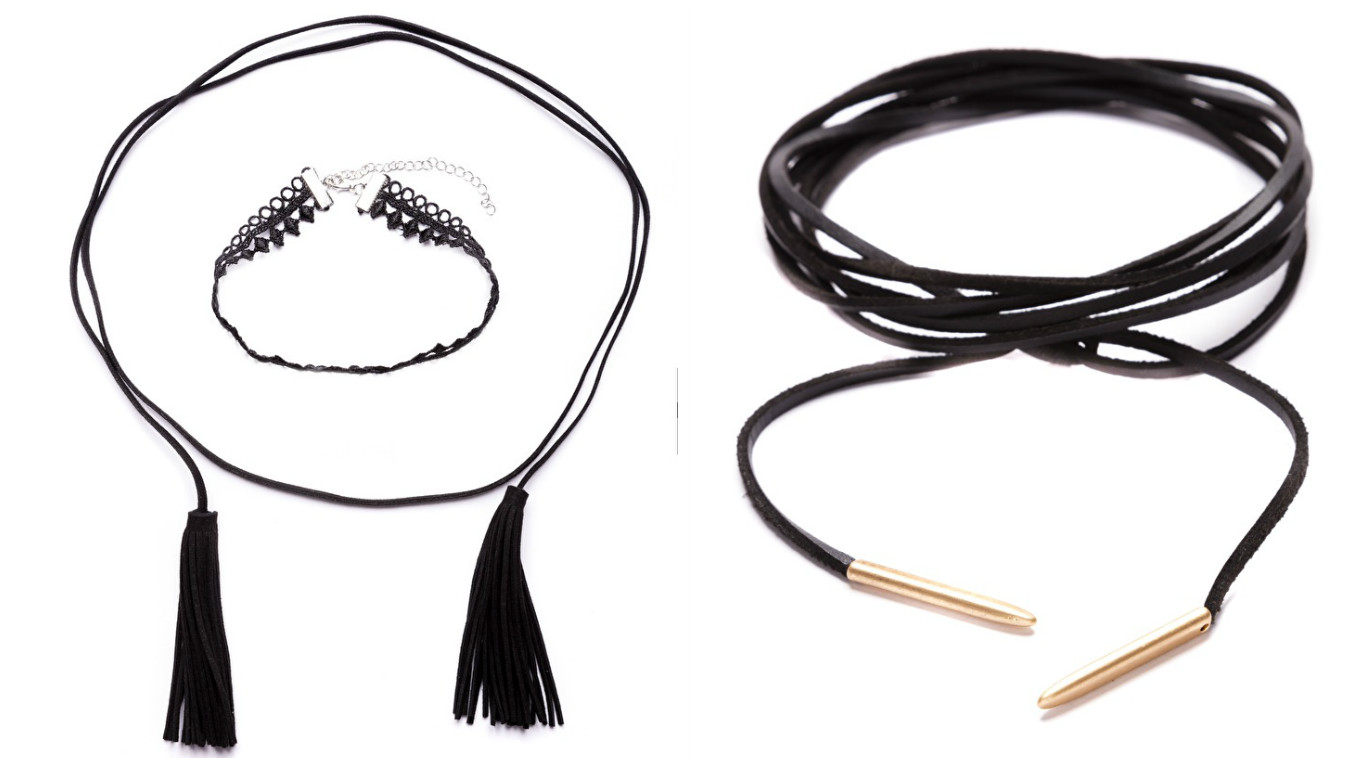 Super trendy wrap chokers for a perfect outfit
Left: Lace Tassel Choker Set; Right: Timeless Wrap Choker by Happiness Boutique
For the wrap choker lovers, we can suggest a pretty set of tassel choker and a lace choker or a simple, but loved my many a timeless wrap choker, both from Happiness Boutique.
In case you want to be more remarked, definitely go for the tassel choker and highlight by adding the lace choker to it. Or, for a super trendy and easy style make sure to decorate your looks with the basic wrap piece.
4. Modern outfits call for a pair of modern hoop earrings
To achieve a very contemporary and chic look there is no need for you to dress up in very fitted and uncomfortable outfits. The trick is to simply wear a pair of hoop earrings that will instantly refresh your look.
Hoop earrings are perfect for any modern style
For example, a pair of ripped jeans, cute top and you decided whether the heels are your thing or not. However, try to get a cute and trendy purse that will perfectly match with your earrings.
Hoop earrings for a fashionista inspired look
Overall, you can go for any type of hoop earrings. The options are unlimited, therefore if you want hoops with rhinestones then you will just add that needed sparkle to your look.
Otherwise, feel free to wear a simple pair of classy hoops and you'd still be super chic and modern.
Classy hoops for the ladies on-the-go
Left: Bold Hoop Earrings; Right: Modern Hoop Earrings by Happiness Boutique
Sleek and sexy, yet simple and appropriate for the most casual outfits are these amazing hoop earrings from Happiness Boutique. Try to match them to your jeans, sneakers and a simple top and you are all ready to go.
5. Stack up your rings for a fuller look
Pile up your rings for a very funky and fuller look, especially if you don't like to wear other types of costume jewelry. Based on your fashion style and occasion, you can combine different statement or delicate rings.
Stack up your bold rings for a remarkable style
For a noticeable, yet very festive style pair your statement rings with a sequined top or sequined pants. Being sparkly and shine is always a good idea, especially for your special occasions and celebrations.
Pile up your delicate rings for a feminine look
Via Pinterest
Or, you can always wear a stack of minimalist inspired rings for your professional attires where you need to pay attention to your jewelry pieces because you don't want to look tacky and distracting. However, don't hesitate to wear your favorite and trendy ripped jeans with this look.
Wear your costume jewelry pieces in a stacked way
Besides from being able to stack your rings like a pro, there is no way you can't try to mix and match your rings to other costume jewelry pieces.
For example, a stack of delicate necklaces for a very cute look or a stack of minimalist inspired bracelets for a super trendy style with your casual outfits.
Or, if you really know and feel confident about it, stack everything you have and combine your jewels with cute booties or sneakers and a relaxed t-shirt.
6. Delicate pendant necklaces for a graceful style
Who doesn't really likes to wear delicate pendant necklaces? The discreteness of these costume jewelry pieces allows you to combine them easily with any type of clothing. For example, a cute tank top paired with a shirt and ripped skinny jeans for a delicate, yet funky look.
In addition to your delicate pendant necklaces wear a trendy outfit
Or, you can wear these delicate pieces with charms with your working outfits and get a very graceful and chic style. Delicate necklaces are definitely a must have in every woman's collection.
Add a delicate layered necklace with pendant to your basic tops
Via Pinterest
Just add a trendy purse and a cute belt to finish off the look and you have the perfect casually chic professional attire. Also, feel free to wear two or three delicate necklaces for a more visible look.
Long layered necklaces are such a trendy costume jewelry
V-necks and halter tops are great with delicate necklaces because they will gracefully fill in your V-neck or perfectly layer with your halter top. Again, very chic, stylish, yet super comfortable to wear all day long.
For a personalized look wear a plated circle pendant necklace that you can engrave
Circle Necklace Rose Gold by Happiness Boutique
No chances of looking tacky when wearing delicate pendant necklaces because of their simplicity and fineness. However, they will bring a particular individuality to your look.
7. Head jewelry pieces for an unforgettable look
The accessories for the head are not the typical costume jewelry that you can wear on a daily basis, but for more special occasion or soirée they are definitely a great option for an unforgettable style.
For your special occasions accessorize with a headband in gold, silver or rose gold
Source unknown
In addition, many people assume that head jewelry is only appropriate for weddings, but there is no way that you can't pull off this look even for your rather casual days.
Very feminine, original and noticeable, the head jewelry accessory is perfect with cute hairstyle where you can incorporate it.
8. Bracelets and watches for a fashion blogger inspired look
One of my personal favorite trends lately is the combination of a trendy bracelet with a watch. It looks so stylish, chic and of course original, even though it is worn by many people, because each person combines a unique set of bracelets with their watch. 
Combine your watch with bracelets for a fuller look
Via Pinterest
Beads, golden or silver, delicate or statement bracelets, there is no particular formula on how to and stick to it way on wearing this look. It all depends on you because you are the creator of your own style. Wear it casual or dressed up, because both ways are possible to pull off easily.
For a glam look wear a rhinestone bracelet
Source unknown
Furthermore, if you prefer a more chic and glam style, simply get a gorgeous bracelet topped off with rhinestones or crystals. This trends is just a guide on how you can stay up to date with the latest fashion styles, but you decide on how to wear it.
In addition to your watch stack up some modern bracelets
Via Pinterest
In addition, with no effort you can style this look for work by wearing a cute top, jeans and a blazer to finish off the look. Or, for more casual wears feel free to wear a t-shirt with leggings or ripped jeans.
Wear it the way you like it!
9. Vintage inspired costume jewelry for an original look
Another tendency that could be noticed is costume jewelry pieces that are vintage inspired. For example, a glam vintage statement necklace or a bold detailed ring.
In addition, if you happen to appreciate this type of style or you are a fan of Audrey Hepburn, then these are just for you.
Every sophisticated outfit need a vintage inspired necklace
Vintage Glamour Statement Necklace by Happiness Boutique
However, when you wear your vintage inspired pieces with modern outfits you can end up with a truly unique look. Try to pair it with a cute and soft sweater or layer it with your chic tops.
Don't hesitate to wear your vintage inspired jewelry pieces with confidence and style. For example, a pair of clip on vintage earrings or a glam pair of earrings with pearls or rhinestone for a very sophisticated style.
For a cool fashionable look wear a pair of vintage inspired earrings
Vintage Glamour Earrings by Happiness Boutique
Whether you prefer necklaces or earrings, the retro style is absolutely amazing and authentic. In addition, with no effort you can style your retro pieces for any occasion all year round.
Costume jewelry is always a good idea
Left: Vintage Black and Pearl Statement Earrings; Right: Vintage Glamour Earrings
by Happiness Boutique
To recreate this amazing and sophisticated look take a look at these vintage inspired earrings from Happiness Boutique. Also, they are the perfect add-on to any lady with class and elegance.
Thank you for reading and I hope this was inspiring and refreshing for your old styles! Please leave a comment and share your favorite costume jewelry pieces. Also, feel free to let us know what fashion trends do you like to wear the most!
Thank you & Happy Styling!
Save
---