Cute necklaces are always a great way to give a twist to one's outfit because they are so girly and appropriate for almost any occasion. In addition, you can choose between a very delicate necklace with a cute pendant or a statement necklace with fun colors and feminine designs.
Get yourself this season cute necklaces
Via Pinterest
Also, these following necklace suggestions are very trendy at the moment, therefore don't hesitate to take a look and maybe try out some of the styles.
The options are endless so probably you will be able to find the right item that will go well with your personality, mood and fashion style.
I hope you will enjoy reading this fashion jewelry blog post! Happy Reading!
1. For a fun look wear colorful cute necklaces
Don't hesitate to take over the world of the chunky colorful necklaces. They look so remarkable, playful and fun to wear. Try to wear them with colorful and girly outfits such as skirts, dresses and cute hairdos.
Be colorful for the spring!
Sometimes it looks hard to style a chunky colorful necklaces, especially if you like to wear colorful outfits as well. The trick is to kind of learn what patterns and prints go well with the color palette of your necklaces and combine them together.
In addition to your spring looks wear colorful cute necklaces
To make sure that you will end up with a stylish and well put together look, you can pick up a dress that has the same color as you necklace and match the other accessories of your outfit in a different color. For example, shoes and bag in one color and outfit and jewelry pieces in another color.
Cute necklaces for any of your styles
Left: Pretty Ocean Blue Statement Necklace; Right: Joy Statement Necklace in Navy
By Happiness Boutique
These two cute necklaces from Happiness Boutique a great options to achieve any of the above looks. You can instantly give a pop of color and spring vibes to any of your looks!
2. Delicate necklaces with cute pendants for a girly look
Another way to show your girly and cute style is of course by wearing a delicate necklace with a cute pendant. Lately, we can see many different kinds of dainty chains with super trendy, fun and cool pendants.
For your romantic outfits wear a delicate necklace
Via Pinterest
Regardless of their size, these delicate necklaces are still able to instantly make our outfit more interesting and trendy. Plus, they are very easy to style or combine with your clothes.
In addition, you can wear them all year round and all day long because they are very comfortable and lightweight.
For all the girly girls – delicate cute necklaces
The rose gold and golden necklaces are especially great in the summer and hot days because they blend in a very cute and sexy way with our tanned skin. Also, they are very cute and you will be able to wear them with your favorite dresses, skirts, simple tops or denim shorts.
Show your love for the delicate jewelleries by wearing one of these two necklaces
Left: Star Necklace Rose Gold; Right: Half Moon Necklace Gold
By Happiness Boutique
These two super cute delicate necklaces with fun pendants by Happiness Boutique are great addition to any lady's wardrobe. The subtle design allows you to effortlessly style them with all outfits going from super casual to very elegant.
3. Cute pastel necklaces for a feminine wear
Necklaces that are with pastel colors are definitely in the group "cute necklaces". These jewelry pieces are perfect for all the girly girls that work in an office or with clients, for stylish and elegant outfit or whenever you want to wear a cute necklace.
Add a girly touch to your look with a pastel colored necklace
Source unknown
You can, for example, layer them with a cute top and a blazer to finish off the look. In this case you can also add a pair of stud earrings with tiny rhinestones or let your necklace steal the show on its own.
Pastel necklaces are so feminine and stylish
Via Pinterest
As mentioned before, it is absolutely possible to style a very playful and trendy look with colorful jewelry items and printed outfits. And, you just need to make sure the colors and the overall look is balanced so you don't end up with a distracting and busy look.
Give an interest to your outfit by wearing cute necklace in pastel colors
Left:Bronze Stone Statement Necklace; Right: White Pearl Floral Statement Necklace
By Happiness Boutique
Very cute and pastel colored, these statement necklaces from Happiness Boutique are a great add-on to any stylish or trendy look. The pastel colors simply add a soft touch of femininity to your clothes.
4. Cute layered necklaces for a trendy style
Layered necklaces are also very cute, but elegant and stylish. They are great with simpler outfits or with V-necks.
Also, you can wear similar cute necklaces with working outfits, night out looks or festive styles. In addition, you can wear statement or delicate earrings with such a necklace.
Add dimension to your style with a layered necklace
Via Pinterest
You can always spice up any of your looks with layered necklaces. They come in different sizes and with all kinds of different pendants that could represent your personality and fashion style.
If, for example, you want to wear them to work you can go for something more simplistic and elegant. On the other hand, you can get a set with lots of layered necklaces and have a more bold look.
In addition to your chic outfit add a layered necklace
However, layered necklaces are absolutely gorgeous with plain clothes such as a dress or simple top without any prints and patterns. You can dress up your look by adding a cute clutch and heels or wedges or wear it in a more informal way by adding a pair of sneakers or sandals.
Jazz up any of your looks with these amazing layered necklaces
Left: Circle Layered Necklace Rose Gold; Right: Layered Lucky Charms Necklace in Gold
By Happiness Boutique
Rose gold or gold, layered necklaces look always very attractive when styled with an outfit. Happiness Boutique offers you these two to achieve the perfect casual or stylish look.
5. Long cute necklaces for a professional look
Long necklaces could also be very cute and stylish. These necklaces are a must have for the working and elegant ladies. Try to wear them with a cute and dressy top and a blazer. Very classy, yet trendy and cool style that you can rock on a daily basis. 
Wear a long necklace with your professional looks
You can get yourself a long layered necklace, just a long necklace or create your own style by taking two or three long necklaces turning them into one piece. And, you can wear it all year long with your winter, spring, summer and fall outfits.
In addition to your elegant outfits wear long cute necklaces
To fully accessorize this elegant and girly look try to add a couple of minimalist or antique inspired bangles or cuff bracelets. They will enhance even more your look and make it interesting.
6. Chunky pearl necklaces for a girly cute look
These chunky pearl necklaces definitely give a more young, stylish, cool and cute look compared to the classy one string necklace. Compliment your pearl chunky necklace with feminine or dressy outfits to achieve a more elegant and sophisticated style.
Glam up your style with a chunky pearl necklaces
Via Pinterest
You can also add a chunky bracelet that will go with your pearl cute necklaces. This way you have created yourself a very luxurious look outfit. Don't forget to put on your glam heels or sandals to complete this feminine and stylish look.
Make your look even prettier with a pearl necklace
You can also get creative your not so formal clothes. For example, you can dress up your plaid shirt by adding a girly skirt and your cute necklace. You can wear this look with flats or sneakers for a more hipster urban look.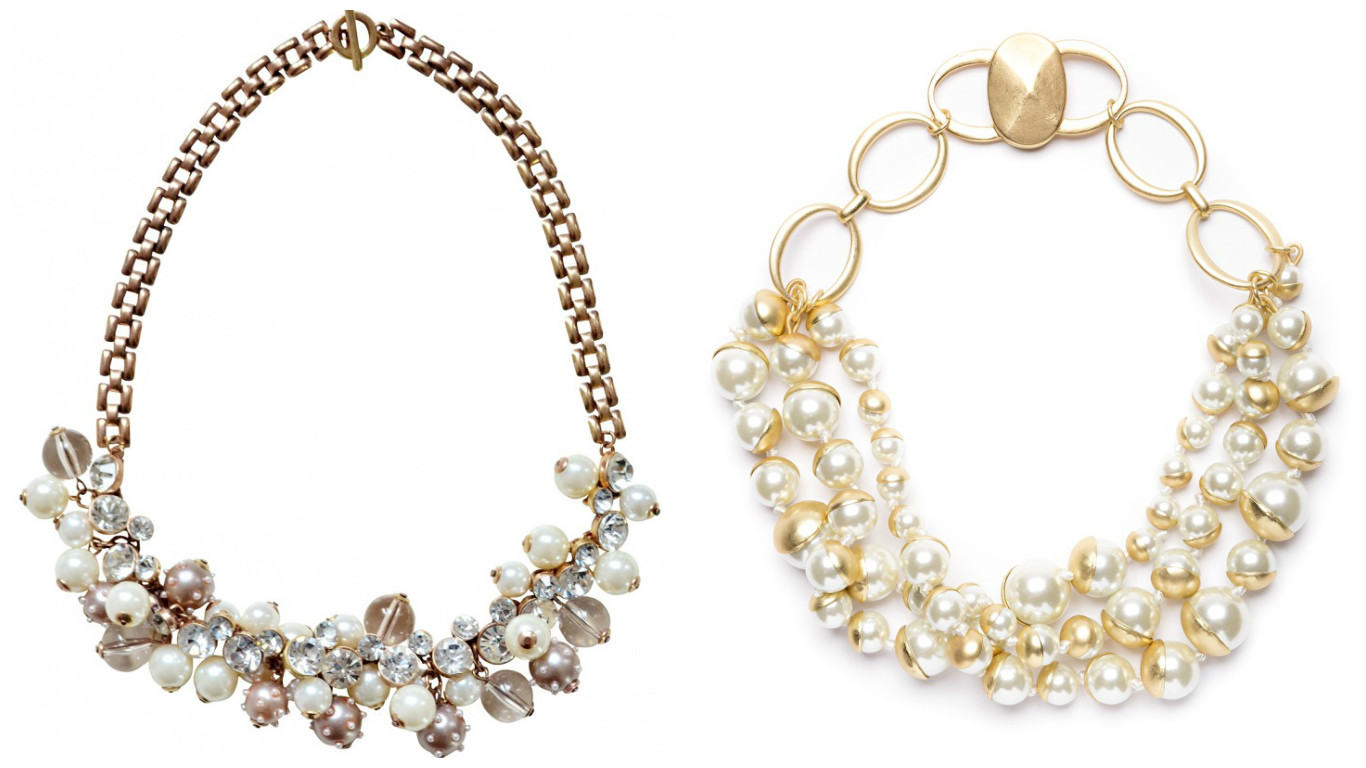 Chunky pearl necklaces in addition to feminine outfits are a great combo
Left: Pearl and Diamond Statement Necklace; Right: Pearl Galaxy Statement Necklace in Gold
By Happiness Boutique
As we all know pearl necklaces are always appropriate so if you need a cute necklace,a classy necklace or elegant necklace - these pearl necklaces from Happiness Boutique got your back!
7. Floral cute necklaces for a playful look
And, of course, we can't talk about cute necklaces and not mention the beauty and cuteness of the floral necklaces. They are always so colorful, playful and will bring a smile to your face right away.
Spice up your outfits with a spring floral necklace
Via Pinterest
Feel free to wear floral necklaces with stylish, elegant, cute or casual outfits. In addition, you can for example wear them to the office or wherever you go out with your girlfriends.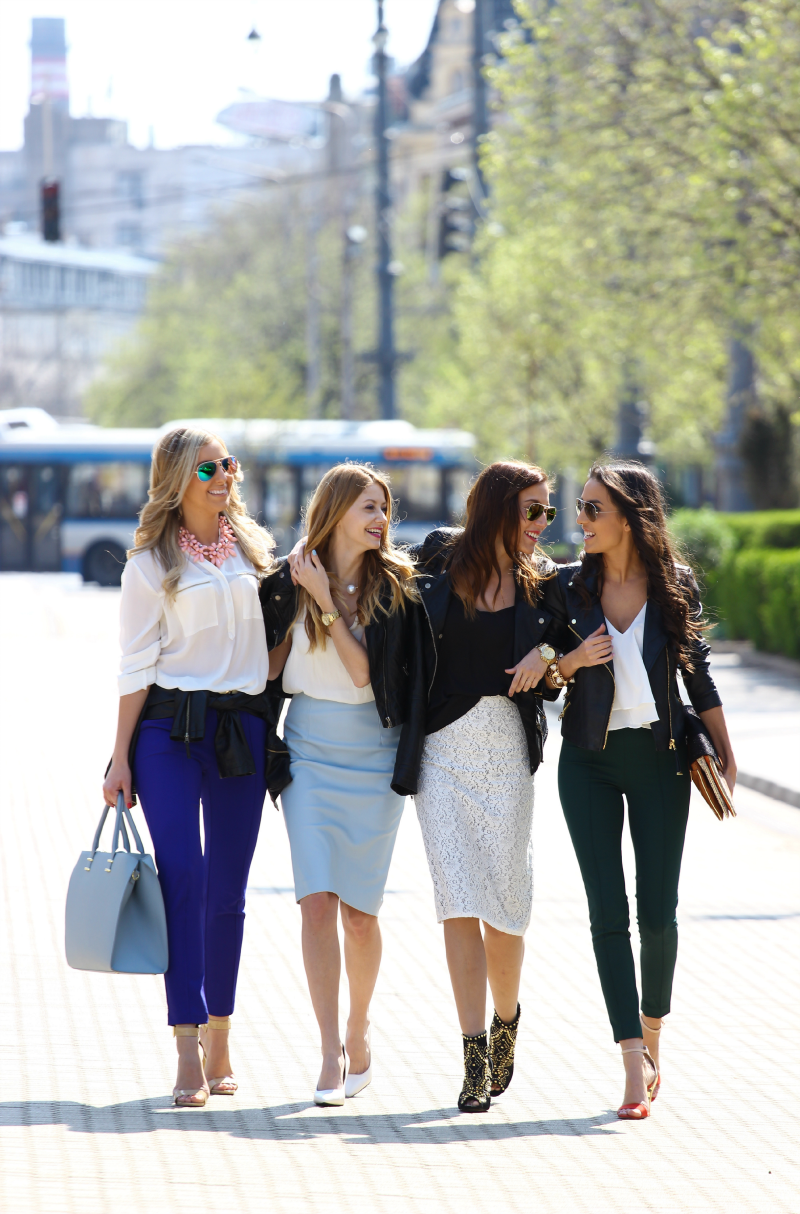 Floral necklaces are so cute and feminine
Floral necklaces are great for monochrome outfits because you will give them  a splash of color and freshness, especially as the springtime is here. Also, you can wear them them with dressy shirts and dressy pants.
Get ready for the spring and summer with these amazing floral necklaces
Left: Beautiful Flowers Statement Necklace; Right: Pastel Pink Flower Statement Necklace
By Happiness Boutique
Floral necklaces have a very feminine touch to them, therefore they are great for girly girls or your professional outfits that need a little twist to make them more interesting. Don't hesitate to check out these two cute necklaces from Happiness Boutique.
8. Cute choker necklaces for cool urban look
Besides from being super sexy and remarkable, chokers could also be cute if they have a cute pendant hanging off of it. In addition, velvet chokers look pretty girly because of their soft velvety touch when we put it on our neck.
Be edgy and trendy with a pendant choker
Chokers are great if you want to create a layering effect to your chest by combining them with longer golden, silver or rose gold necklaces. Or, you can only add a choker and still end up with a very noticeable and trendy style.
In addition to your daily outfits wear a choker for a trendy & edgy style
Source Unknown
Chokers are versatile and adaptable according to the style of the person, therefore you can easily wear them with simple graphic tees or with elegant night out dresses. There is unlimited amount of chokers offered on the market so you can get a piece that speaks personally to you.
Pendant chokers are so trendy
Left: Classic Pearl Pendant Choker; Right: Multi Star Choker by Happiness Boutique
For a cute girly style you could wear any of these two choker necklaces from Happiness Boutique. However, feel free to check out the rest of the collection → here.
9. Girly geometric cute necklaces for a dressy look
Geometrically inspired necklaces could also be very cute, but at the same time very trendy at the moment. Again, you can select from many different designs, but to achieve a very cute look it is better to focus on more girly and pastel colored statement necklaces.
Stay trendy by wearing geometric necklaces
Via Pinterest
Similar jewelry pieces are especially great to be worn during the spring and summer times. The reason is because they look so fabulous when paired with a cute lace top or crochet skirt. It is a great add-on for your romantic nights, for example, when you go on vacation.
In addition to your trendy looks wear geometric necklaces
However, you can style your cute geometric necklace with your weekend dressy looks to go to brunch with friends or shopping. They are very comfortable, modern and cool.
Accessorize your chic outfits with geometrically shaped cute necklaces
Left: Triangle Geometric Statement Necklace; Right: Spring Flower Statement Necklace
By Happiness Boutique
A perfect blend of colors and shapes that come together to make any of your looks more elegant and girly. Get yourself one of these must have necklaces from Happiness Boutique this spring and summer to jazz up a little your outfits.
10. Trendy druzy necklaces for a cute girly style
Another frenzy jewelry piece that has been rising lately in the fashion jewelry world is the druzy necklaces. They have such a rich texture and luxurious appearance. In addition, they come in different colors and shapes so try to find what works best for you. 
For a remarkable look wear a druzy necklace
Via Pinterest
No matter what kind of druzy necklaces you pick up the final results will be the same - very cool and trendy look! You can easily mix and match them with other jewelry pieces or with druzy rings and earrings for a complete druzy look.
Wear a druzy necklace in addition to your daily look
Druzy necklaces could be very subtle therefore you can rock the to your office, while traveling or shopping, and of course, to special occasions because they glow is just so attractive and glamorous.
The druzy jewelry pieces are so hot and trendy at the moment
Left: Druzy Stud Earrings Rose Gold ; Right: Druzy Ring Rose Gold by Happiness Boutique
In case that you already own a druzy necklace, Happiness Boutique offers you very classy, cute and trendy set of druzy earrings and ring in a rose gold color. A perfect set for any of your styles!
That was for today so I hope you enjoyed these cute necklaces trends and styles. Feel free to leave a comment and share your opinion about these jewelry pieces. In addition, don't hesitate to mention in the comment section how do you like to style your favorite cute necklaces! :)
Thank you & Happy Styling!
Save
---