For all the cute rings lovers, in this blog post you will be able to explore the magical, chic and unforgettable touch of these delicate jewelry pieces.
They might be just a small part of our look, but definitely a significant one that could change the game instantly.
In addition, if you like your hands to be beautifully embellished with silver, gold or rose gold cute rings, then you are at the right place.
You can go through our tips and ideas on how to style these amazing rings and to possibly learn about the latest trends.
Wear cute rings and make your looks more modern
Via Pinterest
After all, we all want to look cute and stylish, especially in the spring and summer times. Therefore, I hope you will enjoy these styling tips and ways to wear cute rings.
Happy Reading!
1. Chic stacked rings for an elegant style
The stacked trend is so cool and amazing because you can play around with your favorite cute rings. There are endless possibilities on how to style them, therefore let your imagination do the work for you.
Stacked rings are so cool and interesting
Via Pinterest
In addition, the best thing about this trend is that based on how you wear your rings and their design, you can literally rock them to any kind of event or occasion. For example, a stack of chic and sparkling rings could be a great option for work.
On the other hand, some ladies would prefer a more settled stack of rings, which is perfectly fine because you will definitely be able to find what you are looking for.
The stacked trend is so hot this season
Via Pinterest
These cute rings are topped off with tiny rhinestones that will give your look chicness and elegance that will get a lot of compliments. A soft touch of girliness that is just enough to accessorize even your most basic look.
Stack up these two and transform your looks to be more chic
Left: Double Crossed Ring Rose Gold; Right: Rose Gold Glamour Band Ring
By Happiness Boutique
If you like this chic style, then feel free to combine these two or similar rings from Happiness Boutique. They will perfectly balance out your look and bring a lot of elegance to the outfit.
2. Delicate chicness with tiny cute rings for a feminine look
In contrast to the stacked trend, you can also wear super delicate and minimalist rings to accessorize your looks. This is a very easy, simple, but trendy way of wearing your cute rings. You can still stack them, but their design will allow your look to be more feminine and pretty.
Add a delicate touch to your outfit with these delicate rings
Via Pinterest
Furthermore, you can add one or two delicate bracelets to complete this look, but if you prefer only rings - it would still look just fabulous. This is a great styling for the working ladies or those who go to school, but still want to look cute and well put together.
Delicate chicness..because it is appropriate for the every day
Via Pinterest
Or, feel free to add a cute necklace that is also very fine to achieve this feminine and cute look. It is very comfortable to wear, effortless to style and combine with any kind of an outfit.
For example, you can combine your delicate rings with a delicate necklace with cute pendants. A great option for the spring and summer times.
Wear delicate rings for a girly chic look
Left: Minimalist Heart Knot Ring; Right: Delicate Moonstone Ring Rose Gold
By Happiness Boutique
With these two trendy cute rings you can perfectly recreate this delicate chic look if you pair them with loose trousers and a simple top. To finish off the style you can wear them with sandals that have a little heel or comfy flats or loafers.
3. Wear vintage inspired rings for a girly retro look
If you happen to love romantic, vintage, retro and girly outfits, then these styles are just for you. The retro touch of the vintage inspired rings in combination with a retro inspired look looks absolutely romantic and different than the usual looks that we see on the streets.
For a unique look wear vintage inspired rings
The vintage and antique inspired rings always look very luxurious, precious and expensive. Therefore, they will give your look these vibes even if you don't wear expensive clothes. In this case it is better to focus more on earthy and settles tones when picking up an outfit.
In addition to your retro outfits wear vintage inspired rings
In addition, this is a very comfortable look that you can wear all day long without feeling tired or having the desire to get home fast and put on your slippers. The reason for that is the oxford shoes. They are the perfect accessory for this retro girly look.
Make your retro looks more eye-catching by wearing an antique inspired ring
Also, you can wear floral tops, long skirts and a cute body cross bag. Of course, don't forget your cute rings with retro vibes to finish off this super cute look.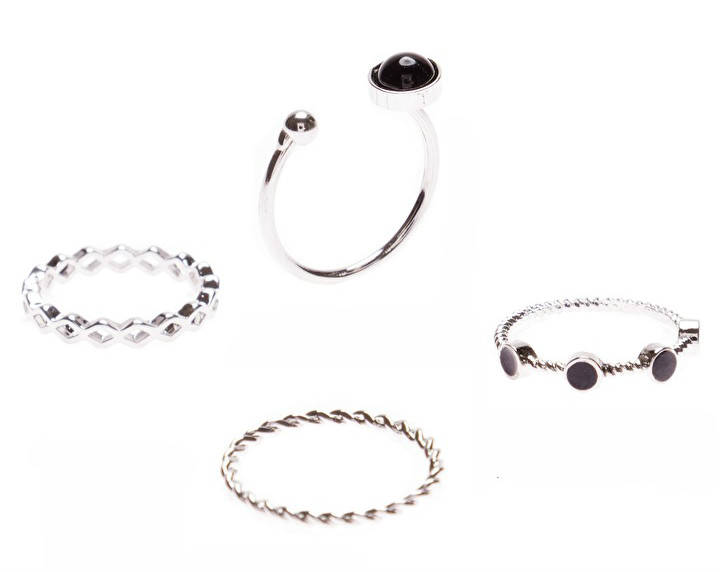 Wear this vintage inspired ring set for a truly unique style
Vintage Silver Ring Set by Happiness Boutique
If you like to wear silver vintage rings, Happiness Boutique offers to you a very trendy ring set of four rings that are vintage inspired. Feel free to wear them with modern, elegant or super casual outfits as well.
4. Big statement rings for a sophisticated look
Many of us prefer to wear chunky statement rings to obviously make a statement to our looks. Here, you can go for only one ring or add two or three for a more accessorized style. In addition, don't hesitate to combine your ring with a pair of statement earrings as well.
Make a statement without having the need to speak
Very sophisticated, these statement rings are so rich in texture and there is no doubt that you will get asked "Where'd you get them from". They make a great conversation piece and an absolute fancy way to embellish your outfit.
Statement rings look very remarkable
When wearing a statement ring you don't need to further accessorize if you don't feel like it. Yet, if you decide that you want to rock your latest statement necklace then pair it up with a fitted dressy shirt and a pencil skirt.
Enhance your look with any of these two rings
Left: Ornate Coral Cluster Cocktail Ring; Right: Glint of Glamour Pearl & Rhinestone Ring in Gold
By Happiness Boutique
These two feminine statement rings are a great addition to your spring and summer wardrobe. You can wear them with professional attires, to cocktail parties or any special events that are coming up on your calendar.
5. Boho cute rings for a magical bohemian style
The bohemian fashion is still very hot this season, therefore if you decide to add a couple of boho inspired rings to your jewelry collection you won't regret it. For example, rings with magical and symbolic stones that will brighten up your look and make it more special.
Boho rings are every popular this season
Of course, don't forget to put on some boho inspired clothes as well. They are perfect for the summer because of their pastel, earthy and overall light color tones. Also, try to focus on outfits that have some tassels, feathers or fringes to fully achieve a boho look.
In addition to your free spirited looks wear boho rings
Via Pinterest
For example, a typical accessory of the boho fashion is a peripheral hat. A fedora or straw hats are the main kinds that the ladies like to wear when seeking for this style. Also, try to go for flowy and loose fabrics.
Wear a modern boho ring for a cool beachy look
Furthermore, in addition to your boho cute rings you can add a couple of fabric bracelets. They are very popular among the boho fashionistas. They are a great way to bring those vivid colors to your outfit.
Bring out your boho vibes with any of these two cute rings
Left: Circle Ring Rose Gold; Right: Dainty Triangle Wrap Ring in Silver
By Happiness Boutique
Happiness Boutique could offer you these two very simple, but so easy to style rings that you can use for boho styles, elegant or futuristic looks. Very versatile and trendy at the moment.
6. Splash a pop of color to your look with a colorful statement ring
As we speak of color, here are a couple of ideas on how to make your monochrome outfits more interesting and eye-catching. A small detail such as the ring could instantly make any of your looks more dazzling and attractive.
Give a pop of color to your outfit with this turquoise ring
Via Pinterest
These statement ring are perfect for all black, all white or any all anything outfit. Plus, they are just enough to accessorize your outfit in a very trendy way. However, feel free to add a trendy necklaces as well. In this case it is better to go for something elegant rather than cute and girly.
Spice up your monochrome looks with a colorful ring
Via Pinterest
Don't hesitate to wear such rings with your glamorous all black outfits to give them this trendy touch they were missing. Add a pair of heels, a small clutch for the most important essentials and also feel free to wear darker lipstick.
Add little color for a twist
Left: Boho Ring Set Silver; Right: Crystal Half Moon Wrap Ring in Gold
By Happiness Boutique
These rings from Happiness Boutique may not look very glamorous at first, but believe me that they are so adjustable and could perfectly go with your night out looks and give them a settled touch of color.
7. Wear druzy rings for a super trendy look
One of the major trends this season is the druzy trend. You can find these sparkling jewels everywhere - rings, bracelets, necklaces or earrings. There is a reason why they are so loved, and this is because they look so luxurious and outstanding.
In addition to your trendy looks wear a chic druzy ring
Via Pinterest
The broken looking glass on top of these rings is so mysterious and magical, yet very feminine and chic. However, it is possible to rock these babies even on a casual day. In addition, don't hesitate to add a pair of stud druzy earrings to complete this amazing look.
For a super trendy look wear a druzy ring
Via Pinterest
Druzy rings definitely have their own charm and sophistication. They are great with girly outfits as well as elegant, casual or professional attires. You can wear them with heels or sandals.
In addition to your daily outfits wear a druzy ring for a remarkable style
Druzy Ring Rose Gold by Happiness Boutique
This druzy ring from Happiness Boutique is in a rose gold color which makes it great for the upcoming summer days. Also, the simplistic and feminine design of this cute ring makes it very easy to combine with other jewelry pieces.
8. Modern geometric rings for a cool look
Geometric rings also look very cute, yet modern and cool .You can wear them with your daily outfits with no difficulty. For example, a pair of skinny jeans or wide legged pants, sneakers and top it off with a leather jackets or anything that goes well with the current weather.
Stay modern and trendy with these geometric cute rings
Via Pinterest
The futuristic and modern design of these cute rings is what makes them so special and trendy. In addition, you can combine them with a delicate or statement bracelets and a pair of cute dangling earrings. For example, a pair of hoop earrings could perfectly match with these modern rings.
For a modern look wear a cute geometric ring
However, if you like to wear more romantic, feminine and girly outfits, try to style these geometric cute rings with a long dress. For a more comfortable wear try to put on some flats, ballerinas, espadrilles or gladiator sandals.
Make your looks more attractive with any of these two cute rings
Left: Full Circle Minimalist Ring; Right: Rhinestone Cross Ring
By Happiness Boutique
Here are two super cute rings from Happiness Boutique with a geometric shape. Very delicate and modern, these rings are great for casual or elegant styles. It is up to you to style them according to your personality, fashion style and mood.
9. Trendy pearl rings for classy feminine look
A continuous trend that you will always see are cute rings with pearls on them. You can find different kinds of rings, statement or delicate, to accessorize your outfit the best possible way.
In addition, their versatile characteristics allows you to wear them to any kind of occasion or event.
Give a chic touch to your outfit with a pearl ring
Pearls always look sophisticated, classy and feminine. To get this feminine look try to pair your rings with lace, ruffled tops and cute trendy shoes. If you go for a stacked pearl ring look, then it is better to let these pieces to be your statement part of the outfit.
Pearl rings will never go out of style!
As you can see pearl cute rings that are worn in a stacked way never look too much, too distracting, too tacky or inappropriate. Instead, they look very chic and stylish.
Pearl rings in addition to chic looks
Left: Early Bird Pearl and Gold Claw Ring; Right: Silver Bells Cocktail Ring
By Happiness Boutique
For any of your fashion styles, here are two cute rings with pearl accents on them. Give your outfit elegance, chicness and a modern touch by wearing these timeless pieces.
Finally, I hope you enjoyed these cute rings and how to wear them. Please let us know in the comment section your opinion about these amazing jewelry pieces. Also, don't hesitate to share your opinion about, which ones do you like the best!
Thank you for reading & Happy styling!
Save
---