Learn how to wear dainty jewelry in this blog and check out our cool and interesting suggestions about this season's most popular dainty jewelry. In addition, these jewelry pieces are very trendy and wanted at the moment, therefore it would be great to know how to rock them like a pro.
Wear dainty jewelry with any of your outfits
Also, don't hesitate to leave a comment in the section down below or hit the like  button if you enjoyed these styling tips. Furthermore, you can state which are your favorite dainty jewelry pieces and how do you like to style them.
Happy Reading!
1. Dainty lariat necklace for a chic style
The lariat necklaces are usually dainty jewelry that is great for chic and stylish outfits. Many working ladies can take advantage of its beauty and elegance.
You can easily wear the lariat necklace in combination with other dainty jewelry such as a minimalist bracelet, stud earrings or a stack of delicate rings.
For a feminine style wear a lariat necklace
Also, if you like the layering effect you can do that too with your lariat necklace. For example, it is possible to wear two lariat necklaces at the same time or simply add another delicate necklace to your lariat necklace.
Deep V-necks and long lariat necklaces are a great combo
Via Pinterest
Because of their elegant, chicness and style, you can wear a lariat necklace in a more provocative and attractive way. For instance, in the summer if you like wearing deep V-necks, then a lariat necklace would be very appropriate for the look.
Lariat necklaces are a great add-on for the working ladies
In addition, this versatile piece of jewelry could be styled with night out elegant looks. This type of necklace is a great complimentary piece that could be worn by all aged ladies no matter of their occupation or fashion style.
Any of these two lariat necklaces will enhance your outfits
Left: Geometric Lariat Necklace; Right: Play Circle Necklace Rose Gold
By Happiness Boutique
These two dainty necklaces are from Happiness Boutique and have a very sleek and well-polished surface. The appearance of these necklaces definitely makes you want to add one like this to your jewelry collection.
2. Wear a delicate minimalist bracelets for a trendy look
If you happen to be in love with the minimalism trend, then you will definitely enjoy these following styles and bracelets. Bracelets are the type of jewelry that is not trendy all the time, but lately, we could spot many fashion bloggers wearing bracelets or even a stack of bracelets for a fuller look.
In addition to your fashionable looks add a minimalist inspired bracelet
In addition, if you like wearing watches, it is a good time to pair your watch with a modern and trendy dainty minimalist bracelet. This is a perfect style for business ladies or all the ladies that love to stay classy and professional at all times.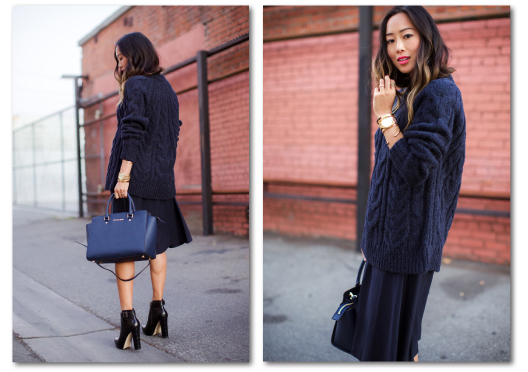 For a modern look wear a minimalist dainty jewelry
Via Pinterest
As you can see these jewelry pieces are great to be worn all year round. For example, you can jazz up your fall sweater and ankle boots looks or give interest to your summer styles.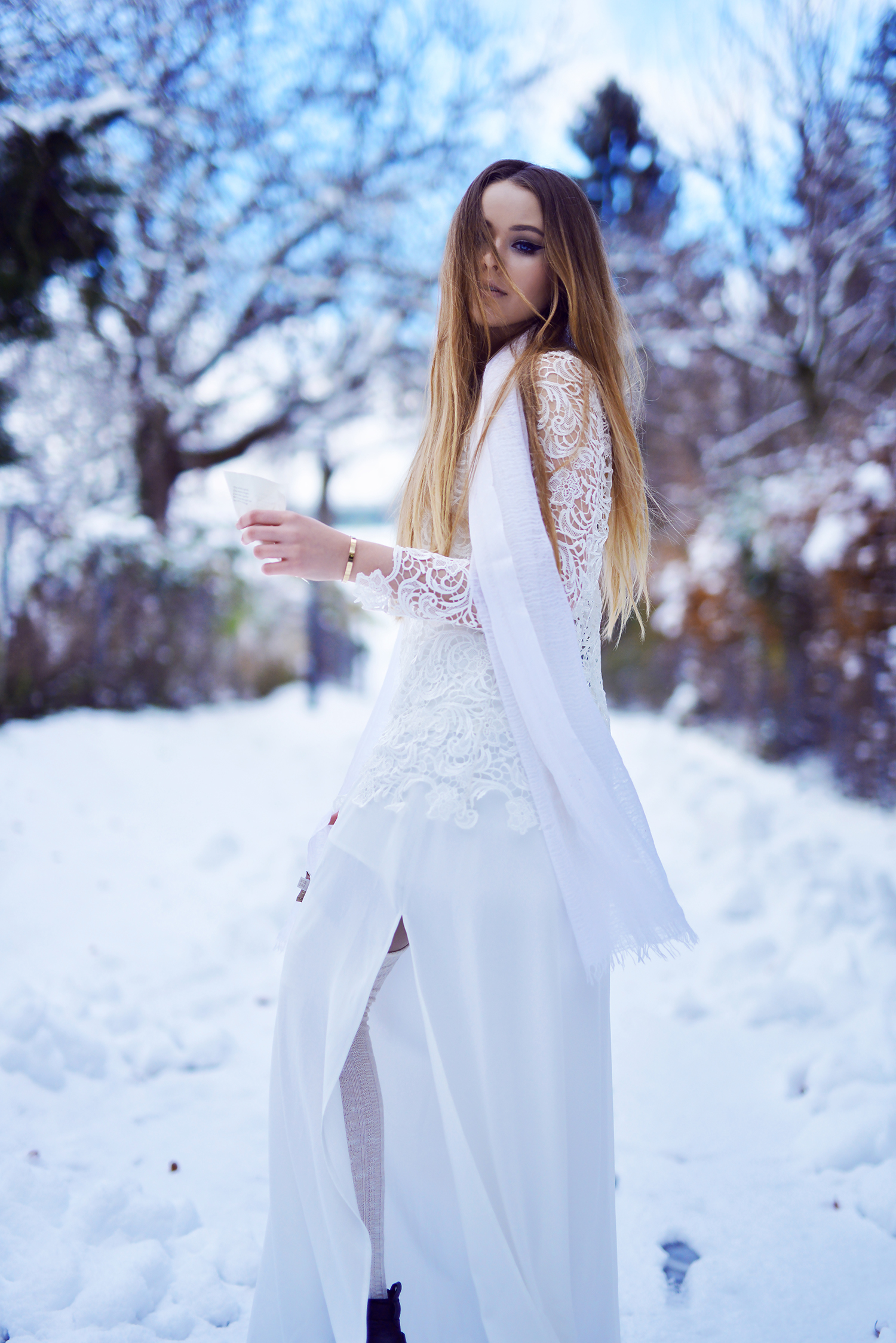 Minimalist bracelets are great for all seasons
Via Pinterest
Also, if you like to give interest to your monochromes don't be hesitant to add a trendy bracelet in addition to your look. It looks super feminine, yet it is a very easy to pull off look.
Swirl Bracelet Rose Gold by Happiness Boutique
Here is a minimalist inspired modern bracelet from Happiness Boutique. If you like similar looks, then don't hesitate to check them out.
3. Dainty jewelry with a pendant for a personalized look
Dainty necklaces with personalized or not pendants are so cute and easy to style with any type of an outfit. You can literally wear them with your casual as well as with your night out looks.
Necklaces with pendants are great for a personalized look
In addition, they are very comfortable to wear and what a better way to express yourself than a personalized pendant hanging off from your dainty necklace. These necklaces are very timeless therefore you don't have to worry if you spend a little more than the expected. 
For an individual style wear a pendant necklace
Source unknown
Feel free to combine your dainty pendant necklace with simple or detailed outfits because both styles will be great with such a necklace. It can even become your talisman necklace, which will make it much more sentimental and priceless.
Jazz up your daily outfits with these pendant necklaces
Left: Delicate Necklace with Inscribed Pendant; Right: Star Necklace Rose Gold
By Happiness Boutique
Any of these two pendant necklaces from Happiness Boutique is appropriate to achieve a similar look. Feel free to check the out by clicking on the links below the photo.
4. Add a layered necklace for a fuller look
If you like to make unique combination of different jewelry pieces, you can create a very trendy and popular at the moment - the layered effect.
This is a rather fuller look in terms of accessories but it is definitely not a bling-bling style. You can get yourself a pre-layered necklace or make your own design, which is simply amazing. 
For a fuller look wear a stack of necklaces
Based on the necklaces that you put together you can end up with a very girly, stylish, symbolic, boho or any fashion style that you prefer and are in the mood for.
For example, in the summer you throw on a floral dress and accessorize it in a very elegant and stylish way by adding different length necklaces.
In addition to your trendy look wear a layered necklace
Or, you can add only two necklaces for a simple, yet sophisticated look. Many people doubt the power of simplicity, but in fact this is such a timeless and classy way to accessorize or dress up.
Layered necklaces look very attractive with any type of an outfit
Left: Layered Lucky Charms Necklace in Gold; Right: Lucky Evil Eye Layered Necklace in Gold
By Happiness Boutique
Here are two beautiful layered necklaces from Happiness Boutique which have different pendants on each necklace. These could definitely enhance any of your looks.
5. Delicate rings set for a super modern look
Stackable rings are definitely a must have for this season. There is no perfect time when to pull off this look ,but rather you decide when you want to show your fashionable style.
The best thing about these ring sets is their adaptability and diversity. You will be able to find all kinds of different sets that will go well with your personal style and lifestyle.
Give interest to your normal outfit with a stack of delicate rings
Via Pinterest
For an extra sparkle you can rely to these topped off with tin rhinestones ring sets. They are great for daily on night out looks. Or, you can even spice up your professional and sophisticated outfits.
Delicate rings are always appropriate
On the other hand, ring sets with no extra effects and detailing are great for casual sneakers days or with elegant high heel looks. It is up to you if you want to add all of the rings at the same time or combine them with older rings that have been sitting for quite some time in your wardrobe.
Any of these modern ring sets will take your looks to the next level
Left: Modern Silver Ring Set; Right: Minimalist Ring Set Gold
By Happiness Boutique
Here are two ring sets from Happiness Boutique that are pretty simple, yet modern and appropriate for any type of a lady. Don't hesitate to check them out! :)
6. Wear a chain bracelet for a fashionable style
Chain bracelets look so cute and stylish based on the outfits that you decide to match them with. This dainty jewelry is also a must have for this season because more and more fashionistas decide to rock this style.
In addition to your stylish outfit wear a chain bracelet
These delicate bracelets could be combined with other similar bracelet or wear them solo. They have a certain character and special energy that will definitely make your looks more eye-catching and attractive. You can wear this dainty jewelry to work, while traveling or shopping or even to special events.
Dainty jewelry for your everyday styles
Source unknown
As you can it is possible to wear this type of bracelets with super outfits as well. Feel free to mix and match them with other types of bracelet to give an extra interest to your ordinary daily looks.
Add any of these to your collection for a modern and feminine style
Left: Joy Bracelet Rose Gold; Right: Love Delicate Bracelet Rose Gold
By Happiness Boutique
These two chain bracelets from Happiness Boutique are very feminine, cute and delicate. You can wear these two together or alone because each one has a certain personality and interest to it.
7. Dainty choker appropriate for a girly look
Our lovely delicate choker still make it the list of the most wanted accessory for the summer. This type of dainty jewelry is very versatile, trendy, modern and cool. It can make your outfits more sexy, eye-catching, fashionable or anything you want. A true saver on a dull day.
For an attractive look wear a dainty choker
Girly looks and delicate chokers are such a great combo. In the summer when you want to feel desired, paid attention to and just flirty, you can dress up in a nice and feminine dress and add a little edge to your style by wearing a delicate choker.
Dainty chokers look very attractive with any type of an outfit
As you can see delicate chokers are perfect for daily looks or night out looks. You can wear the same choker and pull off so many different looks so if you add a similar dainty jewelry to your collection you know that you will be able to wear it whenever you want.
In addition to your fashionable looks wear a delicate choker
Left: Boho Choker Black; Right: Glitter Choker Rose Gold
By Happiness Boutique
If you happen to be a choker necklace fan, try to check out these two dainty jewelry pieces from Happiness Boutique. They could perfectly accessorize your girly, stylish, boho, elegant or sexy looks with no effort.
8. Trendy subtle stacked earrings for an attractive look
Having many piercings at once is definitely a popular look, but what to do if you don't have that many piercings!? Don't you worry ladies because there are always the fake piercings that you can to your pierced ears. This look is very cool because it is delicate, yet visible enough to be remarked by many people.
To achieve an over accessorized look wear a stack of earrings
Via Pinterest
You can add, for example, a stack of rhinestone delicate studs that will gently sparkle as you walk around. This is a look that you don't need to worry about where you style it because it is so delicate and feminine.
Give interest to your outfit with a stack of dainty jewelry
Source unknown
Even your super elegant and red carpet inspired looks could take advantage of these sall and dazzling jewelry pieces. It looks very stylish, especially if you make a cute hairstyle.
The hairstyle doesn't have to be anything spectacular or difficult to make. It is always about your attitude to end up with a graceful and full of confidence style.
9. Fine hoop earrings for a modern look
Every girl could find a pair of fine hoop earrings to suit her style. These earrings are absolutely amazing because of their versatile properties. It is possible to style them with super casuals as well as with super elegant outfits.
Hoop earrings will always give you a touch of femininity and style to your look
Via Pinterest
You can wear them all seasons and adjust them according to your fashion style. In addition, they come in so many different designs and detailings that you will never be able to get bored of them. Plus, they are pretty comfortable to wear unless you have an oversized pair of hoop earrings.
In addition to your trendy style wear hoop earrings
Source unknown
Some hoop earrings have even this futuristic and professional looking design that is perfect to match your working outfits. On the other hand, they go well with girly dresses, a simple short and t-shirt look or fashionable outfits such as an off-the-shoulder top.
Try any of these two pairs of hoop earrings for a modern style
Left: Multi Geometric Hoop Earrings; Right: Semi Circle Earrings
By Happiness Boutique
If you want to be different, yet classy and modern, check out these cool pairs of hoop earrings from Happiness Boutique. The small detailing is very interesting and eye-catching.
10. Cute necklaces for your summer outfits
Necklaces with cute pendants and dainty chains are so fun to wear in the spring and summer. You can make any of your styles more joyful and to put a smile on your face. In addition, they are easy to pair with other necklaces if you want to create the layering effect. 
Make your summer looks more interesting with a cute dainty jewelry
Also, these dainty jewelry pieces are very comfortable to wear. The tiny cute pendants are so interesting, modern and fashionable. They will easily express your mood right away.
For a cute and girly look wear a fun pendant necklace
Source unknown
Feel free to wear them with vivid colored dresses, shorts and a graphic t-shirt. These necklaces are great for school, daily outfits or even for special celebration such as your younger nephews or cousins.
Wear a cute pendant necklace in addition to your playful summer looks
Left: Cactus Necklace Silver; Right: Precious Pineapple Delicate Necklace in Gold
By Happiness Boutique
Bring happiness to your outfits with any of these two dainty jewelry pieces from Happiness Boutique. Cute, girly, appropriate for any type of a lately and absolutely trendy.
Finally, I hope that you enjoyed these styling tips and tricks on how to rock your favorite dainty jewelry like a queen. These jewelry pieces are very modern, easy to style and so comfortable. In addition, their delicateness allows you to effortlessly pair them with colorful or super plain outfits.
Also, don't hesitate to share your favorite types of dainty jewelry. How do you like to style them? What are your favorite currently trending jewelry pieces? Let us know! :)
Thank you & Happy Styling!
Save
---