The best thing about the dainty necklaces is their effortless way of styling and ability to make any of our outfits so much better.
Also, these delicate necklaces are so timeless and never go out of fashion. They are the perfect addition to any fashion style - elegant, funky, casual, trendy or you name it. 
Dainty necklaces are great for any lady
They come in different designs, sizes, length and with beautiful pendants. They could easily represent your persona and at the same time turn your look into a prettier ensemble. I hope you will enjoy these look suggestions and find inspiration in them.
Happy Reading!
1. Long dainty necklaces for an everyday look
Whenever you feel like accessorizing your everyday casual or slightly chic outfits, the long dainty necklaces are the perfect addition. They are a great way to make your simple tops more interesting and elegant.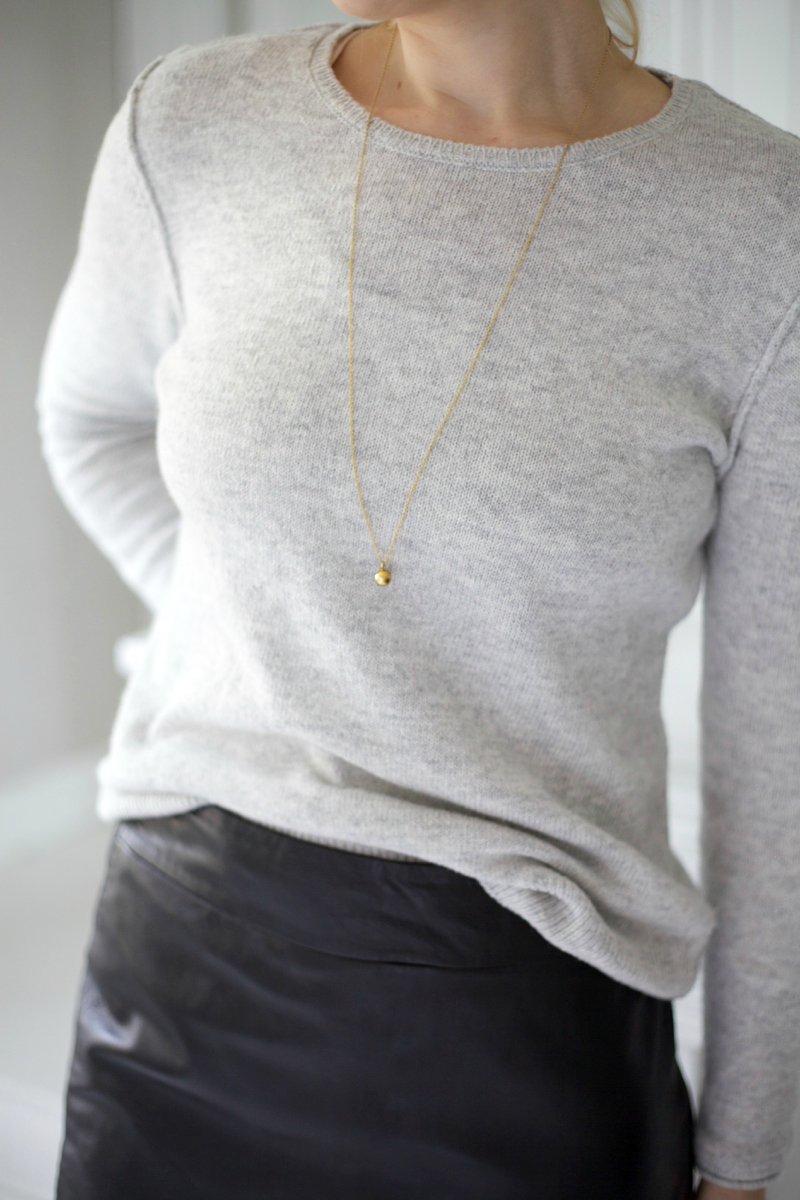 Add interest to your outfit by wearing love dainty necklaces
In addition, long necklaces are very easy to style with monochrome or printed tops with multi-colors. Plus, you can wear them to any kind of event or with any fashion style. They are a great jewelry piece for professional attires where you need to keep it to the minimal.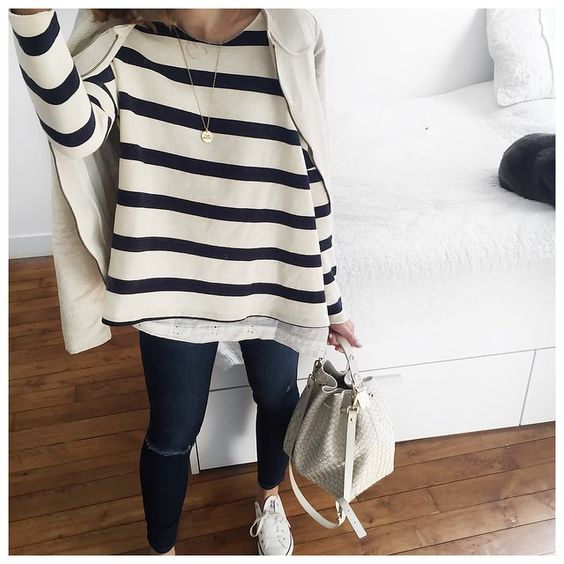 Dainty necklaces are great for casual wears
Via Pinterest
Furthermore, the long simple delicate necklaces are very comfortable to wear. Therefore you won't feel tired of wearing all day long and at the same time being able to work and move easily.
Accessorize any of your looks with dainty necklaces
Left: Minimalist Bar Necklace; Right: Moon and Star Necklace by Happiness Boutique
If you happen to love these long, but simple and delicate necklaces for any of your looks, then try to check out these two necklaces from Happiness Boutique. Also, they could be a great options for your working, school or super casual outfits.
2. Delicate lariat necklace for a chic style
The lariat necklaces are most of time very delicate and elegant pieces of jewelry. Their delicateness is perfect for elegant and chic outfits. For example, you can wear them to work, to business meetings or even to special occasions.
Working ladies could take advantage of the beauty of the lariat necklaces
No matter of your outfit, you can wear a lariat long necklace because they always look very discreet, yet appropriate. Great to be worn with black skinny jeans or working pants and top off this look with a stylish top.
Lariat necklaces and chic looks are a great combo
In addition, their simple design allows us to pair them with other jewelry pieces. For instance, you can combine your favorite lariat necklace with a dainty bracelet and a couple of rings for a fuller style.
Or, you can wear them with a pair of classy hoop earrings for a more trendy style or with simple studs for a more discreet wear.
Wear lariat necklaces with your stylish looks
Left: Long Glamour Y Necklace; Right: Minimalist Necklace Silver
By Happiness Boutique
Here are two suggestions from Happiness Boutique that could accessorize your elegant and chic outfits.
3. Open backs and dainty necklaces for a fashionable look
If you happen to have any special occasions coming up and you have a beautiful top with an open back, then what a better way to accessorize it than a layered necklace. This is a more fuller and visible look, but it can still be very elegant.
For a remarkable look wear your necklaces on your back
Via Pinterest
The stacking trend has been growing so fast and it is loved by so many fashionistas. In case you are one of those ladies, feel free to stack up your rings and add a layered necklace to complete this look. This is a more funky and playful way of decorating your open back top.
Accessorize your back with dainty necklaces
However, you can go for a single necklace with a sparkling pendant at the end. This style is better with a very long, but elegant and chic collier that will accessorize all of your back.
Plus, the long dainty necklace could be a great way of making your all black outfits more eye-catching.
In addition to your fashionable outfit wear a dainty necklace
Or, if your top is already very colorful or detailed, you can embellish your open back with a short dainty necklace. A slight touch of the jewelry can already make your outfit more complete and fashionable.
4. Give dimension to your look by wearing a layered necklace
Many ladies like to pull off the layered necklaces trend, which is absolutely amazing and gorg. These pieces are especially good with V-necks or collared shirts. Therefore they are great to wear them at work, while shopping or traveling.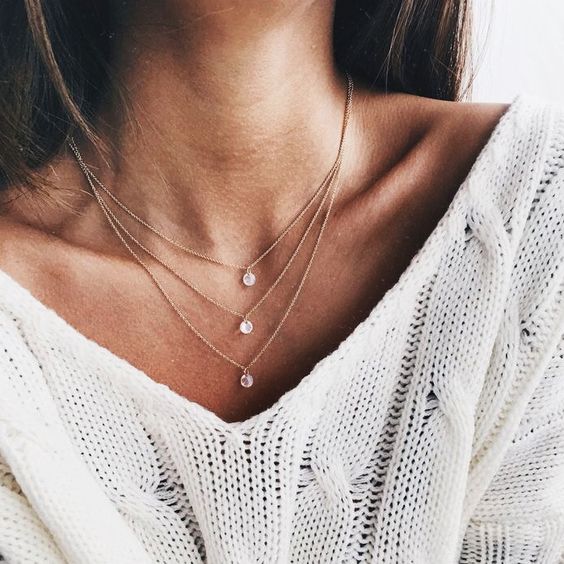 Delicate layered necklaces could give dimension to your outfit
Via Pinterest
The dainty necklaces that are layered are suitable to be worn with simple or detailed outfits. They will always be able to enhance your look and even refresh it. Based on the length and pendants, try to match it to the neckline of your top.
Golden necklaces are perfect for the summer
Dainty necklaces, especially the golden ones, are so attractive and flirty when worn during the hot summer days. In addition, they can beautifully blend with your tanned skin and become even easier to pair with your outfit.
In addition to your outfit wear layered necklaces
Left: Layered Geometric Necklace; Right: Minimalist Layered Necklace
By Happiness Boutique
For a fuller and trendy look you can always decorate your décolleté with a layered necklace. Try to pick up a layered necklace that would go with your style and neckline.
5. Wear a delicate chokers for a super trendy style
For a very sexy and chic wear, you can always complement your outfit with a delicate choker. We have seen many different types of chokers. Yet the delicate ones are very feminine, simple and appealing to look at.
On top of that, they could be suitable for any type of a lady no matter of her occupation.
For a trendy look wear a delicate choker
Source unknown
For example, a minimalist inspired metallic choker consisting of a simple thin collar that could gently hug your neck. In addition, this kind of a choker is so versatile. Therefore you can style it with your night out flirty looks or with your daytime chic outfits.
In addition to your trendy look add a delicate metallic choker
Also, the very delicate metallic chokers are very easy to combine with other necklaces. For instance, you can pair a layered necklace with a delicate choker and end up with a truly unique style.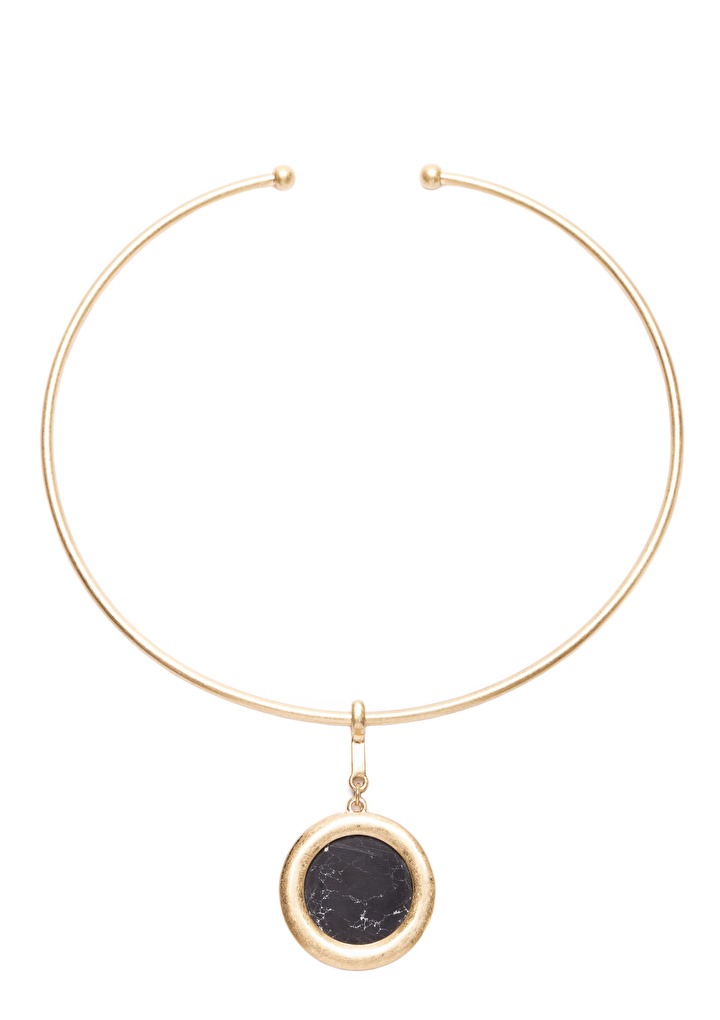 Metallic chokers are so trendy at the moment
Black Marble Geometric Choker Necklace by Happiness Boutique
To achieve this look or if you need a choker that could be combined with other jewelry pieces, then check out this chic marble choker from Happiness Boutique.
When paired with other necklaces you can end up with the perfect statement necklace.
6. Combine a bandana with dainty necklaces for a funky chic look
Another creative way to wear your dainty necklaces is by pairing them with a bandana or any type of a smaller scarf that you could wrap around your neck. This is very cute, yet experimental way of wearing your necklace.
A combination of bandana and a delicate necklace for a super modern look
Via Pinterest
Furthermore, if you want a more funky and casual style feel free to combine your dainty necklaces with a bandana. However, if you want a more elegant, work appropriate and chic look, then your can wrap a satin or organza scarf and then pair it with a necklace.
Accessorize your modern looks with a bandana and a delicate necklace
Via Pinterest
This look is great to be worn during the warmer days when we can replace the chunky scarves with a see through scarf or a bandana. In addition, you can wear the combo in many different ways, depending on your personal taste.
For a cool look wear a bandana
Via Pinterest
Of course, the bandana necklace look is a perfect way to make your basic t-shirt more interesting and trendy. Throw on a pair of shorts or jeans, accessorize with a belt and a small purse and you are all set!
7. Personalized pendant necklace for a truly unique style
Being able to engrave or receive as a gift personalized pendant necklace is just awesome because the necklace becomes much more expensive and special to wear.
For example, if you have a plated or bar pendant necklace that you can engrave and put your initials or a symbolic word the necklace becomes very sentimental. 
Personalized necklaces are priceless
Source unknown
These jewelry pieces are perfect to be given as a gift. Also, they can be worn at any time and for any type of occasion because in more cases their design is rather simple and appropriate for anybody.
Engrave your pendant necklace for a personalized look
The personalized necklaces are a great conversation piece and such timeless accessory with a lot of value.
Pendant delicate necklaces that you can engrave never go out of style
Left: Love Believe Hope Long Necklace; Right: Circle Necklace Rose Gold
By Happiness Boutique
To engrave or personalize your necklace you can get a plated circle necklace or a bar pendant. Very chic, feminine and minimalist inspired, these necklaces are suitable to be worn at any time of the year.
In addition, they are effortless to style with professional outfits, chic looks or casual t-shirt and jeans type of a look.
8. Chunky pendants and dainty chains for a distinctive look
Another way to accessorize your outfit with dainty necklaces i by adding a delicate chain with a chunky pendant for a remarkable and visible style. The long chains with a statement pendant are awesome with off the shoulder tops and more girly outfits.
In addition to your girly tops wear a long dainty chain with a chunky pendant
These long jewelry pieces are perfect for any of your simple tops. They are just enough to give a little chicness and elegance to your otherwise basic outfit. Or, a perfect addition to your feminine and fashionable looks.
Chunky pendant necklaces are great for any type of a lady
Via Pinterest
Many working ladies prefer to wear long necklaces because they are so effortless to style and comfortable to wear during the whole working day. In addition, they will be able to give dimension to your look and sophistication to your outfit.
Add a long necklace with a chunky pendant to your jewelry collection
Left:Silver Tassel Necklace  Right: Beautiful Golden Tassel Statement Necklace
by Happiness Boutique
Two options from Happiness Boutique that could make any of your elegant and sophisticated outfits even more chic and trendy. Try to pair these long necklaces with more fashionable, dressy and smart outfits.
9. Fun dainty necklaces for a super girly and trendy look
The fun dainty necklaces are a great add-on to your summer outfits where you feel more flirty and careless. However, these delicate pieces are also great for elegant and chic outfits that you could wear to weddings, birthday celebrations or cocktail parties.
Brighten up your day by wearing a fun delicate necklace
For a very playful and summery look you can get a half moon necklace in silver or gold because both look very chic and trendy. In addition, they are very easy to combine with a simple tee or a trendy top.
Accessorize your girly looks with joyful dainty necklaces
The half moon necklace became very popular lately among the fashionistas. Probably because it is very cute, stylish and oh comfortable to wear. It is great with any outfit but feel free to experiment with your looks for a more creative style.
Symbolic pendants for unforgettable style
In addition, the delicate necklaces with a fun pendant are perfect for more girly and romantic looks.
For example, if you have a very detailed dress that you would like to wear to a special dinner or a romantic night, the delicate necklace is just enough to make your look even more chic.
Girly and sparkly dainty necklaces are always a good idea
Left: Delicate Infinity Pendant Necklace; Right: Rose Gold Sweetheart Delicate Necklace
By Happiness Boutique
Our suggestion from Happiness Boutique is the infinity pendant that has been so trendy at the moment and a sweetheart pendant for more romantic looks.
10. Minimalist inspired dainty necklaces for a modern look
Necklaces that have a minimalist inspired design are just so awesome. They could be styled within second and worn all year round. You can wear them to a brunch with family and friends, to work, to school or any other activity that you have in mind. 
Get your modern piece of jewelry for the season
Via Pinterest
Such a timeless and classy pieces that could never go out of style because of its uncomplicated design. Try to pair your favorite minimalist inspired dainty necklaces with more girly, casual or elegant outfits.
Minimalist dainty necklaces are a must have
Delicate Joined Circle Necklace by Happiness Boutique
The beauty is that these jewelry pieces always look appropriate no matter of your fashion style. You can wear them with simple, printed and patterned tops with no effort.
Add a modern dainty necklace to your jewelry collection
Left: Delicate Victory Necklace; Right: Dazzling Full Circle Statement Necklace
By Happiness Boutique
There is unlimited amount of design, sizes and types of fun delicate necklaces you can choose from. You can make any of your looks more trendy and stylish just by adding a fun pendant dainty necklace to your outfit.
Finally, I hope this was informative and interesting to read. If yes, please leave us a comment and share your opinion in regard to these amazing dainty necklaces.
Hopefully these looks were attractive enough for you to try them out. In addition, feel free to experiment and get creative with your dainty necklaces.
Thank you & Happy Styling!
Save
---