The gentle movement of the dangling earrings has been always so attractive, especially when your earrings make a slight tapping sound as you walk. Any type of an earring that is below your earlobe could be considered as a dangling earring.
In addition, these jewelry pieces could never go out of style because of the innovation of new amazing designs. Or, simply the old timeless dangling earrings that are always there for you to help you to enhance your outfit.
For a remarkable style wear dangling earrings
Via Pinterest
If you enjoy wearing your big statement earrings that swing as you walk, then this blog post is just for you. Today, we will explore some amazing styles. Therefore if you are searching for the next pair of dangles to add to your jewelry collection - please keep reading.
Hopefully you will find these styling tips helpful and inspiring!
Happy Reading!
1. Fun tassel earrings for your colorful outfits
What a better way to welcome the spring than a cute and trendy pair of tassel earrings. These jewelry pieces are very easy to style with any type of an outfit. However, it looks really nice when you wear them with more colorful and girly outfits. 
Tassel earrings for a fun look
For example, a stylish dress that you can wear to work or any activity that you like. This almost retro inspired look is very trendy at the moment and effortless to style.
Whenever you are in a rush the best way to go is to wear a dress or a one-piece. Then, you just need to match your accessories to your outfit.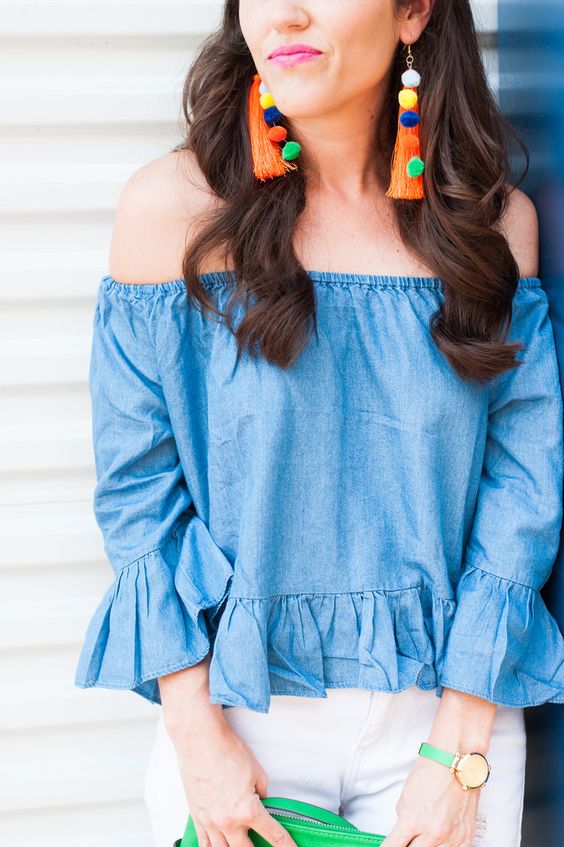 Colorful tassel earrings in addition to your outfit for a playful look
Source unknown
For some ladies the tassel earrings could be too tropical for the city or the working environment, but the huge amount of designs allow us to rock these beauties at any moment.
Throw on a ruffled blouse, a pair of white jeans and we leave the shoes to your imagination and preferences.
Boho inspired tassel earrings are a great addition for your summer outfits
Left: Boho Statement Earrings; Right: Unique Tassel Statement Earrings
by Happiness Boutique
These two pairs of tassel earrings from Happiness Boutique could be a great choice for all the ladies that like to make their colorful outfits even more fun and joyful. Very easy to style and comfortable to wear.
2. Dangling earrings appropriate for your everyday outfits
Usually when we think of dangling statement earrings, we associate them with a more glamorous and elegant ways of wearing them. However, there are many dangle earrings that are just perfect to be worn on a daily basis.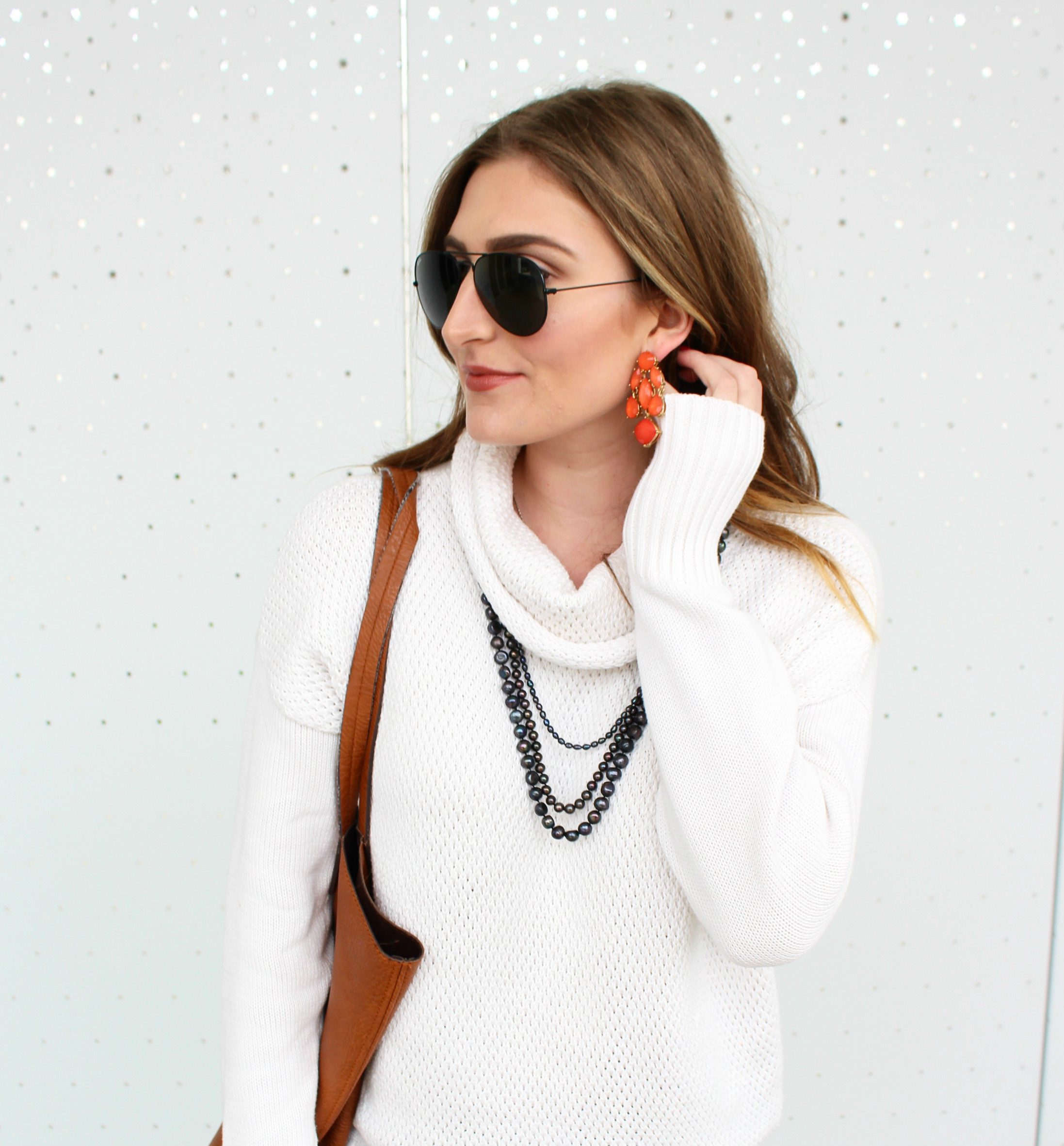 Accessorize your everyday outfits with a pair of dangling earrings
For example, a simple single colored pair of earrings that could just give us a pop of color to our casual outfits. In most cases, especially during the colder days, we like to dress up in more dull and monochrome outfit. But why don't we just make our rainy or cold day more bright and happy! 🙂
In addition to your casual look wear a pair of dangling earrings
Throw on a simple cotton blouse or a t-shirt, add a pair of jeans and complete your look by adding a pair of dangling earrings. Nothing too glam or out of the ordinary, but just enough to make your look more complete.
Give interest to your basic outfits by adding some dangling earrings
Now, you know how to wear your statement earrings with a super comfy and casual outfit. Just try to stay away from rhinestones or anything too sparkling.
Delicate dangling earrings are perfect for everyday looks
Left: Lavish Bar Statement Earrings; Right: Fringe Statement Earrings
By Happiness Boutique
Here are two pairs of earrings that are very simple, yet chic enough to make any of your casual outfits more stylish and well put together. The simplicity of their design allows you to wear them at any time of the day and all year long.
3. Long dusters for a super trendy style
One of the biggest trends that will become more and more popular this season are the long dusters. Very remarkable, stylish and chic dangles that are so perfect for special events, birthday celebrations or weddings.
For a trendy look wear long duster earrings
Via Pinterest
These jewelry pieces are amazing even with your working or stylish monochrome outfits. You can say bye bye to your boring all black outfit because now you can style it in a very sophisticated way.
Make an impression with a pair of long duster earrings
Via Pinterest
With a little more creativity and imagination you can even wear the long dusters with more everyday outfits. Based on the design the earrings you can actually wear them on a daily basis.
In addition, you don't need to worry about the other accessories because you can leave the dusters to be your statement piece.
For a remarkable classy style wear long pearl earrings
Source unknown
This pearl duster is so stunning and appropriate for all the business and elegant ladies. Regardless of the long design, pearls are always great and trendy. Plus, this type of duster looks kind of discreet, especially if you like to wear your hair down.
Add style and class to your outfits by wearing long dangling earrings
Left: Black Triangle Drip Statement Long Earrings; Right: Baroque Tassel Earrings
By Happiness Boutique
If you happen to be curious about this long duster trend, don't hesitate to check out these two pairs of long earrings from Happiness Boutique. You can wear them with working outfits, elegant dresses or with dressy shirts, jeans and heels.
4. Oversized dangling earrings for a the girly girls
Colorful ,girly and so stylish! The pretty oversized earrings are such statement pieces, but at the same time if worn properly you can rock them to all kinds of occasions. For example, if you dress up in a monochrome outfit you can let them be your colorful and happy part of your look.
Oversized girly pastel earrings for a noticeable look
In addition, you can wear them solo with your hair up or down. Of course, it is better to wear them during the warmer days where we like to wear more bright colors and get some inspiration from all the beautiful trees and flowers that surround us.
Tropical colorful oversized earrings for the perfect summer look
Via Pinterest
Also, the oversized earrings are great for summer festivals, wine tasting, cocktail parties or just to show your love for the big earrings. Also, you can wear similar earrings with flowy dresses for a super girly look.
5. Chandelier dangling earrings for a stylish look
Another way to experience the beauty of the dangling earrings is to accessorize your look with a pair of chandelier statement earrings. The unlimited amount of design permits you to style this type of earrings in so many different ways and according to your fashion style.
Dangle all the way with a pair of chandelier earrings
Via Pinterest
For example, you can wear your favorite pair of chandelier earrings with your urban and hipster inspired outfits. You just need a cool top such as a printed shirt or graphic tee, a cap and a bomber jacket. This outfit is perfect for all the students or city strollers.
Decorate your working outfit with dangling chandelier earrings
Source unknown
In addition, chandelier earrings are also appropriate for more formal outfits. For example, a pair of proper pants, classy heels and a blazer. This is a very comfortable and easy to put together outfit, yet so trendy and remarkable.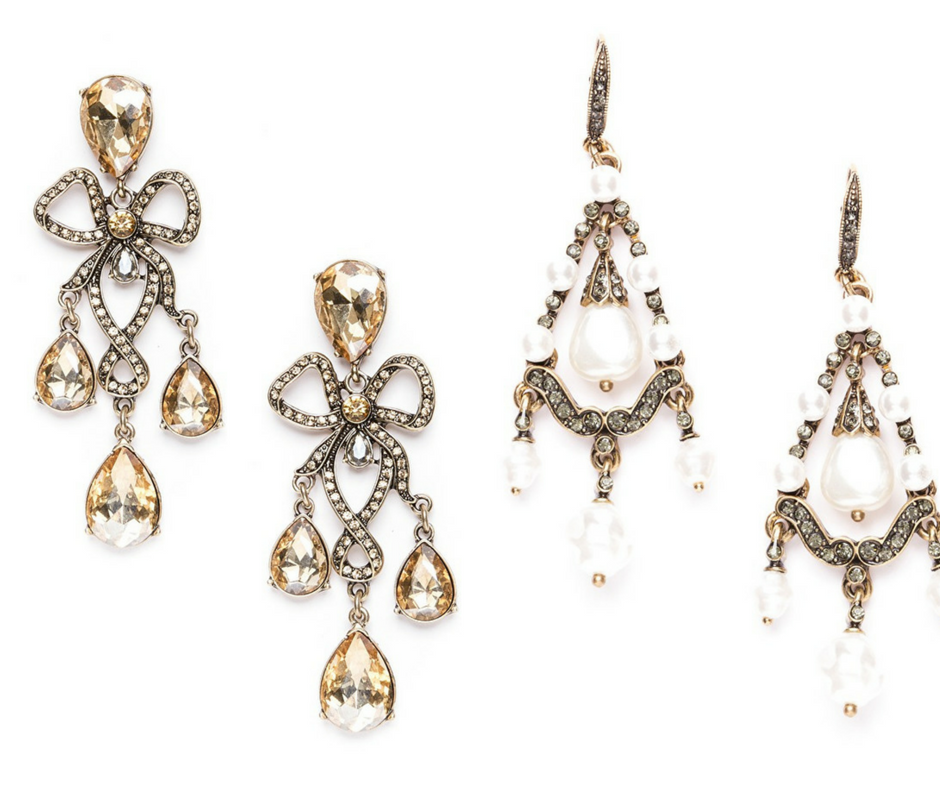 The perfect pairs of dangling chandelier earrings
Left: Expressive Bow Champagne Chandelier Earrings; Right: Pearl Chandelier Earrings
By Happiness Boutique
For all the chandelier lovers, we have these two beautiful pairs of earrings in the collection. However, don't hesitate to check out the other chandelier earrings from the collection.
6. Minimalist dangling earrings for a super modern style
For the modern, sophisticated and chic ladies we have the minimalist inspired dangling earrings. Very sleek and well polished, these jewelry pieces are such a phenomenon in the fashion industry.
In addition, they became so popular because of their futuristic designs, amazing appealing and effortlessly styling.
Express yourself with a pair of minimalist earrings
Via Pinterest
Even though, they don't look like the typical pair of earrings that dangles a lot as you walk, these are still in the category. They will slightly swing as you move your head, but on top of that they will instantly make any of your outfits very chic and modern.
In addition to your modern outfit wear a pair of minimalist geometric earrings
Source unknown
Also, it is possible to get a pair with some color to give a little twist to your boring or single colored outfits. The minimalist earrings are great with simple outfits or with detailed and printed outfits. Plus, they could be worn to elegant soirées or when you want to grab a coffee with a friend.
For an artistic look add a pair of asymmetrical earrings to your outfit
Via Pinterest
Don't you just love this asymmetrical look? If you want to attract people's attention with a remarkable style you can go for this amazing asymmetrical look. It could still be worn with casual outfits that you can make more interesting or with professional outfits for a more chic look.
Minimalist inspired earrings for a super modern look
Left: Golden Hoop Earrings; Right: Asymmetrical Hoop Earrings Gold
By Happiness Boutique
If you are looking for the perfect pair of minimalist inspired earrings we can offer you these two modern and stunning pairs from Happiness Boutique. Great to be worn at any time of the day and they can be suitable for any type of a lady.
7. Glam earrings for special occasion look
At one point or another during the year, we attend a special event. For example, a party for Christmas, a birthday celebration, a wedding or prom, therefore it is always nice to be prepared. These following glamorous earrings are just perfect for the holidays and the special moments.
Glam up your outfit with a pair of glamorous sparkling earrings
No matter of your outfits, a princess dress or tight dress, these crystal earrings look very elegant and chic. You can even wear them with a dressy suit that you want to make more girly and stylish. In addition, these dangly earrings  are very easily to pair with other jewelry pieces if you prefer a more accessorized look.
In addition to your glam outfit wear sparkling dangling earrings
Via Pinterest
Whether it's New Year's Eve, a cocktail party or a gathering with the whole family, these crystal earrings will make any of your fashionable outfits more bright and sparkly. For example, a festive sequin blouse paired with a simple black skirt.
Add an extra sparkle to your special occasion outfit
Left: Beautiful Crystal Drop Earrings; Right: Dream Statement Earrings with Pearls
by Happiness Boutique
Crystal dangling earrings look so gorgeous and elegant that it is hard to resist them. Even if you are not the type of lady that likes glamorous outfits, these could be a great option for more formal, but not that glam looks.
8. Colorful dangling earrings for the spring and summer
As the spring is coming up, we got a little inspired and the colorful mood got us like crazy. 🙂  I guess we are all excited for the spring as it brings a lot of hope, bloomed flowers and a perfect weather to show a little more of our creative and bright side. 
Give a splash of color to your look with a pair of colorful earrings
More pinks, cute and girly outfits and elegant jewelry pieces are the first things we can as the weather gets warmers.
This girly look is perfect for night out or a romantic dinner with a loved one. In addition, at this time of the year we can afford to show some skin and add a little color even to our jewelry.
Girly dangling earrings for your spring and summer outfits
Via Pinterest
We want to feel like the beautiful flowers that blossom during this period, which is perfect because all of these bright colors make us more happy and joyful. However, if you are not a fan of super bright and flashy colors, the pastel palette is also a great choice. To top off the look add some colorful or pastel colored statement earrings.
Pastel dangling earrings for a girly look
Left: Pastel Colors Statement Earrings; Right: Pretty Pastel Colors Statement Earrings
By Happiness Boutique
All the pastel lovers will appreciate these choices of earrings by Happiness Boutique. So chic and girly, they can instantly make any of your spring and summer looks more attractive and appealing.
9. Delicate dangling earrings for a subtle look
All of the options so far have been related to more detailed and bold earrings. However, we can have a pair of very delicate dangling earrings that are great to be worn at any time of the year. For example, a pearl drop earrings that looks so classy and girly, especially when paired with more girly outfits.
Delicate earrings for a subtle look
These dainty jewelry pieces are very comfortable to wear and easy to style and stack with other earrings if you have more piercings. In addition, they will bring a lot of femininity and elegance to any of your daytime or nighttime looks. 
Wear delicate earrings for your girly looks
Furthermore, feel free to add to your earrings a stack of minimalist inspired rings. They look great even if you want to wear them to work. The clean and basic design of the minimalist inspired jewelry makes them suitable for anyone.
Subtle dangling earrings are always appropriate
Left: Opulent Pearl Drop Earrings in Gold; Right: Rhinestone and Pearl Statement Earrings
By Happiness Boutique
Two dangly earrings that will give you a very subtle and elegant vibe to your outfit. Great to be combined with rings that also have some pearl and rhinestone elements to enhance this girly and stylish intention.
I hope you enjoyed these styling tips and types of dangling earrings. In addition, don't hesitate to leave us a comment mentioning your favorite type and how do you like the most styling your favorite dangling earrings.
Thank you & Happy Styling!
Save
---