How to Style Delicate Earrings
When in doubt wear a pair of delicate earrings because you can never go wrong with these pieces, therefore I recommend that you stick around because I will also give you some ideas on how to style your delicate earrings according to your outfit.
Wear your stud earrings with a pair of skinny jeans for a trendy look
Via Pinterest
We all love our delicates so much because they look amazing and simply feel right on the ear. In addition, as a result, you can have only one pair and never having the need to take it off because it goes with anything. Yes, I am talking about the classy all times favorite fake diamond or studs with a rhinestone in the middle.
If you are one of those ladies that appreciates her delicate earrings then please keep reading to find out more about how to style your discreet, yet significant pieces like a pro. Also, you will get hopefully some inspiration on how you can style these stunning pieces since they can allow us to instantly transform any outfit and make it more interesting and special.
1. Rhinestone studs for a timeless look
First of all, let us begin with our most favorite ways of wearing delicate earrings. In addition, studs with a rhinestone in the center are very common among the ladies who wear subtle pieces because they are so classy. And, we like them because they are the most versatile and adaptable earrings that you can find out there.
Rhinestone studs for a timeless and glowing look
In addition, we can see them worn by some of the most famous fashion bloggers because they are really that amazing! Especially, when you need a sparkle to your look! Furthermore,  you can combine them with your casual or dressy, colorful or monochrome, simple or detailed outfits. And, you can also easily style them with many other jewelries to complete your look.
Classy rhinestone for your everyday outfits
Left: Golden Stud Earrings; Right: Reversible Stud Earrings
Also, if you love your pearls and your rhinestones make sure to check out these versatile stunning earring by Happiness Boutique. In addition, these studs are great to be worn at parties, special celebrations, or for an everyday wear because of their delicateness. Subtle, yet remarkable these studs will give glow to your day!
2. Stud earrings for a fun look
Who said that you can't make a statement with your delicate earrings? You can definitely make a statement because if you add to your look some fun and cool shaped stud earrings it will give your outfit a happy vibe right away. Indulge yourself into some really feminine and girly shaped earrings such as these bow earrings.
Bow stud earrings for a fun look
Endless options to choose from to create the look that speaks to you and your personality.
Delicate earrings with different shapes for a cool and fun wear
Left: Sweetheart Earrings; Right: Happy Statement Earrings by Happiness Boutique
Furthermore, if you are in love with someone or life in general you can get these stunning romantic sweethearts to express your loving side. Or, if you feel happy make sure to show the world by accessorizing your look with some Happy earrings.
Asymmetric earrings for a fashionable look
Since this season the trend is all about asymmetrical shapes make sure to add one of these zig-zag shaped earrings to shaken up your look. They look very cool and stylish when styled with a pair of skinny jeans and a leather jacket.
Squiggle asymmetric earrings for a stylish look
Featuring "Squiggle Signature Asymmetric Earrings"
If you are interested by this look make sure to check the ones from Happiness Boutique. You can make your outfit more noticeable and sparkling. Also, if you add such a pair of asymmetrical earrings you will definitely get some compliments.
3. Trendy earrings for a trendy look
You have most probably seen this trend because it got so popular lately. Here, I am talking about the front and back type of studs or as some people call them double ball earrings. They are great because they look just like a normal pair of stud earrings, yet with a little twist. They have a double ball that looks so cool!
Double ball earrings for a cool chic look
Simplicity Pearl Earrings by Happiness Boutique
You can combine these double ball earrings with any of your outfits because they have a clean and simple design. Yet, they can be suitable for any of your styles. You can instantly make your dress more elegant or your casuals more girly, especially if you accessorize your ear with a colorful pair of double balls.
Front and back earrings for a classy look
Furthermore, if you like to experiment with your hair, then make sure to add these front and back earrings to your look to show them off. They are so comfortable to wear and great with almost any hairdo.
4. Delicate earrings for night-out looks
Teardrop designed earrings are so perfect for the special celebrations, cultural events, prom or weddings. They look very stylish and elegant when paired up with a dress or an elegant suit.
Crystal earrings for a night-out look
Ecstasy Statement earrings by Happiness Boutique
These earrings are not appropriate for the working environment or to go to school, but they will definitely make a statement to your outfit if you have a night-out event. You can get royal blue teardrop earrings or a pair of crystal earrings. They will look very elegant and sophisticated when paired with most of your dressy outfits.
Chic earrings for dressy outfits
Regardless of how detailed and twisted is your outfit, teardrop earrings always look good with dressed up outfits. The sparkling rhinestones will gently glow as you walk around and give you a very romantic and elegant look.
5. Pearl studs for a classy look
Pearls studs are definitely a must have in every girl's jewelry collection. They are great for any occasion, any season, day or night. Their classic vibe could be easily modernized if you pair them with your trendy and fashionable outfits. 
Pearl delicate earrings for everyday wear
Plus, during the colder days when we need to accessorize your outfit with soft and warm scarves it is much comfortable and convenient to have your hair up so it doesn't become all tangled up and messy. Have you ever had this problem?
Timeless pearls for a classy look
Pearl earrings look good even with your messy bun or ponytail because they are that cool! You don't need to stick only to classy or stylish outfits to rock these beauties. They are very mobile and have the ability to turn even your most casual and easy-going outfit into a fashionable and girly look.
6. Crystal earrings for a romantic look
There is no doubt that at some point you will have a romantic date or event that you would want to look very feminine and seductive. In this case you can decorate your look with some crystal earrings to achieve the desired look.
Crystal earrings for a romantic look
Once again, you can highlight your beautiful and breath-taking jewelry by pulling up your hair into a very stylish hairdo. Red nails, neat clothes and elegant makeup are the steps toward your very romantic and high-class look.
Glowing earrings for your special events[/caption] You can effortlessly make your look more refined and polished by adding a gorgeous pair of crystal earrings that will sparkle your way.
7. Drop earrings for a top fashionista look
For a glowing and celebrity inspired style you can embellish your ears with beautiful pair of drop earrings that will dangle as you walk. They will give your look sophistication and confidence because they are very remarkable, yet feminine and subtle.
Delicate drop earrings for dressy looks
Make sure to pair such earrings with outfits consisting of very delicate fabrics and feminine designs. Ruffles and lace are great for this look because they represent femininity, sensuality and elegance.
Beautiful dangling earrings and romantic outfits for a feminine style
The great thing about the subtle dangling earrings is that they are very comfortable to wear because they are not heavy on the ear and they are just enough to give you confidence, gracefulness and style to your overall look.
White gem drop earrings for sophisticated looks
White Gem Drop Earrings by Happiness Boutique
If you want to get this look for your next special event make sure to check out these stylish and pretty earrings from Happiness Boutique. These delicate pieces are very versatile and will easily help you to make your outfit look very chic and glam.
8. Stacked jewelry for an edgy look
Stacking necklaces, stacking rings. Stacking bracelets we have seen it all. If you are a fan of the stacking trend then make sure to stack your small sized hoops or studs for a very trendy and edgy look. Obviously, if you don't have many piercings on your ear get a fake helix to recreate this stylish and cool look.
Stack your small sized hoops for a trendy and stylish look
You will definitely make a statement if you add a couple of earrings to your outfit. You can place as many as you want and the kinds of earrings that fit with your style to personalize your look.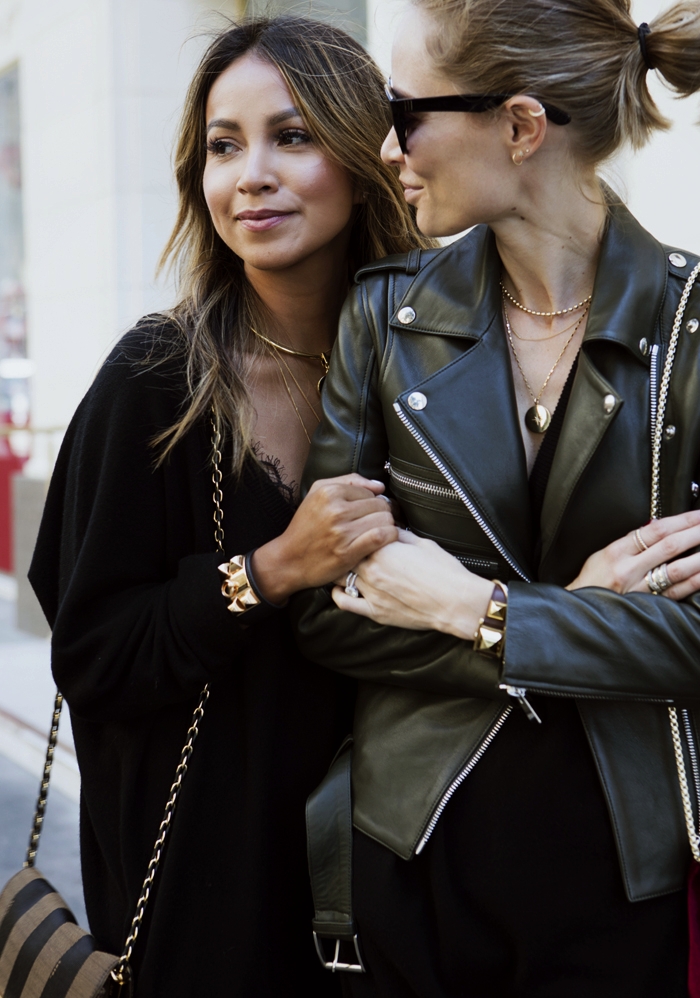 Combine different kinds of delicate earrings for an edgy look
When stacking your earrings you have the freedom to play around with your necklaces as well. Delicate earrings are so great because you can combine as much bracelets, rings or necklaces in addition to your earrings and never look over the top.
Stack your rhinestone earrings for a glowing look
There are many choices on how to stack your earrings. For example, you can combine different types of studs or hoops or mix and match both kinds together. If you like the mixture of big statement hoop earrings and rhinestone stud then don't hesitate to pull of this look because it look really chic and cool.
9. Delicate earrings for weddings
Some of us prefer to have a big pair of statement earrings for their wedding, but many of us like a pair of subtle classy earrings that would be just enough to complete your look. If you have a very detailed dress and want to stick to fitted and elegant dresses, then it is better to focus on delicate earrings. You don't want to look tacky, especially at your wedding.
Delicate shiny studs appropriate for your wedding day
Via Pinterest
If your style requires an elegant bun a pair of delicate earrings are great in this case because you will be able to show them, yet in a very graceful and feminine way.
Detailed dresses and delicate earrings are a great combination
Via Pinterest
If you decide to go for a pair of delicate earrings for your wedding since your wedding dress is very detailed you can also add a headband to complete the look. Who doesn't want to get a pair of earrings that are versatile and you can wear after your wedding as well?
10. Geometric earrings for a minimalist look
You can never over accessorize with minimalist jewelry. Simple clean lines and modern touch to any of your outfits is the main goal of the minimalist trend. You can mix and match different kinds of delicate minimalist inspired earrings for a very art and contemporary look that will definitely turn some heads.
Geometric earrings are the perfect add-on for a minimalist everyday look
Also, these earrings could be worn for casual, preppy, neat or dressy styles with no effort. And, the basic shapes of the minimalist jewelry are suitable for the work environment, to go to school, to travel around or any occasion because they are very light to wear and look very stylish and trendy on the ear.
Wear a pair of dainty earrings for an easy-going look
Left: Dainty Geometric Minimalist Stud Earrings; Right: Pearl Hexagon Stud Earrings by Happiness Boutique
For an ultimate modern look you can style your outfit by adding a pair of simple geometric stud earrings. Or, you can accessorize your outfit with pearl studs for a more feminine and classy look. Also, if you love the minimalist jewelry as much as most of us, then make sure to check out these beauties by Happiness Boutique.
Furthermore, the beauty hidden behind those delicate pieces is that you can style them in so many different ways without worrying how your look is going turn out. They don't have a constant way of presenting one's style because they can adapt to many different styles. Therefore, you will end up with a pair of versatile and easily adaptable items.
Wear studs and a chokers for a trendy and edgy look
You can easily show your love for your most favorite necklaces and rings because you can hardly over-accessorize with a pair of delicate earrings. As a result, they can be worn with practically any outfit that sits in your closet.
Most of all, get creative with your ear adornment because you can effortlessly show your passion for the stacking trend by combining different kinds of earrings. They will give your look a very cool and confident vibe, yet you will be able to show your sensitive and feminine side of your character.
In addition to delicate earrings wear a comfy outfit
I hope you find this blog post interesting or informative because we all need some inspiration before we begin to create some original combinations with our jewelry. We should never underestimate the power of the delicates! They can instantly help us to transform our looks since they make them more interesting and fun. As a result, if you get only one pair of such pieces you are sure to have an accessory that is always there for you to make your look more stylish and trendy.
Finally, please leave a comment and let us know how do you like to style your favorite pair of delicate earrings! We all have this one pair of delicates that we like to put on all the time simply because they go with any outfit and are so comfortable to wear.
Happy shopping and styling!
Save
Save
Save
Save
Save
Save
---