Ear jackets are so versatile and fun to style, therefore today we will discover different ways how to wear ear jackets. And, there is no doubt that you won't fall in love with this rising fashion trend. They are the discrete version of the ear cuffs that embellish the ear in such a beautiful way. Also, they are very adaptable to any style.
In addition to dressy outfits wear colorful ear jackets
To be different and daring, but at the same time cute and girly then you can style your ear jackets with more floral or lace outfits. Also, don't hesitate to wear your ear jackets with your casual or trendy outfits because their delicateness is suitable for a big range of outfits.
In addition, I hope this topic got your attention because I have prepared some very interesting and cool ways on how to wear ear jackets. Let's get into it right away!
1. Ear jackets with a pearl accent for a timeless and classy look
To have a distinguishable style, yet keeping your class and elegance then you can accessorize your look with an ear jacket that has a pearl as an accent. Also, pearls are always associated with that timeless and classy style, which never goes out of style. 
Pearl ear jackets for an elegant style
Keeping your outfit up to date by accentuating on the little details such as the ears means that you really know how to wear and style your outfits. Furthermore, you can always combine your trendy accessory with other earrings if you have a pierced ear or if you want to achieve this look you can get yourself a fake helix piercing that will look just fabulous!
For a timeless and classy look add a pair of pearl earrings
You can be classy and trendy at the same time with no effort! Also, you can match your ear jackets with others jewelries such as your ring and necklaces to highlight the wanted look. Who knew that earlobes could look so fresh and fashionable with such subtle pieces.
Dressed up outfits and wear ear pins with pearl components for an elegant look
Many times we forget to focus on the little details that actually make the biggest changes in our look. Who would have thought that such a subtle, yet feminine and classy piece of jewelry could transform our outfit into a timeless and unforgettable ensemble?
Wear ear jackets for your everyday looks
Pearl Ear Jackets by Happiness Boutique
If you are intrigued by these beautiful pearly ear jackets feel free to check out the ones from Happiness Boutique. Also, they are very simple and discreet so you can wear them on a daily basis. Plus, they will make your look much more stylish and trendy.
2. A sparkling ear jacket for a cute and fashionable look
Do you like to pull back your hair at work or school? Now, you can feel even more excited to make your hair more stylish and cute  because who wouldn't like to show her fashionable and girly ear jackets. Also, it is more comfy to have your hair away from the face.  
Wear a pair of sparkling earrings for a cute look
Via Pinterest
To achieve the perfect cute style you can add a headband that will complete your look in a very girly, but fashionable way.
Sparkling pair of earrings for a trendy and girly look
3. Spiky and edgy ear jackets for a diva daring look
If you have a special event or a party you want to go to looking very in style and daring, then make sure to decorate the ear with a beautiful bold and diva inspired spiky ear jackets. Also, this way you are sure to steal the show of the night.
For a daring and confident look wear a pair of spiky ear jackets
Via Pinterest
Since these pieces are already enough to jazz up your outfit you can go for more simple and monochrome outfits. For example, a shorter dress would go very well with such daring pieces. Or, a black and white dressy suit.
Dare to be different with a pair of spiky ear jackets
Via Pinterest
Furthermore, spikes are a great design that can give you a very fun and edgy look. And, you can choose from bigger or smaller spiky ear jackets depending on your outfits and occasion. However, these are a must have piece for your night-out events and celebrations.
Wear ear jackets for an edgy and distinctive look
Source unknown
Such an edgy and daring style that can hardly go unnoticed. Also, you can even combine two pieces at the same time to accentuate your dressed ear.
4. Splash a pop of color to your look with some colorful ear jackets
Add some color to your look by embellishing your ear with a colorful pair of ear jackets. They will definitely be the standout component of your outfit. You can wear them with darker colors to emphasize their presence.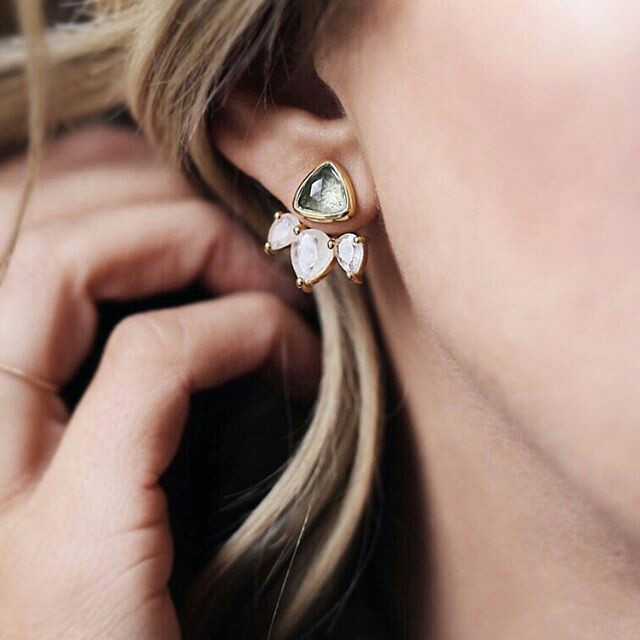 Splash a pop of color to your look with some shiny ear jackets
Via Pinterest
A very subtle way to show your passion for this trend. And, you will definitely get some compliments on these feminine and chic ear jackets.
Colorful ear jackets are great to spice up your look
Source Unknown
There are so many designs you can choose from that will best suit your occasion, style and outfit. If you like the idea, then make sure to check out these beautiful and colorful ear jackets from Happiness Boutique.
Colorful ear jackets look great with any outfit
Left: Marble Ear Jacket; Right: Paradise Ear Jackets in Gold by Happiness Boutique
These pairs of ear jackets can be worn at work for a very feminine style. Or, for night events where you can rock your little black dress but with a twist through the help of these fun and chic pieces.
5. Subtle ear jackets for a very feminine and seductive style
Every woman likes to show her sexy and feminine side of her character. You can easily achieve this look by adding some subtle and stylish ear jackets to your chic and elegant outfits. 
For a romantic look decorate with a pair of subtle ear jackets
Simple, fashionable, elegant and stylish. And, you can wear this subtle piece with confidence and gracefulness. Try to pair with an all black outfit and high heels for a very elegant style. 
Discrete ear jackets are great for elegant and refined styles
The lace can give you this seductive and sexy vibe that you are looking for. Try to pair it up with a smaller and elegant handbag that will perfectly complete the look. Also, don't forget your dark lipstick for a personal touch.
6. Simple and delicate ear jackets for a minimalist look
The minimalist trend is very hot at the moment so you can always add a simple and delicate ear jacket with clean and basic lines to top off your outfit. Also, you can style these gorgeous pieces with your dressy, everyday casual or fashionable outfits. 
Casual outfits and simple ear jackets are a great combo
Source unknown
7. Suitable ear jackets for your special soirées
Besides from trying to show off your diva style at your special events, you can also rock your red carpet event by accessorizing with more delicate, but bright and glowing ear jackets that will look just perfect with your nightly outfits.
In addition to your dressy looks add a pair of trendy ear jackets
Also, if you want to add charm and interest to your outfit you can check out these beautiful and romantic ear jackets from Happiness Boutique. They will look very elegant and stylish when paired up with night-out outfits.
Wear ear jackets appropriate for your night soirées
Left: Night Dreamer Ear Jackets; Right: Happiness Ear Jackets by Happiness Boutique
The night dreamers and the golden fashionable ear jackets have such a great balance between elegance, sophistication and out of the ordinary vibe. Also, these ear jackets could be given as a gift because they are very trendy and stylish, yet so easy to style. For example, they are great to be worn for your prom, night events, the opera or the theater regardless of their distinctive and eye-catching appearance.
8. Mix your pair of ear jackets with other earrings for a cool and funky look
If you are the type of lady that likes to wear a lot of earrings, then you can combine your ear jacket with other kinds of earrings for a truly unique and funky style. Also, if you don't have extra whole in your year you can try with a faux piercing for a cool and funky look.
For a funky look mix and match different types of earrings
Furthermore, try to get a very cute hairdo that will allow you to show your unique design that you created it by mixing different kinds of earrings. It looks very fashionable, funky and cool.
In addition to your funky looks add a melange of earrings
Via Pinterest
For example, you can mix and match a crystal ear jacket with some curved arrow stud earrings for a very distinguishable and original look. Also, feel free to add some fake helix earrings that will jazz up your look in a very cool and funky way.
Wear ear jackets and long shiny earrings for a distinctive look
Left: Tree of life Ear Jackets ; Right: Curved Arrow Stud Earrings by Happiness Boutique
A simple, but unique designs that will embellish your ear in a very cool and stylish way. Also, you can wear this combination of a glowing ear jackets and a delicate pair of curved arrow stud earrings  with casual or dressy outfits. And, their slight sparkle and glow will definitely brighten up your day and look.
9. Out of the ordinary ear jackets for an elegant look
These long and fun pieces look very elegant and graceful on the ear. Therefore, take the time to see how you can wear them best because they can truly make your outfit original and out of the ordinary. In addition, try to wear them with more open necklines to give the illusion of longer neck.
Wear these appropriate for your elegant looks pieces
Sparkling Lucky Star Ear Jacket by Happiness Boutique
This kind of a sparkling ear jacket with rhinestones is not like the typical pair because it is elongated and it looks very opulent and luxurious. Also, such ear jackets are appropriate to be worn with more dressy and night-out outfits.
Pretty earrings that will make your look very stylish
Crystal Prism Ear Jackets by Happiness Boutique
You can always attract people's attention by rocking these elegant ear jackets that have a very distinguishable and noticeable design. Once again, these pieces are great for stylish and elegant looks, therefore don't hesitate to add them to your jewelry collection. And, you will definitely make your ears the focal point of your outfit with such chic and stunning pieces.
10. Wear ear jackets with flowers and leafs for a girly look
Add some floral or leafy designed ear jackets to your everyday casual outfits to jazz them up a little. In addition, these small pieces have the ability to transform your whole look instantly making it more neat and girly.
Add a pair of floral earrings for a girly look
Via Pinterest
These finely detailed earrings could be worn at school, for special events, to work or whenever you want because they could effortlessly be styled with any of your looks. Make sure to have a pretty ponytail so you can display your dressed ears while you walk around.
Wear ear pins and girly outfits for a trendy and feminine style
Via Pinterest
In addition, try to add to your jewelry collection this beautiful and glowing almost like an ear crawler piece that will make sure to make your look highly fashionable and trendy.
11. Crystal ear jackets for a confident and stylish look
Go to your business meetings, to work, shopping or to your special occasion with confidence and style because this is what you get by wearing a pair of crystal ear jackets. Furthermore, you can style them with no effort!
Be confident and daring with a pair of crystal beauties
Via Pinterest
This bold detailed piece will definitely be noticed and complimented because it looks just so amazing! And, in addition, if you want to pull off this look for work then throw on your skinny jeans and a dressy collared shirt with some heels. You can never go wrong with such a combo!
For a glam style add a pair of crystal ear pins to your outfit
Via Pinterest
 To show off your newest and trendy pieces while shopping make sure to combine them with more comfortable clothes. For instance, a plain t-shirt, a pair of ripped jeans and some fashionable and stylish sneakers. After all, you don't want to stop your shopping because of some uncomfortable shoes, right?
12. A delicate ear jacket for your casual days
Finally, you can always team up your delicate ear jackets with other subtle pieces such as rings and necklaces. A subtle, but fun and stylish ear jacket is the perfect add-on for your casual days.
Wear these pieces with pink sweaters for a casual look
Source unknown
We are at this time of the year where fluffy and comfy chunky sweaters are a must have part of your look. And the these trendy jewelry pieces are great with such sweaters because they can always make your normal outfit more extraordinary and modern.
Discrete earrings that will adorn your ear in a very girly way
Left: Geometric Ear Jackets; Right: Sunlight Ray Ear Jacket
In addition, if you want to look different and show that difference in your ordinary days then you can get a subtle pair of sunlight earrings or minimalist geo shaped earrings to spice up your looks. For example, these two kinds of ear jackets offered by Happiness Boutique. They are very adaptable and easy to style with your basic outfits. And, due to their shine and sparkles you can end up with a very stylish and trendy casual outfit.
Hopefully you enjoyed these fashion ideas as much as we did and the styles shown in it! Make sure to leave a comment letting us know about your favorite kind of ear jackets. Also, share with us how do you like to rock this trend. Don't forget that it is the small details that make the whole design, therefore allow yourself to be different and daring!
Give your style distinction and class by dressing up your ears with some chic, elegant, remarkable and very trendy jacket earrings.
Happy Styling!
Save
Save
Save
Save
Save
Save
Save
Save
Save
Save
Save
Save
Save
Save
Save
---