For many of us the earrings for women are an inseparable part of our lives because they make our outfits better and this of course makes our days better, don't you think?
In addition, if you love your ear to be beautifully accessorized and your outfits on top, then keep reading because in today's blog post the focus is on earrings for women.
It is hard to tell which style is very popular or what kind of an earring is best to be worn because we all have different taste, different facial features and lifestyle, therefore it is hard to impose only one style.
Pastel earrings in addition to a lace top for a feminine look
Pastel Colors Statement Earrings by Happiness Boutique
However, these following suggestions are great for all the ladies because we will explore many different designs, shapes and styles.
Keep reading to see how best you can style the earrings that suits your personality and fashion style! Happy reading! 🙂
1. Pastel colored earrings for a girly look
The combination of pastel colors on earrings for women looks very girly and stylish and at the same time very easy to style because of the settled and faded colors.
For your girly moments wear a pair of pastel earrings for women
Pastel Colors Statement Earrings by Happiness Boutique
It is possible to wear all kinds of pastel colored earrings for women with your casual, dressy or chic outfits. In addition, feel free to add other jewelry pieces as well if you'd like. And, these type of earrings are great to be worn at any time of the year and for any kind of occasion.
Spring and summer days can't go without a pair of pastel earrings
However, they are especially good in the hot summer days where we dress up in dresses and skirts. And they can make our looks much more pretty and well put together.
Throw on a pastel colored purse or shoes along with your earrings and you are sure to end up with a very stylish look.
Delicate or statement – pastel earrings are awesome!
Dainty Pastel Flower Earrings & Peach Passion Statement Earrings
By Happiness Boutique
Whether you prefer dainty or statement earrings in pastel colors Happiness Boutique got you covered. A wide range of beautiful jewelry pieces that can be suitable for any type of a lady.
2. Hoop earring for an edgy modern look
To achieve a combination of classy, stylish and edgy look make sure to hang on your ear a pair of classic medium sized hoop earrings. The great thing about these beautiful pieces is their flexibility and possibility of wearing them in combination with any other jewelry.
In addition to your edgy looks add a pair of bold hoop earrings
In addition, they can be styled according to the rest of your look, therefore they will make any of your outfits more edgy and stylish.
Faux fur, trendy shades and hoop earrings for a modern edgy look
It is always nice to have a pair of earrings that come and go to style from time to time and are so effortless to combine with any outfit. Also, they can be worn to work, shopping, brunches with friends or whatever activity you do and want to look just fabulous.
Give your looks an edge with these amazing hoop earrings
Classy Hoop Earrings & Hoop Earrings Gold by Happiness Boutique
Two pairs of hoop earrings from Happiness Boutique that allow you to express yourself because of their little twist to them.
Also, these jewelry pieces permit you to play around with them and style them according to your mood, fashion style and personality.
3. Stacked earrings for a funky look
Having many piercing is not the trends or fashion style for every woman. However, if you want to recreate this stacked earrings look make sure to go for fake piercings where you don't need pierced ears to rock the look.
Get a remarkable style by combining different pair of earrings in addition to a trendy top
Via Pinterest
On the other hand, if you are a fan and you looking for a job try to focus on more subtle pieces such as these small sized hoops. And, they will gently decorate your ear, but definitely not in a tacky way.
Stacked earrings in addition to a simple tee for a funky style
No matter if you prefer gold or silver, the stacked trends is very funky, cool and shows your individual way of wearing jewelry, which is always great.
4. Crystal earrings for a vintage glam look
If you want to be remarked on the streets make sure to get a statement pair of earrings that have a vintage glam vibes to it. These pieces are very detailed and much appreciated by the fashionistas.
In addition to your cosmopolitan style wear crystal vintage glam earrings
Vintage Style Pink Statement Earrings by Happiness Boutique
This look you can be casually chic or very dressy, but the importance is to show your passion for fashion. You can go for a statement dangling earrings or for a more subtle, but detailed and sparkling pair of earrings.
A sophisticated look needs a pair of glam vintage crystal earrings
Plus, you just need to throw on a pair of shades, bring out your womanly attitude and you are all set to conquer the world! Of course, the all black outfits are always great when we try to get the bossy vibe.
Crystal statement earrings are a must have in every woman's collection
Crystal Fern Statement Earrings by Happiness Boutique
A pair of glowing sophisticated earrings never hurt nobody, especially on a bad day. Make your outfits more elegant and your days brighter by accessorizing with these beautiful jewelry pieces from Happiness Boutique.
5. Pearl earrings for a sophisticated look
Ageless, timeless, always trendy and styling, we call them the pearl earrings. Even if you are a pearl lover or not, you will definitely appreciate these two pearl earring suggestions. What a better way to make your outfit prettier than a pair of pearl earrings?
Classy, timeless and elegant – this is what you get by wearing pearls
In addition, these double ball earrings became so popular lately and we can tell why! So delicate, stylish and classy that no one can really say no to such a pair of earrings.
Pearls will never go out of style, make sure you do the same
Via Pinterest
The variety of pearl earring on the market is enormous therefore whether you like dangling, statement, or delicate pearl jewelry you will have no problem in finding the right pair just for you.
Stay classy an elegant by accessorizing your looks with pearl earrings
Simplicity Pearl Earrings & Opulent Pearl Drop Earrings by Happiness Boutique
Loving the look? Then feel free to explore our collection of simplistic and drop pearl earrings. Impress people with your sense of style and class by simply adding a small detail to your outfit.
6. Drop earrings for a stylish look
As we speak of drop earrings there is no chance for these jewelry piece to go unremarked. Gently swaying along with your body as you walk and making your looks noticeable from miles. 
In addition to your feminine outfits add a pair of drop earrings
Try to pair them with feminine outfits as well as with your casually dressy looks. They are very adjustable and flexible when it come to styling. Therefore even if you find it hard to put together your outfits you will have no problem with these stunners.
In addition to your drop earrings don't forget a trendy lip stick color to complete the look
Timeless Classic Teardrop Earrings by Happiness Boutique
Another way to go is to create yourself a truly unique and stylish look with a pair of drop earrings. Regardless of weather you wear them with casual or dressy outfits you will definitely turn some heads.
7. Tassel earrings for an exotic look
Now we are talking about the hot summer days where we can put as many colors as we want and style our favorite exotic inspired earrings.
In fact, tassel earrings are the perfect addition to many different styles such as boho, chic, casual, you name it, but here we focus on the exotic side of their beauty simply because we miss summer.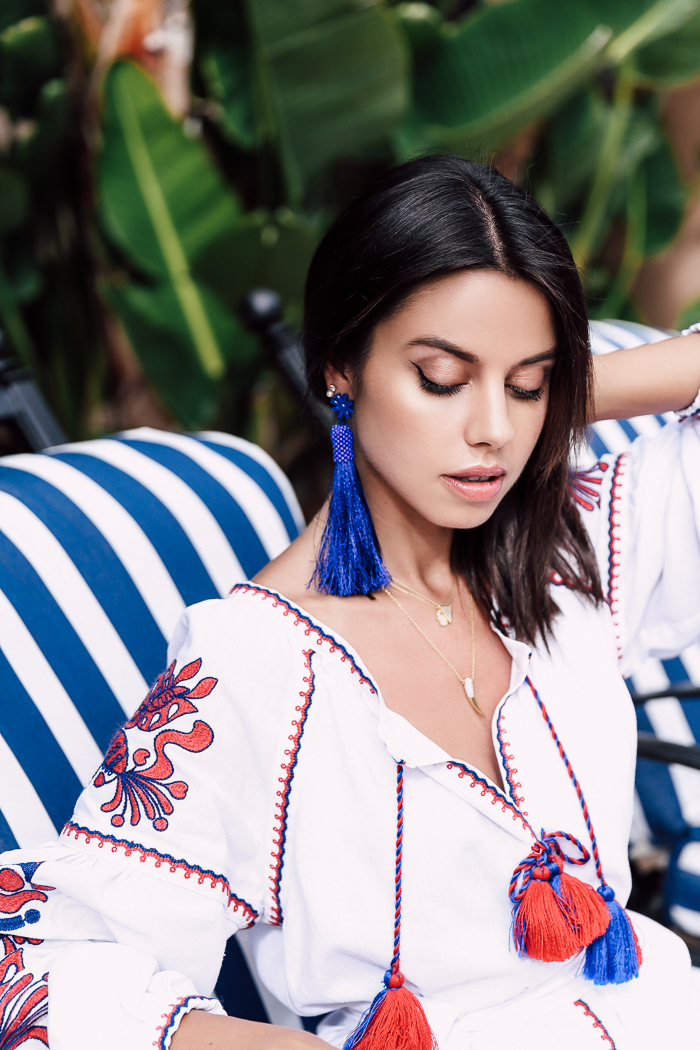 For a noticeable and exotic style wear colorful bold tassel earrings
Wear these jewelry pieces with your flowy and comfy dresses for a very careless, yet stylish and eye-catching look. In addition, you don't need to focus on your outfit to make a statement if you wear such a pair of tassel earrings.
Exotic tassels earrings are great for vacations and special celebrations
Via Pinterest
Bold tassel earrings with exotic vibes to them are are to be worn with an off the shoulders tops as well because you can give emphasis on your earrings this way. Also, you can pair them with more girly outfits that contains lace, ruffles, pleats, etc.
Make your outfit more elegant and chic by adding a pair of tassel earrings
Crystal Black Tassel Earrings by Happiness Boutique
For example, these crystal black tassel earring from Happiness Boutique offer you the possibility to wear and style them the way you like. Black never goes out of style and it goes well with everything.
8. For a futuristic look wear minimalist earrings
If the lack of detail and boldness is your thing, then these minimalist inspired earrings are just the right jewelry for you. They are very modern, sleek and well polished. In addition, you can wear them to work, school or dinner parties.
The simplicity of their design tolerates all kind of fashion styles and individual tastes. If you'd like to learn more on how to style these amazing pieces please feel free to read our blog post about minimalist earrings.
Minimalist inspired earrings are perfect for your everyday looks
Even though they are plain you can always spice up your look if you get an asymmetrical pair of minimalist inspired earrings. So easy to style and at the same time looking on point!
Wear minimalist earrings in addition to your casual styles
Via Pinterest
On the other side, feel free to pamper yourself with a pair of delicate minimalist earrings. They are the perfect add-on for your day-to-day looks and also great for the ladies on-the-go that still want to keep their outfits fresh and modern.
Minimalist inspired asymmetrical hoops are the perfect add-on to your outfit
Gold Asymmetrical Hoop Earrings & Asymmetrical Hoop Earrings by Happiness Boutique
If you are intrigued by the asymmetrical trend make sure to check out these two suggestions from Happiness Boutique. Very chic and modern, but at the same time escaping the ordinary symmetrical and balanced looks.
9. Wear statement earrings for a bold look
For all the women that love their jewelry to be their statement piece we recommend these glowing and elegant pair of earrings. Since they are not bright colorful you can effortlessly combine them with any outfit.
They are just there to make everything complete and prettier.
Bold crystal earrings in addition to your chic looks for a noticeable look
Compared to some other types of earrings where it is better to have a certain hairdo to show them, these beauties are great with your casual and easygoing hair. We all know what a challenge is to style one's hair in a cute way.
Glamorous statement earrings in addition to elegant outfits for a chic look
Happiness Statement Earrings by Happiness Boutique
For your elegant soirées and special occasions we present to you the Happiness Statement Earrings that have such a style and charm. Complete your look with a darker lipstick and a dressy outfits to achieve this look.
Feel free to read more on how to style your favorite statement earrings → here.
10. Colorful earrings for a summer delight look
Add a splash of color to your outfit with a beautiful and colorful pair of statement earrings. Make your looks less boring and ordinary by accessorizing with these jewelry pieces.
Summer days and colorful earrings are the perfect combo
Via Pinterest
So vivid and bright, they are great for any day to put a smile on your face. Great for all the women who like to try out new jewelry pieces and to mix and match clashing colors.
However, they are not as hard to style as it looks, especially in the summer days when everything is so colorful and bright.
Bright colors and girly looks for a perfect summer outfit
A trick is to pick one or two colors from the earrings as a base and work your outfit from their. For example, if the dominant color in your earrings is blue then you can focus on blue nuances and one more color that goes well with the primer color.
Beach inspired statement earrings for your bright summer outfits
Timeless Classic Statement Earrings & Turquoise Statement Earrings by Happiness Boutique
From our collection, these amazing statement earrings are so stylish and the colors are so well combined together. These items will bring a lot of joy and happiness to your outfits.
11. All times favorite women's earrings appropriate for every occasion
Now it's time to explore the all times favorite women earrings and these are delicate earrings either plain or with rhinestone for an extra sparkle. There is no doubt that you haven't seen these worn by your colleagues, roommates, siblings, friends, etc. 
Rhinestone stud earrings are a must have in your collection
They are perfect for literally any time of the ear for any occasion. You can wear them without even having the need to take them off because they are that great and comfy. In fact, many of us like to wear them to simply keep their holes in the ears, but for others they are a true treasure.
Timeless classy stud earrings are perfect for any lady and her style
Very simple and delicate, but enough to make your outfit look better and more cute.
Delicate rhinestone druzy studs for any of your looks
Druzy Stud Earrings Rose Gold & Square Rhinestone Stud Earrings by Happiness Boutique
If you have already fallen in love with this look make sure to take a glimpse at these beautiful delicate stud earrings from Happiness Boutique. You can choose from a circle or a square pair of classy timeless earrings.
12. Delicate earrings for casual easygoing looks
For your everyday casual looks you can always go for a oh-so-simple and comfortable pair of delicate earrings. Here, the range of choice is enormous, but if you want to give a little interest to your outfit try to go for a colorful pair of studs.
Make your casuals more interesting by accessorizing them with delicate earrings
They are the perfect on-the-go pair of earrings that can accessorize any of your looks and they can be paired with hairstyle as well. These jewelry pieces could be the only element missing from ending up with a perfect outfit.
Delicate earrings for women and casual outfits for the perfect daytime look
For example, you can combine similar earrings with a denim shirt and leather skirt for a super cool and hipster look. Plus, this combo is very trendy at the moment. Feel free to even DIY your denim shirt by distressing it.
Colorful ear studs in addition to your trendy easygoing looks
Black Octagonal Prism Ear Studs & Dainty Flower Stud Earrings
by Happiness Boutique
Also, these colorful stud earrings from Happiness Boutique are also great if you want to recreate a similar look. Throw on your favorite pair of jeans and a comfy top and you are all set for the day.
13. Geometric earrings for a fashionable wear
To be very fashionable is close to be very tacky as well, but these geometric earrings will never let you down. They look absolutely amazing and you can easily style them with your professional attires or more dressy outfits.
For a trendy wear don't hesitate to wear geometric drop earrings for women
Classy Black & Gold Drop Earrings by Happiness Boutique
The shape and design of the geometric earrings defines their style and way of wearing. For instance, these triangular drop earrings are more appropriate for parties, business meetings or more formal events.
For your fashion days add a pair of geometric hoop earrings for women
On the other hand, these geometric hoops are so sleek and chic, but could still be your key element to finish off your casual looks.
Furthermore, they are so versatile and effortless to pair even to a person that has always hard times putting together the outfits. Make sure to go through our collection of geometric hoop earrings for better looks on bad days.
In addition to your geometric hoop earrings add cool and trendy shades to complete the style
Geometric Hoop Earrings & Bold Hoop Earrings Gold by Happiness Boutique
14. Chandelier earrings for a feminine look
Carefully designed and created, the chandelier earrings are to be cherished because of their power to transform our outfits and make them more classy, playful and edgy. 
Glam up your night out looks with some gold chandelier earrings for women
Via Pinterest
Try to pair them with an outfit that goes with the color palette of the earrings and you can also get a matching accessory such as a purse or shoes that will go with the earrings. Everything else is just details.
Dangling chandelier earrings are great add-ons to any of your looks
Via Pinterest
The best thing about chandelier earrings is their gentle sound they make as you make your steps. Also, it could be very relaxing and captivating.
These dangling jewelry pieces could be the missing element from any of your looks. Furthermore, they are great with casual outfits as much as with dressy, boho inspired, street styles, etc.
15. Add a pair of marble earrings for a trendy look
Marble earrings for women have gained popularity lately, therefore if you haven't explored their beauty yet, we suggest that you do. The marble design looks almost like a 3D effect and they seem as they can hypnotize you.
Get a 3D kind of effect to your look in addition to your trendy look
Via Pinterest
Very trendy and fashionable, the marble earrings for women have a unique and sophisticated vibe to them. In addition, they always look very luxurious and fashionable. However, they can easily be worn with your plain and basic outfits as well.
Wear marble earrings in addition to your casual looks
Also, they come as statement pieces, but most people prefer the subtle stud version of them.
Add style and elegance to your outfit by wearing marble earrings for women
Pretty Marble Stud Earrings & White Marble Delicate Earrings by Happiness Boutique
Also, for all the ladies who want to keep styling their outfits in a very elegant and trendy way, and of course, for all the ladies who like to try out these stunning pieces you can opt for these two pairs of earrings from Happiness Boutique.
16. Chunky earrings for a noticeable oversized look
Are you tired of the same old pair of earrings? Then pick up some real chunky earrings for a remarkable look.
Also, bold statement necklaces could be harder to style because of their size and colors, but it is definitely worth the try. Especially if you want to renew and refresh your style. 
Get noticed with a pair of oversized chic statement earrings for women
Via Pinterest
For instance, select a chunky jewelry pieces with some pearl elements and also rhinestones for a very daring and bossy look. Also who says that we can't wear statement earrings because these look very appropriate regardless of their size.
In addition to your trendy to wear some bold earrings for women
In addition, if you are the type of person that likes to dress up in dark or black outfits, then you are more than welcome to give them a try!
17. Boho earrings for women for a careless look
Last, but not least, one of our most favorite boho-inspired earrings that reminds us of the careless hot summer days!
In addition to your free spirited look wear big silver boho earrings
Source unknown
The boho and gypsy inspired looks are all about being over accessorized. Meaning that you can go from a single pair of earrings to a very decorated with all kinds of other jewelry pieces look. For instance, a statement bold necklaces combined with stacked rings or even body jewelry.
Dream-catcher inspired earrings in addition to loose outfits for a perfect boho look
Via Pinterest
However, there is something special and unique about the boho fashion style. And, it seems like they have the power to brings back good memories and feelings from our free spirited moments.
Also, you can style these women earrings the way you like because they are very flexible.
Depending on your style, they are great for chic, easygoing, symbolic, trendy or elegant looks. It is all up to you to experiment with them!
Earrings for women for your comfy and free spirited outfits
Pom Pom Earrings & Boho Statement Earrings by Happiness Boutique
Whenever you are looking for the perfect pair of boho earrings try to focus on more earthy colors. Another way to go is to aim for colors that remind you of the beach. For example, something in the ocean and sand color palette.
Our suggestion is these two pairs of earrings for women from Happiness Boutique that are a great example of boho inspired earrings.
Also, I hope you enjoyed this list of women earrings and found some inspiration on what kind of earrings are trendy at the moment and how you can style them.
Finally, if the answer is yes, please leave a comment below letting us know what kind of earrings do you like to wear the most. And also what new pair of earrings for women would you like to give a try in the future.
Thank you & Happy Styling!
Save
Save
Save
Save
Save
Save
Save
Save
Save
---