2017 Trending Fashion Jewelry
The following winter appropriate trending fashion jewelry will definitely make you livin' "la vida broka" because you will instantly fall in love with these pieces.
However, they will be able to make your holiday and winter outfits so much better than ever before. Also, you will be able to explore different remarkable and cool ways on how to style these beauties in a way that people will think that you have a black belt in shopping.
These styles were inspired by the most popular and recognized fashionistas, therefore keep reading to learn more about these trending fashion jewelry that you'll be able to style with your favorite snuggy and cozy outfits with no effort.
After all, fashion jewelry is a small part of the outfit, but it could make a whole change to your overall look.
Smile, Sparkle & Shine!
1. Chunky sweaters and statement necklaces for a comfy look
How can we not love our comfy and warm sweaters during the cold days? They are easy to style and pair with jeans, skirts or leggings. Also, you can wear you favorite statement necklaces with ease when you wear a sweater.
In addition to your chunky sweater wear a long boho-inspired necklace for a relaxed wear
Bohemian Statement Necklace by Happiness Boutique
For example, if you want a remarkable boho-inspired necklace that will give your look a free spirited and easy going vibe - not a problem. Throw on a single colored top and no doubt that you will pull off the trend.
Elegant and stylish statement necklaces are a great combo to your chunky sweaters
Snow White Statement Necklace by Happiness Boutique
Your warm sweater in combination with a statement necklace such as this one from Happiness Boutique, you can transform your ordinary look into a very trendy and fashionable girly style. Plus, you can similar looks to go to school, shopping or any other activity that you like. So comfy and cozy!
Wear a statement sparkling necklace with your trendy sweaters
Glamorous Over the Top Necklace by Happiness Boutique
On top of that, statement necklaces in combination with a trendy sweater could be appropriate for the working environment, to show off your fashion side, for casual wears or to stroll around the streets of your city.
2. Delicate necklaces and pullovers for an alluring winter look
Obviously, if can pull off the statement necklaces with our warm outfits, then it is more than certain that we can rock our delicate necklaces in combination with a pullover. Simply get a fluffy pullover and accessorize with a currently trending fashion jewelry called a delicate layered necklace. You have probably seen the trend already in fashion magazines, fashion blogs, etc.
Off the should slouchy sweater and delicate necklaces for an alluring look
This style is perfect for all the ladies who like to wear trending fashion jewelry, but in a rather subtle and alluring way. In contrast to statement necklaces, these delicate pieces are not going to make your look remarkable, but still very feminine and stylish. It is one of the most recommended trends for this season!
Unstructured relaxed pullovers and delicate necklaces are a must have
Charm Delicate Necklace by Happiness Boutique
Here, for example, can you just imagine how cute and stylish this charm delicate necklace would look like in combination with the unstructured pullover. And, it is very easy to put together such an outfits. You can also try to combine it with any of the other delicate necklaces in the collection of necklaces from Happiness Boutique. This winter alluring look can't stay unnoticed.
Oversized pullovers and dainty necklaces for a super trendy style
Left: Via Pinterest; Right: Black White Single Circle Necklace by Happiness Boutique
Make sure to focus on metallics since they have been also gaining popularity, especially for this holiday winter season. In addition, add a delicate necklace that will match your metallics of your outfits or your belt. Such a cute and festive look! Would you wear it? I will!
3. Turtlenecks and trending fashion jewelry for a sparkling daily chic look
Not everyone is a fan of the turtlenecks for one reason or another, but these styles are breathtaking. They will make you go back to your old turtlenecks right away because just by decorating your plain turtleneck with some trending fashion jewelry you will end up with the perfect daily chic look.
Fitted turtlenecks and sparkling statement necklaces for a career inspired look
Via Pinterest
So stylish and so perfect for all the working and busy women that still want to look professional and modish wearing their favorite statement necklaces.
Shiny necklaces and working outfits for a festive professional looks
Left: Vintage Glamour Statement Necklace; Right: Glam & Glitter Statement Necklace by Happiness Boutique
Here are two suggestions from Happiness Boutique on how you can beautifully decorate your professional attire as well as your favorite sweatshirts with some remarkable statement necklaces.
In addition, if you pay attention you can see that there is something more than smart and elegant about the turtlenecks. It all depends on the fabric, your intention and vibe.
Elegant turtleneck tops and long pendant necklaces for a stylish look
Via Pinterest
You can truly rock the turtleneck in a very chic and seductive way without being tacky or flashy. Since black and whites never go out of style add a long pendant necklace to your elegantly sheer turtleneck and you are ready to turn some heads!
In addition to your professional outfits wear a long minimalist necklace
Left: Minimalist Bar Necklace; Right: Minimalist Necklace by Happiness Boutique
If you want a trending fashion jewelry that will compliment your sheer and delicate fabric of your top you can go for minimalist inspired long necklaces such as these pieces from Happiness Boutique. A gentle touch of the minimal will take you to the next level where you will be able to show your delicate and feminine fashion side.
4. Special occasion earrings for a festive look
During the cold days the least we can do is to take advantage of the weather and become extra sparkly and shiny like the snow. For example, accessorizing our ears with a pair of earrings that are glowing or that remind us of the holidays for more happy and festive days!
Ball drop earrings for your special occasions
Don't these remind you of your ornaments on the Christmas tree, but much more refined and elegant? Absolutely gorgeous and suitable for special occasions to make your look more bright, catchy and festive.
Festive inspired earrings are a must have for the winter holiday season
Left: Grey Pearl Long Earrings; Right: Star and Moon Asymmetrical Earrings by Happiness Boutique
Very well polished and sparkling these pairs of earrings will transform your outfit within seconds. The ball drop earrings look very elegant and sophisticated when paired with special occasion outfits to end up with a minimal chic look.
On the other hand, you can accessorize your casually chic, dressy and even daily outfits with this beautiful and glowing pair of star & moon asymmetrical earrings from Happiness Boutique. It is always nice to have a pair of earrings that you can rock day and night!
5. Delicate rings and layered outfits for a snuggly look
If most of your necklaces are great with open necklaces or your sleeves are kind of long for you to be able to show your arm party, then focus on your fingers. Get creative with your delicate pieces and make your own creation according to your style and mood. 
In addition to your snugly outfits wear a stack of sparkling delicate rings
In most cases we love to snuggle in our comfy and fluffy outfits during the winter. However, it is still possible to stay fashionable and modern while you wear your most simple and relaxed look. Simply mix and match different in size or design rings and let them be the centerpiece of attention.
Layered outfits and accessorized hands for a cute and girly look
Layered outfits can sometimes be annoying, especially at the end of the winter when we dream about our bikinis and hot summer days. Therefore, let us brighten up our faces with a smile because who cares about the weather when we can always pull off a style and look so stylish.
Shiny and sparkly fashion rings for your holiday inspired outfits
Left: Rhinestone Ring; Up: Heart Ring; Down: Cross the Line Ring by Happiness Boutique
Find ways to be brighter and extra glowing. For example, by wearing jewelry with rhinestones that will definitely put a smile on your face. These delicate pieces from Happiness Boutique are the perfect add-on to your snuggly outfits where you can show only your fingers, but with a style. It's time to turn on your sparkle!
6. Glowing bracelets for an ice-kissed look
Add more sparkle jewelry to your outfits to make them brighter and just because it's the perfect season to leave a trace of glitter and sparkles everywhere! These pieces look very festive, shiny and joyful. There is no doubt that you will be able to even make others more happy and cheerful.
Glowing bracelets for a bright and happy look
Via Pinterest
When you wear a glowing bracelet with rhinestones or crystals your look automatically becomes more chic and appealing because you don't just wear your regulars. This small and tiny piece resting on your wrist is not just going to glow in your eyes, but will make sure that you stand out from the crowd. And, you want that, especially during the holiday season when we meet up with many friends, colleagues and celebrate these special moments.
Sparkles, glitter, gemstones is all we need in an accessory for a perfect holiday winter look
Left:Glitter Cuff Bracelet ; Right: Gemstone Cuff Bracelet by Happiness Boutique
Or, if your aim is not to be the center of attention, but simply to look good, well again, these rhinestone glitter bracelets will take care of that for you.
7. Minimal chicness appropriate for celebrations
Elegant hoop earrings with a touch of minimalist chicness are perfect for the winter and holiday times because they are easy and comfortable to wear, yet looking very fashionable. 
Accessorize your celebration outfits with elegant minimalist hoop earrings
Whites, blacks, reds, silver and golds are such festive colors that you will never go wrong if you go with a combination of this palette. However, this trending fashion jewelry will ensure that your look will on top and very well put together.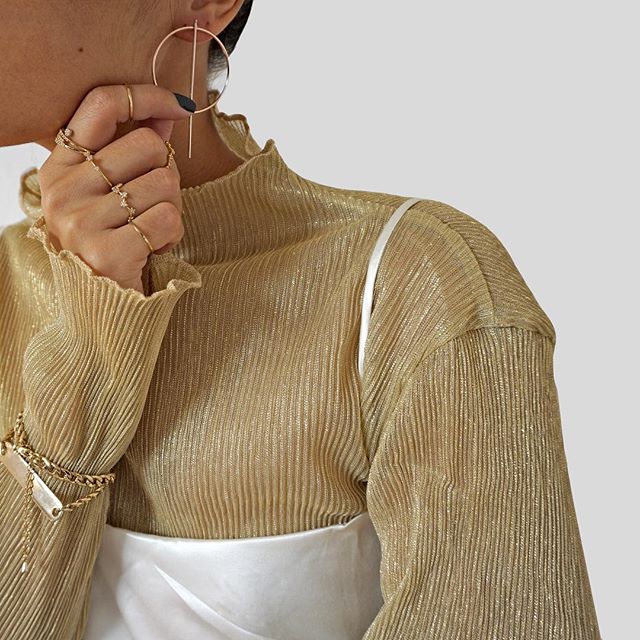 Because simple hoop earrings are always a good idea
If you are interested in styling and rocking these babies from Happiness Boutique make sure to pair them with metallic fabrics to be extra shiny and holiday-ish.
In addition to your dressy looks wear a pair of geometric hoops
Left: Golden Hoop Earrings ; Right: Modern Hoop Earrings by Happiness Boutique
8. Sparkling velvet chokers for joyful stylish looks
Crystals and shines is what you need during the winter and the holidays. Wear your favorite sparkling chokers with confidence and the attitude of a true lady. The perfect add-on for your dressy, flamboyant or extravagant outfits. Plus, they are wearable with any type of a necklace and could be styled in fact with any of your outfits.
Chokers with sparkles and crystals for a perfect special occasion outfit
Via Pinterest
Show your wild and festive side by decorating your neck with a beautiful and soft velvet choker with a fun and glowing pendant. Appropriate for your special celebrations and joyful days where you want to have an additional touch of the holidays on your outfit.
Celebrate the holidays by accessorizing your outfit with a sparkling velvet choker
Left: Flower Choker Necklace Set; Right: Shine Velvet Choker by Happiness Boutique
9. Shine bright earrings for romantic looks
To make your looks more romantic and feminine add  a pair of shiny delicate earrings because they are perfect for the season. You don't want to have huge earrings that are not very comfortable to wear when we layer up our clothes and accessories such as chunky sweaters, scarves, hat, etc.
Shiny statement earrings are a great addition to your warm outfits
This type of earrings are great to jazz up your usual outfits or to make even more elegant and complete your night-out looks. In addition, they are very comfortable to wear and you could never go wrong with these sparkly pieces.
In addition to trendy tops wear your fashion jewelry
Ecstasy Statement Earrings by Happiness Boutique
Whether you choose to go for a very sophisticated or casually chic these ecstasy statement earrings will make sure to help you to make your outfit much better and unified.
What a better way to make outfits better and more festive than a pair of joyful sparkling earrings
Left: Joy Statement Earrings; Right: Festive Crystal Earrings by Happiness Boutique
Accessorize your holiday outfits with these joyful and festive earrings from Happiness Boutique. They look so modish and happy.
Thank you for reading and hopefully these fashion ideas would help you to accessorize your outfits much easier during the season, yet in a more stylish and festive way. Don't hesitate to experiment with the new trending fashion jewelry because they are simply amazing!
And, of course, try to be extra sparkly and shiny! 🙂
Save
Save
---