Fashion Jewelry Trends 2016-2017
You are most likely to be familiar with some of these fashion jewelry trends of 2016-2017 simply because we have seen many celebrities and street fashionistas to rock them for all kinds of occasions. And, don't hesitate to be more daring and try some of these cool fashion trends.
In addition to your ripped jeans add a stack of bracelets
I am not sure how many of you are a fan of the majestic and fearless looking ear cuffs, but if you have any doubts don't worry because the modern minimalist designed jewelries are huge right now and they are a very delicate and girly way to make your outfits look chic and feminine. Furthermore, you can't never go over the top when you stack them.
Layering necklaces for a feminine and trendy look, yet so simple
Also, make sure to bring out your old pair of hoop earrings because they are once again very popular and trendy. Last, but not least, don't forget to add a layered and pre-layered necklace to your jewelry collection because they are great with chunky sweaters for the upcoming colder days.
1. Cuff bracelets
First of all, a trend that is very hard to escape the eye and the heart is the cuff bracelet. The minimalist elegance that these beautiful pieces can offer us is unlimited. Furthermore, they are great for any style and could be worn any time of the day.
In addition, you can also mix and match different metals to achieve a very distinguishable and stylish look.
In addition to your watch add bracelets for a stacked and trendy look
Featuring "Arm Party Rose Gold Bracelet"
You will never go wrong with such a bracelet because it looks very classy and neat therefore it is possible to be worn at school, work or just for a fun and distinctive look. Also, throw on the usual outfits and turn them into a top fashionable wear by pairing them with a stunning and remarkable cuff bracelet.
2. Chokers
No surprise that you see the chokers in our top fashion jewelry trends for 2016-2017. They have been invading the fashion podium for quite some time now and still looking absolutely amazing!
The versatility and diversity of the chokers is incredible. Also, there are so many different designs, textures, fabrics and purposes to these pieces. Go from the very basic and classy tattoo choker to a very glamorous and chic metallic choker.
In addition to your choker wear your trendy or casual looks
Via Pinterest
Depending on your style and occasion you can properly accessorize your outfit with a choker that best suits your overall vibe and look.
Chokers in addition to your fashionable look for a cool look
Left: Velvet Choker; Right: Minimalist Choker by Happiness Boutique
You have the power to easily layer your velvet choker  for a fuller and cool look or add a very minimalist one for a subtle, yet elegant style. As a result, it could be worn with your everyday clothes. As we said, chokers are great because they can adapt to any of your looks.
Add a metallic choker to your dressy and night-out outfits to make them more daring
Via Pinterest
On the other hand, if you have some special occasions coming up or glamorous nights, then it is best to decorate your neck with a sleek, modern and stunning metallic choker that will instantly convert your look into a fashionable à la mode outfit.
3. Midi rings
Maybe you have already glimpsed at these weirdly small sized rings without even realizing that they are meant to be put on you knuckles. But, if you are very familiar with this trend and already rocking it like a pro fashionista - good for you because they are one of the top fashion jewelry trends of this year.
Chunky sweaters and stacking midi rings for a cute and girly look
Their minimalist design allows you easily to style your ordinary outfits and make them more trendy and funky. Chunky sweaters and stacking rings are a must have for this season because you can accessorize your winter clothes with some fashionable jewelry and look very modern and stylish.
In addition to delicate minimalist midi rings wear casual outfit for stylish wear
Via Pinterest
 Combine only midi rings or stack your normal rings for a very feminine and sophisticated style that will definitely turn some heads.
4. Hoop earrings
Hoop earrings made their comeback trend and they are one of the most sophisticated and elegant ways to show off your devotion and passion for fashion. In addition, partner up your normal outfit with a pair of bold hoop earrings to make it more vogue-like and stylish.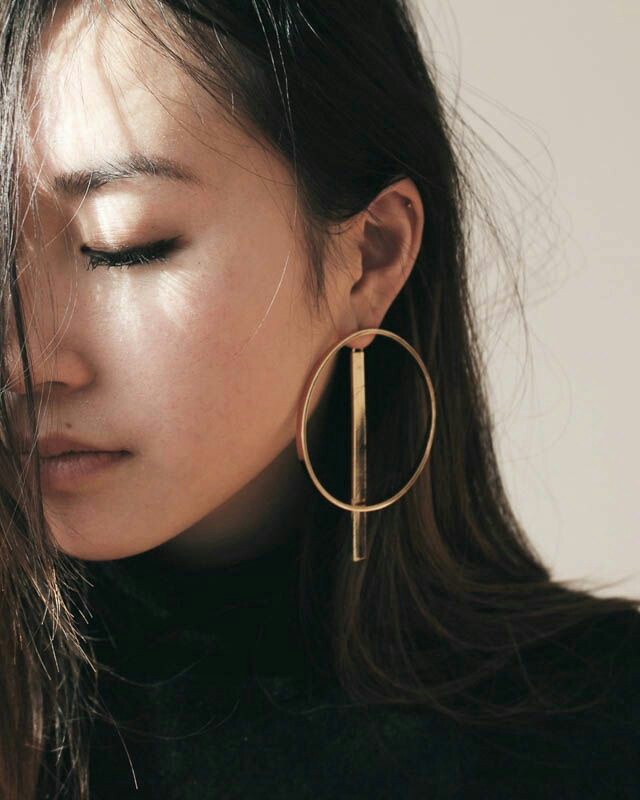 In addition to geometrical hoop earrings wear simple clothes
Via Pinterest
Whichever style you prefer, bold or delicate, these earrings simply look amazing and eye-catching with any outfit. Also, hoops could be worn with very detailed or printed clothes or simple tee and still make a statement to your look.
These earrings look very chic and classy no matter of your outfit
 Earrings by Happiness Boutique
In addition to your casual outfits add a pair of hoops for a fashionable look
The big hoops are a very feminine and stylish way to accessorize your look. Try to match your earrings with other details of your outfit like the closure of your purse if there are any golden or silver parts to it or pair it up with a minimalist knuckle rings for an ultramodern and remarkable style.
5. Layering necklaces
Layered necklaces are great to be worn with V-necks, more open necklines or over your top. They are simple, yet very feminine and girly pieces that can beautifully accessorize your daily or nightly looks. 
"]
In addition to your casuals add a fashionable layered necklace
Featuring "Layered Lucky Charms Necklace in Gold"
These necklaces are very adaptable because they can be easily styled with a collared t-shirt, which is suitable for work or off-the-shoulder blouse that could be worn to dinner parties or night-out events.
In addition to short layered necklaces wear an off-the- shoulder tops for a romantic look
Featuring "Layered Geometric Necklace"
Moreover, you can style your layered necklace over a chunky sweater and get a very comfortable, but girly look.
In addition to big sweaters wear long layered necklaces for a cool girly look
 Necklace by Happiness Boutique
6. Jewelry with pearls
Many recognized fashion magazines and websites show us that pearls can never go out of style, but this season we can mainly see them as an accent component that is part of a statement piece like rings, bold necklaces or earrings with pearly elements to them.
Pearls can never go out of style
Via Pinterest
However, if you find these pieces a little extravagant and fashion forward, then you can get your dose of pearls by accessorizing your outfits with rather basic and delicate rings, a pair of simplistic pearl earrings or a beautiful elegant pearl necklace such as the one shown in the photo by Happiness Boutique.
Elegant Statement Necklace by Happiness Boutique
Dressy outfits and elegant pearl necklaces for a preppy and neat looks
7. Headbands and head accessories
One of the mainstream trends of this year are the headbands. These head jewelries are the perfect add-on that could make your look more innovative and original. It is possible to wear them at your wedding as an accessory to your dress or for special occasions to make your look even more feminine and distinctive.
Headbands and dresses for a very elegant and remarkable look
Via Pinterest
Or, you can style it for a boho-inspired look, Greek Goddess or simply wear your flowery headband with your everyday looks.
Accessories for the head can make your look very distinguishable and feminine
Via Pinterest
Truly unique designs that can make your outfit very elegant and ladylike.
8. Tassel earrings
Rich texture and small detailing is what makes the tassel earrings so fun and special. These shoulder dusters are great for casual or dressy styles. They can make our overall look much more interesting and flirty after we accessorize the outfit.
Tasseled earrings and dressy outfits for a stylish and elegant look
Featuring "Crystal Black Tassel Earrings"
Determined by your occasion you can choose a majestic pair of tassel earrings  for a daring and adventurous look or you can add a splash of color by putting on a pair of colorful statement tassel earrings that could enrich your daily outfits. 
Add a pop of color to your look with some colorful tassel earrings
Featuring "Unique Tassel Statement Earrings"
9. Jewelry with symbolic pendants and talismans
Give your style a meaning by adding a talisman necklace to your basics. It's so much fun to wear lucky charmed necklaces with different protective elements and symbolic pendants that could make your outfit very mysterious to the others and exciting for you.
Symbolic pendant necklaces for a cool fun look
Featuring "Arrow Necklace in Rose Gold" and "The Time Is Now Rose Gold Delicate Necklace with Inscribed Pendant"
A dainty chain with a delicate pendant that represents your personality and style are so effortless to style with your casual outfits.
Casual outfits and fun necklaces for an easy-going everyday look
source unknown
Don't wait to stack up a few of your favorite symbolic fine necklaces that could make your outfit so interesting and eye-catching. Also, it is of no importance if you like cactuses, flamingos, personalized plate with your name on it or whatever is the talisman that speaks to you -  lucky charmed necklaces are all great!
10. Stacking rings
We mentioned the midi rings as being one of the biggest trends in fashion right now, but stacking your hand with all kinds of rings is another story that can't go unnoticed.
Stack your rings for a very trendy and fashionable look
Via Pinterest
Use your imagination to create art on your fingers by stacking up various types of rings, which could be different in size or design. Also, you can even try to wear up to 5 rings on one finger for a very bold detailed look. Or, add elegance to your hands by combining only two or three rings together just enough to make a statement.
In addition to stacking rings wear fashionable outfits for an elegant look
source
11. Ear cuffs and ear jackets
 Whether you go crazy in love about the ear cuffs or look at this accessory with skepticism, but their intricate look is irresistible. In seconds you can bring back to life your inner fashionista and make your outfit look very eye-catching and remarkable.
Decorate with some pearly ear jackets your outfit for a sophisticated look
Obviously, you can always opt for a subtle kind of an ear jacket that will still look very attractive and girly.
Wear an ear crawler in addition to your outfit for a noticeable cool look
Easy-going outfits in addition to ear cuffs for a cool and trendy look
Ear jackets in addition to a fluffy sweater for a girly look
Featuring "Asymmetrical Ear Cuff Earrings"
12. Body chains
The bralette chain can perfectly decorate your open décolleté and give your look temptation and individualism.
Furthermore, body chains could be worn at the beach, for night-outs or festivals where you can accessorize your outfit with a truly unique design that will attract people's attention for sure.
Match these stunning chains with open necklines for a seductive look
Via Pinterest
Also, if you prefer to style them with your beach wear, you can always place the body jewelry on your arms, legs or gently wrap your torso with dainty chains that can accessorize your naked skin.
In addition to your beach wear add some body chains for a distinctive look
Via Pinterest
13. The Y necklace
The Y necklaces, or as many people call them a lariat necklace, are so easy to style and their minimalist design can instantly make your outfit look very elegant and feminine.
Y-necklaces and V-necks are a great combination for an elegant look
source unknown
Give a shot to the Y necklace with low-cut tops or V-necks to get the full effect of the necklace. Furthermore, let your outfit to get a very simple, yet graceful and refined appearance.
Wear a crystal Y-necklace in addition to your dressy look
Crystal Y Necklace by Happiness Boutique
Delicate Y necklaces such as this one from Happiness Boutique are so feminine and also very stylish because of their gem details and length that gives our look chicness and confidence.
Lariat necklaces are great to be worn with your working attire
source
Furthermore, get creative and place your long lariat necklace on your back when you wear an opened back top or a dress for a very authentic and out of the box style.
In addition to your open back add a stunning lariat statement necklace
source unknown
14. Bold necklaces
Chunky statement necklaces can be perfectly partnered up with simple monochromatic clothes for a fashionable everyday wear. Also, accessorize your outfit with a similar necklace so it looks more preppy and stylish.
Wear a statement necklace in addition to any of your outfits for a bold look
In addition, if you prefer to dress up in more casual outfits - no problem! Also, these stunning vintage-inspired necklaces can ideally fit with your graphic or plain t-shirt and give it more style and character.
In addition to your tee add a statement necklace
source
In addition, you can also add a detailed glamorous statement necklace to your rock star inspired outfits for a cool chic look.
In addition to bold statement necklaces wear leather jackets for a rock star inspired look
15. Minimalist jewelry
Dissimilar to the bold detailed necklaces with many elements to them, the minimalist and delicate necklaces, bracelets or rings are a top fashion jewelry trends for 2016-2017.  Also, their effortless styling and pairing with any of your outfits is definitely helpful and useful because we want to be able to look good in no time!
In addition to your casual looks add some simple rings
Also, add a simple delicate almost non-noticeable wrap ring or a minimal nail ring to your outfit and you can be already considered a skilled fashionista. And, they are so easy to combine because of their discreteness and elegance.
Minimalist jewelry in addition to casual outfits are a must have for this season
Keep it simple, yet modern and chic!
I hope this was engaging and useful for you, and if not all, at least give a try to some of these amazing fashion jewelry trends because they can revamp your old style and give it a personal and ultramodern touch. Also, many of these are so easy to be styled with your everyday outfits!
In addition, allow yourself to explore new paths in the world of fashion accessories and select the ones that speak to you and your sense of fashion!
Finally, please let us know if you have tried any of these fashion jewelry trends so far and share, which one is your favorite! Also, make sure to leave a comment and let us know how do you like to style your fashion jewelry or click on the like button to let us know if you think this blog post was interesting for you! 🙂Save Save Save Save Save Save Save Save Save Save Save Save Save Save Save Save Save
---