There is a plethora of fashion necklaces that were on the rise lately. Also, we could spot many celebrities and fashion bloggers styling trendy chokers, pendant necklaces or layered necklaces to give dimension to their looks.
Most of us like to wear necklaces whether statement or delicate, short or long, detailed or simple. They could enhance so much an outfit and bring it to the next level.
In addition, if you are interested in learning about some of the latest trends in the world of fashion necklaces, then don't hesitate to keep reading. Hopefully you will find new styles to try out or become more confident on styling the all times favorite jewelry pieces.
Happy Reading!
1. Tribal fashion necklaces for an ethnic inspired look
As the weather gets warmer the memories from the careless summer days come back into our minds. To get a more free spirited and casual look, you can always accessorize your look with tribal jewelry.
In addition to your summer looks add a tribal necklaces for a boho look
These jewelry pieces definitely remind us of summer and the good times spent with friends. To finish off the look you can add some gladiator sandals, a trendy pencil skirt and a simple top.
Tribal necklaces are so remarkable and eye-catching
The boho and art jewelry pieces are a perfect addition if you want to give a twist to your basic tops, but at the same time looks very different than the usual golden or silver necklaces. In addition, they are easy to combine with other accessories.
2. Give a pop of color to your spring outfits by wearing a colorful necklace
The trend alert this season is to give a pop of color to your chic outfits by wearing a colorful statement necklace. This look became so popular, especially now when the springtime is coming soon.
Splash of bright red color in addition to your chic outfits
Via Pinterest
Even though the colors are very vivid they could still be appropriate for the working and stylish ladies. In addition, you can wear similar necklaces with working outfits or with brighter clothes that need some color and refreshment.
Give your looks a pop of color by wearing a vivid red statement necklace
In particular, these necklaces come in the red shades and their design could vary from flowers, geometric shapes or the shape of stones. You can dress up your necklaces or wear it with your leisure and comfy outfits.
Jazz up your professional attire by wearing a bright spring fashion necklaces
These fashion necklaces look very feminine and will definitely bring a smile to your face. Try to match the colors of your necklace with your clothes to end up with a more well put together outfit.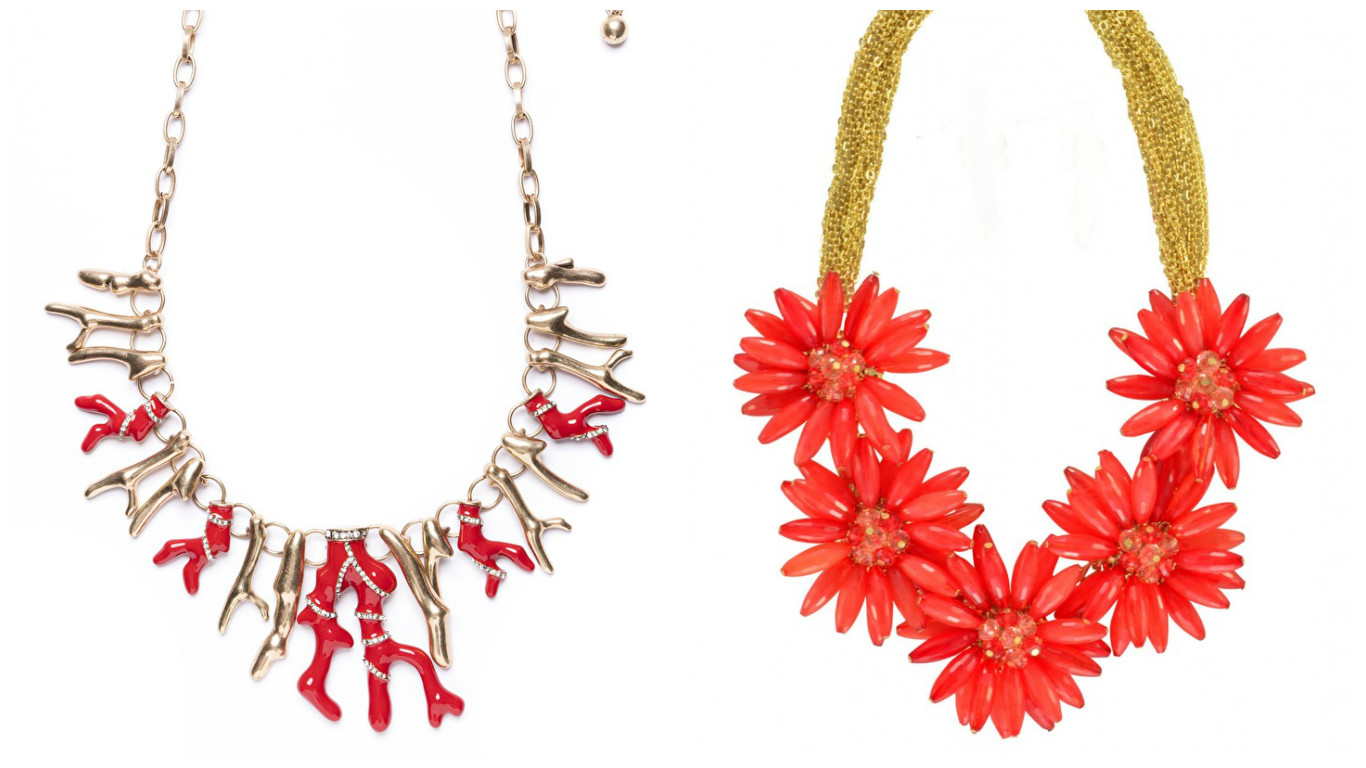 For any of your spring looks accessorize with a bright colored fashion necklaces
Left: Coral Fortune Statement Necklace ; Right: Flower Love Statement Necklace in Red
By Happiness Boutique
The perfect spring and summer fashion necklaces from Happiness Boutique that will bring the fire to your outfit and make it more stylish. Don't hesitate to check them out! 🙂
3. Long necklaces for professional attires
Speaking of chic and professional, long necklaces are a great addition to any working lady's outfit. They look very sophisticated and subtle no matter of their size. Plus, they are very comfortable to wear and style.
In addition to your working outfit wear a long fashion necklace
If you happen to like to wear simple tops and layer them with a blazer, then these long necklaces should be a great idea on how you can accessorize your working outfit. They look very stylish and chic, especially when you dress them up.
Long fashion necklaces and working outfits are a perfect combo
In addition, long necklaces could even be worn with detailed tops because they always look very delicate and chic. You can also wear them with flats for a more comfortable wear or with heels for a super professional, yet attractive look.
Accessorize your looks with a delicate long necklaces for a chic style
Left: Peaceful Pastel Teardrop Necklace; Right: Half Moon Long Necklace
By Happiness Boutique
Here are two suggestions from Happiness Boutique on what kind of long necklaces to wear when wearing working and stylish outfits. These two could truly enhance your neat clothes and add extra touch of elegance to them.
4. Unique fashion necklaces for an artsy look
Get the best of your trendy fashion necklaces by wearing a super unique design that will refresh your outfit instantly. These art inspired necklaces definitely have a lot of charm and distinctive appearance.
For your hipster and cool looks add a unique piece of jewelry
For example, a pendant necklace with not the typical pendant could be a great twist to your normal look. It will bring a lot of joy and happiness to your spring and summer looks.
Spice up your normal looks by adding a unique fashion necklace
These artistic, oversized or just funny fashion necklaces could effortlessly be styled with your casual, stylish, elegant or girly looks. They will give you interest, a trendy and modern touch to your look and finish it in a perfect way.
5. Chic metallic choker necklaces for a stylish wear
One of the most trendy, yet classy looking fashion necklaces in this season are the metallic chokers. Their sleek, modern and simple minimalist design makes it so special and a preferred accessory among the fashionistas.
Add a touch of sexiness to your looks by decorating your outfit with a metallic choker
This versatile and easy adaptable piece of jewelry could be worn with casual, casually chic or trendy outfits with no difficulty. For example, a girly or simple sweater paired with jeans and accessorized with a metallic choker could look very cute, yet sexy.
Wear metallic chokers for an attractive and trendy look
Via Pinterest
Feel free to wear a similar choker all year long because they look great with sweater but at the same time look super sexy with a t-shirt and shorts. The Greek Goddess vibes coming from this metallic choker make it so powerful and symbolic. Try to wear it with confidence!
Feminine and minimalist metallic chokers in addition to your trendy looks
Left: Black Marble Geometric Choker Necklace; Right: Bubble Bliss Choker Necklace in Gold
By Happiness Boutique
These two vintage and art inspired metallic chokers from Happiness Boutique are so trendy and versatile. It is really up to you to give them a theme and make them the perfect addition to your outfit.
6. Girly statement fashion necklaces for a Barbie inspired look
For all the girly girls we have a couple of fashion necklaces suggestions that you might like. It is all about the floral, feminine pastel colors and girly designs. You can wear these necklaces with your girly tops, blouses or t-shirts.
Bring out your girly side by wearing a girly statement necklace
Feel free to style your hair like a true lady and show the world your girly and humble side. Try to pair your girly necklaces with tops of light colors and ruffle or lace detailing that will keep your desired intentions.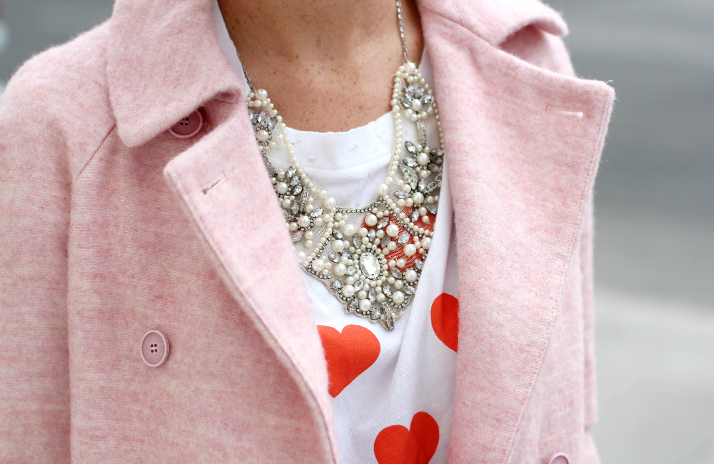 Girly fashion necklaces and stylish outfits are a great combo
Via Pinterest
To recreate this look you can go for anything pearly, with flowers or pastel colors. Fashion necklaces with lighter colors are easier to style and they can be worn all year round compared to the very vivid colored necklaces.
Accessorize your chic outfits with a girly fashion necklace
Left: Beautiful Flowers Statement Necklace; Right: Layered Bubble Bliss Pearl Statement Necklace
By Happiness Boutique
For your girly looks you can get a necklace with pears for a more classy and feminine style or for a flower based necklaces for a super girly and fun looks, both from Happiness Boutique.
7. Delicate layered necklaces for a feminine look
For a very feminine style you can always accessorize your looks with a layered necklace. You can go for a very subtle short one or more invisible longer one.
For any of your looks wear a delicate layered necklace
These necklaces could be worn with any type of style - casual, elegant, formal or elegant.
Layered necklaces always look sexy and appropriate for any outfit
The best is when you wear them with basic t-shirts or V-necks.
Make any of your outfits more interesting by adding layered fashion necklaces
Left: Pearl Star Layered Necklace Rose Gold; Right: Lucky Trio Layered Necklace in Gold
By Happiness Boutique
Happiness Boutique offers you two very trendy,  add-on to your look. Laces that could be a great add-on to your look.
8. Delicate fashion necklaces appropriate for the beach
Many of us like to look good even on the beach by accessorizing our beach wear with jewelry. One of the fashion necklaces for this season that could perfectly do this job for you is the delicate necklace with a pendant.
Give interest to your beach wear by wearing a delicate trendy necklace
The idea here is definitely focus on very gentle and delicate pieces that would make your bathing suit even prettier but at the same time you can stay comfortable. For example, a dainty chain combined with a couple of delicate stacked rings could be a very trendy and youngster look.
In addition to your swimming suit wear delicate fashion necklaces
Via Pinterest
Also, a cute way to decorate your chest is a lariat necklace or Y necklace that could give dimension and interest to your beach wear. In addition, you can top off your bathing suit with a kimono to make your overall look more complicated and fashionable.
Trendy, attractive and always a good idea – delicate fashion necklaces
Left: Circle Necklace Rose Gold; Right: Long Glamour Y Necklace with Hanging Charm
By Happiness Boutique
Here are two very fashionable necklaces that are at the same time comfy and a great complimentary piece to a bathing suit. Very feminine, subtle and fashionable. Don't forget to get a fashionable pair of shades.
9. Bold boho statement necklaces for an attractive look
The summer outfits can't go without a bold and detailed silver or gold boho inspired necklace. Try to focus on necklaces with ancient coins, feathers or other spiritual elements that could give you the perfect gypsy or bohemian style.
For an attractive look wear a boho statement necklace
Just because the necklace is boho inspired doesn't mean that you can't look sexy or elegant. You can still wear a stylish dress and make it more special and unique by adding a chunky dangling statement necklace.
Playful, colorful and free spirited – wear a boho statement necklace
Boho necklaces are actually great with more girly or feminine styles. To achieve such a look you need more girly essentials such as a small purse, more jewelry, ruffles and lace and a pair of cute skinny or flared jeans.
Ancient coin statement necklaces will give you the perfect boho look
To give a catchy look to your outfit you can accessorize with a fedora hat and a pair of flared jeans and wedges.
This is a simple, comfortable, yet very attractive style that could get many compliments. Also, you can stack a couple of boho bracelets to complete this free spirited style.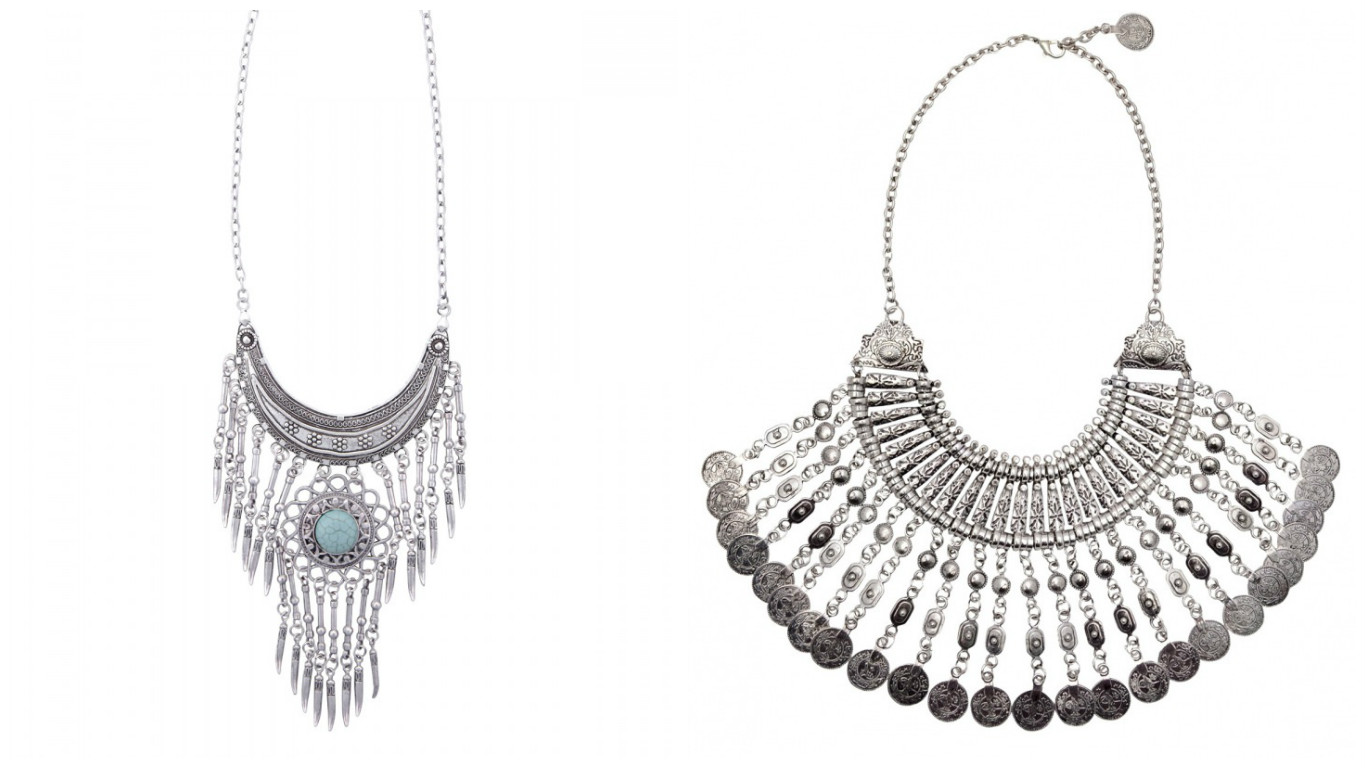 Add interest to your daily looks by accessorizing with a remarkable statement boho necklace
Left: The Fringe Statement Necklace; Right:Mystery Ancient Coins Bib Necklace
By Happiness Boutique
Very boho, yet appropriate necklaces to jazz up your basics or make your normal outfits more eye-catching. Feel free to give these two fashion necklaces a try because they could instantly help your outfit to look more stylish and individual.
10. Denim choker necklaces for a super trendy look
Another trend alert for this season is the denim choker. Chokers definitely became a must have fashion accessory lately, but these new designs will make you fall in love right away because of their young, fresh and hipster appearance.
For a super chic and trendy style add a denim choker to your look
It is possible to find very subtle denim chokers, wrap chokers with denim accents or thick bands made of denim and turned into a choker. No matter of the design that you like - you will definitely keep it edgy, trendy and remarkable.
Denim chokers are so stylish and trendy!
Via Pinterest
You can match your denim choker to your denim jacket or skirt because this is also a very popular combination that we can spot in the fashion magazines.
In addition, as the spring is coming up, we can try to experiment with different styles and still layer our clothes since it is not smoking hot yet. How can you not love the springtime for that!
11. Sparkling fashion necklaces appropriate for dressy looks
Make your elegant and stylish outfits even more remarkable and stylish by wearing a glam statement necklace. These necklaces are great with more neat, dressy or glamorous outfits.
If you don't want to go super glam you could still wear similar fashion necklaces because they are a great addition to anything a little more dressy such as a sequined skirt or shorts or girly and elegant clothes.
Sparkling necklaces are great addition for chic & elegant looks
Via Pinterest
The best thing about these statement fashion necklaces is their adaptability to your dressy, formal or glamorous looks. You can dress them up or down the way you prefer. However, they are just enough to make any of your looks more dazzling.
Give your look an extra sparkle!
Left: Joy Statement Necklace Serenity Blue; Right: Happy Weekend Statement Necklace
By Happiness Boutique
In case you have any special plans on your agenda, here are two statement necklace from Happiness Boutique that still look subtle, feminine and have just enough glow to make your dressy outfit more remarkable.
I hope you enjoyed these styling tips and fashion trend alerts. Fashion necklaces could be appropriate for any type of a lady no matter of her style. In addition, I hope that you will share with us your personal favorites and would you like to try out some of the new trend this season.
Thank you and Happy Styling!
Save
---