The new hottest trend this season is the geometric earrings. The basic and clean lines of these jewelry pieces looks very simple, yet so stylish and modern.
In addition, you can revamp your oldies and accessorize your newest outfits with any of these geometric earrings.
Furthermore, in this blog post you will be able to explore different kinds of geometric earrings such as dangling, hoops, studs and many more. Therefore there will be a little something for every type of a lady. Hopefully you will find these styling tips and ideas informative as well as engaging and fun.
Happy Reading!
1. Statement geometric earrings for a remarkable style
These long and statement earrings are great for whenever you want to have your hair down because they are pretty visible, especially if you have a long hair. In case you want to achieve a remarkable  and full of comments look, then you will definitely need to look for some trendy, cool and statement earrings.
Make an impression with a pair of statement geometric earrings
Via Pinterest
Whether you want them in silver, gold or rose gold, they will look just fabulous of the clean and basic lines that these are made of. In addition, right now geometric earrings are very popular and worn by so many fashionistas and celebrities so don't hesitate to give them a try.
Jazz up your casuals with chunky geometric earrings
Via Pinterest
These statement earrings, for example, don't have an outstanding appearance, but they are chunky enough to give a twist to your most basic looks.
If you are the type of girl that likes her t-shirts and jeans,then a pair of geometric earrings that are pretty bold will help you to make your basics more interesting.
Indulge yourself this season with a pair of geometric earrings
Left: Modern Circle Bar Earrings Rose Gold; Right: Circle Drop Earrings Rose Gold
By Happiness Boutique
These two statement pairs of earrings from Happiness Boutique are great accessory that could modernize your looks. They will look great with night out dresses, jeans and a t-shirt or a festive look.
2. Modern geometric earrings for a super cool look
You have probably seen this type of double hoops, asymmetrical hoops or half hoops also known as moon earrings. If yes, and you haven't got a pair already then you need these in your life.
They look very stylish and elegant, yet appropriate for every occasion so you don't need to worry when it comes to styling them.
In addition to your fashionable outfits wear a modern pair of hoop earrings
Feel free to wear them with fitted and classy outfits, but also experiment with your day to day basis because these earrings are pretty versatile and adjustable according to your style.
Geometric earrings have a design that allows us to play around with them and be able to style them with absolutely any outfit that sits in our wardrobe.
Every girl needs a pair of geometric earrings in her wardrobe
Via Pinterest
The beauty of such earrings definitely comes from their simplicity. When you have a pair of earrings that is not colorful or specific in terms of fashion style, you can wear them with no effort all year long.
For example, try to wear them with a chic blazer and cute top to work and then try to style them with your sweat pants that you wear with heels for a very trendy and high end look.
Be cute and trendy with big hoop earrings
Furthermore, these geometric earrings are the perfect add-on to any dress because most dresses have some print, detailing or a mixture of fabrics, which means that you don't want your jewelry to be too busy and detailed.
In addition, you can try to match the color of your earrings to the little metal details of your accessories such as purse, watch and shoes.
Any of these two pairs of earrings would be a great choice for this season
Left: Circle Hoop Earrings Gold; Right: Pearl Asymmetrical Earrings
By Happiness Boutique
Very modern and trendy, these geometric earrings from Happiness Boutique will instantly alter your outfits and make them super cute and stylish. Plus, the simplicity of their design gives us the power to style them according to our preferences.
3. Ear jackets with geometric shapes for a stylish look
To begin with, most ear jackets have this addition interesting part to them, which makes them an ear jacket rather than a simple stud.
Stud are circular and in many cases we have this little interesting part of the ear jackets in the shape of triangle, rectangle or any other geometric shape. Therefore, these earrings make it to the list of geometric earrings.
For a remarkable style wear triangular ear jackets
Via Pinterest
These delicate, but eye-catching pieces of jewelry will add instant sparkle, girliness and elegance to your looks. They are great with simple outfits to make them more trendy, yet they are perfect for night out looks because of their shiny rhinestones and interesting shape.
In addition to your modern looks wear geometric ear jackets
In addition, feel free to combine them with a delicate necklace with a pendant or a trendy bangle of the same metal color. It looks very girly, stylish and stunning. Since they are more delicate it becomes very easy to match them to your outfits.
These two pairs of ear jackets are so fabulous
Left: Pearl Ear Jackets; Right: Streamlined Geometric Triangle Ear Jackets
By Happiness Boutique
So sparkly and chic, these ear jacket with a geometric shape from Happiness Boutique are a great add-on to your night out looks to make them even more glam. However, feel free ti spice up your casuals with these beauties!
4. Timeless classy hoop earrings for a modern style
I am pretty sure that by now most girls have added to their jewelry collection a pair of classy hoop earrings. However, if you have noticed, hoop earrings come in so many different designs, embellishments and sizes. Yet, the classics always feel trendy and practical.
Classic hoop earrings are always a good idea
Via Pinterest
In case you want to jazz up your cute dresses or denims, you can get an almost classy pair of hoops, but simply try to get a thick hoop rather than the super classy thin hoop. This way you are certain that in terms of accessories you will look fabulous, but at the same time still a little different than the crowd.
Classy hoop earrings are always appropriate
There is nothing wrong to have many pairs of hoop earrings in your jewelry collection because no matter of their design they always look appropriate.
Plus, you can literally wear them for any occasion with any type of a fashion style. Such a great timeless pieces of jewelry that every fashionista needs in her life.
Make your outfits more eye-catching by accessorizing with any of these two pairs
Left: Bold Hoop Earrings Gold; Right: Fine Hoop Earrings by
Happiness Boutique
These hoop earrings from Happiness Boutique have a very classy and timeless design that you can style with any outfit.
5. Geometric stud earrings for a chic look
Another timeless pieces of geometric earrings that are a must have for any season and any type of a lady are the stud earrings. Again, they come in so many styles, but we will focus today on the geometrically shaped studs.
Also, you can have a stud that is embellished with a cute and sparkling rhinestone or a matte and classic simple stud appropriate for everyday wear.
In addition to your girly outfits wear sparking studs
However, if you want to give a touch of chicness to your outfit, then it is better to accessorize with a stud earrings that have rhinestones or a pop of color to them. Regardless of being so subtle, they will keep your outfit fresh and chic.
In addition to your chic outfits wear square stud earrings
You can wear circular or square shaped stud earrings to work, to the park, to parties or just to go do your grocery shopping. Very comfortable, yet able to spice up any of your styles.
In addition, if you like other jewelries such as bracelets, necklaces or rings, stud earrings are the perfect complimentary piece to any of those.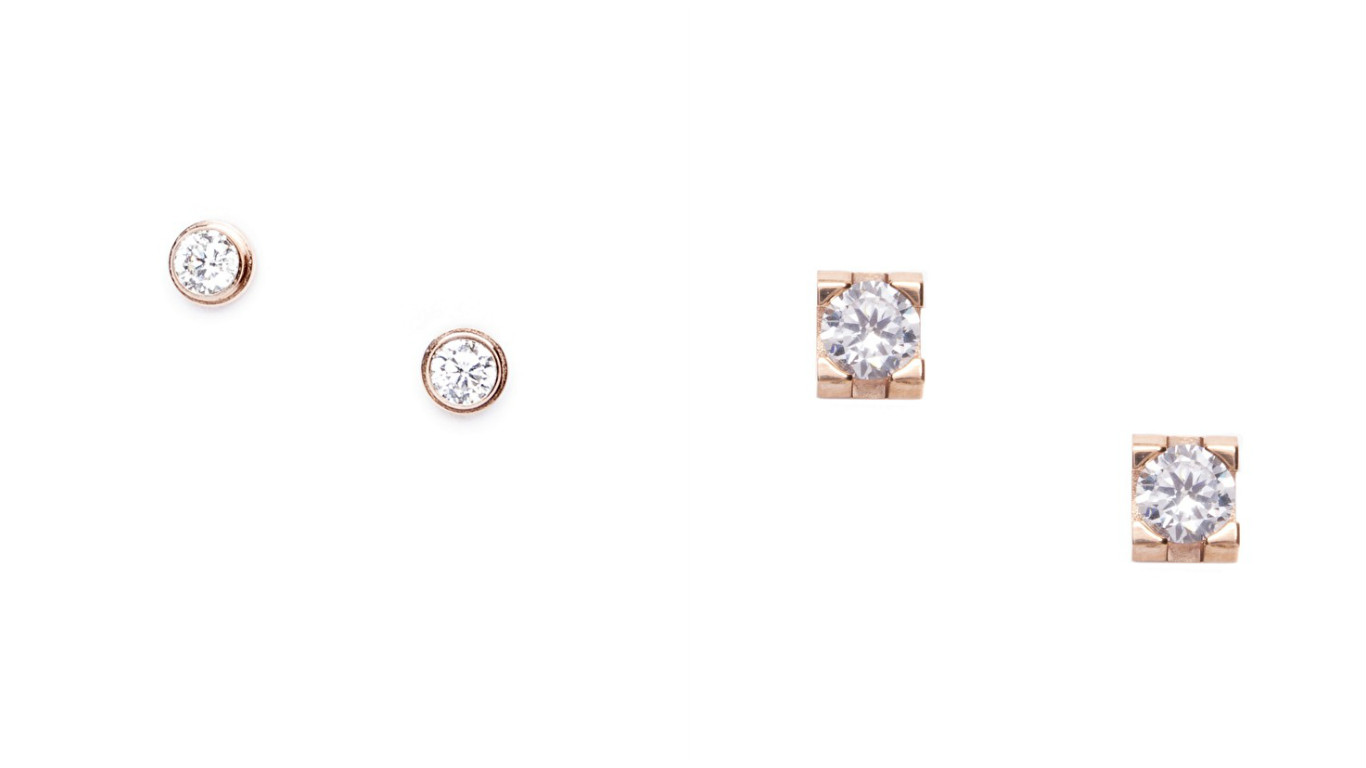 Give your look an extra sparkle!
Left: The Golden One Stud Earrings; Right: Square Rhinestone Stud Earrings
By Happiness Boutique
As you can see anything type of an earring could be in a geometric shape. These geometric earrings are very delicate and sparkling so don't be reluctant to check them out.
6. Geometric dangling earrings for a playful look
If you are the type of lady that likes her earrings to touch a little bit of your shoulder or to gently and sexy sway around as you walk, then these dangle earrings will definitely make your day.  In addition, they look great with any type of an outfit because of their simple design.
Dangle, dangle all the way with these beauties
Via Pinterest
Try to wear them with a tank top and you will see the change right away. Your simple tank top will transform into a very chic, sexy and trendy top that you can pair with jeans, shorts or skirts.
For a snugly wear you can style your dangle geometric earrings with ballerinas or sandals. However, you can dress them up with a pair of attractive heels.
In addition to your girly looks wear a dangling minimalist earrings
As you can see this type of earrings is great when paired with a choker. It gives a very sexy and seductive style that will definitely receive some stares and compliments.
Also, it is perfect for the summer, especially if you wear them with high waisted shorts and a cute top or crop top or you can wear them in the winter with your chunky sweaters.
Wear these open circle earrings for a refreshed look
Left: Open Circle Drop Earrings By Happiness Boutique
These dangling earrings from Happiness Boutique are so modern and preferred by many ladies. If you want to modernize and refresh your wardrobe, then you need them in your collection this season.
7. Minimalist geometric earrings for every occasion
On the other hand, if you prefer something more discreet feel free to give a try to these minimalist inspired geometric earrings. This is a great pair of earrings that could be stacked with other earrings if you like this look or simply have many piercings.
Minimalist stud earrings look so chic and futuristic
Via Pinterest
The delicateness of these geometric earrings allows you to style them according to your fashion style and preferences rather than following the vibe and intentions of the earrings themselves.
In addition, they are very flexible and adjustable so if you are a working lady - no problem, if you are going to a music festival - no problem, if you want to make your casuals more fashionable - no problem.
Give interest to your outfit with a pair of minimalist delicate earrings
Via Pinterest
However, for all the classy and elegant ladies, there is a bar minimalist earrings with a pearl that would perfectly go with dressy suits and professional outfits. Also, you can wear similar jewelry pieces to weddings, special occasions, to cultural events or meetings.
So minimal, yet so remarkable[/caption]
Left: Minimalist Bar Earrings; Right: Modern Lines Earrings in Rose Gold
By Happiness Boutique
The minimalist trend is very hot right now so these geometric earrings from Happiness Boutique could enhance and make your look more trendy and remarkable.
8. Geometric drop earrings for a trendy look
Ball drop earrings are so awesome right now. They are widely worn by many ladies, especially in the spring and summer because of the vivid colors. And, you will be able to find them in all kinds of colors so no worries.
However, it is better to pair them with more girly and feminine outfits to bring out your gentle and ladylike side of your personality. 
Give your look a touch of joy with these circular pompom earrings
Anything with pleats, ruffles, loose fabrics and girly colors is great for this kind of look. You can wear them with pants or dresses with no effort. Simply try to match the colors of your outfit with the colors of your accessories.
Also, if you pick up a model that is a statement piece you don't have to worry about your hair hiding these trendy earrings.
Add a pair of triangular earrings in addition to any of your looks
As with any other type of earrings, you can always find a statement and a subtle pair of everything. Here, we have a triangular shaped pair of earrings that is more subtle and great with your hair pulled up.
In contrast to the colorful earrings, these earrings are great with printed and colorful outfits because they are pretty simple in design.
9. Delicate geometric earrings for a subtle style
If you happen to love delicate earrings then the following styles are just for you. Many ladies prefer to accessorize their looks in a more delicate way so they can stay comfortable, yet trendy and stylish. Delicate earrings are great if you want to stack up your jewelry pieces.
Delicate geometric earrings with rhinestones are so girly and glam
Also, if you don't have many piercings yourself you can always get yourself fake earrings and still be able to achieve this stacked look. However, these geometric earrings could be worn solo and make your outfit more sophisticated and outstanding.
Wear small hoop earrings in addition to any of your styles
Hoops don't always come in big designs so if you like these small sized hoops feel free to try them them out.
In addition, these are the perfect on-the-go pair of geometric earrings that you will be able to combine with all kinds of looks. The important thing is that their trendiness and charm will definitely modernize your old looks.
Cute and delicate geometric studs for every occasion
Left: Geometric Triangle Stud Earrings; Right: Beautiful Rhinestone Cuff Earrings
By Happiness Boutique
If you are looking for similar geometric earrings, Happiness Boutique could offer you some very girly and stylish stud earrings. Feel free to take a look at them!
Finally, I hope this was interesting, engaging and helpful to you. Feel free to leave a comment or click the like button if you enjoyed these styling tips and ideas about geometric earrings. Also, don't be afraid to mention what are your favorite types of geometric earrings.
Thank you & Happy Styling!
Save
Save
Save
---