Because of their warm color, gold necklaces are the perfect jewelry piece for the spring and summer. However, you can always give it a little refreshed touch by mixing silver and gold together.
In today's blog post we will focus mainly on the beauty and richness of the gold necklaces, therefore, if you like your gold girl, then keep reading! 🙂 We'll explore the latest trends in jewelry and how we can style our gold necklaces so they can look flawless.
Happy Reading!
1. Wear a gold chain for young modern look
The chunky gold chains look very luxurious, attractive and daring, especially when you wear them with a crop top and a pair of skinny jeans.
To get an even more noticeable style you can get jeans with unique details and pair it with a blazer for a more chic young look.
For a modern look wear a golden chain necklace
In addition, the gold chain are very comfortable to wear regardless of their size. They seem like a big choker necklace, which is pretty cool because they are so popular at the moment. Plus, the simplicity of the necklace gives you the chance to accessorize your hands and ears.
Gold necklaces look so fresh and modern
We can easily play around with the gold chain necklace and wear it in a way that will suit our personality and character. You can style it in a chic everyday look, wear it to clubs or for a very diva and bling bling look.
1. Add a bar necklace to your outfit for a minimalist look
These jewelry pieces could be found as a delicate necklace or in a layered version. If you want an everyday easy going style you can go for the single delicate necklace. It will gently accessorize your outfit and give it a modern touch.
For a personalized look add a bar layered necklace
In addition, the bar gold necklaces could be worn with any type of an outfit. You can dress them up for your interview or business meeting or wear them in a casual jeans and t-shirt kind of a day.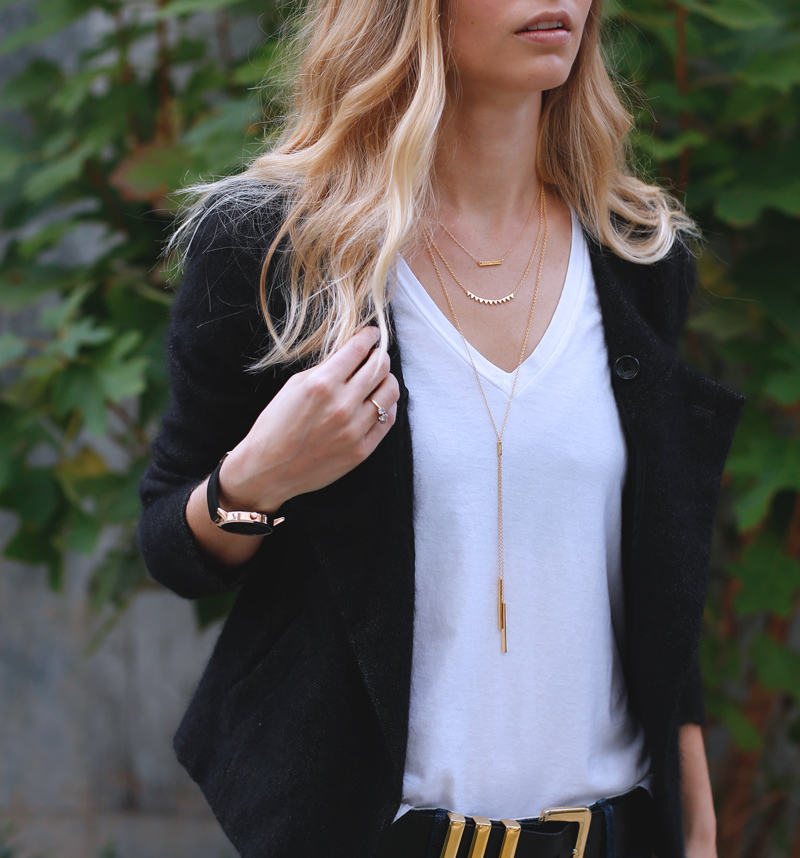 In addition to your trendy looks wear a bar layered necklace
The layered necklaces that have the bar or trapeze detailing are also very feminine and chic. And, you can wear them easily with your casual looks, but it will give you a more fuller and girly look.
Accessorize your outfit with gold necklaces
Left: Hanging Trapeze Bar Necklace in Gold; Right: Layered Lucky Charms Necklace
By Happiness Boutique
Two very trendy and chic necklaces from Happiness Boutique that you can personalize and engrave or wear them as they are for a very feminine and modern minimalist style.
2. Give your look dimension by wearing layered gold necklaces
Layered necklaces have definitely become one of the most favorite necklaces for the top fashionistas. We can spot many fashion inspired ladies to rock them on a daily basis. They are great with simple tops, V-necks, dressy shirt and many more.
Add dimension to your style with layered gold necklaces
Via Pinterest
The easiest way to accessorize a super basic top is by adding a layered necklace. It will give dimension and elegance to any of your tops or t-shirts. In addition, you can wear it all year round and look good every time.
Give interest to your outfit by decorating it with a layered necklace
There are plenty of options when it comes to layered necklaces. You can choose the pendants that go with your mood, beliefs and personality.
Also, you can get a very short one for a more comfortable and girly style or a long one that will beautifully sway as you walk.
Layered necklaces look very attractive with any type of an outfit
Left: Layered Geometric Necklace; Right: Lucky Evil Eye Layered Necklace
By Happiness Boutique
For your simple outfits or trendy moments, don't hesitate to check out these two layered gold necklaces from Happiness Boutique. Very elegant and modern!
3. Gemstone necklaces for an elegant noticeable look
Many ladies enjoy a big chunky necklace with feminine design and fun colors that will give a youthful and joyful touch to their overall look.
The best thing is that these necklaces are great  with chic and elegant outfits, but also a good accessory that could give an unexpected twist to your super basic look.
Brighten up your style with a colorful gemstone necklace
In addition, you can wear similar gemstone statement necklaces in the summer where you can't really layer your clothes because the weather is pretty warm, but you still need to keep a top noche.
Feel free to style similar necklaces with girly and classy tops, black pants or a clean design skinny jeans and give it a little height by rocking your fav heels!
Accessorize your basics with a gemstone statement necklace
Via Pinterest
Besides from being able to make your working or business outfits more elegant you could also wear it with deep V-necks and accessorize your night out classy looks.
Add to your collection a trendy gemstone necklace
Left: Pastel Green Gemstone & Gold Leaves Necklace; Right: Gold Honeybee Statement Necklace
By Happiness Boutique
For all the ladies that like to wear gemstones and necklaces that have a unique and elegant designs, make sure to take a look at these two beautiful and trendy necklaces from Happiness Boutique.
4. Delicate pendant necklaces for your everyday easy going styles
The beauty of the delicate necklaces is their comfortable and timeless design that you can wear with literally any outfit. They are great with chunky sweaters, simple t-shirts, formal outfits or your beach wear.
Make your daily outfits more interesting by wearing a gold pendant necklace
Via Pinterest
In addition, you can compliment your gold necklaces with any type of earrings, stack up your rings for a trendy look or a couple of bracelets to balance out your accessories.
Gold necklaces with pendants look very luxurious and fashionable
Via Pinterest
Also, you can easy style your dainty gold necklaces with turtlenecks and simply leave a little part of the necklace hanging out from your top for a stylish, yet trendy look.
For any of your looks wear a pendant necklace
Left: Heart Pendant Necklace Gold; Right: Half Moon Necklace Gold
By Happiness Boutique
Here are two of the bestsellers this season from Happiness Boutique. You have a cute and feminine heart delicate necklace, which is great for your girly days.
Or, a half moon necklace that is so chic with dressy shirts or in combination with other necklaces to create a layering effect.
5. Wear chokers with gold accents for an attractive look
These is unlimited choice when it comes to chokers. Delicate, statement, metallic or with pendants each one of them has their own charm and purpose. However, the chokers with gold accents and element on them look very attractive, young and stylish.
In addition to your trendy look add a choker with gold accent
Via Pinterest
The ladies that like to be girly, yet sexy you can accessorize your outfits with similar jewelry pieces. The versatile designs of these choker necklaces allow you to play around with your jewelry and wear it day and night depending on your clothes and occasion.
Make your looks more sexy by wearing a trendy choker with gold components
Via Pinterest
Based on the golden element that is part of the necklace, you can style your clothes around the theme of the element.
Chokers always look very sexy
Left: Multi Star Choker ; Right: Half Moon Horn Velvet Choker
By Happiness Boutique
Try to wear a choker with swaying pendants for a fun look or a layered choker that is a perfect add-on to to elegant or casual outfits. It is very easy to dress up or down these two choker necklaces with gold accents from Happiness Boutique.
6. Bandana choker for a different kind of look
Get a very noticeable, trendy, but stylish look by wearing a bandana or scarf necklace in addition to your dainty gold necklaces. Very unique and interesting way to give a different twist to your clothes.
For a remarkable look wear a bandana in addition to your gold necklaces
You can match the bandana or scarf to the rest of your look or go for a contrasting prints and colors. However, try not to overdo this look so you don't end up with a scarf and top that don't match in any way.
The choker bandana in combination with gold necklace is a great combo
Via Pinterest
In addition, you can combine your bandana with a layered gold necklace for a more artsy and fuller style. This is a very popular, trendy and highly liked style that could be worn by any type of a lady.
7. Accessorize with a gold statement necklace for a daring look
Statement necklaces could easily make your look more daring, especially if you pair your jewelry with a fitted and sexy dress. However, they are great even with dressy women's suits.
Gold statement necklace are a great addition to elegant looks
In addition, when you wear a statement necklace you don't need to go for a very detailed dress that is harder to style. Simply throw on a black, red, blue or whatever the color you prefer, then add a little bright lipstick and your necklace and you are all set.
For a noticeable look wear a gold statement necklace
Via Pinterest
Also, statement necklaces are great complimentary piece that could give more interest and sophistication to your all black outfit. Many ladies prefer often to go for an all black look because it is easier to style, looks good every time and it is just so classy.
Gold statement necklaces are a great addition to any elegant look
Left: Unique Golden Chain Statement Necklace; Right: Vintage Style Classy Statement Necklace
By Happiness Boutique
Whenever you feel like spicing up your black-on-black outfits or want to accessorize your glam dresses, don't hesitate to add a necklace from our collection to your jewelry box. These two necklaces from Happiness Boutique could be worn with elegant, formal, casual, or trendy outfits.
8. Boho inspired gold necklaces for the perfect summer look
When it's summer the boho is just a must have. It looks attractive, young, different and free spirited. It feels as if you can make so many different combinations to end up with a truly unique look. The bohemian fashion is almost like the classic look, but for the young.
Add a boho necklace to your beach inspired outfits
Source unknown
You can use your gold necklaces to dress them up and wear them to parties or other special celebrations. Yet, you can wear boho necklaces with your everyday outfits with no effort.
Gold necklace with boho elements are perfect for the summer
Via Pinterest
Again, many options to choose from, therefore you can go for a dangling coins long gold necklaces, for a statement boho necklace, beaded necklaces or any necklace that has boho elements attached on it. Then, depending on the style of the necklace you can pick up your clothes.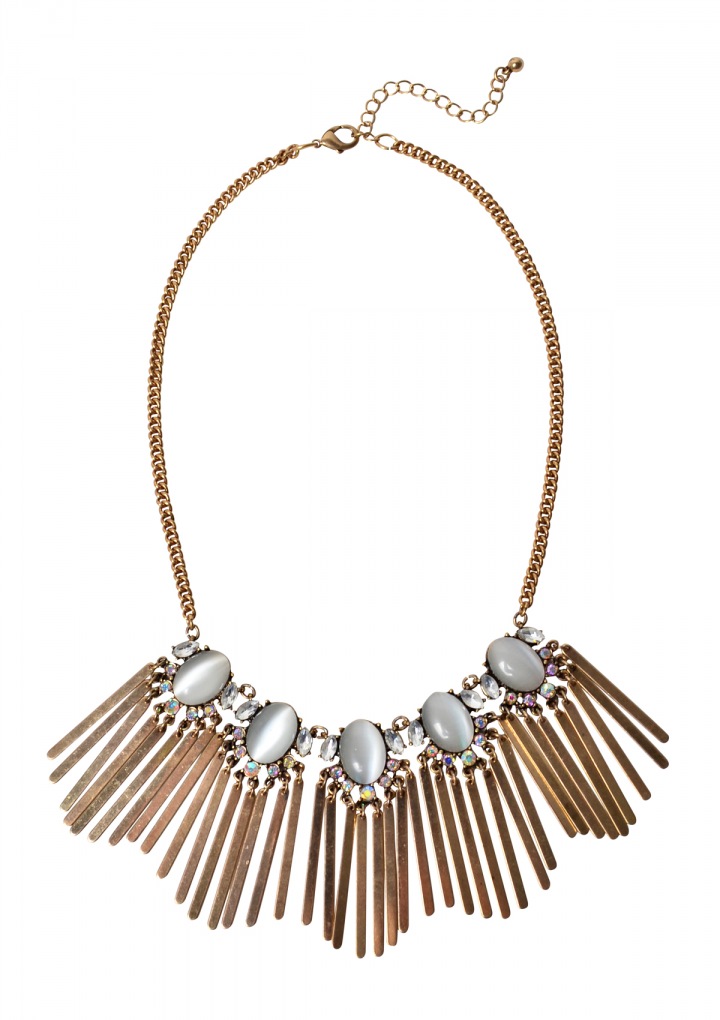 Give a free spirited vibe with a gold boho necklace to your easy going outfits
Golden Rays Bib Necklace by Happiness Boutique
Here, for example, we present to you a statement necklace in gold with very interesting details. It looks like a fringe necklace, which makes it the perfect boho necklace, but at the same time you can make it work for your glam nights, to take your casuals to the next level or even go to work with it.
9. Elegant necklaces appropriate for the stylish and working ladies
The perfect gold necklace that you can rock to work is a long stylish necklace that is very easy to style and comfy to wear. Because of the subtle design you can wear it with monochrome outfits, floral printed tops or clothes with bright colors.
Wear a long gold necklace for a chic look
In addition, you can combine your long necklace with a symbolic pendant with a shorter one to create the very famous and popular layered look. It will enhance your beauty and make your outfit prettier within seconds. So pretty and girly! What do you think, ladies?
Give a chicness to your outfit by wearing a long gold necklace
The long gold necklaces are great to be worn with simple, but elegant dresses. You can decided whether you want your hair down or up in a pony tail. Also, you can add other jewelry pieces to complete your look such as a stack of bracelets or a statement ring.
Give interest to your outfit with long gold necklaces
Left: Tasseled Pink Statement Necklace; Right: Jewelled Tassel Necklace
By Happiness Boutique
In case that you want an elegant, but a little boho inspired necklace for your working, brunch days or gatherings with friends during the weekend, you can select one of these necklaces from Happiness Boutique.
10. Gold necklaces with crystals and stones for an elegant look
Statement gold necklaces with crystals or stone could give us a very romantic, feminine and elegant style. They come in different styles, therefore you can select a piece that speaks to your personal fashion style.
Jazz up your style with crystal necklace
For example, this necklace could be paired with dinner party outfits, dressy looks, girly and elegant outfits that will enhance even more your feminine and gentle side.
Also, try to wear pastel colored clothes and necklace to achieve a more romantic style.
For an unforgettable look wear a layered necklace with crystals
Crystal Wings Y Necklace in Gold by Happiness Boutique
To refresh your elegant look, you can get a long statement gold necklace with a crystal pendant and combine it with a simple choker for a very young and hip style.
In addition to your normal look add a gold necklace with crystals
Left: Crystal Wings Y Necklace in Gold; Right: Black and Pink Velvet Choker Set
By Happiness Boutique
To recreate this look feel free to add to your jewelry collection a velvety smooth choker in black or pink and pair it with a long statement gold necklace to give dimension and layer to your look. These two are from Happiness Boutique - don't hesitate to check them out! 🙂
11. La vie en gold for the gold loving ladies
If you happen to love your jewelries and can't even think about going out without them, then this la vie en gold style could be just for you.
Simply, get a gold necklace, bracelet, ring, earrings or whatever your preferred piece of jewelry is. And, of course, try to combine all of your jewelries to be in the same thematic.
For a sophisticated style wear everything gold
Via Pinterest
This way even if you accessorize with a necklace, ring, bracelet and earrings, it won't look tacky but rather as a jewelry set that it is meant to be worn together. Plus, it is very easy to pull together.
In addition to your trendy look wear gold jewelry set
You don't always have to go for the full look, but as you can see even if you have only statement pieces with lots of details look pretty good.
These jewelry sets are very effortless to style with simple outfits that you wear on a daily basis or a weekend look that you want to accessorize in a stylish way.
Finally, I hope you enjoyed these styling tips and outfit ideas that would perfectly go with your gold necklaces. In addition, don't hesitate to try out new styles for this season because it is always better to try new things in the spring and summer.
Also, feel free to let us know in the comment section if you tried some of our suggestions, and if not, would you like to give a chance to some of them. Also, you can share your favorite types of gold necklaces with us!
Thank you & Happy Styling!
Save
Save
---