Jewelry Gift Ideas for the Holidays
In the spirit of the upcoming holidays here are some jewelry gift ideas that could be in fact appropriate for all kinds of celebrations during the year. It would be helpful to know what we can get our loved ones,and this is why in this blog post we will share some jewelry gift ideas.
After reading this article hopefully you will also feel more confident on what to buy for family and friends or for someone special that you would like to surprise or bring joy to their life through a little gesture.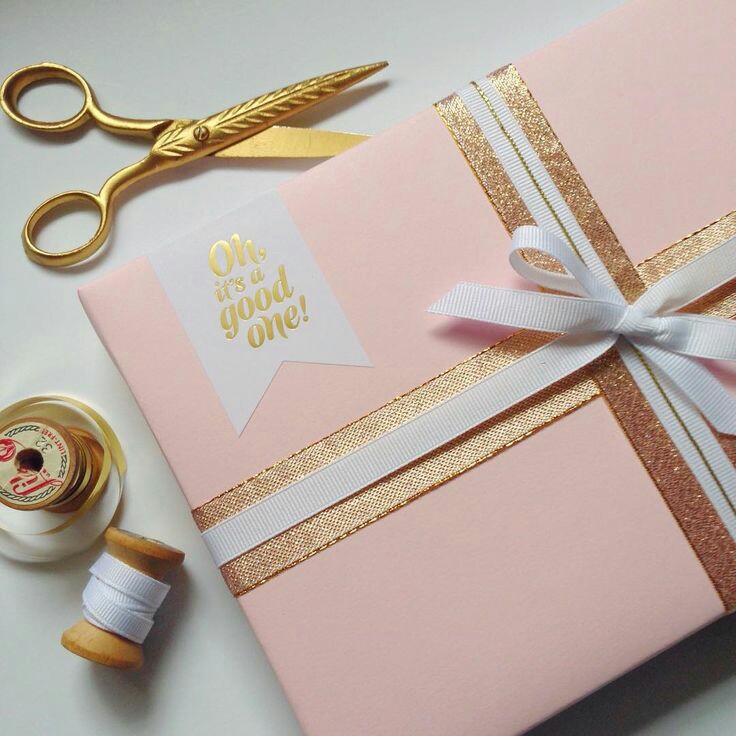 Get ready for the holidays with a cute wrapping and fashionable jewelry
Via Pinterest
Who doesn't like to receive gifts, especially during the holidays? The important thing is to pick up the appropriate piece for the occasion. Also, you can always give a gift for no reason or no occasion, which is very romantic and spontaneous, and the ladies appreciate it.
I hope you will find these jewelry gift ideas informative and useful!
1. Jewelry gift ideas for a personalized style
More often we see necklaces, bracelets, and even rings with engraved messages where you can "tag" your receiver. For example, a necklace with a pendant that is possible to carve your personalized message. Or, a bracelet with lucky charms that allow you to put on your message. In this case, you show the person that you took the time to think of a message and to go engrave the chosen piece and then put in a beautiful package.
In addition to your casuals add a personalized pendant necklace
Plus, pendant delicate necklaces are very trendy and fashionable at the moment., therefore they will make the perfect jewelry gift idea. Also, you can style them easily with different kinds of clothes so if you are not sure about the style of the person you can still pull it off.
Bar pendant necklaces for a personalized look
Also, you can choose from a circle pendant or a bar pendant because both of them are very elegant and stylish.  Minimalist inspired and subtle pieces are definitely a must have for the season, therefore if the receiver of the gift is following the fashion trends or not, it will still look very good.
Layered necklaces for a fashionable style
Left: Lucky Charm Necklace; Right: Simple and Elegant Layered Necklace by Happiness Boutique
If you already fell in love with this cool and personalized look feel free to check out these amazing layered necklaces from Happiness Boutique because they are great to be in your jewelry gift ideas checklist. Furthermore, you can engrave the circle pendant of the layered lucky charm necklace or the bar pendant of this elegant layered necklace.
2. Wrap chokers for a fashionable look
If the person that you intend to make happy during the holidays or for other celebrations likes to be trendy and fashionable, then what a better way to make her happy than a set of cool and funky wrap chokers.
In addition to your trendy clothes wear a wrap choker
Via Pinterest
Wrap chokers are very versatile and you can style them in a way that suits your personal taste and this is why it is a good jewelry gift idea. Plus, they don't look over the top or very extravagant.
Wrap chokers and off the shoulder top for a super trendy look
Via Pinterest
As you can see, wrap chokers could be appropriate for any type of a lady and no matter of her style. They could be worn for a stylish, casual, chic or extravagant looks.
For an ultimate trendy style wear wrap chokers
Left:Timeless Wrap Choker  ; Right:Happiness Wrap Choker by Happiness Boutique
These timeless pieces could be a great gift idea since they are so adaptable to any style and could fit any type of a lady. Just wrap them in a nice paper or gift box and your receiver would definitely appreciate it!
3. Hoop earrings for an elegant style
Hoop earrings are also great to be put in your jewelry gift ideas list because they come in different sizes. Therefore, they are great for girls and ladies of all ages and fashion styles. Also, they could be appropriate for school, work, business meetings or your leisure time to spice up your looks.
In addition to fashionable outfits put the hoops in your jewelry gift ideas list
Via Pinterest
The fashionable ladies would definitely be happy to receive a pair of elegant hoop earrings because they are a great add-on for professional attires, extravagant styles, night-outs or to make your basics more trendy.
Look trendy with a pair of hoop earrings
source
On the other hand, smaller sized hoops are great for all the ladies out there so if you are not sure you can always get a beautiful pair of subtle hoop earrings as a gift.
Geometric hoops for a minimalist inspired look
Left:Bold Hoop Earrings ;Right: Modern Hoop Earrings by Happiness Boutique
Feel free to check out this great pieces by Happiness Boutique because they are very versatile and suitable for any style. These minimalist-inspired earrings will give your look a personal touch and a modern vibe.
4. A set of jewelry for a complete look
Get a set of jewelry such as a necklace that matches with a pair of earrings for a complete and stylish look. This way your gift will look very full and thoughtful.
Wear a set of jewelry for a perfectly matched look
Via Pinterest
For example, here we have a delicate necklace with a pendant that matches with a pair of earrings that will sparkle as you walk around. Pair such a set with casual or dressy outfits because of their simplicity and discreteness.
Earrings with a victory sign and necklace for a cute and girly style
Left: Victory Earrings; Right:Victory Necklace by Happiness Boutique
If you believe that only one piece would not be enough, then a set of jewelry is the perfect idea! Just put them in a lovely jewelry box and add a gift card to complete the whole gift. These subtle, yet stylish earrings could be worn by all age ladies with any fashion style. Also, if you prefer there are victory earrings in rose gold that match with a rose gold victory necklace again from Happiness Boutique.
5. Colorful earrings for a sophisticated look
In case you decide to go for a pair of statement earrings you have probably seen the person wearing similar earrings. Statement earrings can look very majestic and sophisticated depending on the outfit. For example, you can make your look more sophisticated by accessorizing with such earring or make it more girly and stylish when paired with a rather casual clothes.
Big earrings for a confident and sophisticated look
Via Pinterest
These pieces are very elegant and will definitely make a statement to the look. Don't hesitate to make yourself a gift for the hard work that you do and spoil yourself a little. There is no doubt that you will fall in love with such pieces.
In addition to your trendy outfit add a pair of colorful earrings
Endless options to choose from, therefore it won't be a problem to find the right pair for the person that you want to give them to. This is a great jewelry gift idea because these colorful earrings will brighten up the person's day and give a truly unique look when paired with an outfit.
Statement earrings for a perfect holiday jewelry gift idea
Left: Ecstasy Statement Earrings Middle:Pastel Colors Statement Earrings Right:Royal Statement Earrings by Happiness Boutique
Also, when in doubt which piece to get you can combine different kinds of pieces to make sure that at least one will be liked very much. As you can see from the photo, you can combine a rather subtle pair of classic black earrings with more colorful pieces such as this elegant royal pair of earrings and a feminine pair of pastel earrings. Put them in a pretty and cute box with a personalized message card and you are all set!
6. Trendy cuff bracelets for a stylish look
If you know that your receiver wears a watch, then it is the perfect time to get them a stylish bracelet that could be worn in combination with a watch since this is a huge fashion trend at the moment. It looks very elegant and stylish on the hand. Also, it is so easy to style and combine with other jewelries.
Add a cuff bracelet to your look for a stylish wear
It is guaranteed that if you decide to go with such a jewelry gift it will be appreciated very much. The fine details and stylish design will look absolutely amazing no matter of the outfit. These subtle bracelets could be worn with professional outfits, trendy or casual looks because they are very delicate and minimalist.
Minimalist bracelets for a fashionable and easy to style look
Minimalist Silver Bangle by Happiness Boutique
This minimalist silver bangle from Happiness Boutique is also available in gold, therefore depending on the style and preferences of the person you can choose from silver or golden. The minimalist bangles in combination with a watch look very elegant and fashionable. Plus, this style is very trendy at the moment so you can make happy the receiver by giving her a trendy piece such as this bracelet.
7. Statement bracelets for a feminine look
On the other hand, you can surprise your best friends, colleague, family member or girlfriend with a very feminine and stylish piece such as a statement flowery bracelet. Chunky bracelets will definitely make a statement to your look and be the focal point of your outfit. 
Sparkling bracelets for a feminine look
Pink Statement Necklace by Happiness Boutique
This pink statement necklace is very detailed, yet so stylish and feminine. It will sparkle as soon as the sun reflects in it and it will make the outfit very elegant and completed. This piece is great for all the ladies with class and passion for fashion. Who can resist to those pastel colors?
Give sparkle to your outfit by adding a statement bracelet
Glam and Glitter Statement Bracelet by Happiness Boutique
The glam and glitter statement bracelet looks perfect in combination with a watch. If you know that the lady who is receiving such a bracelet like her jewelry to sparkle and glow then you are definitely choosing the right item. It could be worn with dressy, monochrome or casual outfits with easiness.
In addition to your bracelet add a matching necklace
Love Story Statement necklace by Happiness Boutique
If you'd like you can always get the person a matching necklace to complete this stylish and feminine look. For example, the love story statement necklace perfectly goes with the glam and glitter bracelet. If you combine them together you can surprise the person with a very feminine set of jewelry.
8. Sparkling jewelry for a romantic look
Speaking of elegance and sparkles, if you are celebrating an anniversary or any other special occasion that calls for some elegant and romantic jewelry feel free to give your receiver a pair of beautiful glowing earrings or a sparkling statement necklace.
Add a statement necklace for a romantic look
Snow White Statement Necklace by Happiness Boutique
For example, this lovely and feminine snow white statement necklace could look great with any style and this is what makes it so great for a gift. This flower design is very elegant and feminine and there is no doubt that you will regret this purchase. You can give it while on a romantic dinner or any type of romantic atmosphere.
Sparkling necklaces are great to be given as a jewelry gift ideas
Glam and Glitter Statement Necklace by Happiness Boutique
Don't you just love this glamorous and glowing necklace in combination with a big bouquet of flowers? This makes the perfect gift for a special lady. You can wrap the necklace in a beautiful paper and put it in a box so it looks very stylish and luxurious. Plus, by placing this stunning piece in a box and wrapped in paper will keep the surprise and mystery for longer.
Pastel colored necklaces should definitely be in your jewelry gift ideas checklist
Shine Bright Statement Necklace by Happiness Boutique
Another suggestion for a shiny bright statement necklace is this beautiful pastel colored statement necklace that will also fit any style and any lady. Great to be worn with professional outfits, a romantic cocktail dress or dressy outfits. Feel free to add to your lovely necklace some others essentials that will compliment the necklace. For example, a set of makeup or other accessories.
9. Delicate necklaces for a girly look
Necklaces that are delicate are such timeless and classy pieces because they can always be paired with your outfits.  In addition, they are so versatile and delicate that there is no doubt that the receiver would find a way to style them.
Dainty necklaces make the perfect jewelry gift for the holidays
Discrete necklaces could still make a statement to your look, especially your black on black outfits, regardless of their size. These pieces look very trendy and stylish. If you want to make someone happy during the holidays you can get one, two or even three necklaces that you find are a good combo. Layering different kinds of necklaces is also very trendy and a popular way of wearing similar necklaces. 
In addition to your in style top wear a delicate necklace with a pendant
Or, this type of necklace could be worn with very detailed tops and still look good. A very girly and delicate style that is great to be worn at school, work and even with night-out looks.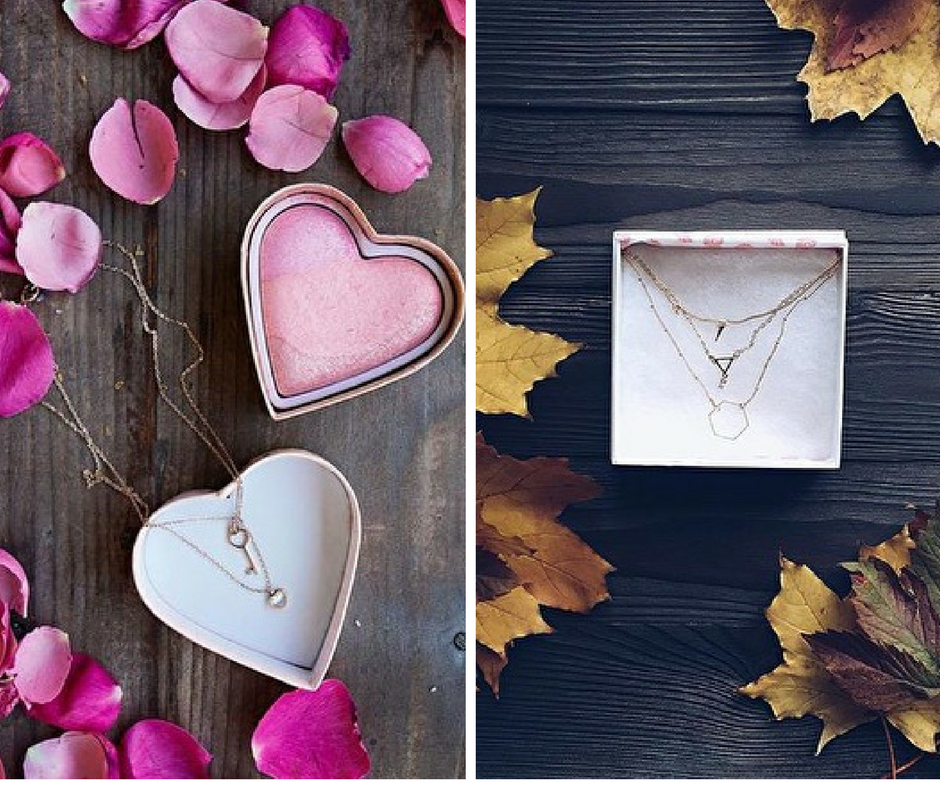 Wrap your jewelry gift idea in a pretty box
Left: Key Delicate Necklace; Right: Layered Delicate Necklace by Happiness Boutique
Wouldn't you love to receive your gift in such a packaging? Make your special person even more special by surprising them with either a beautiful and girly key and heart delicate necklace or a layered delicate necklace, where the person who receives could wear it as a layered necklace or wear each necklace separately.
Delicate necklaces with pendants for a girly look
Make sure to check out these gorgeous pieces by Happiness Boutique because they also could make the list of jewelry gift ideas for someone special since they are so sparkly and trendy. Feel free to look at the other delicate necklaces offered by Happiness Boutique because there is a wide range of options you can choose from.
10. Fashionable rings for a distinctive look
Last, but not least, fashionable rings also make a great gift idea, especially if you know that the person wears rings. Currently, the minimalist-inspired rings are very popular and also the sets of rings to create the stacking effect that has been worn by the most famous fashion bloggers and celebrities.
In addition to a warm sweater fashion rings are great jewelry gift ideas
Via Pinterest
When in doubt what kinds of different rings to get you can get an already assembled stack of rings to give it to someone special. Furthermore, these rings are absolutely stylish and trendy, therefore there is a big chance that the receiver would like them very much and enjoy styling them.
In addition to your trendy necklaces add a couple of fashionable rings
Via Pinterest
Or, you can get a couple of rings that match a necklace for a complete trendy look. Minimalist-inspired jewelry are so easy to style and it is possible to wear them with all kinds of outfits. 
Delicate rings make the perfect jewelry gift ideas
Left: Heart Bouquet Ring; Right: Minimalist Pearl Ring by Happiness Boutique
Cut Out and minimalist are very popular and trendy at the moment. Also, if you want to get a similar look for your special person feel free to check out some pieces by Happiness Boutique. They are effortless to style and so girly and classy.
I hope these jewelry gift ideas were helpful and inspiring. Hopefully, you will be able to easily choose a gift for your special person. And, make them happy during the holidays or no matter of the special occasion.
Happy Shopping!
Save
Save
Save
Save
Save
---