New Trend Lariat Necklace
Have you seen this cool lariat necklace on the cat walk fashion show? In case that you are not familiar with this type of a necklace, the lariat necklace looks like a long rope that doesn't have a clasp.
Also, the way to close your necklace is either by wrapping it around your neck, if it's a choker kind of a necklace, or you can loop it, or knot it in a way that will beautifully drap without coming apart.
In addition, lariat necklaces come in different material, texture and could be appropriate for all types of ladies. They are great to be worn at work if made from gold or silver. Or, you can rock them casually or for festivals if they are made from faux suede.
I hope that you like this style and hopefully you will find these styling tips interesting and helpful. Don't hesitate to share with us your favorite styles in the comment section below.
Happy Reading!
1. Wear your lariat necklace to work for a chic style
It could be very hard for a busy working lady to be able to style her working outfits in a trendy and chic way every day. However, it is possible with just a small detail as the lariat necklace to make this happen. Simply, throw on a buttoned up fitted shirt and a pencil skirt.
Lariat necklace in addition to your working outfits is a great combo
In addition, if you want to spice up your normal professional looks, then you can go for a more girly, see through, ruffled or any other special detailing dressy shirt. Also, by adding a cute fedora hat and a trendy handbag could help you to enhance your old outfits. 
Wear a lariat necklace in addition to your professional looks
It is possible to combine your lariat necklace with a couple of rings or a delicate bracelet to complete this trendy, modern and business look. Feel free to give height to your style and elegance to your appearance by wearing comfortable heeled shoes.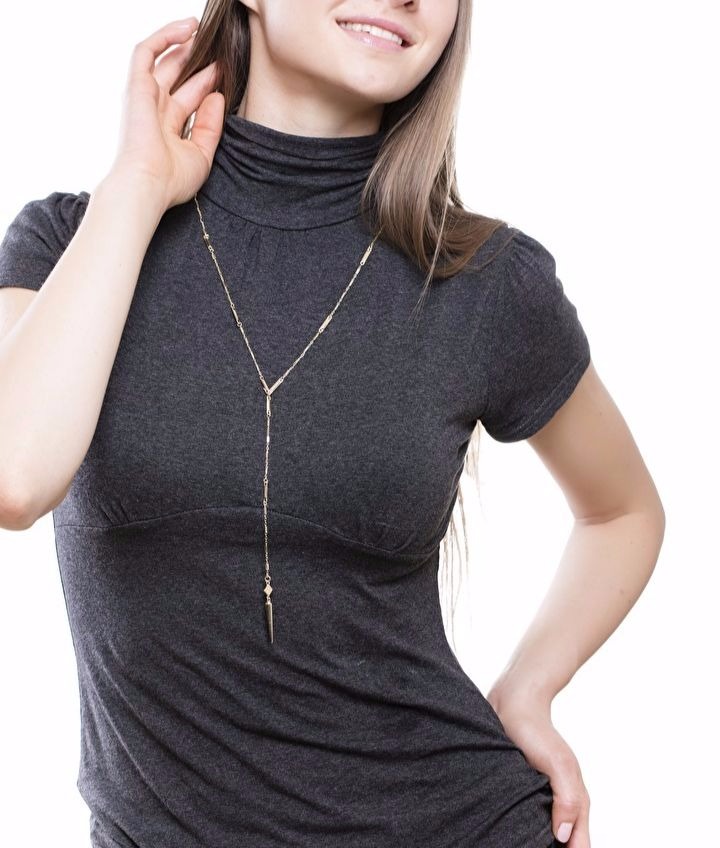 Give chicness to your dressy outfits with this modern lariat necklace
Long Glamour Y Necklace with Hanging Charm
By Happiness Boutique
This Y necklace from Happiness Boutique is a great add-on for working outfits because it is long, yet delicate enough to be appropriate for the working environment.
2. For a feminine look wear a dainty lariat necklace
For all the feminine ladies that like to show their passion and gentle side through clothes and accessories then these following styling tips are just for you. Many of us ladies like to feel sexy, wanted and confident when we wear our outfits, therefore get yourself a flowy dress and a lariat necklace to do so.
In addition to your feminine style wear a dainty lariat necklace
Lariat or Y necklaces are very delicate in most cases, but their appearance is so powerful. It will instantly transform your oldies or enhance your newbies and make them much prettier. Also, try to wear your hair down if you want a more attractive look, because it is simply better when your hair is blown by the wind.
Dainty lariat necklaces look so modern and chic
For a feminine style you can also go for floral prints or more light colors, especially in the spring and summer. It looks very appropriate and trendy. You don't always have to show too much skin or to wear skirts and dresses to look feminine and sexy. It is all about your attitude and posture.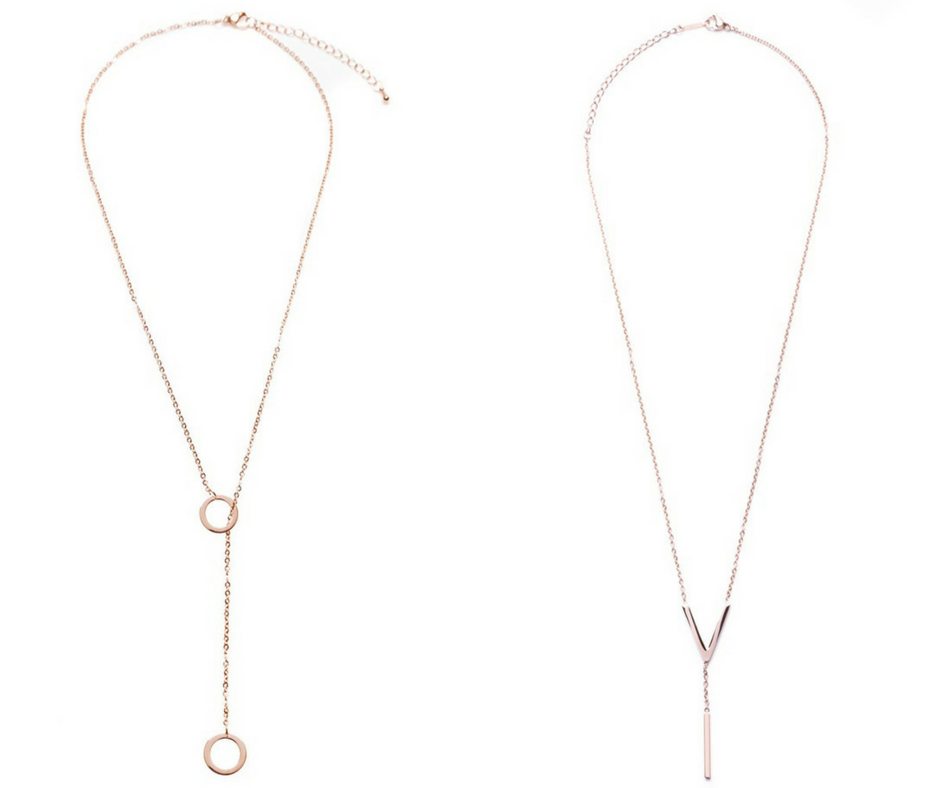 Any of these two lariat necklaces will accessorize perfectly your outfits
Left: Play Circle Necklace Rose Gold; Right: Delicate Y Necklace Rose Gold
By Happiness Boutique
These two trendy necklaces from Happiness Boutique will definitely help you to achieve a very girly and delicate look. Just don't forget to wear girly outfits such as ruffles, flower prints, girly and pastel colors and lace.
3. Accessorize your summer looks with a lariat necklace
As the summer is approaching, there is no doubt that we can't stop thinking about our comfy summer looks. No need to layer, no need to check the weather, we just know that we need this airy top and some shorts.
In addition to your cute summer style add a lariat necklace
Via Pinterest
Since it is not quite possible to layer up during the warmer days and our outfits could get a little boring, then the best way to go is by accessorizing. Try to add to your collection a lariat necklace to make your summer outfits more eye-catching and interesting.
Lariat necklaces look so attractive
If you want more accessorized look, don't hesitate to layer your lariat necklace with other dainty necklaces. If we are not able to layer clothes the least we can do is to play around with our jewelry pieces and hairstyles.
4. Give dimension to your style with a long lariat necklace
Long necklaces always look great when paired with more chic, glam, dressy or fashionable outfits. They will give your look dimension, interest and elegance right away. Plus, no matter of your clothes they would always look appropriate because of their simplicity.
For a stylish look wear a chunky lariat necklace
Source Unknown
However, they are also perfect with monochrome outfits because they will slightly dangle as you walk around, which is perfectly enough as accessories, especially if you are trying to achieve a more clean and classy style. For example, it is great when you combine it with a dressy suit or a classy and elegant jumper.
In addition to your stylish outfit wear a bold lariat necklace
In addition, these long pieces of jewelry could be a great add-on all year long because they go as well with special occasion outfits as with day to day looks that need that touch of modernity.
For example, if you have many sweaters and you are bored of them, this little touch of the lariat necklace could change the whole intention and appeal of the sweater.
5. Wrap choker as lariat necklace for a trendy look
Of course, the lariat necklace trend is not just in silver or gold. You will be able to find lariat chokers for a super trendy, festive, everyday or glam looks. These versatile chokers could literally be styled with any type of an outfit if you get creative with it.
In addition to your normal looks decorate with a wrap velvet choker
The soft velvet touch of this lariat choker will keep you comfortable, but at the same time will supplement your look in a very attractive and modern way. These chokers could be worn by any type of a lady and to any kind of occasion.
Use your wrap choker as a lariat necklace for a remarkable style
When wearing such a choker don't be afraid to add other jewelry pieces. The trick is to check if your lariat choker has any metal parts on it. For example, if the ends of your choker are in silver, then it is better to wear silver bracelets, earrings or rings. And, the same goes if your choker has golden parts on it.
Make your outfits more attractive and modern with these chokers
Left: Happiness Wrap Choker; Right: Timeless Wrap Choker by Happiness Boutique
These two wrap chokers from Happiness Boutique are a great to create the above looks and make any of your styles more outstanding and modern. Feel free to leave the strands hanging or wrap it more around your neck for a fuller look.
6. Give interest to your casual looks with a delicate lariat necklace
Any of your day to day outfits would look much better when accessorized with a lariat necklace. There is no type of style or the lariat necklace, because it is pretty adjustable and flexible piece of jewelry that you can wear with the most casual t-shirt to a shirt.
Lariat necklaces in addition to casual looks are super cute and trendy
Also, feel free to stack up different kinds of delicate necklaces that have a different length to create the perfect layered look, which is so hot at the moment. You can also stack your cuff bracelets and you are ready to hit the streets in a very cool urban style.
Make your casuals more remarkable with a lariat necklace
Via Pinterest
As you can see this white plain t-shirt look so much better when paired with a lariat necklace. If you want a more easy going and relaxed look you can add some boho inspired bracelets in addition to your wrap cuff bracelets and end up with a truly unique style.
7. Layer up your lariat necklace for a fuller look
As we speak about layering and trends, of course, we need to mention the layering trends, which is absolutely amazing and attractive.
You can add as many as you want fine necklaces and never look tacky. They are so delicate and feminine that you will fall in love with these jewelry pieces right away.
Layered lariat necklaces are so awesome
This very modern style to wear jewelry is however appropriate for different kinds of ladies. For example, if you have a special occasion coming up you can get yourself a deep V-neck dress and embellish your naked skin in a very stylish, sexy, yet elegant way. It is also perfect for the beach.
In addition to your V-necks add a layered lariat necklace
On the other hand, if you are a working lady that liked her buttoned shirts, feel free to add one or two short delicate necklace in combination with your lariat necklace for a very sophisticated and even conservative style. And, this is what makes it great for the office and the business meetings.
8. Boho inspired lariat necklaces for a free spirited summer look
If you have already planned your summer vacation, then all you have left is to add to your accessories a boho inspired lariat necklace.
This could be a trendy choker or a Y necklace with symbolic stones. The boho fashion is all about symbolism, freedom, natural elements and the free spirit.
For the summer add a boho lariat necklace to your collection
Via Pinterest
For example, this beige lariat choker with an interesting element in the middle and at each end, which makes it the perfect boho choker. You can wear it with your beach wear, simple tee or tank top or to accessorize your night out boho looks. It is very versatile and trendy!
Symbolic stone lariat necklace in addition to your boho style for a free spirited look
Via Pinterest
Another way to go is by wearing a Y necklace with symbolic stones. Again, the stones are in a very settled and earthy tone, which is a key component when it comes to the bohemian fashion.
However, it is even more appropriate for night out looks than the previous choker. Don't be afraid to get creative with your jewelry and make them suitable for all occasions.
9. Lariat necklaces with geometric shapes for a super modern look
For a very minimalist style you can embellish and make your outfits more interesting with a delicate lariat necklace with geometric shapes on it. This is another trendy look that you need to put on your shopping list because it looks so awesome! Super modern and cool.
For a modern look wear a geometric lariat necklace
Source Unknown
In addition, it is possible to wear this type of lariat necklaces with very colorful and printed outfits that we like to wear in the spring and summer. Yet, it is very appropriate for monochrome looks that we wear at the office. So if you have a similar necklace you can rock to any place.
Make your daily outfits more remarkable with a geometric lariat necklace
Or, if you decide to go for a sparkling and girly geometric lariat necklace, you can wear it to the office, but try not to add other jewelry pieces so you don't look over accessorized.
In contrast, if you are going to a cocktail party, wedding, prom or birthday celebration don't hesitate to add a couple of sparkling rings in addition to your geometric lariat necklace.
Aren't these two lariat necklaces so modern and feminine?
Left: Geometric Lariat Necklace; Right: Minimalist Necklace Silver
By Happiness Boutique
These two fine lariat necklaces from Happiness Boutique are with geometric shapes and will make your outfit much more modern and trendy. You can wear them in combination with other necklace or solo because both ways look amazing.
10. For a red carpet inspired look wear an embellished lariat necklace
Very elegant and special occasion looks are great with embellish with tiny rhinestones and crystals lariat necklaces. As you can see many celebrities on the red carpet show their preference for this piece of jewelry.
Lariat necklaces are great for your red carped inspired outfits
Via Pinterest
The lariat necklace is a must have, especially if you have a big V décolleté because it will accessorize the naked skin in a very feminine and elegant way. There are many different types and lengths that you can choose from so just try to match it with the design of your dress.
Special occasions and lariat necklaces are a great combo
Via Pinterest
You wear this style with your hair up or down, based on the look that you are going for. Also, feel free to add a matching pair of glam earrings to complete your shine bright like a diamond look. Stay classy and extra sparkly!
Glam up your style with this crystal Y necklace
Crystal Wings Y Necklace in Gold by Happiness Boutique
The crystal wing Y necklace is great for glam nights because it is topped off with shiny crystals that will illuminate your style in a very stylish way. Don't hesitate to check it out! 🙂
Give freedom to your imagination and bring out your elegant, trendy, cool, fashionista, glam or boho vibes with the lariat necklace. One is certain, this jewelry piece is going to stay so don't forget to add it to your shopping list!
Finally, I hope you enjoyed these styling tips and ideas on how to wear a lariat necklace. If yes, don't hesitate to leave a comment of what is your favorite way to wear a lariat necklace. In addition, let us know what kind of a lariat necklace do you personally like to wear the most.
Thank you & Happy Styling!
Save
Save
Save
Save
---