Who can resist to the beauty and elegance of the long earrings? They are so rich in texture, design and style that even your most casual and basic outfit could instantly turn into a prêt-à-porter look from the fashion show podium.
In today's fashion blog we will explore different in length and style long earrings that will make you fall in love right away.
However, these styling tips are not only based on super long impossible to wear on a daily basis earrings, but a rather mix of different styles. 
Long earrings always look very seductive and chic
These amazing jewelry pieces could be worn with literally any style. The trick is to color coordinate them accordingly and pick up the right size. A great rising trend that is just here to help us easily make any of our looks flawless and stylish.
I hope you will enjoy these following styling suggestions!
Happy reading!
1. For a cool hipster style wear long statement earrings
Let us begin with one of the coolest style in today's blog post. The hipster inspired outfit that is perfect for the more "out of the box" thinking people. In addition, this look is great if you are still a student or working something related to fashion.
In addition to your street style inspired outfit add a pair of long earrings
In this case you can wear your favorite comfy and even a little slouchy outfits. A cool embellished pair of jeans for a unique wear.
After all, these patch, embroidered and embellished with gems and crystals design are so interesting and catchy. Then, just add a top that is appropriate for the season and the occasion.
Jazz up your looks by wearing long colorful earrings
In addition to your long statement earrings, feel free to other jewelry pieces such as a stack of delicate necklaces, especially if you are wearing a V-neck top.
Your long earrings could be colorful or monochrome, depending on your personal taste.
Make any of your looks more interesting by adding a pair of long earrings
Left: Summer Days Statement Earrings ;Right: Gemstone Splash Statement Earrings
by Happiness Boutique
For your casual, yet hipster days don't hesitate to add a pair of colorful long statement earrings to make your days brighter and looks more festive and trendy. These two pairs are from Happiness Boutique and they are just so awesome!
2. Long earrings and chic outfits for a stylish look
All the ladies that like to keep it neat, chic and classy you can still take advantage of this wonderful long earrings trend. Especially if you pick up monochrome earrings that will simply enhance your outfit.
For your chic outfits you can wear long earrings
What a better way to make your all black outfit more interesting and complex than by adding some statement earrings. In this case, you don't need to go for super long earrings, but it is however nice if they are more visible and chunky.
In addition to your fashionable outfits wear long plated earrings
Via Pinterest
Or, based on your overall outfit, a pair of silver or golden plated earrings with some dangling elements is also a very chic option.
This is a great choice because it doesn't look very serious and professional, yet you end up with a very elegant look.
3. Skinny jeans and long earrings for a casually chic look
Our all times favorite everyday look is a top paired with jeans. Most people that we see on a daily basis or cross on the streets of our city wear jeans.
Jeans are such a convenient clothe because we can style our pants according to our mood, character and occasion.
Long earrings are perfect for your casual days
In addition, jeans could be worn with almost any type of earrings and for this reason they made it to our listing today. Just throw your favorite top, a pair of jeans and finish off the look by adding some long earrings. It is the perfect finishing touch.
Accessorize your casual outfit with a pair of long earrings
Abundance of styles and designs. Therefore there is no chance that you won't find the right pair for you. When we say long earrings, we don't mean excessively long - we just want to say longer than your studs or statement delicate earrings. 🙂
Decorate your normal look with a pair of remarkable earrings
The best thing is that you can wear such jewelry pieces with hairstyle and still look super sharp and sleek. In addition, these earrings are particularly great for the busy ladies that need the perfect accessory on-the-go.
Pretty earrings appropriate for any of your looks
Left: Summer Days Statement Earrings ;Right: A Beautiful Day Statement Earrings
by Happiness Boutique
Here are two very eye-catching pairs of earrings from Happiness Boutique that would perfectly compliment your jean outfit obsessions.
In case you don't "have" anything to wear in your wardrobe at least these beauties can jazz up anything you pull out of that closet.
4. For a creative and daring look wear street inspired outfits
Anyone who likes to attract people's attention through fashion, then these following styles are for you. Street style inspired outfits are always so interesting to watch and get inspiration from because it is a truly unique style.
Fashionable earrings go well with street style inspired outfits
For example, a velvet ensemble that you can pair with these so trendy sneakers and a small purse to keep your essentials. Of course, as for accessories feel free to add a soft velvet choker and a big pair of earrings.
Oversized earrings are great if you want to make an impression
Another way to show your passion for the street style is by going with some oversized long earrings. They are completely enough to transform your look instantly into a very catchy and exceptional look. Of course, don't forget the red lipstick! 🙂
Messy buns and long trendy earrings for your creative looks
If you happen to have an already amazing outfit, then pull up that gorgeous hair and show your long drop earrings.
Long earrings are especially good with pulled up hair because sometimes they could get tangled but if your hairstyle is pulled back you are just simply able to show to them to the world.
5. Wear a pair of long earrings at your wedding day
In case your special day is already on your agenda and you are debating on what kind of accessories to go for, then these might be very interesting for you.
These long earrings are so elegant and classic, especially if you have an off the shoulder wedding dress.
Long crystal earrings are always appropriate for weddings
Via Pinterest
To be more comfortable feel free to make a cute hairstyle with your hair being up. This is a great choice for the ladies who like a very feminine and soft touch to their look. In addition, I would suggest to go for a long dress because they are more appropriate for a classy elegant look.
Make your special days unforgettable with a pair of long earrings
Via Pinterest
Also, if you don't want to go for an open décolleté at the front you can wear a dress with an open back. Then add a pair of long earrings that will beautifully compliment your dress.
Chunky long earrings could make any wedding dress more elegant
Via Pinterest
Having long statement earrings means that maybe you should focus on more simple and basic hairdo so you can accentuate your accessories.
In addition, if you prefer to include other jewelry pieces such as a bracelet, try to mix and match all of your jewelry pieces. This way you can avoid of being over accessorized.
Crystal earrings are the perfect add-on for any bride
Left: Crystal Clear Statement Earrings; Right: Radiant Light Statement Earrings
By Happiness Boutique
For your special day you can for long glowing and sparkling earrings that will make your wedding look much more elegant and chic. For example, these two crystal pairs from Happiness Boutique.
6. Statement earrings appropriate for a prom night
Another special occasion that could be accessorized with a pair of long earrings is prom. Prom nights are very special to every girl.
Therefore it is important to look elegant, yet distinctive from anyone else. If you decide to wear a strapless dress the long earrings would be just the perfect choice.
Prom dresses and long earrings for an elegant style
Via Pinterest
To get a more completed look you can always match your earrings to your shoes. These long pieces of jewelry could be the statement of your whole prom outfit if you have a single colored dress.
In addition, add a small clutch that could also match your shoes and other accessories and you are all set for your unforgettable night.
Add chunky long earrings to your princess dress
Via Pinterest
Princess inspired dresses are also very suitable to be combined with a long pair of earrings. This style is very majestic and glamorous, therefore no matter of your choice of earrings it would still look very chic.
Sparkling earrings are always a good option for the prom night
Left: Flawless Luxury Chandelier Earrings; Right: Royal Ambition Statement Earrings
By Happiness Boutique
Here are two options from Happiness Boutique that could be appropriate for a prom night. Very elegant and stylish, they will definitely make your dress more outstanding and fashionable.
7. Accessorize your glam outfits with a pair of long earrings
Decorate your glamorous looks with a pair of long earrings. Try to focus on longer, rather than chunkier earrings for a more sophisticated style. Here, any type of hairstyle could be suitable.
Long delicate earrings in addition to your glam and sexy look
For example, a sequined dress with a deep V-neck that looks very attractive, yet elegant is perfect for a special occasion or celebration. Feel free to only wear your long earrings and make them your accent part of your outfit.
Delicate long earrings are a great addition to your glamorous outfits
Left: Peacock Tassel Earrings; Right: Crystal Quartz Drop Earrings
By Happiness Boutique
Here are two pairs of earrings from Happiness Boutique that could look very stylish with a glamorous night out dress. In addition, these earrings could also be combined with your casual chic or working attires.
8. Statement pearl earrings for a super chic outfit
To get a very classy and trendy look try to get a pair of long pearl earrings. Pearls can always look appropriate with your outfit. However, if you need a pair of remarkable jewelry pieces focus on super long and fashionable ones.
Pearls never go out of style
Via Pinterest
Also, these earrings are perfect for elegant outfits or even more simple ones where you can let your accessory to be the focal point of your looks.
However, if you need a look that is style Carrie Bradshaw you are more than welcome to try something similar.
Pearl statement earrings for a sophisticated look
Via Pinterest
Duster earrings are always a good idea for more special and glam looks. Yet, if you have a Christmas party at work or a birthday celebration they could also be suitable.
Based on the design of the items you can style your hair in a bun or leave it in a very sleek and neat way down.
9. Outstanding earrings for a careless summer look
One of the most outstanding, free spirited and catchy are the long boho inspired earrings. They can be as long as you like and on top of that you can add as much jewelry pieces as you want because the gypsy style is all about being over accessorized.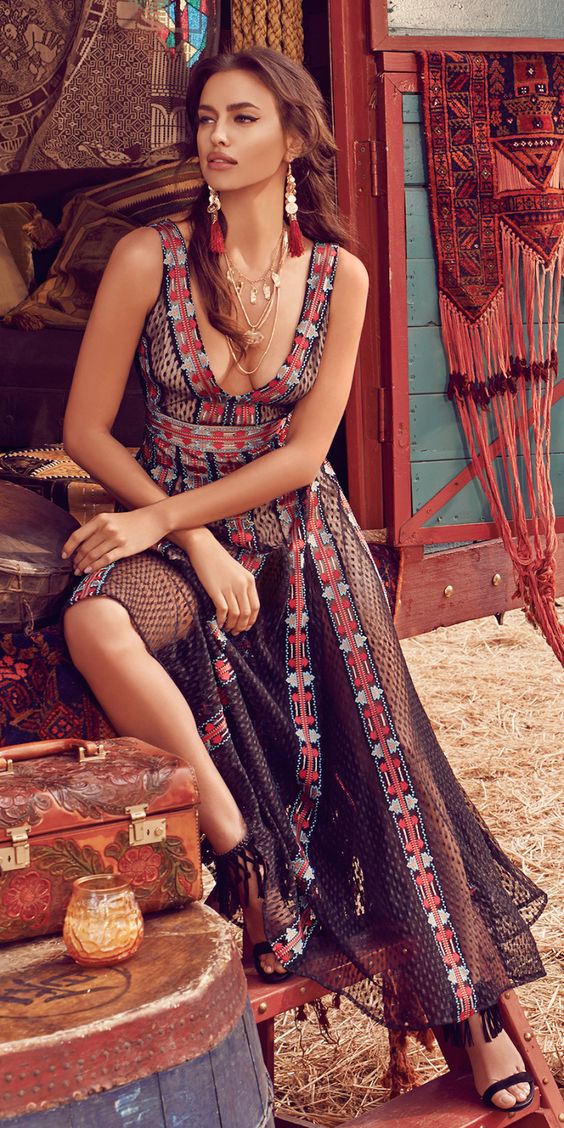 In addition to your boho outfits wear long tassel earrings
Via Pinterest
To achieve the perfect boho look you can go for earthy color and loose fabrics. For example, a long dress in the beige, brown and sandy color palette. In addition, you can a handbag that also has some boho inspired elements such as feathers and tassels.
Earrings with feather elements are great for boho inspired outfits
Source unknown
For this look is better to focus on more slim and longer earrings that will give the illusion of a long and feminine neck. Also, try to get long earrings with boho elements. The bohemian inspired style is great for any season and any occasion, but particularly great for music festivals and traveling.
Add a pair of tassel earrings to your summer outfits
Left: Boho Statement Earrings; Right: Unique Tassel Statement Earrings
By Happiness Boutique
The perfect boho look needs, of course, the perfect pair of boho earrings. These two tassel earrings from Happiness Boutique look so stylish and could suit any of your outfit.
In addition, you don't need to wear them only with gypsy or boho inspired looks. These jewelry pieces are great even with your favorite pair of skinny jeans and a cute simple top.
Make your looks more eye-catching by wearing trendy long earrings
Via Pinterest
Finally, I hope you find this fashion blog post inspiring and informative. Also, I hope that it will ease your next styling of long earrings and you will end up with the perfect look. Just get creative and experiment with your favorite long earrings and there is no doubt that your outfit will be amazing!
In addition, feel free to leave us a comment and share what kind of long earrings do you like the best! Also, don't hesitate to let us know what style would you like to try out in the future. 🙂
Thank you & Happy Styling!
Save
Save
---