How to Wear Long Necklaces
Give dimension and interest to your look by accessorizing with long necklaces.
If you are interested in learning more on how you can wear your long necklaces in fun and distinctive ways feel free to keep reading this blog post.
In addition, long necklaces could be worn with simple tops to go to work or school. Also, you can wear them with your favorite collared shirts or loose top and let them dangle as you walk around.
Wear a long necklace with your basic tee for a stylish look
Via Pinterest
Scroll down to explore more fun and practical ways on how to wear long necklaces. Happy reading!
1. Boho-inspired necklaces for a free spirited look
In the bohemian inspired fashion style there are many elements that take part of the style. For example, components such as tassels, fringes, symbolic pendants and many more.
They also look very free spirited and easygoing when pair with relaxed and comfortable outfits.
Long necklaces in addition to your casual outfit for a free spirited look
Via Pinterest
Don't hesitate to layer up your long necklaces for a fuller and original look.
This style is perfect for all of your basic outfits that need to be spiced up a little. You can wear such a style with your everyday casual look or with a floral and girly dress.
Also, you can styled it with your favorite pair of skinny jeans and comfy top.
Casual outfits and boho-inspired necklaces for an easygoing look
Via Pinterest
If you don't want to stack up many different boho inspired long necklaces make sure to add one long necklace with a tassel hanging off of it for a trendy look.
As you can see this look could be worn even with heels for a dressy and fashionable look. There are so many options on how to wear long necklaces.
Long necklaces with tassels are the perfect add-on to your boho-inspired looks
Left: Tasseled Pink Statement Necklace; Right: Silver Tassel Necklace by Happiness Boutique
If you like the effect of the tassels in combination with your outfits make sure to check out these remarkable and out of the ordinary tasseled necklaces from Happiness Boutique.
You can add a pop of color by accessorizing with a cute and girly long pink tassel necklace or give a touch of elegance to your look when you combine your clothes with a stylish silver tassel necklace.
2. Long necklaces with a pendant appropriate for the working environment
Many of us are working ladies on-the-go and it is always nice to be able to style your look with no effort and in no time. Now, you can add your simple top that is appropriate for the working environment and decorate it with a gentle long necklace with a pendant.
Pendants necklaces in addition to your professional attire
Source unknown
Long necklaces are great with very detailed tops such as this lace top or with very plain tops that have nothing on them.
Mix and match your accessories, throw on a pair of jeans and you are ready to go! In no time you have a very stylish and elegant outfit that will definitely be noticed by your colleagues.
Pendant necklace and professional attires for a trendy look
Via Pinterest
Depending on the season, you can rock your long necklace with grace and style. If the necklace is very colorful, big in size or detailed make sure that your outfit is simple and single colored.
Don't mix and match too many colors and details, especially when going to work because you don't want to look tacky.
Long necklace in addition to your fashionable outfit for a chic look
Turquoise Long Necklace by Happiness Boutique
Make your look more catchy and interesting when you combine a turquoise long necklace with your professional attire. This look is particularly appropriate for the spring and the summer.
3. Casual outfits and long necklaces for an easygoing look
There is no chance to leave out the casual styles unmentioned because we just love them. Nothing can be more comfy, yet stylish than a relaxed wear combined with a trendy necklace.
In this case, you can wear your favorite pair of jeans with a simple top and spice up the look with a long necklace with a pendant.
In addition to your casual outfit wear a golden long necklace
Depending on the weather you can layer with a cardigan and a jacket. Long necklaces are so great even when you layer your look with a scarf because you are still able to show your jewelry, which makes your outfit much more feminine and stylish.
Add a long necklace to your casual looks
Via Pinterest
No matter the time of the year, long necklaces could still look very stylish and trendy.
This piece is just the perfect add-on to your basic tee or tank top. Also, you can take your favorite delicate and short necklace and create a layering effect for a fashionable style.
4. Delicate layered necklaces for an ultimate fashionable look
You have probably seen tons of layered necklaces in the fashion stores and the reason is because this is one of the top fashionable looks for this season.
Layered necklaces are very popular and widely worn by some many people. You can wear them for all kinds of occasions and on a daily basis.
In addition to your trendy outfit wear a layered long necklace
Don't you just love this delicate and feminine layered style? Simply take your old or new favorite pieces of long and short necklaces and mix and match them until you get a well put together look.
Make your look more eye-catching in no time. Also, you can end up with a very distinguishable and unique style because you are the creator of the look.
A combination of different necklaces for a trendy look
You can combine different delicate necklaces to create dimension and interest to your look. This is a great style for all the ladies who prefer a more subtle and feminine style.
Select at least one long necklace and combine it with a couple of short necklaces and you are all set!
For an everyday wear a long minimalist necklace
Left: Minimalist Silver Necklace; Right: Delicate Pendant Necklace by Happiness Boutique
If you are interested in recreating this feminine and stylish layered look make sure to check out these perfectly suitable for the look pieces by Happiness Boutique. You can easily match a long minimalist necklace in silver with a girly and cute delicate pendant necklace.
5. Chunky layered necklaces for a remarkable look
If the delicates are your style stick to them, but if you like a remarkable and out of the ordinary style you can try to wear long chunky layered necklaces.
In this case, it is best if you stay away from very detailed or patterned clothes since your jewels are already pretty busy.
For a noticeable look wear long chunky necklaces
Source unknown
This rather bold look is great for the ladies that like to show their love for the jewels and wear them with confidence.
You can create your own design and easily express your personality. In addition, you can wear such pieces not only with your casual styles, but also with more chic looks.
Accessorize your look with long golden necklaces
And, again we can see the diversity of the long necklaces in combination with other necklaces for a layered look.
Great to be worn with casual or dressed up looks, especially when they don't have much details on them. Be daring and confident at all times with a set of perfectly matched necklaces.
6. Wrap chokers for a fashionable look
In general, wrap choker are not considered a long necklace but if you leave both ends of the wrap choker to hang then you have just created yourself dimension and added length to your look.
Furthermore, it is very simple and effortless to recreate this look because you just need to leave the ends and there you go!
Long wrap choker for a trendy look
In addition to your casual or fashionable wears and the wrap choker you can also add other jewelry pieces such as simple delicate necklaces.
It is a very popular look at the moment.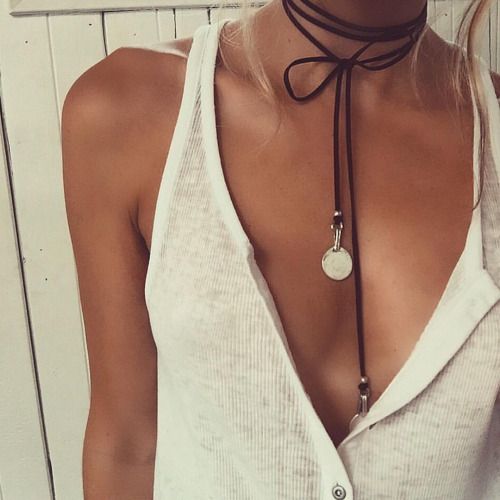 V-necks and chokers for a fashionable wear
Wear your long necklaces with V-necks or with halter tops. It looks very trendy and easy going regardless of your outfit.
Furthermore, the wrap chokers are great for your boho or casual wears because they will give your look a relaxed vibe.
Chokers are a must have for this season
Left: Wrap Choker;  Right:Happiness Wrap Choker by Happiness Boutique
If you love the choker trend you can explore some of Happiness Boutique's chokers because they look so great with any style. Also, you can style them casually, chic, elegant or sexy with no effort.
7. Long pendant necklaces for casually chic look
Casually chic outfits are great for walk in the park, to go to work or whenever you want to feel comfortable, yet stylish and well put together.
In addition, it is a very easy look to style and wear like a pro fashionista.
Simple tops and long necklaces for a fashionable looks
Via Pinterest
For this look you would need a more dressy top that could be simple or detailed and a pair of comfortable jeans.
To make your outfit rather elegant add a long necklace with a pendant. Here, you can go for a simpler necklace that will simply enhance the elegance of your overall style.
In addition to your professional wear add a long necklace
Via Pinterest
By adding a long necklace it is possible to give elegance and sophistication to your outfit.
Rock this look for work, business meetings or a sunday brunch with friends. Also, add a pair of comfortable boots or heels.
8. Pearl necklaces for an elegant style
Long pearl necklaces are great for all the elegant and sophisticated ladies. Great to wear this look with fitted and dressy outfits for an elegant and sophisticated look.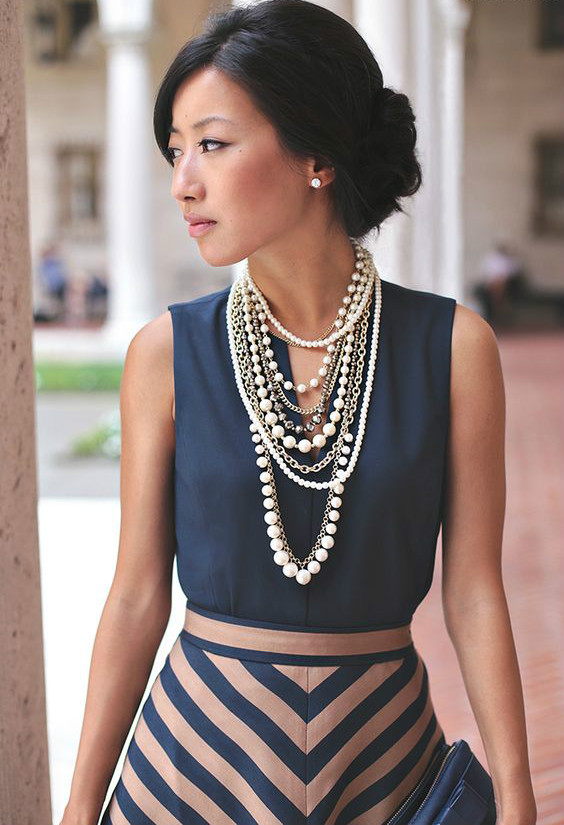 Fitted outfits and long layered pearl necklaces are a classy combo
Via Pinterest
Furthermore, pearls are the type of jewelry that will always be in style and at some point you can wear it the grace and elegance.
Or, you can wear it to work when paired with jeans and a dressy top. For an ultimate trendy style it is possible to combine it with different pearl necklaces to create this fuller and beautiful layered effect.
In addition to your neat outfits wear a long pearl necklace
Via Pinterest
In addition, the timeless classy style remains the professional attire combined with a long pearl necklace.
The good thing about pearls is that they always look right and appropriate. Also, if you get creative you can see how versatile and adaptive to different kinds of styles are these pieces.
9. Lariat necklaces and open necklines for a seductive look
If V-necks or other open necklines are your style makes sure to accessorize your bare skin with a lariat necklace that will gently sparkle and brighten up your look.
Lariat necklace are very simple and minimalist therefore you can style them with no effort. 
Lariat necklaces and V-necks are the perfect combo
Source unknown
These trendy and fashionable pieces will look fabulous with dressy and flowy tops, but at the same time you can wear them with your casual fluffy sweater for a rather girly look.
Layer your lariat necklace with other jewelry pieces for a trendy look
Don't hesitate to mix and match your lariat necklace with other minimalist or subtle pieces to make a statement to your look.
These pieces look very feminine, yet seductive when paired with more night-out outfits.
10. Long necklaces appropriate for vacation
If you have a vacation planned on the calendar to escape the cold winter days then make sure to get some of these pieces for your next trip.
Also, a delicate melange of long and short necklace that will make your summer wear more catchy and interesting.
Focus on necklace that have ocean colored pendants to give a relaxed and chill vibe to your look right away.
Layered necklaces with ocean blue stones for a relaxed wear
Source unknown
Ocean blues and turquoise pendants are very suitable because they will perfectly contrast with your tanned skin. Also, make sure to wear lighter colored outfits and other jewelry to complete the look.
Long necklaces in addition to your fashionable wear
Via Pinterest
Obviously, during the hot days you don't want to wear chunky and heavy jewelry because it is not comfortable compared to the winter days where we can wear almost any type of jewelry.
For your vacation, stick to delicate long and short necklaces that will perfectly embrace your open necklines.
Decorate your plain tee with a long necklace for an attractive wear
Source unknown
Finally, I hope that this fashion blog post was interesting and inspiring! Allow yourself to indulge into the world of the long necklaces trend because you can truly transform your looks no matter of your occasion or time of the year.
Also, you can play around and style them in a way that they will present your fashion style and personality.
Which style do you like the best? Please let us know in the comments section and share with us your favorite type of long necklaces!
Enjoy styling your favorite long necklaces!
Save
Save
Save
Save
---