9 Ways to Style Midi Rings
Midi rings are so chic, interesting and popular at the moment. And, they are widely worn by many fashionistas and look absolutely amazing. Also, they are a great alternative if you want to make your outfit more stylish, out of the ordinary and trendy. 
In addition to your trendy outfits wear a stack of midi rings
In addition, their delicateness allows you to easily wear them with other pieces of jewelry such as a delicate necklace for a more feminine look or stack them with all kinds of other rings for a bolder look.
I hope you like to accessorize your hands because the midi ring trend is here to stay. An absolutely effortless way to make an outfit look better and to boost our confidence by looking so trendy and eye-catching.
If you happen to love nail polishes, graceful styles and the beauty and magic of midi and normal rings - please go ahead and scroll down.
Happy Reading!
1. Minimalist midi rings for a simple everyday wear
The minimalist inspired midi rings look very feminine, simple and perfect to decorate any of your everyday outfits. To accentuate and attract the attention toward your hands you can also add a nail polish that is suitable for the season. 
For a cute look wear a stack of minimalist rings
Via Pinterest
In addition, feel free to mix V shaped and oval shaped midi rings to shaken up the style. These knuckle rings are very discrete, therefore they are even appropriate for the business working ladies. Nothing to worry about in terms of styling because you determine their intention.
Trendy looks call for trendy midi rings
Since the design of these midi rings is so basic you don't really need a certain styling trick to master this style. You can wear as many of these basic rings as you want.
And don't worry of looking over accessorized because if you decide to stack many of them on one finger, it would just look like a one piece item.
Any type of outfit could look much prettier with minimalist rings
Left: Golden Hexagon Wrap Ring; Right: Rose Gold Double Chevron Ring
By Happiness Boutique
In case you want to make it even more interesting try to add some normal, yet very trendy and still minimalist inspired rings. These two suggestions from Happiness Boutique come in gold or rose gold if you prefer this color.
2. Vintage inspired rings for a remarkable look
This style is definitely going to attract some glances that will love what they see. Very daring, diva, hip and out of the ordinary, this rustic and vintage inspired stack of rings look very unique.
Also, it is great to be combined with more hipster, gothic or grunge types of fashion styles.
Wear vintage inspired rings in addition to your gothic outfit
Via Pinterest
Lately, we have seen a lot of pointy long nails, therefore feel free to try out this almost witch inspired style. The many details make it very special and unique. Here, you can mix and match different symbolic and stone rings to get a fuller look.
For a fuller look wear a mix of statement and midi rings
Via Pinterest
A very interesting and eye-catching vintage style that is of course not everyone's cup of tea, but the ladies who like this type of look will appreciate it.
Different symbolic rings with flowers, stones, animals and swirls that look very feminine. You can still wear this look with just a simple tee and jeans.
3. Tube rings for a modern style
The perfect modern and chic jewelry piece is definitely the tube ring. The simple and elongated shape of the ring makes it a perfect add-on to the working ladies or it gives a futuristic vibe to everyone who prefers to wear in combination with other midi rings and normal rings.
Very sleek and well-polished – tube rings are always a good idea
Via Pinterest
In case you want to achieve a rather girly than professional style you can stack your tube ring with a cute midi ring that has a fun shape such as a heart or the infinity sign.
These symbolic delicate rings are such a huge trend at the moment and so easy to pair with your outfits.
Every modern lady on-the-go could take advantage of these amazing tube rings
Both silver and gold look very trendy and modern when styled with chic outfits. However, the simplicity of the design allows you to style them even with your sweatpants.
You can go for tube midi rings and normal rings to highlight your love for these amazing jewelry pieces.
Add a tube ring to your modern looks
Metallic Chunky Ring by Happiness Boutique
In addition, if you happen to love this look as much as we do, try out this metallic chunky ring from Happiness Boutique. And, it is great with delicate necklaces and cuff bracelets. You can wear it alone or in combination with a couple of midi rings for a bolder look.
4. Pair your summer look with a mix of different rings
The beautiful and stylish Annabelle Fleur shows us with every outfit how we can look absolutely fashionable and elegant by accessorizing and embellishing our looks.
She is a great example of how you can style any of your jewelry pieces. With a very sophisticated, well put together and fashionable outfits you feel like getting all of her clothes and accessories.
Wear a mix of midi and normal rings with any of your outfits
Even if you don't like vivid colors she could make you wear them because her style is incredible. For a very boho and comfy summer outfit you can go with a loose embroidered dress and of course the latest crush in the shoe world - the pom pom sandals. So cute, don't you think?
In addition to your girly outfits decorate your hands with a stack of midi rings
However, if you have a romantic night with friends or loved one, a little heel wouldn't hurt anyone. Then, throw on a pair of trendy jeans, a small purse to put your essentials and to top off the look add your cute and delicate midi rings.
Accessorize your trendy, casual, glam or beach looks with some midi rings
Or, a pair of shorts for the super hot days combined with an off the shoulder blouse and then all you need to do is accessorize. Many midi rings, a layered necklace and a couple of beach inspired bracelets. This is the perfect strolling around type of outfit.
Two trendy rings that could be suitable for any type of a lady
Left: Infinity Ring; Right: Chic Midi Ring by Happiness Boutique
If you want to achieve an Annabelle Fleur inspired style feel free to combine these two rings that are from the collection delicate rings by Happiness Boutique.
You have a stylish and chic midi ring paired with an infinity sign ring for a very feminine and everyday look.
5. Cocktail rings and midi rings for a fashionable style
For a remarkable and fashionable look you can pair up a cocktail ring with midi rings. This way you have a stack of simplicity combined with a master cluster ring that has a statement stone on it. It is a very balanced, yet stylish and modern way of accessorizing your looks.
In addition to your midi rings you can add a cocktail rings for a remarkable style
Although we have a statement ring in the combination you can still wear this style with your casual, girly, chic and elegant looks. In addition, the mix of casual midi rings along with an elegant cocktail ring could make your outfit very outstanding and catchy.
Cluster rings and midi rings are a great combo
Also, if you want to take it to the next level try to mix a statement midi ring such as this one with the pearl or any that you like with a stone cluster ring.
A rather daring, yet very stylish, this is a great style if you have a special occasion coming up in your agenda.
Cocktail rings are always appropriate
Left: Boho Ring Set; Right: Faceted Black Cocktail Ring
by Happiness Boutique
Here is a styling ideas from Happiness Boutique on how to style your midi and cocktail rings. For example, a set of stone rings that could be only paired with a couple of midi rings. Or, for a more visible style you can combine all of these amazing pieces together.
6. Bold boho rings for an artistic and spiritual look
For an artistic bohemian beach look, these bold symbolic rings are just the right accessory. Very bold and detailed, yet in combination with midi rings it looks very balanced and cute.
In addition, in the gypsy and boho styles there is no limit on when to stop adding more and more jewelry.
In addition to your beach wear add a stack of boho rings
Via Pinterest
To emphasis the beauty of these statement and midi rings combined together feel free to paint your nails in a bright color. This way you are certain that the attention will be on you.
Boho and gypsy inspired rings are a great add-on for your summer outfits
Via Pinterest
For example, a statement turquoise or stone ring combined with some wrap and midi rings. Try to evenly distribute the rings to your fingers and then put on some bright colored outfits for a lovely summer and beach look.
Beach wear and boho rings for a free spirited summer look
Left: Turquoise Jewel Statement Ring; Right: Dainty Triangle Wrap Ring
by Happiness Boutique
In order to recreate this look feel free to check out these boho inspired rings from Happiness Boutique. In addition, you can pair them together and you are all set for your summer beach vacation.
Also, try to pair these jewelry pieces with a romper or a long skirt with flower prints.
7. Ring bracelet and midi rings for an eye-catching style
For a very attractive and eye-catching look you can get a ring bracelet and pair it with other midi rings and normal rings. This may sound as a very accessorized way of wearing your rings, but if you do it the right way it can definitely enhance any of your outfits.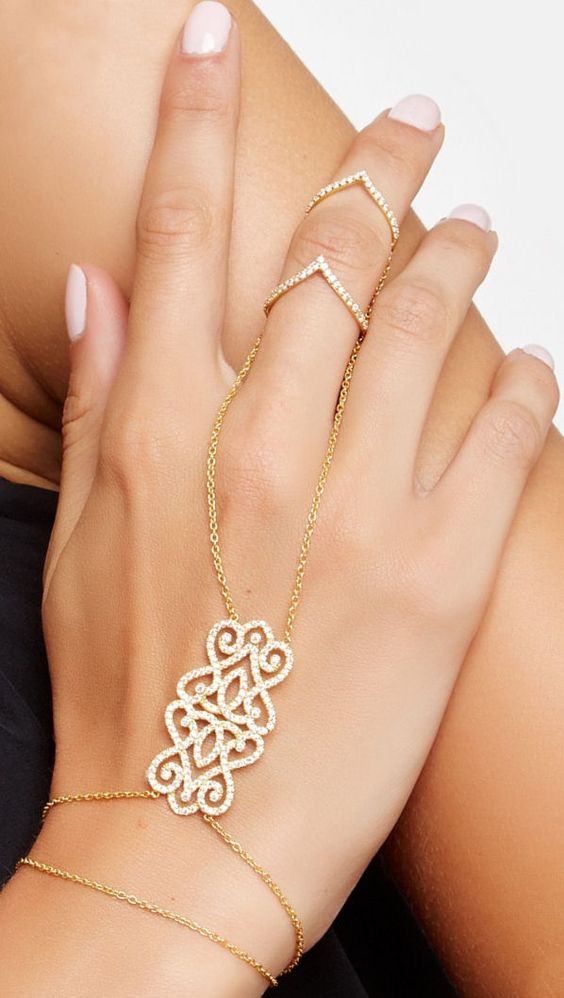 For a remarkable style wear a ring bracelet in addition to your midi rings
Via Pinterest
Based on your outfit, you can even add a delicate necklace if you want to dress up with an elegant dress. Or, a pair of delicate or statement rings for your more funky outfits.
In addition, the ring bracelet paired with midi rings could be a great style for a music festival for a more creative look.
Add a ring bracelet in addition to your chic outfit
Furthermore, you can wear this combination with an ear climber for a very fashionable and trendy look. All of these outstanding, yet so feminine and delicate pieces will definitely attract people's attention.
These rings are the perfect complementary piece to your ring bracelet
Left: Heart Bouquet Ring; Right: Mountain Range Rhinestone Ring
By Happiness Boutique
Also, to brighten up your outfits and add style and elegance to your ring bracelet and midi rings, you can add some delicate rhinestone or heart engraved ring for a very girly and feminine style. Great to be worn with dresses, skirts and jeans.
8. Sparkling statement rings for a bling bling look
For a bling bling or over accessorized look you can get some inspiration from some trendsetter celebrities. Lately, we see that they rock this bling bling look even to very casual occasions and wearing very basic outfits.
In addition to your night out outfit wear a stack of bling bling rings
Source unknown
However, you can decorate your glam and night out outfits with many sparkling knuckle and normal rings. In this case try to go for rhinestone and gem rings to highlight this bold and overdone so to say style.
Wear a stack of statement and midi rings for a fully accessorized night out look
Via Pinterest
To pull off this bling bling for a night out or party look, try to wear an attractive dress such as this leather dress.
Or, if you prefer to go with pants - leather or tight legging pants could also work just fine. Don't forget to make a cute hairstyle, add a dark or bright lipstick and of course a pair of heels.
9. Pile up everything for a super trendy look
For your everyday, especially those boring outfits, you can go for the pile up everything look. Furthermore, this means that you can stack your rings, stack your bracelets along with a watch and even end up with a stack of delicate necklaces or a layered necklace.
Stackable rings and bracelets for a super trendy and funky look
Via Pinterest
However, this is far from being a bling bling look because everything is done with finesse. Here, the important thing is to match by theme your jewelry pieces and end up with a certain look.
For example, a gothic look or girly look or whatever your personal style is.
Pile up your midi rings and cuff bracelets for a modern urban look
Via Pinterest
This is one of the most worn types of looks simply because you are the creator of your own look, which means it could literally suit any type of a lady.
In addition, it is always better to be able to use your imagination and end up with a truly unique style.
Stackable rings in addition to your cool urban outfits
Left: Evil Eyes Ring; Right: Heartbeat Ring in Rose Gold
By Happiness Boutique
A great piece of jewelry that you can add to your jewelry collection are these two delicate rings from Happiness Boutique. Their design makes them very easy to pair with other rings if you want to recreate this stackable effect.
Finally, I hope you enjoyed these looks and styling tips on how to combine your midi rings with other types of rings. Also, I hope that you found some inspiration about your future styling of your favorite midi rings and other rings.
In addition, please leave a comment and share your opinion with us! What are your favorite ways of wearing midi rings? What kind of rings have you been loving lately?
Thank you & Happy Styling!
Save
Save
Save
Save
---