How to Style Minimalist Earrings
Here are some really creative and cool suggestions on how to style and wear minimalist earrings. You can be so chic and stylish, but with a minimal effort because these minimalist earrings are very simple and easy to style.
However, they come in so many different designs and shaped that you can play around with a vast variety of earring in order to find the perfect pair that will instantly make your outfit more fashionable and trendy.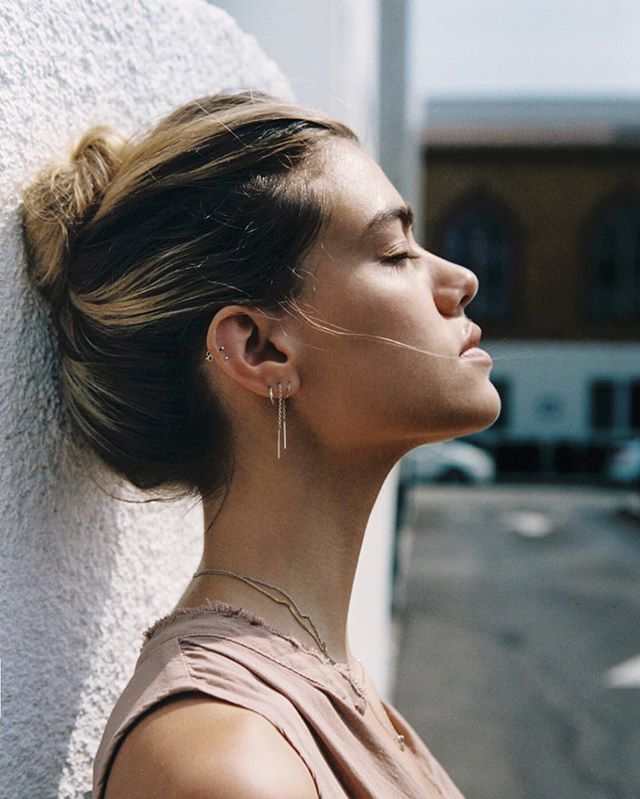 The perfect add-on to every outfit – minimalist earrings
Make sure to keep reading further to find out how to style the most trendy jewelry pieces and make your looks much more sophisticated, modern and stylish.
You can wear the minimalist earrings to any type of event or occasion, therefore there is a pair for every type of a lady. In addition, you can wear them all year long with no effort.
1. Classic hoop earrings for a modern loop
Let us begin with a classic simple pair of big hoop earrings that were very trendy in the 90's but we see their major comeback once again. These pieces look very chic and sleek, but at the same time so simple, therefore perfect for your everyday casual looks.
For a trendy style wear a pair of classic hoop earrings
You can easily style your favorite outfits by accessorizing with such a pair of earrings because they look catchy and interesting, but not over the top. Even though they are pretty visible due to their large hoops it still looks appropriate for many different types of occasions.
Hoop earrings and trendy outfits for a super stylish wear
No matter how detailed, sparkles or sequined your look is the classic hoops are always a good idea. After all, going for the minimalist trend doesn't mean that you only have to wear delicate studs.
Feel free to indulge yourself into this very well polished smooth earrings because they will give a very fashionable and stylish vibe to your outfit right away.
2. Minimalist stud earrings for a cute and delicate wear
On the other hand, if you feel comfortable to wear minimalist inspired stud earrings then make sure to decorate your ear with a pair of some fun and girly shaped earrings for a cute and delicate wear. In addition, they are so effortless to style and appropriate for absolutely any situation.
For an easygoing look wear a pair of minimalist studs
Via Pinterest
You definitely need these stunning pieces in your wardrobe to make your looks much more cute and girly, but in a more delicate way.
Also, the good thing about the minimalist inspired stud earrings is that you can always wear them without worrying if they will go out of style. They are that timeless and awesome!
Minimalist-inspired studs are great for an everyday look
Via Pinterest
Feel free to try out these bar shaped minimalist earring in silver, if you prefer silver, because they look so modern and futuristic. You can never go wrong with such a pair of earrings. If you like the stacked look, the bar earrings are simply a great pair to combine with other designs and shapes of earrings.
Symbolic minimalist studs for a cute look
Left: Wishbone Stud Earrings; Right: Victory Earrings by Happiness Boutique
If you already fell in love with the minimalist studs then make sure to check out these girly and stunning pieces from Happiness Boutique. It is up to you to decide whether the gold is going to suit your look better or the silver.
3. Geometric earrings for a trendy look
The geometric earrings are so popular this year that you definitely need at least one pair in your collection to transform your outfits and make them more modern, trendy and stylish looking.
In addition, if you like asymmetrical earrings you can try and experiment with such a pair for a more remarkable style.
Bold geometric hoops for a remarkable look
Via Pinterest
Modernize your old wardrobe and give it a revamped look or simply make your new clothes more completed by adding a pair of geometric hoops.
These sleek earrings could make your most casual and relaxed outfits into very trendy looks that will catch people's attention for sure. It is always great to have a pair of earrings that is so easy to style and at the same time so stylish.
Big geometric minimalist earrings for an ultimate trendy look
Via Pinterest
As you can see geometric minimalist earrings can look very delicate regardless of their size. Very versatile pieces that could be found in so many different shapes and designs.
Great to be worn at work, for your business meetings or any other activity that you want to look stylish and fashionable.
Simple, geometrically shaped – minimalist hoop earrings for a stylish look
Left: Geometric Hoop Earrings; Right: Modern Hoop Earrings by Happiness Boutique
Feel free to check out these great and well polished geometric minimalist inspired earrings by Happiness Boutique. The collection of minimalist hoops is very stylish and diverse.
Help your outfits to look better and fashionable simply by adding a pair of geometric hoops.
4. Minimalist inspired drop earrings for an elegant look
As you can see the minimalist trend comes in all shapes and sizes and this is the good thing about it.
There is a pair for every type of a lady no matter of her job, age or fashion style.
In case you want to give the illusion of an elongated neck and want to feel your earrings swaying from one side to the other in a stylish way then the minimalist dropped earrings are just the right pair for you.
Drop earrings with simple designs for a distinctive look
Source unknown
If you don't want such a statement minimalist earrings you can get any drop earrings that you like and fit your personal taste and style. However, these will definitely be a great addition for your fitted and dressy looks or simply wear them as your go to earrings.
Long minimalist earrings for a fashionable wear
Source unknown
If you like your monochromes you are more than welcome to give them a little twist by wearing a pair of dropped minimalist earrings.
They will never as you are wearing too much jewelry because of their simplicity and smoothness. It is better when you style them with rather fitted and elegant clothes.
Pearl dropped earrings for a sophisticated look
Grey Pearl Long Earrings by Happiness Boutique
For example, try to wear these grey pearl long earrings from Happiness Boutique with your working attire or even for your special occasions. Also, you can wear such a breath-taking pair with a top or dress that is off the shoulder and let your earring be the focal point of your look.
5. Geometric stud minimalist earrings for a girly look
One piece of jewellry that is highly loved and worn by many fashionistas are the geometrically shaped stud earrings. It is so obvious why they are so popular! A plated earrings that is so subtle, yet can instantly change the vibe and look of your outfit. 
For a cute and girly look wear plated geometric stud earrings
The fan looking earrings are so stylish and adjustable to any of your outfits.
You can wear them to brunch with friends and family members, to work, to school or anywhere you like. In addition, they are super comfortable and lightweight.
Add a pair of plated stud earrings for an everyday stylish look
Via Pinterest
You can wear this type of minimalist inspired earrings with any style. For example, if you like vintage-inspired looks then these are your earrings that will give you just that feeling.
Also, if you want to look modern or elegant, once again, these pieces are the perfect add-on to your style.
Give a modern touch to your outfit by adding a pair of circle stud earrings
Modern Art Circle Stud Earrings exclusive by Happiness Boutique
To recreate these looks, make sure to wear a pair of these minimalist inspired earrings. For example, you can wear a modern art circle stud such as this exclusive pair by Happiness Boutique.
Add a personal touch to your look by accessorizing with these versatile and eye-catching pieces.
6. Modern minimalist ear climbers for a super trendy look
Add interest to your outfits by adding a pair of ear climbers or ear crawlers to your look. You will definitely end up with a very remarkable and standing out from the crowd style. If you have multiple piercings feel free to add more to even more highlight this fashion trend.
All top fashionistas wear an ear climber for a trendy look
Via Pinterest
Minimalist inspired ear crawlers look very feminine and stylish because of their simple lines and designs and elongated shape. Also, they can come in different shapes, therefore you can easily express yourself by decorating the ear with a pair that represents your personal style.
Different shaped ear climbers are a great add-on for any of your occasions
Left: Minimalist Star Trio Ear Crawlers; Right: Leafy Fern Stud Earrings by Happiness Boutique
Wear your ear crawlers alone or in combination with other earrings if you prefer that style. In addition, the good thing about these exclusive pieces from Happiness Boutique is that you can wear with any style. For example, you can over accessorize and end up with a very noticeable look or keep only your ear climbers for a rather subtle wear that you can rock wherever you like.
7. Stacked minimalist inspired earrings for a cool casual look
Work your imagination and creativity because the stacked minimalist trends is so cool and trendy at the moment. Wear a couple of small sized hoops or any type of minimalist inspired earrings to achieve the look. This is a perfect style for your everyday looks.
In addition to your stacked minimalist hoops wear a comfy outfit
This is a great everyday look, especially for the ladies who like to keep their hair away from the face because you can show what you have created on your ear if your hair is pulled away.
In addition, you don't really need to color coordinate your jewelry pieces according to your outfit because they are very simple and can easily be combined with basically anything you like.
Small and medium sized minimalist hoops for a stylish everyday look
The perfect add-on to spice up your easygoing casuals is by stacking a couple of minimalist pairs of earrings. In no time you will complete your look in a very trendy and modern way.
Don't hesitate to try out this amazing and catchy style.
8. Minimalist earrings with a marble effect for a sophisticated look
Another suggestion to pull of the minimalist earring trend is by complementing your outfit with a pair of minimalist style marble stud earrings. These items are absolutely sophisticated and they can beautifully accessorize  your dressy and elegant outfits.
Get the ultimate sophisticated look with a pair of marble stud earrings
Marble earrings and ring jewelry set by Happiness Boutique
In addition, if you want a fuller and more complete look simply add a jewelry set of marble pieces that look very classy and stylish. For example, make sure to check out these beauties from Happiness Boutique because you can never go wrong with a set of minimalist marble jewelry.
Marble stud earrings in addition to your trendy outfits for a remarkable look
Via Pinterest
Marble earrings with a touch of the minimalist trend look very stylish and sophisticated. This is definitely love from first sight!
9. Minimalist threader earrings for a gentle style
Another way to add length to your style is by wearing a pair of threader earrings, which are so elegant and delicate. They could make any of your outfits more interesting and attractive.
In contrast to other types of minimalist inspired earrings, the threaders are suitable for your night-out looks as much as for your casual, punk, grunge, fashionable or dressy looks.
Give an illusion of a long feminine neck by accessorizing with a long threader earring
Via Pinterest
Since these earrings are so discreet regardless of their length feel free to add other types of jewelry for a fuller style. The stacked trend is so popular that you can stack many rings or if you have multiple piercings you can make your ears the centerpiece of your outfit.
In addition to your stylish outfits wear a pair of threader earrings for a dressy look
Source unknown
The great thing about this type of minimalist earrings is that even if you leave you hair down or if you pull it up the earrings are still visible to the others and will bring a lot of attention and style to your outfit. Depending on your personal taste you can rock them day and night to accessorize your clothes.
10. Pearl delicate minimalist earrings for a fun look
Pearl minimalist earrings are such timeless and classy pieces that you will always find an occasion where you can wear them. However, don't forget that these pieces are also great for casually chic looks, easygoing or for your special nights.
Pearls are always a good idea
Triangle Pearl Earrings by Happiness Boutique
Delicate minimalist earrings with pearl accents for a timeless classy look
Left: Triangle Pearl Earrings Right: Pearl and Hexagon Stud Earrings by Happiness Boutique
These simple, clean lined, stud earrings with a pearl accent are definitely a must have piece in your jewelry collection. Pearl could be styled with any of your looks and you are certain to have a pair that will never go out of style.
Simple and delicate earrings are great for the ladies on-the-go who are living the busy life because these amazing pieces from Happiness Boutique will always be ready to accessorize your look and make it better.
I hope this blog post was as interesting as informative for you to help you style your minimalist earrings. Also, make sure to leave a comment letting us know how do you like to style your minimalist earrings and what is your favorite type of minimalist-inspired earrings.
Happy Styling!
Save
Save
Save
---