The unlimited amount of necklaces for women allows us to find the design that could be suitable just for us. Whether you prefer short or long, pendant or no pendant, statement or delicate, they are all here to make our looks more trendy, chic and presentable.
I hope you like to wear your necklaces for women because the following blog post will give you a chance to get some inspiration on how to wear and style your necklaces. In addition, hopefully, you will find these styling tips interesting and helpful.
If you are interested please keep reading and dive into the beautiful and diverse world of the necklaces.
Happy Reading!
1. Basic choker necklace for your trendy looks
This very basic choker could be worn at any time and even as part of your top. The versatile and adjustable design of this choker necklace allows you to easily combine it with your accessories and style it with any of your looks.
Trendy chokers for any of your looks
For example, to achieve a very chic and dressy look with this choker, you can pair it up with a fitted shirt and the bottom depends on your occasion. Of course, a pair of skinny jeans is always appropriate, but you can go for shorts, skirts and trousers.
Chokers in addition to your trendy outfits
Via Pinterest
Besides from being elegant, you can wear it as a statement piece with your street style inspired outfits or with casual everyday looks.
Also, you can dress it up with heels or dress it down with sneakers and more comfortable shoes.
2. Long pendant necklaces for a professional look
The long pendant necklaces have always been very suitable for the business and on-the-go ladies because they look incredible when paired with more dressy and chic outfits. They are the perfect complimentary piece to finish off your working look. 
Long necklaces are great for professional outfits
In addition, the long necklaces for women are very comfortable to wear, easy to style and simple, yet chic enough to make your look more formal and well put together. They are also easy to combine with other jewelry pieces or with your watch.
Accessorize your working outfit with a long pendant necklace
Whether you prefer golden or silver, the long necklaces for women are always a great and practical add-on to your jewelry collection.
The best thing is that you can wear it with any kind of fashion style, but definitely all the working ladies can take advantage of their beauty and chicness.
Long necklaces for women to make your outfits prettier
Left: Jewelled Tassel Necklace; Right: Beautiful Golden Tassel Statement Necklace
By Happiness Boutique
Here are two suggestions from happiness Boutique that could make your professional attire more completed and preppy. These long pendant necklaces are also great with more casual outfits.
3. Wear a bold statement necklace for a stylish look
Statement necklaces for women have a very visible and clear expression when paired with an outfit. However, you can adjust them according to your look vibes. For example, you can jazz up any of your simple tops by adding a statement necklace to it.
Wear bold necklaces for women for a stylish look
Although the design of the statement necklaces is very bold and detailed you can still wear it with printed and colorful outfits.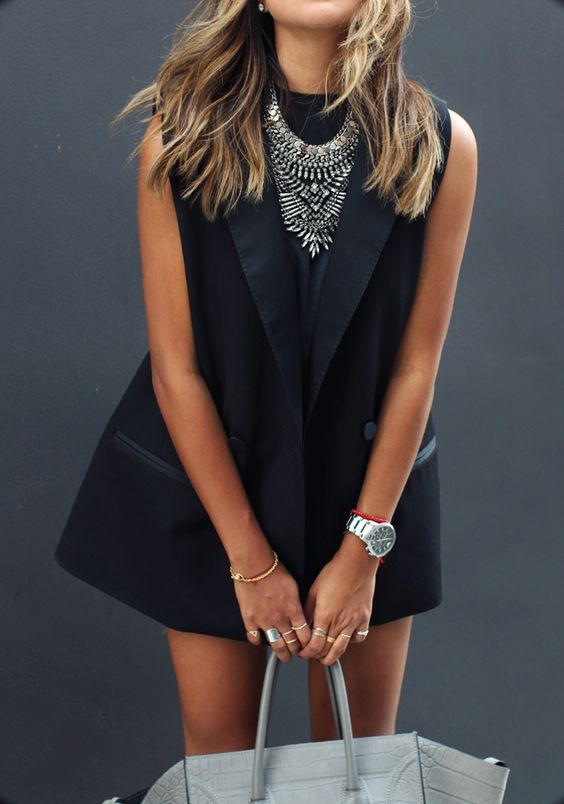 Make your outfit more eye-catching by wearing a statement necklace
In addition, statement necklaces for women are the perfect complimentary accessory to any all black outfit. You can even style these jewelry pieces to go to work or cocktail parties with no effort. Also, you can dress them up with an elegant black dress.
In addition to outfit wear chunky necklaces for women
Left: Bold Statement Necklace in Silver; Right: Enchanted Boho Statement Necklace
By Happiness Boutique
These two bold statement necklaces from Happiness Boutique could be a great choice to make your graphic t-shirt more hipster and cool or to spice up your monochrome outfit.
4. Boho inspired necklaces for an attractive summer style
What is a nice way to accessorize your summer outfit? A boho inspired necklace could be a great option if you want to make any of your summer looks more attractive and interesting.
Wear boho necklaces for women with your summer outfits
Via Pinterest
This look is especially great to be worn while traveling, to music festivals or even just as a beach wear for the daring ladies. You can make your monochrome jumpsuit more eye-catching by wearing a boho inspired statement necklace.
In addition to your summer outfit wear a boho inspired necklace
Via Pinterest
The boho inspired necklaces look so magical and remind us of the careless summer nights. For an easy summer outfit you can always wear a similar necklace or any necklace with boho inspired elements such as feathers, flowers, animals and so on.
Necklaces with ancient coins are perfect for you boho looks
Left: Silver Toned Ancient Coins Statement Necklace; Right: Mystery Ancient Coins Bib Necklace
By Happiness Boutique
A great way to make your summer outfits more free spirited and bohemian is to accessorize with a boho inspired necklace.
For example, these two jewelry pieces from Happiness Boutique that have multiple ancient coins are very suitable for this purpose.
5. Add a layered necklace to your casually chic outfits
Make any of your basic tops, sweaters, cardigans, shirts, tank tops more chic and charming by wearing a layered necklace.
These necklaces for women are very delicate, but the small pendants hanging off of them are really interesting. In addition, you can select a necklace with pendants that represent your personal style.
Girly outfits and layered necklace for a cute wear
The layered necklaces for women are also easy to combine with other jewelry pieces such as a stack of ring or a cuff bracelet for a more modern look.
Make your basic tee more interesting with a layered necklace
The huge amount of designs offered on the market permits us without difficulty to find just the right piece for us. It is always great to have a jewelry piece in the wardrobe that could make any of your looks more fashionable.
Trendy necklaces for women for the girly girls
Left: Lucky Evil Eye Layered Necklace in Gold; Right: Like a Feather Layered Necklace
By Happiness Boutique
These two amazing layered necklaces from Happiness Boutique are one of the most popular from the collection. They have cute and symbolic pendants that could suit your mood and personality.
6. Geometrically shaped necklaces for a modern look
For a very modern, fashionable and sophisticated look you can always add a geometrically shaped necklace to your clothes. Again, based on their design you can achieve a minimalist elegance or a chic playful style.
Add a modern touch to your look with a geometric inspired necklace
Via Pinterest
You can wear similar necklaces with basic outfits or with girly dresses. Based on the design of the necklace, feel free to dress up your necklace with heels, more vivid makeup and a fitted outfits. On the other hand, you can wear the geometric necklace with super comfy outfits.
Every lady is different, but there is no doubt that this kind of a necklace could make any lady's chic and elegant outfits even more prettier.
Fashionable and modern necklaces are always appropriate
Left: Geometric Statement Necklace; Right: Triangle Geometric Statement Necklace
By Happiness Boutique
From our collection, these two very chic and elegant geometrically shaped necklaces that could instantly make any of your looks more dressy and fashionable. Don't hesitate to check them out.
7. Stacked necklaces for a fuller look
The stacking trend has been taking over any type of a jewelry piece. You can buy a pack of stackable rings or layered necklaces that look stacked or for a truly unique style.
Also, you can buy different kind of necklaces and stack them yourself. This way you are certain that you will end up with a very individual and personalized look. 
Wear a stack of dainty necklaces for a fuller look
To feel comfortable all day while wearing your stack of necklaces you can go for more delicate and short necklaces for women with pendants.
In addition to your casual look wear a stack of cute necklaces
Or, you can mix up your long and short necklaces and give dimension to your outfit. Refresh your basic outfit by mixing longer and shorter pendant necklaces.
8. Simple delicate necklace for your everyday looks
There is nothing more timeless and classy than a super simple and elegant delicate necklace. These jewelry pieces are the perfect addition to any kind of an outfit and they are simply a must have in every girl's jewelry box.
Give interest to your everyday outfits with a stylish delicate necklace
Try to wear them with your favorite dresses in the summer, with your fluffy and chunky sweater in the winter or with your colorful spring outfits.
Delicate necklaces are great for any type of a lady
The delicate necklaces for women have a very subtle appearance, which makes them appropriate for any kind of a lady no matter of her fashion style. You are able to wear them to work, school, to cultural events or during any type of activity.
Wear your delicate necklaces with confidence
In addition, you can pick up a delicate necklace with a symbolic pendant for a meaning wear. Also, you can engrave your pendant for a very personalized and valuable look.
The perfect everyday necklace
Left: Circle Necklace Rose Gold; Right: Times Infinity Necklace Rose Gold
By Happiness Boutique
For any of your outfits you can wear these timeless and classy delicate necklaces from Happiness Boutique. No matter of the style or time of the year - these two are always a good idea.
9. Metallic choker necklaces for a remarkable style
Who can say no to a metallic choker? For sure not the ladies that enjoy a nice piece of jewelry that will attract people's attention and instantly make your look more attractive and remarkable.
Add a touch of elegance to your chic outfits by wearing a metallic choker
The beauty of the metallic choker is hidden behind the feminine design and sleek appearance of these necklaces for women.
In addition, the minimalist inspired look of the metallic choker makes them very suitable to be worn at parties, special occasions, wine tasting, art gallery exhibitions or weddings and proms.
Metallic chokers – because they are so remarkable and elegant
Via Pinterest
However, with a little more creativity and imagination it is possible to style with our everyday fashionable outfits.
In addition to your formal looks wear a metallic choker
Bubble Bliss Pearl Choker Necklace in Gold by Happiness Boutique
Make your street style, casual or chic outfits more unique and interesting by accessorizing with a metallic choker necklace from Happiness Boutique.
10. Gold chain necklaces for women
Another way to make your outfits super chic and extraordinary is by wearing a golden or silver chain. Very simple, yet these chains could take your outfit to the next level.
Get a noticeable look with a bling bling gold chain
Via Pinterest
You can wear them with t-shirts for a bling bling look and make them your focal point of your outfits. This fashion street style inspired look is very just amazing and so easy to pull off together.
The gold chains are made to be worn with confidence
Also, you can revamp your old t-shirts and give them a little more elegance and fashionable vibe. You don't always have to invest in new clothes to look good and trendy. There are always other options on how to look voguish.
Be daring and chic by adding a gold chain necklace to your look
Via Pinterest
Many fashionistas and celebrities showed us that wearing a golden or silver chain could look very elegant, yet effortless to assemble.
In addition to your diva or hipster outfits wear a golden chain
Gold Exquisite Chain Statement Necklace by Happiness Boutique
The exquisite gold chain from Happiness Boutique is a very versatile and simple piece that could be worn in many different ways. It is up to you to change the vibe of the necklace.
11. For a red carpet glam look wear a rhinestone choker
Very sparkling and girly, the rhinestone chokers are the perfect add-on to any lady's glamorous outfit. They will bring a lot of sophistication and elegance with all of the little glowing rhinestones. In addition, it is possible to wear with dressy suits or an elegant dress. 
For a glam look wear a rhinestone choker
These types of choker necklaces have become very popular lately and we can spot many celebrities to rock this jewelry like a pro. However, it is always possible to wear a similar necklace with more daytime outfits.
Rhinestone chokers look very luxurious and attractive when worn with night out outfits
Source unknown
For example, you can wear your shiny choker necklace with girly tops and make them more glam. Or, you can even wear it with a simple tank top and dress it up.
Don't hesitate to accessorize your looks with a rhinestone choker
Rhinestone Choker by Happiness Boutique
For all the ladies who would like to make any of their looks more dressy and sophisticated we have the perfect rhinestone choker in the collection. Feel free to check it out!
These are all of our suggestions for necklace for women that became so loved and trendy among the fashionistas. Hopefully you feel now more confident on how to style your favorite necklaces for women. In addition, I hope this was interesting and helpful.
Don't hesitate to leave us a comment about these jewelry pieces. Also, let us know how do you like to style your necklaces for women.
Thank you & Happy Styling!
Save
---