Many ladies nowadays prefer to do online jewelry shopping because it is more convenient. In addition, in many cases when we shop online jewelry or clothing we have a bigger choice.
In today's blog post I will share with you some of the top jewelry trends, what we can offer to you from Happiness Boutique & our best seller products so you can begin your online jewelry shopping right after you get some inspiration.
Also, you will be able to learn how you can style these or similar jewelry pieces as seen in fashion magazines and worn by many of our favorite fashion influencers.
I hope you like just as me to do online jewelry shopping because it is definitely so much fun to browse and look at super amazing offers and designs that you can't find in your local store. Feel free to share your opinion in the comment section below.
Happy Reading!
1. Currently Trending
You will probably be familiar with some of these currently trending jewelry pieces because our favorites fashionistas have been rocking them for quite some time now. Take your time to do your online jewelry shopping because these are so hot and cool items. 
Begin your online jewelry shopping now
Let's begin to check out some of the most popular online jewelry trends!
2. Shop online jewelry - Golden or rose gold bracelets
A super hot and easy to style rose gold or gold cuff bracelet or bangle. These jewels look very expensive, luxurious and rich in texture. Also, it is very easy to pair them with a timeless pair of stud earrings or minimalist inspired earrings.
Add to your jewelry collection a trendy golden bracelet for a stylish look
Feel free to also get imaginative and experiment with your old and new jewelry pieces. You can create different vibes and style to your look just by adding or removing different kinds of bracelets.
Trendy rose gold bracelets for a modern look
These bracelets are great with very clean outfits, but you can definitely adjust them according to your preferences. Furthermore, the smooth surface and simplicity in the design allows you dress them up or down. It all depends on you!
2.1 Styling Tips & Product Recommendations
Here are two very similar bracelets from Happiness Boutique that could make a great addition to any lady. You can wear them with super chic outfits such as a cute girly top and black skinny jeans to keep it more elegant.
Give your looks a trendy vibe with these two bracelets
Left: Geometric Gold Bangle; Right: Glitter Cuff Bracelet Rose Gold
By Happiness Boutique
On the other hand, the geometric gold bangle could perfectly be styled with more casually chic outfits and pair it with a pair of hoop earrings. The rose gold love heart and circle bracelet is very easy to stack with other rose gold bracelets and end up with a more accessorized look.
3. Shop online jewelry - Personalized pendant necklaces
Another popular trend that has been rising in the necklaces are the monogram necklaces. This means that these necklaces have a pendant that contains the initials of the person or the company for a more personalized style.
For a personalized look wear an engraved pendant necklace
You can have your initials or full name written just like some of the necklaces babies receive at their baptism. It makes a great gift for a woman. You can engrave her name for Valentine's day or Mother's Day. There are plenty of occasions you can make your spouse, girlfriend, friend, sibling or special one to feel even more special.
In addition to your colorful outfits wear a monogram necklace
Also, you will be able to find monogram necklaces where the initials are intertwined and the pendant in this case looks more as a circle rather than rectangular. Both look very precious and unique.
3.1 Styling Tips & Product Recommendations
Happiness Boutique could offer you cute delicate necklaces that are not monogram per se because there is already something engraved in the pendant. However, these two pieces could perfectly inspire and still show your personal feelings and beliefs through the affirmations written on the necklaces.
These two necklaces are great if you want to express your mood
Left: Affirmation Bar Necklace Silver; Right: Affirmation Bar Necklace Rose Gold
By Happiness Boutique
In addition, you can always give to someone who needs courage or needs to know that sometimes wisdom is more important than knowledge. You can style these fine necklaces with casual outfits such as jeans and a simple t-shirt. On the other hand, if you put on heels, add a dark lipstick and fitted dress you can end up with a very feminine and chic look.
4. Layered Chokers
Who can't resist to chokers? So attractive, comfortable to wear and combine with all kinds of outfits. However, layered chokers just take this trend to the next level. It looks very sexy and well put together even though there are a couple of necklaces on your neck.
Layer your basic choker with other necklaces for a cool look
Source unknown
Also, let us not forget that the fishnets are also very popular and you can perfectly pair them with your layered choker and a crop top.
Layered chokers are so trendy this season
Via Pinterest
You can layer different kinds of chokers yourself for a unique look or you can get a pre-layered choker and just add it to your outfit and make it more interesting.
4.1 Styling Tips & Product Recommendations
These two layered chokers from Happiness Boutique are already layered for you so you don't need to take a lot of time on which chokers to put together. They already look very eye-catching and amazing.
In addition to your fashionable looks wear these layered chokers
Left: Half Moon Horn Velvet Choker; Right: Tassel Layered Choker
By Happiness Boutique
In addition, try to style them with low waisted jeans and add a fishnet tights. It looks so gothic, yet sexy and different. These are an absolute must have essentials in your wardrobe this season.
Metallic chokers are so sexy and modern when paired with chic outfits
Left:Multi Arrow Choker Necklace Gold; Right: Black Marble Geometric Choker Necklace
By Happiness Boutique
However, we can suggest that you take two separate chokers and create your own layered choker for a super unique and remarkable style.
For example, this multi arrow elegant and simple choker could go very well with a marble geometric choker. This way you give your look dimension and interest to the fullest.
5. Classic & Geometric Hoop Earrings
Let us begin with the classy hoop earrings that we probably remember from awhile ago. They made a huge comeback. And, we can only be happy because these earrings look so chic, cool and girly. It is definitely worth the browsing while we do our online jewelry shopping.
Wear classy hoop earrings for a sexy look
Even the classy and timeless pairs of hoop earrings have different designs. For example, you can get yourself a very clean and basic pair of hoop earrings or a embellished hoops with pendants or glitter on them.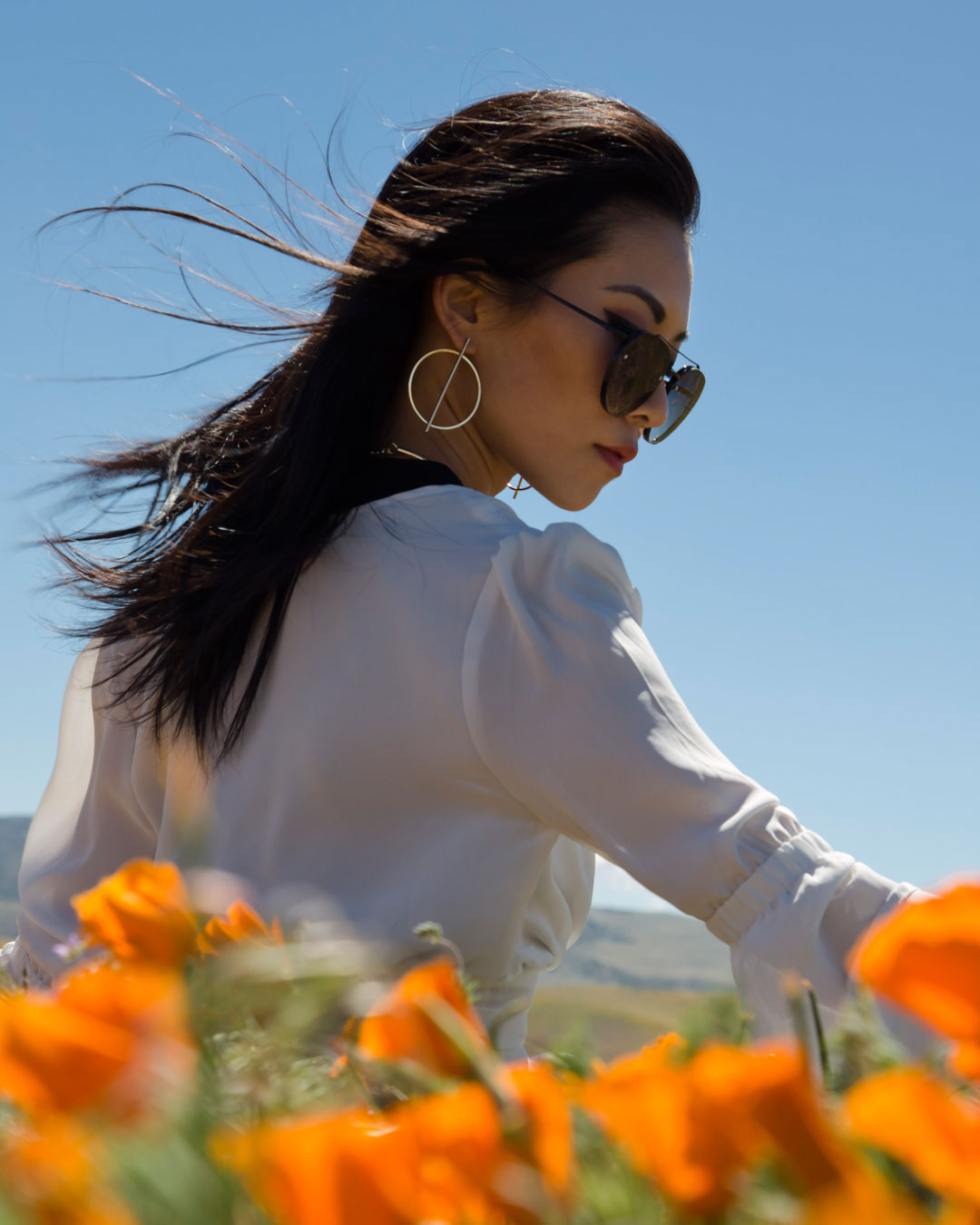 In addition to your stylish looks wear hoop earrings
In contrast to the classic hoop earrings, the geometric and minimalist inspired hoops look very stylish and elegant no matter of your outfit and fashion style. A great pair of statement earrings that you can rock on a daily basis.
5.1 Styling Tips & Product Recommendations
Exclusive products from Happiness Boutique that could definitely take your outfit to the next level. These two pairs of hoop earrings have a very clean, versatile and elegant design.
Any of these hoops could enhance your outfits
Left: Bold Hoop Earrings Gold; Right: Circle Hoop Earrings Gold
By Happiness Boutique
They make a great complementary addition to working outfits. We all know how hard sometimes could be a busy working lady that is also looking so sleek and elegant. Well, try one of these and you will see that this was what missing in your jewelry box.
6. Stacked Rings
The ring stacking trend could definitely make you go nuts with your online jewelry shopping. So many choices, styles and designs. However, it is a super cool trend that has gained the opportunity to be in this list.
Stack up your rings for a remarkable style
In addition, depending on the rings that you choose you can wear the stacked rings with any kind of an outfit, all year and to any occasion. It is possible to accessorize your prom or wedding dress with stacking rings or your most casual look such as simple jeans and a tee.
Wear your rings in a stacked way for an outstanding look
Via Pinterest
You can stack up normal rings with midi rings for fuller looks, but it is really up to your choice. Furthermore, you can, for example, add many delicate to only one finger and make them into a statement ring. There are endless options when it comes to stackable rings.
6.1 Styling Tips & Product Recommendations
If you want to follow the latest trends while you do your online jewelry shopping, then you need to focus on sets that have minimalist inspired rings or vintage inspired rings.
However, for more elegant and chic styles try to get ring packs that have glitter and rhinestones on them.
Stackable rings are very appropriate for this season
Left: Minimalist Ring Set Gold; Right: Vintage Silver Ring Set by Happiness Boutique
These two ring sets from Happiness Boutique have all you need to make any of your day to day outfit more trendy, fashionable and stylish.
Even your sweatpants could look chic with these minimalist and vintage inspired ring sets. Feel free to check them out by clicking on links below the photo.
7. Ear Climbers
For a different and remarkable style, you definitely need to do some ear climber online jewelry shopping. You can get very bold ear climbers, but if you prefer more delicate ones, then don't hesitate to add them to your wardrobe. 
In addition to your modern outfits wear ear climbers
Via Pinterest
Ear climbers have their own unique charm and elegant touch to it. Depending on the design of the climbers you can end up with a really cute bohemian style or with very discreet, but efficient stylish look.
While you do your online jewelry shopping don't forget to add a pair of ear climbers
In addition, if you like to wear your hair up in a cute hairdo or just a messy bun, then these earrings are the perfect jewel for you.
7.1 Styling Tips & Product Recommendations
You will be able to find similar products in Happiness Boutique ear cuff, ear jackets and ear climbers' collection. Feel free to check out the whole collection by clicking →
here
.
Any of these ear climbers is perfect for this season
Left: Glamorous Spiked Ear Climbers; Right: Multi Star Ear Climber Rose Gold
By Happiness Boutique
As you can see you can wear these earrings with very elegant and special occasion inspired outfits. Or, you can jazz up any of your daily outfits. You can wear them to work, school, during your vacation or just to show your love for the latest fashion trends.
8. Cuff Bracelets
In general, cuff and wrap bracelets are widely worn by many ladies. You can see them in gold, rose gold or silver. They all look very sophisticated and chic. In addition, they are very comfortable to wear.
Cuff bracelets look very sophisticated and luxurious
Don't be afraid to experiment with different metals for a refreshed look. Also, if you wear this kind of a bracelet in an elegant way, then it is a must have to have a some rings with crystals, rhinestones or a diamond.
In addition to your trendy watch add a matching cuff bracelet
Via Pinterest
Furthermore, to achieve a super trendy look you need to style your bracelet with a watch. This is a great style for your ordinary looks that need a little twist up to be more interesting and pretty.
8.1 Styling Tips & Product Recommendations
If you happen to be already falling in love with these bracelets, we have similar jewelry pieces in our collection. They look so luxurious and chic. There is no doubt that any of your looks would be more stylish and trendy.
Sharp Point Double Spike Cuff Bracelet with White Marble by Happiness Boutique
To perfectly style similar bracelets you can add another similar bracelet and stack them up for a more accessorized look. You can combine them with your professional attires or with cool casual looks such as a high waisted skirt and wedges.
9. Shop online jewelry - Minimalist Earrings
The minimalist trend is also very popular this season. You can see all kinds of jewelry pieces that are minimalist inspired.
Feel free to give your look interest with these eye-catching earrings
However, if you want a different kind of look you can try to accessorize your looks with a fun and cute earrings. For example, an earrings that is in the shape of a safety pin.
Wear minimalist hoop earrings in addition to your girly outfit
Also, statement, but minimalist earrings that have very clean and basic design could also be placed in this category. You can literally wear these with any kind of an outfit and make it prettier and more trendy.
9.1 Styling Tips & Product Recommendations
To achieve a similar look feel free to check out these minimalist inspired earrings from Happiness Boutique. They are great to be worn with more fun, free spirited or even elegant looks.
In addition to your basics wear minimalist earrings
Left: Minimalist Safety Pin Earrings; Right: Circle Earrings Rose Gold
By Happiness Boutique
For example, you can style the with a simple top, jeans and a blazer to top off the look. Or, you can wear these earrings with feminine outfits such as dresses or floral long skirt. To finish off the style you can wear these with flats, sandals or heels.
Finally, I hope you enjoyed these styling tips and they got as much excited as me to do some online jewelry shopping. In addition, please let me know which styles do you like the best!
Thank you & Happy Styling!
Save
Save
Save
Save
---