Ways to Style Pendant Necklaces
There are so many ways we can style and wear our favorite pendant necklaces.
Depending on the design of the jewelry you can make your looks more elegant, fashionable, funky or extravagant.
By using our imagination and creativity there are endless options to wear and rock these amazing pieces.
Scroll down to get some inspiration or to possibly learn new ways on how best you can style and wear your pendant necklaces.
Feel free to recreate some of these style tips and ideas to make your life easier and your outfits perfectly accessorized.
1. Long pendant necklace appropriate for everyday looks
The long necklaces with a dainty chain and a cute pendant are perfect for any of your daily looks because it looks stylish and elegant no matter of the length of the necklace.
It could definitely beautifully embellish your simple tops to make them more interesting and attractive.
In addition to your basic outfits wear a long pendant necklace
Via Pinterest
Furthermore, long necklaces with pendants are very versatile and appropriate for any time of the year.
For example, you can layer them over your winter sweaters or turtlenecks, yet perfect for your plain t-shirts and tank tops during the summer days.
Spice up your casuals by accessorizing with a long pendant necklace
Via Pinterest
Plus, it is very easy to combine them with other fashionable and trendy jewelry such as a stack of delicate rings or a bold bracelet that will top off the look in a very stylish and noticeable way.
Many options are available if you want to experiment with your new long pendant necklace.
Long pendant necklaces are perfect for casual wears
Left: Pretty in Mint Long Necklace; Right:Morning Star Necklace by Happiness Boutique
To achieve a similar look feel free to get a glimpse of these beautiful long necklaces from Happiness Boutique.
Pendants can give a splash of color to your monochrome outfits during the colder days and make even more joyful your summer looks.
2. Long boho necklaces for a tribal look
Interested by the bohemian and tribal inspired fashion style?
Then make sure to accessorize your outfits with cute and free spirited long necklaces with boho-inspired elements such as these tasseled pendants.
Dangling tassels for a boho inspired look
Via Pinterest
This kind of a necklace is great to be worn with casual or more dressy outfits as well because it is long, but a subtle necklace that would never look excessive.
The tiny tassel elements hanging off of it at the bottom make it more fun and playful.
Cute mini tassels in addition to your bohemian outfits
Via Pinterest
However, if your preference is a more noticeable style make sure to add a necklace with more pendants such as this multi-tassel necklace.
Style this boho inspired necklace with any of your clothes, but keep in mind the color palette of the tassels so you don't end up looking tacky.
Boho inspired necklaces are a great addition to your summer outfits
Left: Tasseled Pink Statement Necklace; Right: Triangle and Dots Tassel Long Necklace by Happiness Boutique
If you want to make your looks more wanderer boho inspired you can accessorize them with similar necklaces such as these cute tassel necklaces from Happiness Boutique.
They will instantly give your outfit dimension and personality due to their composition and design.
3. Colorful pendant necklaces for a stylish wear
For a bold look the statement necklaces with big colorful pendant designs are great because they are chunky, remarkable and stylish at the same time.
Some people really like to show their love for the big statement necklaces and beautifully decorate their plain tops.
Pendant statement necklaces for a stylish look
Via Pinterest
These statement necklace are great to renew your old looks and make them so much better better.
Achieve a more excessive style feel free to add other necklaces or a pair of matching earrings to top off the look.
This look is more elegant and refined, therefore it is great for special occasions, work or cocktail parties.
Wear a big pendant necklace for a chic and trendy look
Source unknown
Try to match the color of your outfit to the colors of your necklace for a well put together style.
A perfect look for the ladies on the-go who want to keep it stylish and exquisite.
Also, this way you can add so much details and interest to your otherwise plain or old clothes.
Make your outfit more interesting by wearing a statement necklace
Left: Delicate Bow Statement Necklace; Right: Geometric Triangle Statement Necklace by Happiness Boutique
Add a splash of color to your single colored outfits and make them elegant and feminine by simply getting getting a similar necklace.
Here we have two suggestion ideas from Happiness Boutique that you can take a look and see if they are the perfect add-on to your looks.
4. Dainty necklaces for a fun girly look
On the other hand, delicate necklaces with pendants are perfect for everyone who wants a more subtle, fun and girly look that you can wear all the time.
These delicate necklaces are truly unique pieces that could be worn with any of your looks due to their discreteness and adjustable designs.
Delicate necklaces with pendants for a cute look
If one is not enough you can always play around and even revamp your old jewelry to create yourself a unique and original design that represents your personality and fashion style.
Many alternatives you can choose from and experiment to end up with an authentic combination.
Mix and match your delicate pendant necklaces for a trendy style
Gold Half Moon Necklace by Happiness Boutique
Here is another style tip on how you can combine your pendant necklace with others, but it is definitely not necessary.
It is also very trendy to wear a single delicate pendant necklace such as this half moon necklace from Happiness Boutique.
We all have seen this kind of a jewelry worn by many fashionistas and celebrities.
Delicate necklaces in addition to your trendy looks for a super cute look
The good thing about delicate necklaces is that they can accessorize your most basic and casual outfits as well as your elegant and chic looks.
In addition, these pieces are perfect to be styled all year long with no effort.
They are the kind of jewelry that you never need to take off because they are so adjustable and timeless.
Endless choices when it comes to delicate pendant necklaces
Left: Half Moon Necklace; Right: Heart Charm Necklace by Happiness Boutique
These are two golden delicate necklaces with pendants that we suggest you try, but you can always take a look at the other fashionable delicate necklaces from the collection.
Also, if you want want the half moon necklace but in silver we have that option as well.
5. Layered necklaces for a fashionable look
A major trend in the fashion world are the layered necklaces. You have probably seen them everywhere but there is a reason why.
They looks absolutely amazing on any lady and could be worn by any lady no matter of her style.
Layered necklaces with pendants for the ultimate up-to- date look
To be super trendy make sure to combine your layered necklace with a choker for a very attractive and remarkable style.
This is definitely one of the most worn pendant necklaces at the moment, therefore if you want to attract people's attention and interest focus on this look.
In addition to your everyday looks wear a layered necklace
Layered Lucky Charms Necklace by Happiness Boutique
Nevertheless, if you only wear your layered necklace it still looks very trendy and completed. Try to wear this style with V-necks, collared shirts or open necklines so you can show your passion for the layered necklaces.
Once again, many picks you can choose from, therefore there is no doubt that you will find just the right one to suit your style. 
So stylish and trendy!
Left: Twice the Daisies Necklace; Right: Minimalist Layered Necklace by Happiness Boutique
These cute and fun layered necklaces from Happiness Boutique are super trendy and popular, therefore if you are interested in accomplishing a comparable look make sure to check out these beauties from Happiness Boutique.
6. Chokers with boho-inspired pendants for a mystical look
Many of associate the chokers with the 90's but nowadays we can see them in all kinds of styles such as these boho inspired pendant chokers.
Chokers look very attractive even though they can be style with your most casual and relaxed outfits.
Collar necklaces with bohemian vibes for a careless look
Dreamcatcher Boho Choker by Happiness Boutique
Because of their shapes, designs and vibe they allow you to wear them in any way you want.
However, the boho chokers have been preferred so much lately that we decided to include them in our list from today's blog post.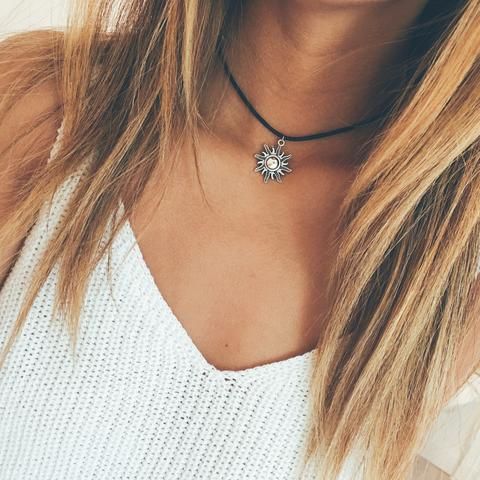 Gypsy inspired chokers for free spirited look
Via Pinterest
Chokers could even be styled with your chunky sweaters, therefore they are really appropriate for any of your looks during the whole year.
Anything that has feathers, tassels, symbol of the sun or other symbolic pendants is great to recreate the boho inspired fashion style.
Many people associate it only with the sun and the summer times, but you can achieve it easily simply by adding a similar choker to your clothes.
Symbolic chokers for a meaningful style
Left: Half Moon Layered Choker ;Right: Feather Choker Vintage by Happiness Boutique
Feel free to check out these two types of chokers from Happiness Boutique if you want to the boho vibes in your look.
However, make sure to explore the other super trendy chokers as well.
You can go for a very subtle minimalist type of a choker or for a very bold and detailed one that will definitely make your neck the centerpiece of your look.
7. Metallic chokers for a super trendy look
If you want to go for a more modern, simple, yet very trendy and fashionable necklace make sure to decorate your neck with a metallic choker with a pendant.
Also, you can add other types of delicate pendant necklaces if you want to be extra edgy and attractive.
For a trendy and eye-catching look wear a metallic choker
If you decide to add another longer pendant necklace you can easily style it with your V-necks or dressy collared shirts.
Great look for all the ladies that want to be remarkable and up-to-date with the fashion trends.
Pendant metallic chokers are a great addition to every fashionista's wardrobe
You can always combine two collar necklaces and one of them should have some pendants so they can dangle softly as you walk around.
A rather subtle look that you can effortlessly wear even with your favorite t-shirts to spice them up a little.
Don't hesitate to try them out even though they might look very shiny and sparkling because their discreteness definitely allows to wear them with absolutely anything.
Metallic choker for an absolute chic wear
Marble Geometric Choker Necklace by Happiness Boutique
For example, this marble geometric choker from Happiness Boutique could be the perfect addition to your working attire, business clothes, dressy outfits or whichever way you prefer to style it.
This marble effect on the pendant looks very sophisticated and elegant when paired with the outfit itself.
8. Wear a Y necklace for an elegant style
Y necklaces or the so called lariat necklaces are such beautiful and elegant pieces that there is no chance that you won't fall in love with them.
They will instantly give dimension to your look and accessorize it in a very feminine and stylish way.
This is one of the necklaces that when very detailed it is better to be worn alone.
Add elegance and style to your outfit by wearing a Y necklace
Ocean's Treasure Y Necklace by Happiness Boutique
Depending on the style that you choose you can end up with a beautiful pearl pendant for a timeless classy look.
Try to wear it with less detailed outfits so it can stand out and become so easy to notice.
However, if you want to add another type of a jewelry to this look, we suggest that you go for a pair of delicate earrings.
Y necklaces with pendants for a feminine look
Via Pinterest
In contrast to the very detailed and majestic Y necklace, the subtle Y necklace are the perfect add-on to your summer outfits.
The perfect supplement to the rest of your look.
Lariat necklaces are very elegant, yet so versatile because you can effortlessly wear them with more casual and easygoing outfits.
Y necklace with a pendant for a sophisticated look
Crystal Princess Y Necklace by Happiness Boutique
If you are planning to go to a special soirée or some sort of a celebration then make sure to check out this lovely and stylish sparkling Y necklace from Happiness Boutique.
You can wear it with a simple fitted dress or a dressy collared shirt.
Looking very elegant and there is no doubt that you will get many compliments if you wear it.
9. Minimalist pendant necklaces for a modern look
Simple, but so remarkable and modern, we call them the minimalist necklaces.
It is hard not to fall in love with these delicate, clean lines and futuristic looking designs that will right away make any of your clothes so fashionable and contemporary.
Get an eye-catching pieces of jewelry that will make your outfit very chic
A well polished collar necklace with a beautiful chain hanging off of it and ending with a plated pendant. It completes the design of this creation in a very modern way.
Regardless of their simplicity, the shapes and designs of the minimalist inspired necklaces is so original and unique.
No matter of your fashion style you can still find a piece to suit your look and personal taste.
In addition to your minimalist necklaces wear modern outfits
Minimalist inspired pendant necklaces are truly unique pieces that you can style with anything that sits in your wardrobe, even the most detailed and busy look that you want to pull off.
In addition, they look great during the whole year because of their bareness.
It is nice to have a timeless piece of jewelry that is possible to style with ease.
10. Stacked pendant necklaces for a funky look
To achieve a very cool and funky look simply throw on your old and new delicate necklaces with different pendants. This way you can create yourself a very distracting, yet still fashionable wear.
Cute stacked delicate necklaces with pendants for a girly look
To finish off the look wear other jewelry pieces.  For instance, rings and bracelets to accentuate your passion for the stacked trend.
You can easily combine rings and bracelets of different texture, design or shape for an even more original and funky style.
Stack up your pendant necklaces for a cute look
Short delicate pendant necklaces are perfect and so cute with any neckline and any type of fashion style.
Easily worn with casually chic, funky, rock style or modern looks.
Of course, it is more preferred among the youngsters but there is no age to fashion jewelry. And no age on how you want to wear it.
The importance here is to stick to the same metal jewelry and possible the same style to avoid looking tacky.
In addition to your outfit wear a combination of long and short pendant necklaces
With that being said, feel free to go for different in length necklaces. But again, keep in mind the texture and design of your pieces.
You can always stack a couple of your favorite pendant necklace, yet focus on more simple and simple colored items.
Hopefully you got inspired and explored new style tips and ideas on how to wear pendant necklaces.
Please leave us a comment if there is a style missing in our listing. Also let us know what is your favorite type of a pendant necklace.
Thank you for reading and happy styling!
Save
Save
Save
Save
Save
---