How to choose the right prom jewelry to your dress? We get the idea that preparing for one's prom is no easy job.
In addition, there's a plethora of choices that we have on the market since the dresses don't change much from one year to the next except for some little details.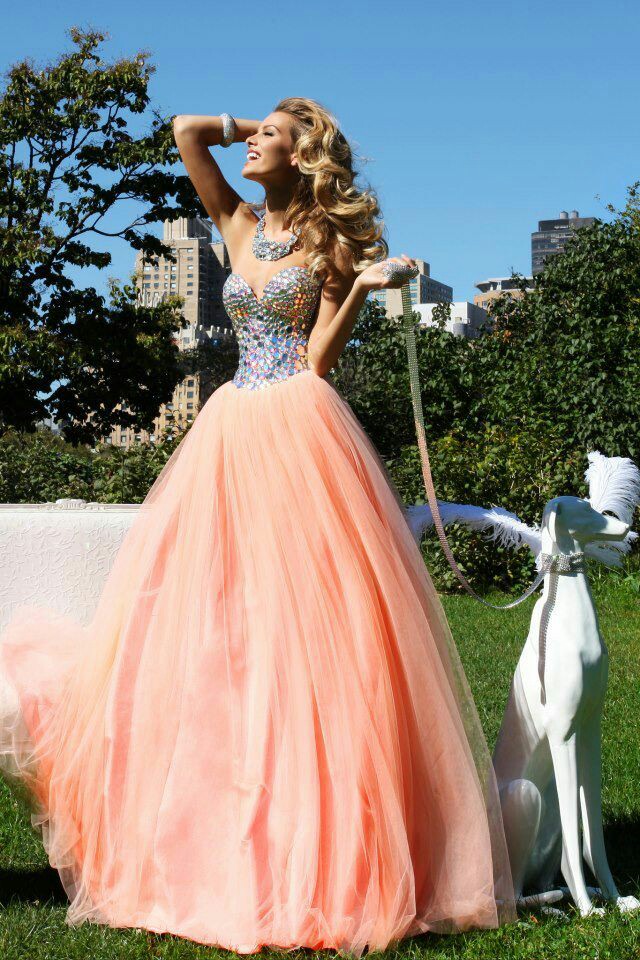 Prom season is coming soon!
Via Pinterest
However, the big selection of dresses is also not much of a help because the more choice the bigger the confusion. Therefore, in today's blog post, I hope to easen your styling and the ways on how you can dress and accessorize for the prom night.
Prom jewelry is so pretty and sparkly!
Via Pinterest
The following style tips could possibly help you to get at least the right pair of earrings that go best with a particular type of a dress to end up with a glamorous, simple, classic, out of the ordinary or whatever your personal style is.
Now let us begin exploring all these choices that could make difficult the preparation for the prom night!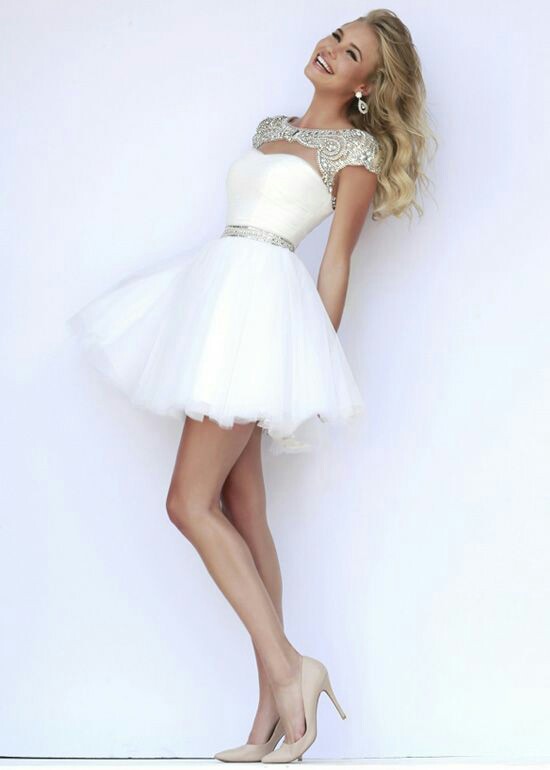 Don't forget to wear your smile at the prom!
Via Pinterest
Happy reading!
1. Earrings
Most girls prefer to wear some sort of earrings to their prom. Maybe this is because most of us like to make a cute hairstyle since after all this is a pretty big celebration. Therefore, let us begin with the earrings that could be appropriate for the prom night.
1.1 Statement Earrings
Crystal and rhinestone statement earrings are very typical choice for this occasion, thus you'd never go wrong with such a pair of earrings. This is a great option for the ladies who find their styling a challenge.
In addition to your prom dress wear statement earrings
Source unknown
Who doesn't like to sparkle and shine like a celebrity on the red carpet?
If this is the look you are going for, then feel confident because these jewelry pieces are so adjustable. Therefore no matter of the color or design of your dress you'd be able to pull off the look like a pro.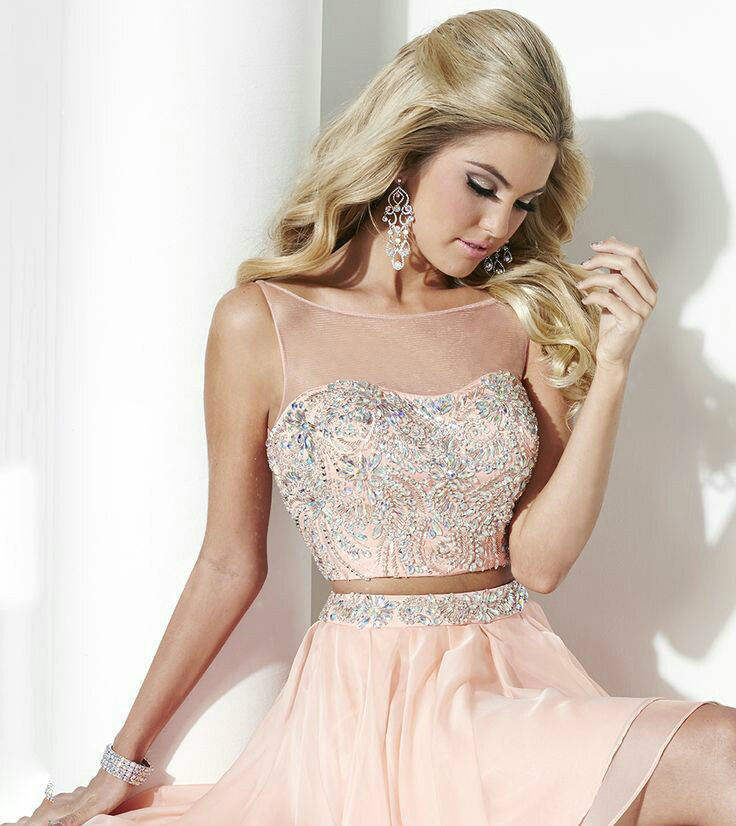 Statement earrings and prom dresses are always a great combo
Via Pinterest
Whether you go for a princess style, classy black or red dress, or a rather bedizened dress, these sparkling earrings could still look very elegant and stylish.
In addition, if you want to add other jewelry pieces make sure to get a matching bracelet or a ring. Add a necklace if the neckline of your dress allows you.
Accessorize your prom dress with some sparkling statement earrings
Left: Heaven Statement Earrings; Right: Glamour Statement Earrings by
Happiness Boutique
For a similar glam and sparkling look, make sure to click on the links under the photo above and see if you will like these jewelry pieces to be part of your prom celebration.
1.2 Delicate Earrings
Delicate earrings, no matter of their color or style, are perfect for very detailed dresses because you don't want to end up looking distracting and tacky, especially at your prom.
Also, these prom jewelry pieces are appropriate for the ladies that prefer a more gentle and romantic look for their special celebration.
Delicate earrings in addition to your detailed prom dress
Via Pinterest
For example, embroidered and ostentatious dresses are better to be paired up with delicate earrings. Here, focus on colorful, pearl or crystal earrings because their discreteness would give you just the needed final touch to your look.
For a feminine look wear delicate earrings to your prom
Source unknown
For a romantic look you can for a more relaxed long dress such as an empire or sheath type of a dress. However, if you don't want to take risks you can also go for an A-line dress because it is suitable for most body types.
The perfect pairs of delicate prom earrings
Left: Joy Statement Earrings Vintage Gold; Right: Easy Elegance Ear Jackets in Royal Blue
By Happiness Boutique
If you feel already inspired to accessorize your dress, we have two pair of earrings from Happiness Boutique that could be suitable for you.
For example, a crystal based pair of earrings for a super trendy and glam style or make a statement with a pair of royal blue delicate earrings.
1.3 Chandelier Earrings
Chandelier earrings are great with strapless dress with Sweetheart or Queen Anne necklines.  This way they accentuate your face and give your overall look a very joyful and stylish vibe. Feel free to leave your décolleté with no adornments to highlight your femininity.
Dangle, dangle all the way!
Via Pinterest
Yet, for the jewelry lovers, this style is great for bracelets. Mix and match your bracelets in accordance to your earrings, shoes or clutch.
For instance, a stack of rhinestone bracelets or a minimalist inspired golden or silver is also a good addition to your outfit.
Match your chandelier earrings and your prom dress for an elegant style
Via Pinterest
Just like the prom dresses, chandelier earrings also come in so many designs, colors and sizes. For a very elegant wear, again, a pair of rhinestone earrings is just an amazing combo.
However, based on the design of your dress feel free to experiment with colorful earrings as well.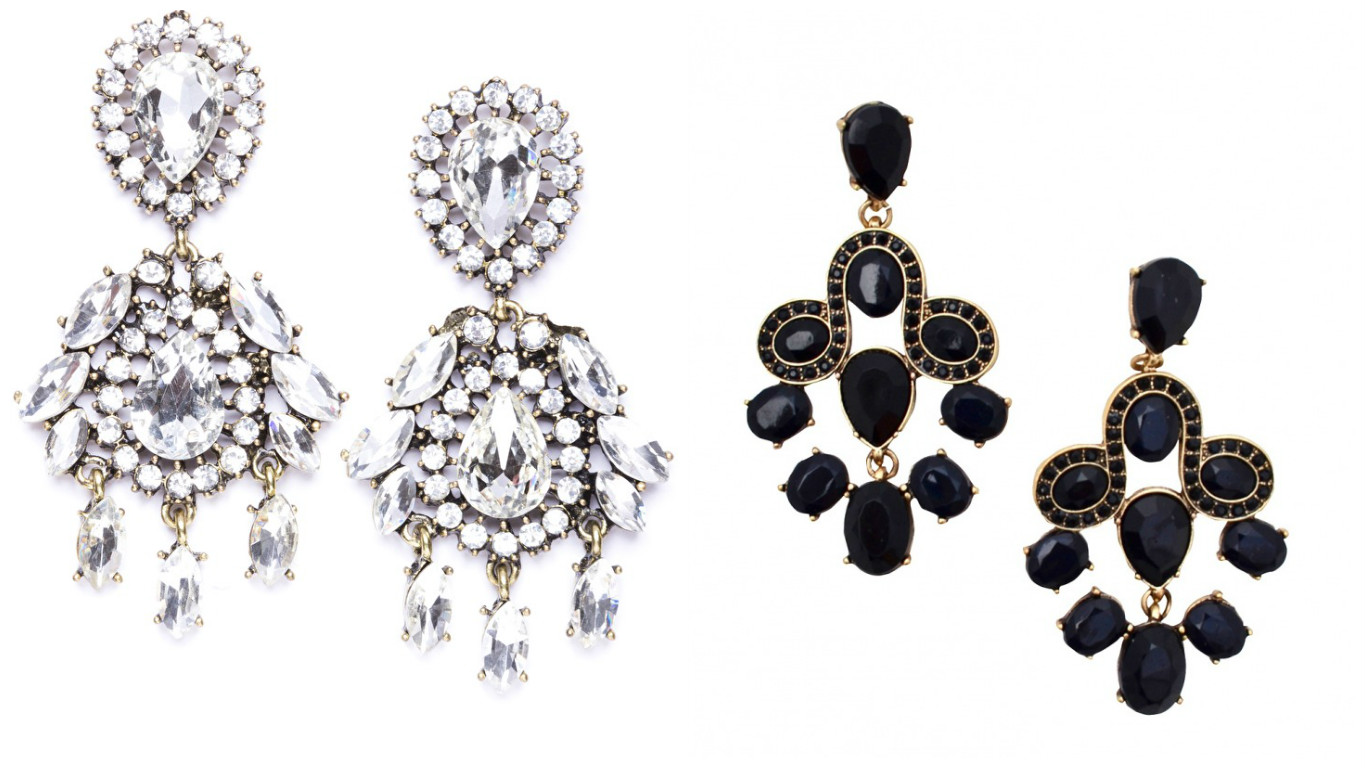 Dangling prom jewelry is always a great idea
Left: Flawless Luxury Chandelier Earrings; Right: Shiny Black Statement Earrings
By Happiness Boutique
For a perfect pair of prom earrings check out these amazing and glamorous jewelry pieces from Happiness Boutique.
In addition, you can wear them at any point after your prom, therefore you will invest in a pair of timeless classy earrings.
2. Necklaces
The second section is all about necklaces that are appropriate for your special day. Most of the dresses could be styled with a necklace, therefore if you were intending to decorate your neck, keep reading. 🙂
2.1 Layered Necklaces
Let us begin by exploring the beauty of the layered necklaces. They became a huge trend lately, which means that if you pair them with a nice loose dress style Greek Goddess you can achieve a very majestic, yet feminine style.
For a Greek Goddess prom look wear layered necklaces
Via Pinterest
You don't have to necessarily go for the typical stiff dress made from taffeta. You are more than welcome to get creative with your style and go for something more simple, but very elegant and classy.
Accessorize your simple dress with a layered necklace for a fuller look
Via Pinterest
For example, a monochrome dress with off the shoulder sleeves that is so easy to combine with a layered necklace because of the V-neck. The simplicity of the dress allows you to play around with your accessories.
Layered necklaces look very feminine and chic
Left: Minimalist Layered Necklace; Right: Pearl Star Layered Necklace
By Happiness Boutique
Two necklaces from Happiness Boutique that are great with Greek Goddess inspired dresses and could make your special day even more special and completed.
2.2 Statement Necklaces
As we try to be more and more original and different than anybody else we have two dresses paired up with statement necklaces for a bold, but very elegant style.
If your chosen dress has an illusion neckline or halter neckline, then statement necklaces are a great way to give dimension and a layering effect to your look.
Jazz up your simple dress by wearing a statement necklace
Source unknown
Try to get a crystal statement necklace if you want a more glam and chic look or go for a necklace with pendants for a rather charming style. Make sure to pair the colors, if any, of your prom jewelry to your dress.
A sparkling statement prom jewelry for an elegant style
On the other hand, statement necklaces are perfect to accessorize the naked area around the décolleté if you have a V-neck dress for example.
In addition, bold jewelry pieces are great for more simplistic and comfortable dress to make them glamorous and stylish.
In addition to your outfit wear a statement necklace for a remarkable look
Left: Daisy Statement Necklace; Right: Tranquility Statement Necklace by Happiness Boutique
For all the ladies who'd like to go for a similar style you are more than welcome to take a glimpse at these beautiful crystal statement necklaces that could easily be combined with an empire dress or wait accentuated dress.
3. Rings
Another jewelry piece that is very delicate and small, yet it has the power to fully change the intention of the look. Based on your dress you can for a majestic statement ring or rather discreet and feminine ring that will give you just a final touch to your overall style.
3.1 Delicate Ring
Regardless of their size, they are the perfect add-on to a bedizened dress with lots of embroidery or crystals incorporated into the dress itself.
Anytime you feel you are going to cross the fine line between trendy and tacky simply go for a delicate ring.
Add a delicate ring to your dress for a romantic look
Via Pinterest
For instance, a minimalist inspired ring with maybe just a little topping of rhinestones or a single pearl on top is great for any type of a prom dress. Delicate rings look very sophisticated and classy when paired with a chiffon, taffeta, organza or silky dress.
In addition to your earrings wear a delicate ring for a very chic, yet trendy look
Via Pinterest
If you dress is topped off with crystals or gems, then it is a must to go for a feminine and simple delicate ring.
Get yourself the perfect prom jewelry
Left: Pink Jewelled Rhinestone Glitter Ring; Right: Planetarium Ring by Happiness Boutique
Here are two suggestions for delicate rings from Happiness Boutique that are very unique and original if you want to escape the usual prom looks.
3.2 Statement Ring
In contrast to our beloved delicate rings, statement rings make such a statement no one will forget your look. They are great for all the ladies that just can't go without their jewels. In addition, they could be easily paired with dresses of one color. 
For a classy look wear a statement ring in addition to your dress
Statement rings are suitable for any type of a prom dress, but especially great with more fitted dresses. Make sure to stay away from statement necklaces and bold earrings if you like to rock your favorite statement ring to the prom.
Wear a statement ring in addition to your sparkly prom dress
Via Pinterest
Depending on the design of the dress, feel free to add a multicolored detailed ring or a glamorous ring topped off with sparkling rhinestones.
Give a pop of color to your prom look with these statement rings
Left: Rose Gold Glamour Band Ring; Right: Ornate Coral Cluster Cocktail Ring
By Happiness Boutique
These two suggestions from Happiness Boutique's collection of statement rings are great for more bright colored dresses. However, feel free to check out other rings that could be very appropriate for darker dresses.
4. Bracelets
If you don't like rings or earrings, or your dress is not suitable for necklaces, then you have the choice to go for a beautiful well polished delicate or statement bracelet. If this is you case, then make sure to scroll down to explore the following suggestions.
4.1 Statement Bracelets
For an absolute classy look a red, black or bordeaux dress is a must. However, this look is not very apropos for a lot of details, sparkles, but rather clean and neat timeless style.
Statement bracelets could be a great option for your prom look
Source unknown
Don't be afraid to add a little touch of glitter and sparkles if you really want to because there are no rules in fashion. We can as creative as we want.
For example, a statement bracelet with crystals or rhinestones wouldn't really make your look tacky, don't you think?
Red dress and statement bracelets for a classy and passionate prom look
Via Pinterest
Very passionate and on fire, red dresses would never go out of style, therefore if you want a classic look that after years would still look very sharp, fashionable and stylish definitely this is the right dress for you.
Flowery and girly statement bracelets are great as a prom jewelry
Left: Jasmine Blossom Statement Bracelet; Right: Sparkle Statement Bracelet
By Happiness Boutique
For a very feminine and sophisticated look that will last forever make sure to accessorize with one of the statement bracelets from Happiness Boutique. They are such a perfect addition to those classy dresses that lack just that little sparkle! 🙂
4.2 Delicate Bracelets
To avoid the usual prom look feel free to recreate a very relaxed and free spirited boho look. In this case you would need a couple of delicate bracelets, a wreath of flowers and leave your wavy hair down.
For a very feminine and summery prom style add a stack of delicate bracelets
Source unknown
A halter neckline dress that is narrowed at the waist so it can give you an hourglass shape of the body but in a more relaxed way is great for a boho inspired look. However, add some bracelets that will gently jingle as you move around.
For a boho inspired look wear a flower wreath and a stack of delicate bracelets
Source unknown
This is a particularly great style for the ladies that prefer to stay comfortable during their celebration and at the same time bring people's attention to their style. A stack of cuff bracelets could be a great option for this boho look.
Delicate bracelets appropriate for the prom night
Left: Morning Dew Crystal Cuff Bracelet; Right: Gemstone Cuff Bracelet
By Happiness Boutique
For a very delicate and stylish wear feel free to accessorize your loose dresses with similar bracelets. Give your look the needed shine & sparkle!
5. Prom Jewelry Sets
Lastly, a good way to accessorize your prom dress is to go for a prom jewelry set. This way you don't need to think about whether your earrings match to your bracelets and necklaces and all the way around.
For easy styling get a jewelry prom set
Source unknown
For example, a set of earrings and a beautiful necklace that could accessorize your neck in a very feminine way. You just need to make sure that your set goes with the overall vibe of the dress and its colors.
A set of sparkling prom jewelry could be a great option for your wedding look
Via Pinterest
Another set that could be an option is a combo of earrings and bracelet. Prom jewelry sets are great if you don't want to take a lot of time in matching the little details to your prom dress.
Hopefully you enjoyed these styling tips and ideas about prom jewelry and how to match them to your prom dress. Also, it would be really cool if this fashion blog post helped you to feel more confident and creative on how to style your look.
Thank you for reading & Happy Styling!
Save
---