Having the right accessories when styling one's outfit such as rings for women is definitely a key element of how the final look is going to turn out to be.
In addition, if you are the type of person that doesn't find it very convenient to wear a lot of different jewelry pieces because you don't find them comfortable, then I suggest that you go for nice and stylish fashion rings for women.
Endless options when it comes to rings for women
The following suggestions are perfect for all the ladies who follow the latest fashion trends as well as for those who simply want to look good and confident in their outfits just by wearing a small piece of jewelry like a minimalist ring.
Stack up your delicate rings for a super casual, yet trendy look
Also, I hope you will enjoy these recommendations or even try some of them to see how the little things could totally change the vibe and intention of your whole look.
Happy Reading!
1. Wear pearl rings for a chic and stylish look
Get your fashion dose with just a small pieces of jewelry such as this pearl ring. It is fascinating how pearls always look great no matter of your outfit, time of the year or if it's in style or not.
Pearl rings for women for a very classy modern look
Also, you will get a  very feminine and stylish way of accessorizing the outfit. In addition, you can combine it with other rings if you want your hands to be focal part of your look.
In addition to your chic outfits wear pearl rings for women
Via Pinterest
The stunning combination of a rose gold wrap base ending with two pearls is just so delicate, yet very fashionable and appropriate for your professional attire, trendy looks or casually chic outfits.
Pearl rings are such a timeless piece of jewelry suitable for any lady
Classic Minimalist Pearl Ring by Happiness Boutique
These rings for women are a perfect addition to your look, especially in the colder days where it is hard to show any other part of your accessorized body. Plus, they are very comfortable to wear.
Wear pearl rings for women with any of your looks
Left: Happy Twist Pearl Ring; Right: Glint of Glamour Pearl & Rhinestone Ring
by Happiness Boutique
In case you are already feeling the need to add a similar pieces of jewelry to your collection, take a look at these rings for women offered by Happiness Boutique. A touch of style and elegance in combination with a currently trendy designs of rings.
2. Decorate your hand with a marble ring for a sophisticated look
Marble accessories became very popular lately and there is no chance to leave them outside our listing today because they look absolutely amazing. Also, the marble effect will bring your look class and sophistication within seconds.
Make your look sophisticated by adding a marble ring to it
Via Pinterest
And, if you are a real fan of this fashion trend, you can always go for other marble effects such as your nails.
For a stylish look wear a marble ring
Via Pinterest
Or, you can get a slight touch of the marble design on your ring and still look very sleek and chic. Another ring that is great for the business ladies that like to accessorize their working outfits.
Marble rings for women look so stylish and sophisticated
Modern Geometric Marble Ring by Happiness Boutique
To get the most of this stylish accessory trend get a glimpse at this geometrically shaped marble ring from Happiness Boutique. In addition, for a fuller look you can get a matching pair of minimalist marble stud earrings.
3. For a trendsetter look wear minimalist inspired rings
For all the ladies who prefer to keep it to the minimal, our suggestion is to try a minimalist inspired ring or a stack of them for a fuller style. Very chic, modern, simple, yet definitely a trendsetter look.
Minimalist inspired jewelry pieces are always a good idea
In addition, the simplicity of these rings for women stole our hearts since day one because who wouldn't like a ring or a set of rings that are so easy to style and combine with our daytime or nighttime looks.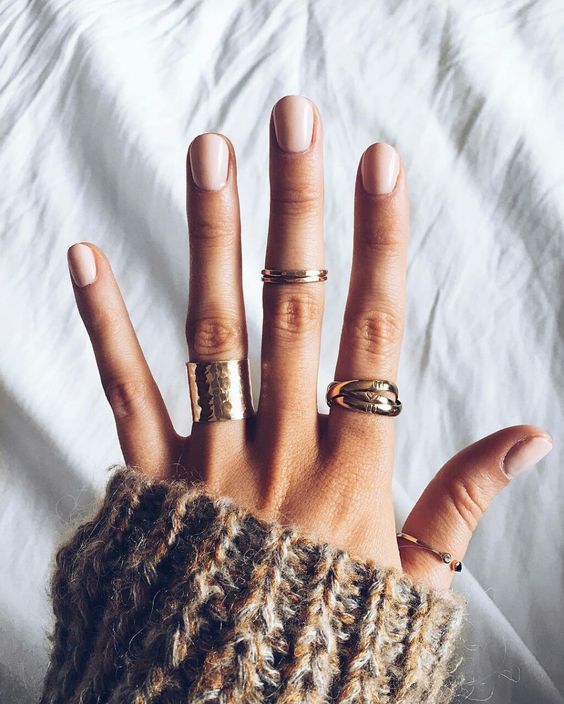 Turn your minimal to a maximum by wearing a pile of minimalist rings
When it comes to minimalist rings for women, it is not about size, but the design itself. Feel free to go for a tube like ring or for a very thin band ring because both types are very trendy. You can style them with a chunky sweater and comfy pair of jeans.
In addition to your trendy outfits stack up different minimalist rings
Left: Double Chevron Ring Band; Right: Black Hexagon Ring
By Happiness Boutique
Our suggestion is whether to give a little color to your look with a black hexagon ring or double the trouble with a double chevron ring band, both from Happiness Boutique. However, make sure to check out the rest of the collection of delicate rings.
4. Set of rings for an outstanding look
As we speak of stack of rings, another cool, yet stylish fashion trend has been to stack our most favorite rings or to get a set of rings.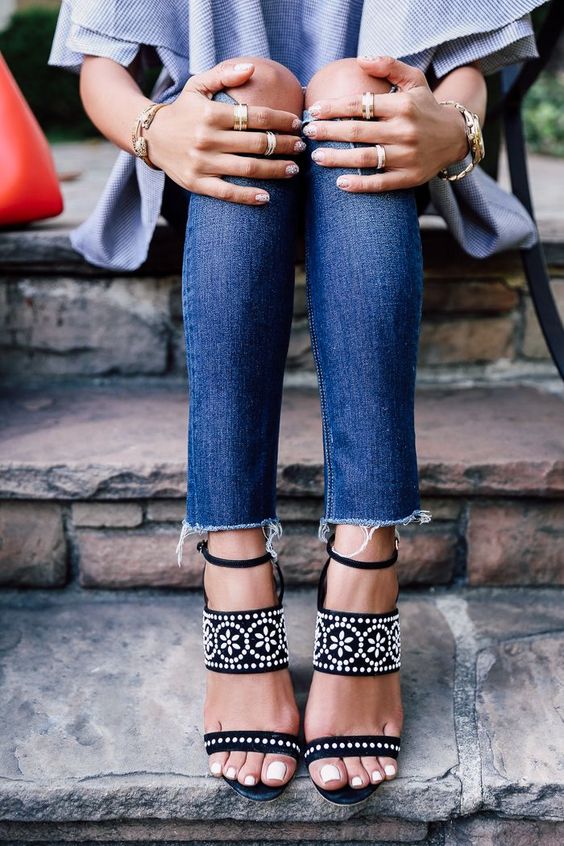 Get an outstanding look by wearing a set of trendy rings
Here, the idea is to stack different in shape, size or design rings that still look as if they are all bought together. If you find that difficult - no worries. Simply purchase a set of rings and you are all set.
Great style for street style inspired or chic outfits. For example, a fitted blouse and our favorite skinny jeans.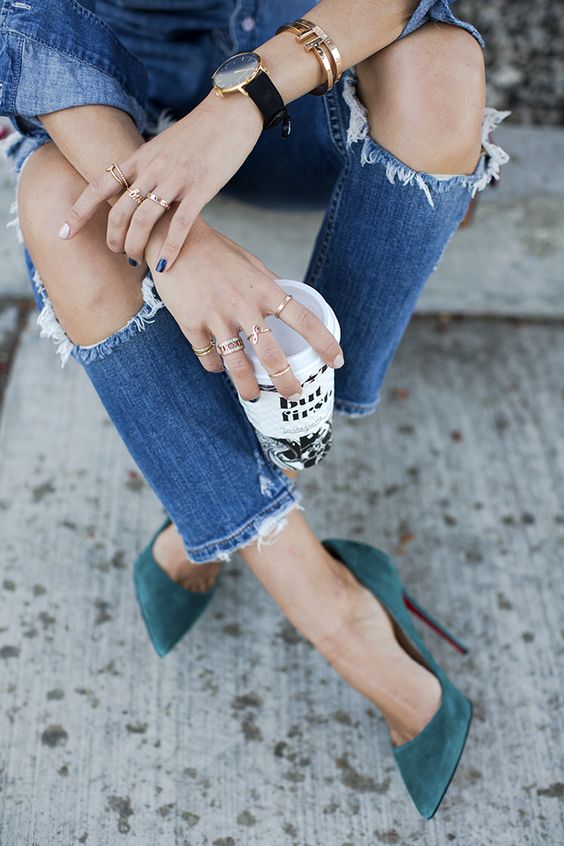 Professionals outfits look amazing with a set of stylish rings for women
The combination of different rings could easily display your personal fashion taste and creativity. You are the creator of your own, which makes your look so much better and original.
5. Give a sparkle to your outfit by wearing rhinestone rings for women
On the other hand, if it's the little sparkle that misses from your look - try to wear a rhinestone ring that will bring enough shine and glow to your dull looks. 
Rhinestone rings for women for a feminine, yet trendy style
Via Pinterest
Definitely very chic and elegant, rings with tiny rhinestones are very discrete and appropriate to be worn at any time. Also, try to let your rings be the centerpiece of your outfit. Especially if you are the type of person that likes to wear a lot of blacks.
Give an extra sparkle to any of your looks
Via Pinterest
Also, try to pair this type of a ring with less detailed outfit, especially if you are wearing a statement ring with a big rhinestone on it. However, you can still pull off this look for work because it looks very stylish and feminine.
Jeweled rings for women always look amazing and chic
Left: Bejewelled Cross The Line Ring; Right: Honeycomb Ring by Happiness Boutique
One of the most favorite rings in the collection are these two beautiful delicate rings with a slight touch of glow on them.
6. Vintage inspired rings for an old-fashioned look
Most people don't wear vintage inspired jewelry and this is exactly what makes these pieces so unique and special. The history that might be hidden behind this pieces of jewelry could make it even more precious.
Bold antique inspired rings for a luxurious and remarkable look
Via Pinterest
Vintage rings are also great to be given as gifts or as engagement rings because they have a very original and ancient vibe to them. In addition, they look as if they are found in a treasure chest on a remote island.
Sentimental rings are such priceless jewelry pieces that always look fabulous
Source unknown
Furthermore, old-fashioned inspired rings can easily show your passion for jewelry and make most of your looks very authentic and interesting.
7. Make a statement with your chunky rings for an original look
No matter of your style, glamour, elegant, funky, punk, grunge, trendy, you can easily find a statement ring that speaks to you and your fashion taste.
Chunky rings for a statement look
For all the ring lovers, make sure to also experiment with different kinds of rings and stack them on your fingers. These pieces will give you confidence, positive energy and they can also serve as a conversation piece.
Make a statement to your look with a stack of chunky rings for women
In addition, statement rings for women are perfect to be styled with everyday clothes or with more elegant outfits as well. It all depends on the shape, design and texture of the ring, but in general very easy to combine with any look.
In addition to your simple outfits add a statement ring for a remarkable style
Left: Gypsy Treasure Ring; Right: Glint of Glamour & Rhinestone Ring
By Happiness Boutique
For more elegant look we suggest that you go for something sparkling and pearly such as this pearl and rhinestone ring.
On the other hand, for the ladies that like something more chunky and also gypsy inspired feel free to check out this gypsy treasure ring by Happiness Boutique.
8. Beach inspired rings for a boho look
Anything that could remind you of the beach could be appropriate as an accessory to make your beach wear more attractive and eye-catching.
For example, rings with ocean or turquoise stones, palm trees, sun, ocean waves and other shapes are great to achieve this look.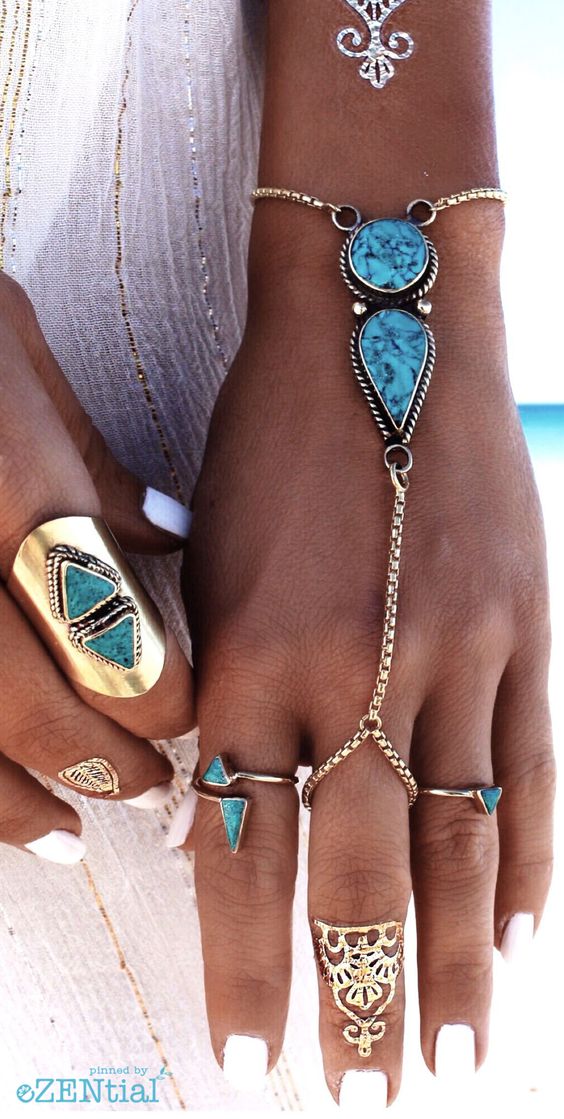 Turquoise rings for a boho inspired look
Via Pinterest
And, to enhance even more your style, feel free to add temporary flash tattoos and a stack of different boho inspired rings for a very free spirited and careless look.
Boho inspired rings for women are the perfect add-on to your bohemian beach style
Via Pinterest
In addition, if you are the type of person that likes a love of jewelry, then create yourself a unique combination of bracelets, rings, necklaces and earrings to complete the look. To finish off the style try to combine all of these jewelry pieces with white clothes or floral dresses.
Feathers & palm trees, peace & love rings for women for your summer outfits
Left: Love is the Answer; Right: Vintage Feather Ring by Happiness Boutique
Most people that like the boho style are all about the love, therefore don't hesitate to add this love is the answer ring to your collection.
Also, if you like more vintage inspired, but modern boho inspired ring get a glimpse at this feather ring also from Happiness Boutique.
9. Rings topped off with stones for symbolic wear
People who are interested in the symbolism of the different stones and their energies and representations are more picky when it comes to stone rings. For the rest us, we just select them for their shapes, almost transparent stones, which are so beautiful and the colors.
Rings for women with symbolic stones for an emblematic look
Via Pinterest
In addition, rings for women that are topped with stones are such statement rings with personal character and emblematic meaning behind them. There is no doubt that your look will absorb their energy and powers.
Stone rings for women for a powerful and symbolic look
Source unknown
Furthermore, stone rings a for women are great with casual, elegant, trendy or chic outfits because of their adjustability. Plus, the earthy and natural colors of stones are so easy to combine with any other type of jewelry or any type of fashion style.
Accessorize your toes with a stack of rings for a remarkable beach look
Boho Ring Set by Happiness Boutique
For a similar, browse through Happiness Boutique's collection of stone rings for women such as this boho ring set that is absolutely gorgeous. The stones on top of each ring is so mysterious, yet very fashionable, which makes the perfect add-on to your casual, professional or chic outfits.
10. Toe rings for a cool and remarkable look
Why not accessorize our toes? As the summer days hit we can easily make our looks more catchy and cool by decorating our toes with toe rings of different designs.
Accessorize your toes with a stack of rings for a remarkable beach look
Via Pinterest
Feel free to choose your rings based on the sandals that you wear if you don't want to look tacky. In addition, toe rings are the perfect add-ons for any type of lady because of their delicateness.
Chic shoes, decorated toes – the perfect combo for a fashionable look
Source unknown
Try also to match your toe rings in accordance with the rest of your jewelry pieces such as bracelets, ankle bracelets, necklaces, etc. Focus on making them as one so your look can end up very well accessorized but still keeping the same theme.
11. Wear symbolic girly delicate rings for a cute look
Nowadays, we see more and more of these cute and girly delicate rings with different symbolic shapes and sayings such as love, the infinity sign, evil eye and many more.
Regardless of their small size, these rings can easily help you to express your mood and character and at the same time keeping your look on point.
Heart rings for a super girly and easy going look
Via Pinterest
In addition, these delicate rings are great to be styled with a dress or a skirt for a more girly wear. However, their delicateness allows us to style them with our favorite skinny jeans and a simple t-shirt suitable for our simplistic everyday outfits.
Symbolic delicate rings for a simplistic everyday look
Heartbeat Ring & Evil Eyes Ring by Happiness Boutique
Even if you don't really believe in the symbolism of your ring, the vibe they bring to our look is so powerful and cute. Fun shapes that at least could brighten up our days and bring a smile on the face.
Emblematic dainty rings for women for any of our looks
Left: Geometric Triangle Ring; Right: Infinity Ring by Happiness Boutique
To recreate this look expand your jewelry collection with some fun and cute shaped rings such as these from Happiness Boutique. Bring the latest fashion trends right to your home and instantly make any of your looks more chic and trendy.
12. For a modern look wear wrap rings
With a very modern feel to them, wrap rings are great for any fashion style. Easy to be paired up with casual outfits or with working outfits. It all depends on your way of wearing them rather than following the vibe of the rings.
For an outstanding look wear wrap rings for women
Source unknown
In colder days throw on a comfy sweater paired with a trendy pair of jeans and you are all good to go. For the summer days, try to combine them with girly dresses or a simple tee and a pencil denim skirt for a rather funky style.
In addition to your usual outfits add a stack of wrap rings
Via Pinterest
Wrap rings also come in many varieties. Therefore if you need to dress up your professional attire it is better to get a wrap ring with pearls. Or, a ring with marble elements for a more sophisticated look.
Wrap rings are always a good idea
Left: Golden Hexagon Wrap Ring; Right: Silver Indented Square Ended Wrap Ring
By Happiness Boutique
Finally, we hope that you will enjoy these two recommendations from Happiness Boutique. Very minimal, simple, yet trendy and fun to style.
Hopefully you liked these style tips on how to wear different rings for women to achieve different types of look.
If yes, please leave a comment down below to share with us your favorite style. Also, let us know what kinds of new rings would you try out in the future.
Thank you & Happy Styling!
Save
Save
Save
---