The rose gold bracelet has been on the rise lately, therefore if you are interested on how you can wear your favorite jewelry pieces and style them, don't hesitate to keep reading.
The pinkish champagne color of the rose gold jewelry looks very luxurious and it could be appropriate for any type of a lady.
Rose gold is always a good idea
In addition, the rose gold bracelet is easy to combine with your everyday outfits, but also looks very attractive when paired with night out looks as well. Many ladies like to mix and match their bracelets with a watch or in combination with other bracelets.
If you happen to like any of these styles feel free to scroll down and learn more on how you can style your rose gold bracelet and the different types and styles of bracelets.
Happy Reading!
1. Boho inspired rose gold bracelet for the perfect summer look
What a better way to jazz up the usual summer look than by adding a lovely rose gold bracelets with shells or other elements that remind us of the beach.
For example, you can get a unique looking bracelet that could instantly enhance your outfit such as these stacked rose gold cuff bracelets with ocean components.
Accessorize your summer looks with the perfect rose gold bracelet
Via Pinterest
The earthy and sand colors of this bracelet make it the perfect boho inspired bracelet. It looks different, yet it is so easy to combine with any of your summer outfits. You can wear it with girly dresses or with casual shorts and a t-shirt.
Delicate boho rose gold bracelet in addition to your cool summer outfit
Source unknown
Or, you can get a boho bracelet that has stones, love and peace signs or other boho elements such as the dream catcher feathers and web.
The pinkish and champagne colors allows you to effortlessly style this delicate bracelets with any of your looks.
In addition to your boho looks wear a love delicate bracelet
Love Delicate Bracelet Rose Gold from Happiness Boutique
Here is a delicate bracelet from Happiness Boutique that when combined with boho inspired bracelets could also change its vibes into more bohemian and gypsy because of the hearts - and we all know that the boho fashion is all about.
2. Rose gold statement bracelets for a glam style
To make a statement, obviously, you can get a bold rose gold bracelet. In this case, you can combine it with other bracelets for a more visible and remarkable bling bling style or leave it alone.
For a remarkable style wear a statement rose gold bracelet
Since the rose gold color is not an intrusive color, it becomes very hard for one to become over accessorized even if you stack up different kinds of statement jewelry pieces. It still looks very chic and fashionable.
Glam up your outfit by adding a statement rose gold bracelet
You can still get a very feminine and stylish look by wearing the bold statement bracelets. You just need to throw on a girly pink dress and layer it with a blazer for a more sophisticated style.
3. Rose gold all the way for a stylish look
If you happen to love rose gold jewelry you can get everything in rose gold. For example, a trendy minimalist inspired rose gold necklaces combined with a rose gold bracelets and a stack of rings. A great look that could be worn to work with no effort. 
Rose gold jewelry set for an attractive style
To give it a different perspective, you can pair the rose gold necklace with a choker for a super trendy style. In addition, you can even combine your rose gold bracelets with a rose gold watch for a very well put together outfit.
In addition to your dressy styles wear rose gold jewelry set
Tops with no sleeves when paired with skinny jeans, heels and a cardigan or blazer you can end up with a very cute casually chic working outfit. To dress it up even more, add a statement rose gold bracelet and some rings.
4. Trendy bracelets with rose gold accents for a cool style
If you want to be trendy, but not that dressy and chic, you can go for bracelets that just have some rose gold elements. This is a more casual, but still chic way of showing your love for the rose gold jewelry trend.
Bracelets with rose gold accents are so trendy
You can get a contrasting outfit than the color of your bracelet to make it the main accent of your look.
Sometimes it is much easier and better to stay trendy through your jewelry rather than your clothes. Especially if you are a working lady and you don't have much choice in terms of trendy outfits.
Embellish any of your outfit with bracelets that have rose gold accents
Via Pinterest
For the ladies that are fans of the gold and rose gold jewelry pieces, you can get a bracelet that has a fresh mix of both metals. These bracelets could be worn with dresses, skirts, leggings and make them more chic or super casual depending on your shoes.
5. Rose gold bangles for a modern look
The rose gold bangles look very sleek and their well polished surface could give you a very sophisticated and luxurious look.
In addition, they are very easy to wear because they are pretty lightweight. Also, they are very easy to style since their design is not very busy and detailed.
In addition to your modern look wear rose gold bangles
Via Pinterest
Based on your outfit, you can give them a chic look or a girly look. However, they are a great complimentary piece to any working outfit. Feel free to wear them to romantic dinners or cocktail parties.
Rose gold bangles and modern look are a great combo
The rose gold bangles that have some sparkling detailing on them could easily bring your girly and fashionable side. Plus, they are great when you mix them with silver or gold.
Thorn in My Side Spiked Bracelet in Rose Gold by Happiness Boutique
Here is an amazing and trendy rose gold bracelet from Happiness Boutique. It has unique details to give you an unforgettable style.
6. Minimalist rose gold bracelet for a subtle look
As we speak of simple and minimalist designs, the minimalist bracelets themselves look very classy, but at the same time super trendy and futuristic. Try to pair them with your working outfits for a stylish look or give style to your casual outfits. 
Add a touch of minimal chicness with rose gold bracelet
Via Pinterest
The almost futuristic looking rose gold bracelets are a great addition to any lady's jewelry collection because their simplicity will always keep them fresh and trendy. However, if you want to be super trendy at the moment, this type of a bracelet is a must have.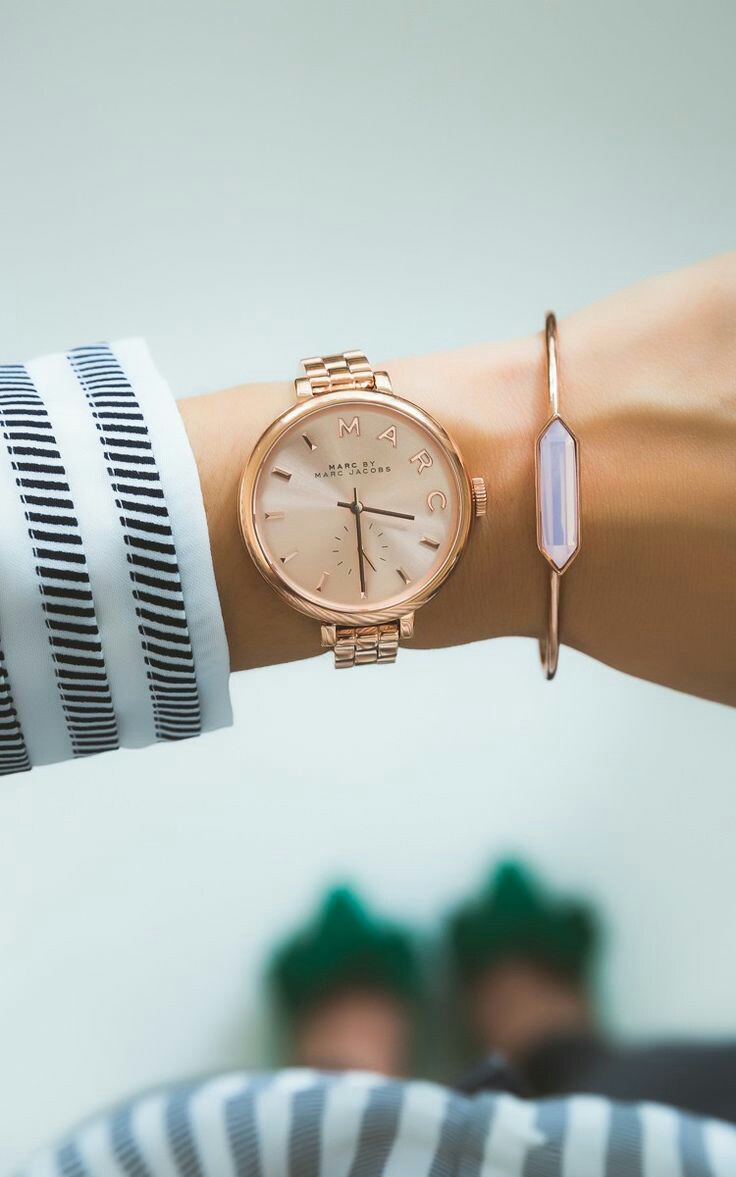 Chic minimalist inspired rose gold bracelets for your professional looks
Via Pinterest
The minimalist inspired bracelets come in different sizes and shapes, therefore you can always find a piece that will go well with your mood, character and personality. They can go all the way from very casual and girly to very modern and stylish.
Wear a stack of minimalist rose gold bracelets for a trendy style
Furthermore, these jewelry pieces are very easy to combine and pile with other bracelets if you prefer a more accessorized look. For example, you can stack a very delicate bracelet with beaded one and end up your pile with a minimalist inspired one.
Minimalist bracelets are a must have for this season
Left: Minimalist Style Rose Gold Bangle; Right: Gemstone Cuff Bracelet Rose Gold
By Happiness Boutique
To recreate this modern and groomed look, feel free to check out these minimalist rose gold bracelets from Happiness Boutique. Add charm and style to your outfits within seconds.
7. Stacked bracelets for a noticeable look
The stacking trend is so cool and fashionable at the moment, therefore don't hesitate to give it a try. You can pile up silver, gold, rose gold jewelry pieces with no difficulty. In addition, you can mix them all together for a young and modern style, if you like this appearance.
Stacked rose gold bracelets for a cool fashionable look
Minimalist Rose Gold Bangle by Happiness Boutique
You can even match the little details from your bag, belt or whatever it is to your jewelry pieces for a very well put together and matching outfit. You can stack your bracelets on one hand or on both hands for a more accessorized look.
Tied Together Infinity Bracelet Rose Gold by Happiness Boutique
Here is a combo that you can stack together and end up with a very feminine style because of the little rhinestones and balance it out with a minimalist inspired trendy roman numeral engraved bracelet, both from Happiness Boutique.
8. Delicate bracelets for a feminine look
Speaking of feminine, the easiest way to achieve a very girly and feminine gentle look is by wearing delicate rose gold bracelets. Again, it is possible to stack them or wear only one for a super delicate look.
For a feminine look wear a delicate rose gold bracelet
To give it a little twist you can get a ring bracelet that will enhance your look even more. However, the stacking of delicate bracelets is very easy because you can never over accessorized these jewelry pieces.
Explore the delicate beauty of the rose gold bracelet with any of your looks
The pinky shade of the rose gold is perfect for all the girly girls that like to make their outfits even more feminine. Try to wear similar stacks of rose gold bracelets with dresses and skirts.
9. Wrap rose gold bracelets for a fun look
Lately, we've seen the wrap bracelets making a huge comeback in the jewelry trend world. They look very stylish and modern, especially when you combine them with your watch. You can wear similar bracelets with school outfits, professional attires or casual everyday looks.
Wrap rose gold bracelet in addition to your fashionista style
Sugar Cube Cuff Bracelet in Rose Gold by Happiness Boutique
In addition, the wrap bracelets are very comfortable to wear, yet instantly making any of your looks more trendy and dressy. Whether you wear them with heels, flats, sandals or sneakers, the wrap bracelets will always look very appropriate.
Stylish rose gold bracelets are a great add-on to your casually chic looks
Sharp Point Double Spike Cuff Bracelet in Rose Gold by Happiness Boutique
On the other side, the spiked bracelets will give you a more confident and edgy look that could receive many compliments. These bracelets are great for a boho inspired style, street style or a top fashionista look.
Get yourself a rose gold bracelet to jazz up any of your styles
Left: Sugar Cube Cuff Bracelet in Rose Gold; Right: Sharp Point Double Spike Cuff Bracelet in Rose Gold by Happiness Boutique
Don't hesitate to check out these two wrap bracelets from Happiness Boutique. You can transform your outfit in seconds with these bracelets.
10. Dress up your rose gold cuff bracelets for a chic look
Whether you like delicate, cuff bracelets, bangles, beaded or minimalist inspired, the rose gold bracelets could easily follow your personal style. For example, to dress them up you can just wear a tight girly dress and you are all set.
Rose gold jewelry and elegant dresses for a perfect glam look
This look is great for birthday celebrations, special occasions or parties. The rose gold bracelets will bring a lot of style and elegance to your dress, especially when you pair them with heels and a small clutch or purse.
Elegant outfits and rose gold jewelry pieces are a perfect combo
Via Pinterest
In addition, you can try to wear your elegant outfit with flats if you prefer a more comfortable wear, but definitely the heels will bring out your fashionista and feminine side. Also, you can add a pair of studs to finish off this stylish and subtle look.
Rose gold bracelets with rhinestones for a glamorous look
Left: Glitter Cuff Bracelet Rose Gold; Right: Jewel Cuff Bracelet in Rose Gold
By Happiness Boutique
Here are two suggestions from Happiness Boutique that could be the perfect add-on to your elegant and chic looks. The glitter and jewel details will brighten up your outfit and make it extra sparkling!
I hope you like rose gold jewelry because it is definitely a huge trend right now. As you can see you can wear these jewelry pieces with casual, dressy, sophisticated, elegant or super trendy outfits.
In addition, the beauty of the rose gold bracelets is their girly, yet settled color that allows you to combine them with other jewelry pieces or any kind of fashion style.
Finally, don't hesitate to leave a comment and share your personal favorites. Also, you can let us know if you would like to try out some of these styles presented to you in this fashion blog post.
Thank you & Happy Styling!
Save
---