Style Guide for Rose Gold Earrings
The beauty and style of the rose gold earrings could definitely take your outfit to the next level.
These jewelry pieces with a slight pink nuance to them are very elegant, trendy and effortless to style with any type of an outfit.
This is your style guide for rose gold earrings
Via Pinterest
They are the perfect addition to any lady that likes her jewelry collection on point and her looks to be flawless.
If you are already intrigued by these words please scroll down to learn more on how to style and wear your old or new pieces of rose gold earrings.
Don't forget that a well accessorized outfit could take you further than just a plain boring look. 🙂
In addition to your earrings wear a rose gold necklace
Via Pinterest
Hopefully you can learn new ways on how to indulge into the rose gold fashion trend because these following suggestions would be appropriate for any type of a lady and her personal taste.
Happy Reading!
1. Rose gold statement earrings for a bold look
Get a slight touch of a champagne color in your statement earrings that is very suitable for evening outfits as well as for daily outfits.
These jewelry pieces are very elegant and stylish, therefore they will easily bring a lot of luxurious and opulent vibes to your looks.
Add a pair of rose gold statement earrings for a feminine look
Try to pair this kind of earrings with more stylish and feminine outfits such as a dressy collared shirt or a dress and let your earring be the statement piece of your look.
You don't need to really take time to end up with a very trendy and fashionable look when wearing such jewelry pieces.
For a romantic look wear rose gold statement earrings
Via Pinterest
Very elegant and rather subtle looking because of the settled color, you can easily play around with other jewelry items to make your look more bold. You can even create a glam look that involves a dark lip and faux fur, which is perfect for special night outs.
The best thing is that you could hardly end up with an over accessorized look. This is because of the champagne color that perfectly blinds with our skin.
2. Bridal earrings in rose gold for a romantic look
For a very gentle and romantic look for your wedding you just need a pair of drop earrings in the rose gold color.
Whether your dress is completely white or it has other nuances of white, pink, beige, etc. you can still combine it with your rose gold earrings. 
Rose gold bridal earrings in addition to your wedding dress for a romantic look
Via Pinterest
In addition, you can add other accessories of the same color such as a dainty necklace, a delicate bracelet or a head accessory. To finish off your special day look make sure to get a purse that is also in this color palette.
Rose gold earrings are a great add-on to your wedding dress
Via Pinterest
Don't forget to get a beautiful hairdo that will complete your romantic style and at the same time allow you to show your dangling pieces.
Regardless of the size, design or shape of jewelry you choose, the rose gold earrings will always look beautiful and elegant.
3. Dazzling rose gold drop earrings for a stylish wear
These dazzling rose gold drop earrings are perfect for adding a little interest and style to your outfits. They could give elegance to your nighttime outfits and chicness to your daytime looks because of their refined design.
In addition to your trendy outfits wear a pair of rose gold drop earrings
Source unknown
Since they are not the chunky bold type of a statement earring they are great for business or work environments. For example, accessorize a pair of black dressy pants and a fitted shirt and your working outfit is ready.
Drop earrings in rose gold are great for a stylish and chic wear
However, depending on the design you can still wear them with your casual outfits to give them the extra glam and personalized touch. Feel free to have your hair the way you like it because these pieces of jewelry are definitely not affected by your style. 
Be daring and chic by wearing a pair of rose gold earrings
Via Pinterest
Don't be afraid to stay stylish even if you go from point A to point B with a bike. There is no particular time, hour, occasion or type of transportation that could stop us ladies from being cute and elegant.
4. Ear climbers in rose gold for a feminine look
For a feminine, but in a more jazzed up way feel free to accessorize your ear with a pair of rose gold ear climbers. They look much more interesting and different than the regular pair of earrings but still delicate enough to rock them at any place and any time of the day.
Wear delicate ear climbers for a feminine look
Suitable for any lady because of their versatility and discreteness. At the same time you can be stylish and trendy without much effort. Great to be paired with other jewelries and any type of fashion style.
Rose gold spiky ear crawlers for a cool and girly look
Via Pinterest
However, if you want to be a little more daring and alluring, then this spiky ear climber is the right accessory for you. Many of us like to speak through their clothes and accessories, therefore get creative and speak your mind via these rose gold ear climbers.
Rhinestone ear climbers in rose gold for a fashionable wear
Source unknown
For a rather girly and gentle style you can go for a pair of sparkling rhinestone ear crawlers that will beautifully accessorize your casually chic outfits. Perfect addition to boring or plain outfits that need that additional sparkle.
5. Rose gold ear jackets for a cool trendy look
The last season ear jackets gained so much popularity and love among the fashion lovers. And they are here to stay because their design is so special and unique that it will make your whole outfit much better instantly.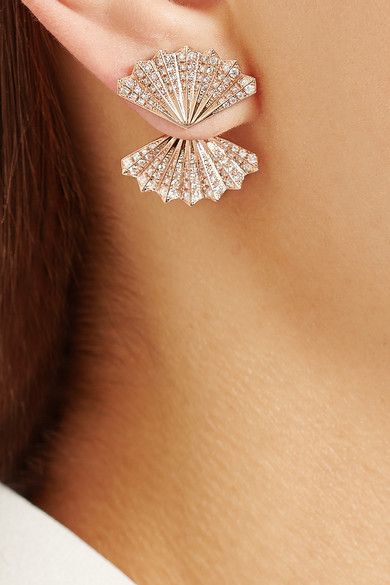 For a super remarkable look wear rose gold ear jackets
Via Pinterest
All kinds of shapes and sizes to suit your personal taste and personality. Great with simple looks for an everyday wear or with detailed outfits for a more high end creative look.
Feminine rose gold ear jackets for a trendy look
Via Pinterest
Depending on the design of the ear jacket you can create yourself many different kinds of looks.
For example, a more subtle and sparkling ear jacket is perfect for any lady that is studying, working, travelling and more. Very comfortable to wear and beautiful to look at.
6. Trendy rose gold delicate earrings for any of your looks
Studs and delicate earrings have been always the go-to pair of earrings for most women. They are so discrete but still give a certain charm and girliness to every outfit we wear. Now, we have these rose gold ones that look absolutely amazing.
For an alluring look wear rose gold stud earrings
The champagne color of these studs could suit any outfits and fashion taste. Also, feel free to combine them with a trendy choker for a super cool and alluring look. In addition, rose gold jewelry pieces are especially awesome to be worn in the summer when we have a tanned skin.
Rose gold earrings with rhinestones for a delicate look
Yet, these fine rose gold studs are the perfect touch of style, elegance and shine to your casual looks. However, they have the possibility of dressing up any outfit in your wardrobe, especially if you like your basics.
Let your rose gold earring make your outfit much better and prettier
Up Left: Druzy Stud Earrings; Down Left: Geometric Stud Earrings
Up Right: Triangle Pearl Earrings; Down Right: Golden One Stud Earrings
By Happiness Boutique
All of these amazing rose gold jewelry pieces from Happiness Boutique could be paired with chic, elegant or casual styles. But feel free to check out the entire collection of different cool and trendy delicate earrings.
There is no doubt that you will find the right product that will go perfectly with your mood, character and fashion style.
7. Helix earrings for an ultimate cool urban style
Get the best of any type of an earring by learning how to properly style and wear them. For example, a pair of helix rose gold earrings that could help you to enhance your look and make it more trendy and cool.
For a stacked look wear a mix of rose gold helix earrings
In addition, you can add other fake or real piercing to accentuate your love for this trend. Some people may have doubts whether they should try it out or not, but in reality this style is appropriate even for the working ladies that want to look more funky and fashionable.
A good style tip is to stay away from bright colors if you'd like to rock this style at work or any other professional meeting.
In addition to your helix earrings wear a cute outfit
Via Pinterest
Feel free to go for a minimalist type of a helix for a more modern and classy look. Leave it alone or pair it up with other earrings, because the simplicity and design of the earring allows you to experiment with different pieces.
8. Differently shaped earrings for a cute look
There are unlimited options of rose gold earrings, but the ones that are shaped in a more interesting and fun way are one of the best pieces, especially for the more grungy and funky ladies. They will instantly make your outfit more distinctive and remarkable.
Rose gold earrings in a fun shape for a cute style
Source unknown
For example, an earring in the shape of a safety pin that will definitely attract people's attention could be perfectly paired with a pair of jeans and graphic tee. This is the way to go if you are trying to get that cool urban style.
This is a great piece to be worn with your jeans and we all know that we love our denims. Also, you can throw on a simple top and finish off with a leather jacket or denim jacket with symbolic patches for a rebellious look.
Remarkable rose gold earrings for a remarkable style
Via Pinterest
On the other hand, if you want to catch people's attention feel free to spoil yourself with a pair of dangling earrings. Here the main element is the stars, which look so glowy and stylish. These earring will bring a touch of sparkle and glamour to any of your styles. For example, try to pair it with a collared shirt combined with jeans or a denim skirt.
Wear a pair of rose gold stud earrings for a cute look
Left: Sweetheart Stud Earrings; Right: Diamond Stud Earrings by Happiness Boutique
Here is Happiness Boutique's recommendation for a pair of fun and cute rose gold earrings. Add a little joy to any of your looks by simply wearing similar rose gold earrings.
If you want to make your looks more attractive and impress people with your creative fashion styles make sure to take a look at these adorable timeless pieces of jewelry.
9. Chandelier rose gold jewelry for an exquisite style
For a very graceful and gentle wear you can always accessorize your look with a pair of rose gold chandelier earrings.
The soft movements they make as you walk will make them your statement piece and your final touch to complete your look. They are great for fashionable, elegant, exotic, extravagant and evening looks because of their diversity in designs and colors.
Make a statement with a pair of rose gold chandelier earrings
Source unknown
Regardless of the season they are always their for you to make your looks much more prettier and well put together. Probably, many ladies wouldn't go with such pieces to work, but you can look for a single colored pair and still rock these stunners to your office.
Wear chandelier rose gold earrings for a stylish look
Via Pinterest
For example, a pair of rose gold earrings that don't look that overpowering and distracting could be the perfect add-on to any lady with a busy schedule. We all know what it's like to be in rush, but still willing to take out time to end up with a nicely assembled outfit.
As a result, I suggest that you give your chandelier earrings a chance! 🙂
10. For a super modern look wear hoop earrings
Finally, we have the hoop earrings that made a huge comeback lately. On top of that, they look absolutely amazing and super modern. They have a minimalist inspired vibes to them, therefore very easy to style and mix and match with your outfits.
For a modern touch to your look wear rose gold hoop earrings
Via Pinterest
Also, they can make your professional attire more elegant and chic. For the ladies that like their casuals - add a pair of similar jewelry pieces to make them more fashionable. No matter of your sense of style the rose gold hoop earrings can beautifully decorate any look.
Get noticed by wearing a stack of rose gold hoops in addition to your trendy looks
Whether you go for a hexagon shaped hoops or circular ones you will always get the needed elegance to your look. Of course, a pair of classy hoop earrings is never too much in our collection of jewelry.
For example, throw on your favorite pair of skinny jeans, a pair of comfy sneakers and simple t-shirt. Or, substitute the jeans for a denim skirt and you have the perfect urban chic and trendy look. Don't hesitate to add more interest and details to your everyday outfits.
In addition to your rose gold jewelry wear cute and girly tops for a chic style
 Bracelets: Eternity Time Bracelet & Jewel Cuff Bracelet by Happiness Boutique
For a complete look make sure to accessorize with bracelets that are also in rose gold color. For example, these two pieces from Happiness Boutique could be perfectly styled with more girly outfits such as this loose top.
This way you have created yourself a very sleek, chic and modern look. It will definitely receive some compliments wherever you go.
In addition, feel free to check out this video tutorial on how you can make your own pair of rose gold hoop earrings for a unique and original wear:
Be charming and graceful and always dress like you never know where you are going to go next or see later in your day. Hopefully this blog post was engaging, helpful and inspiring to you!
If yes, please leave a comment letting us know, which style do you like the best. And also, feel free to share what kind of earrings have you been wearing lately.
The rose gold trend ain't going away soon. Therefore make sure to try out these pieces and style them like a pro.
Thank you & Happy Styling of your rose gold jewelry!
Save
Save
Save
Save
Save
Save
---