Style Tips About Rose Gold Jewellery
Rose gold jewellery could be so elegant, fragile looking and stylish when paired with your trendy outfits.
If you are interested in learning some new style tips and types of rose gold jewellery please scroll down to find out about really cool and fashionable ways to style your favorite pieces.
Also, make sure to pamper yourself with a pair of beautiful rose gold earrings or a delicate bracelet that will gently sparkle and brighten up your look. 
In addition to your rose gold jewelry wear trendy outfits
Via Pinterest
Hopefully these following style tips will inspire you and make you more comfortable while styling these stunning pieces as well as confident while you wear them. It is always better to be able to make your outfits more modern and trendy simply by accessorizing properly your look.
Happy reading!
1. Delicate layered necklaces with pendants for a feminine look
First of all, rose gold jewellery looks very feminine and stylish no matter of your outfit. Yet you can still dress up and make your outfit even more modern and well put together.
In addition, to achieve a very trendy and fashionable style make sure to accessorize your décolleté with a layered delicate necklace with different pendants that could represent your personality.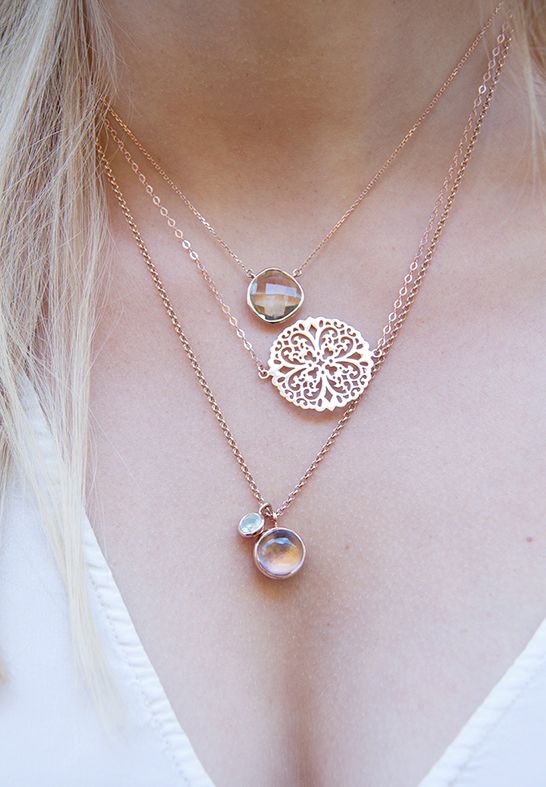 V-necks and layered necklaces are a great combo
Via Pinterest
This is a widely worn look and we can see why. It looks very good and stylish even if you pair it with your basic plain t-shirt. This type of jewellery is appropriate for any time of the day and with any style because it is that versatile and adjustable to your character.
Furthermore, make sure to combine different kinds of delicate chains for a remarkable statement look.
Buttoned shirts in addition to your rose gold layer necklace for a chic look
Via Pinterest
On the other hand, if you want to style your outfit in a more refined and ladylike way you can focus on more delicate necklaces with simple and tiny pendants such as this little pearl and circle pendants.
Also, this look is great for the working milieu because the rose gold color is very settled and blushed. Therefore it makes it suitable for business meetings or brunches with the colleagues.
Wear a layered necklace for a stylish look
Pearl Star Layered Necklace by Happiness Boutique
If you are fascinated by this feminine and elegant look make sure to check out this beautiful rose gold layered necklace from Happiness Boutique. It is so well done and it looks very charming with pretty much any style.
In addition, if you know a person that likes similar style feel free to give it as give because you will definitely make the person happy and put a smile on her face.
2. Delicate necklaces for your everyday chic and casual looks
Add a gentle touch of a rose gold fine necklace with cute or chic pendants that you can wear on a daily basis.
A small detail could truly change the whole vibe of your style and make it more chic and classy. Especially if you are on a budget it is better to spend on the small details to transform the whole look.
Seems like your plain tee can now look much more interesting and catchy
Via Pinterest
As you can see this tiny piece automatically makes your basic tee more elegant and stylish. It is up to you to decide on the length of your delicate necklace.
Some people prefer longer and others shorter depending on their facial features and outfits. Also, you can mix and match your chain with other jewelries of the same rose gold color or different metals for a beautiful melange of colors and textures.
Delicate necklaces with pendants are perfect for your casual looks
Source unknown
The slide shade of the rose color makes the jewelry blend with your skin so it looks even more discreet and suitable for any occasion. This is the perfect add-on to go to school, work, to the park, on the beach or wherever your feel like it. 
Rose gold delicate necklaces are a must have for this season
Left:Circle Pendant Necklace; Right: Affirmation Bar Necklace
Rose gold jewellery made a huge comeback this year, therefore don't hesitate to try out the style and wear it with confidence wherever you go.
For example, you can accessorize your looks with these two suggestions from Happiness Boutique.
A cute and minimalist inspired circle rose gold delicate necklace or for a more symbolic and meaningful wear you can wear this bar pendant with an engraved signature.
3. Rose gold jewellery set for a perfectly styled look
To create a very complete and perfectly styled outfit make sure to compliment your look with a set of rose gold jewellery.
Also, this is a great idea if you want to make a special one or a colleague at work a gift. Plus, when you get a set it is so much easier to put together and work the other details of your outfit around.
For a complete look wear a rose gold jewelry set
Times Infinity Necklace in Rose Gold & Roman Numeral Ring in Rose Gold
By Happiness Boutique
This very feminine and simple set could take you to the next level because one could look so elegant and cosmopolitan.
Such a combination is great with basically any style because of its discreteness and simplicity.
A dainty chain that will beautifully adorn your neck and an engraved ring that will simply complement the necklace and complete your style.
Mix and match your rose gold jewelry pieces for a fashionable look
Left: Black White Single Circle Necklace; Right: Via Pinterest
Here is, for example another suggestion of how you can embellish your looks and at the same time add a pop of color to your monochromes.
Here is, for example another suggestion of how you can embellish your looks and at the same time add a pop of color to your monochromes.
Jewelry sets in rose gold are timeless pieces that you need in your wardrobe
Left: Minimalist Pearl Ring Right: Triangle Pearl Earrings by Happiness Boutique
This set of rose gold jewellery is very delicate and perfect for the ladies who prefer similar looks. A very elegant dress would be perfect for this kind of a set because it's just enough to make give it a twist and make it classy and timeless.
It is great to have a set of jewellery in your collection that you know will never go out of style and at some point you will still be able to rock it like a pro fashionista.
4. Steal the show with your rose gold cuff bracelets
Rose gold cuff bracelets are such breathtaking and stylish pieces that it is so hard to leave them slip away unnoticed.
Paired with an elegant or casual watch you have created yourself such an attractive and interesting. You can easily wear these pieces with sneakers, boots or heels.
Cuff bracelets and casual outfits are a perfect combination
Arm Party Rose Gold Bracelet by Happiness Boutique
This rose gold bracelet and many others are such a huge fashion trend at the moment. They can beautifully unite with your look because they are very versatile and flexible according to your outfit.
The vibe and intention of your outfit could change dramatically depending on the jewelry that you decide to put on.
Minimalist inspired cuff bracelets for an ultimate fashion look
Love Heart and Circle Bracelet by Happiness Boutique
The perfect add-on to any look could be a minimalist inspired bracelet with some engraved hearts and small rhinestones that will give just enough sparkle to your outfit.
In addition, you can combine such an item with any of your clothes that sit in the wardrobe and even revamp your old favorite looks by accessorizing with this beauty.
5. A mix of rose gold earrings for an outstanding look
If you want to stand out from the crowd and make an impression you definitely need a stack of different in shape, size or design rose gold earrings that could gloriously decorate your ears.
Feel free to rock this style on only one ear if you want to achieve an asymmetrical look, which has also been gaining popularity lately. Wearing it only on one side could actually be more lightweight and comfortable. However, it is up to your personal taste.
A stack of different kinds of earrings for a remarkable style
Via Pinterest
Make sure to mix and match different in length earrings for a more remarkable style. If you add a pair of very long, type of a duster earring, then you can give the illusion of longer and feminine neck.
Try to pair these rose gold jewellery with more open necklines or off the shoulder top so your accessories can become the focal point of your look.
Earrings in rose gold and chic outfits for a stylish wear
 Left: Feathered Rose Gold Ear Cuff ;Right: Curved Arrow Stud Earrings by Happiness Boutique
On the other side, if you want to accessorize your ear with something more bold and daring make sure to wear an ear cuff or for a subtle look you can wear an elongated stud earrings.
The good thing about the rose gold jewellery is that it always merges with your skin and look very elegant.
Feel free to check out these stunning pieces from Happiness Boutique if you want to look like a fearless diva on your next party.
6. Discrete rose gold bracelets for a girly look
Delicate rose gold bracelets with different designs could be effortlessly combined with any of your outfits.
They look very fragile and girly, especially when you pair them with a darker colored tops so they can stand out.
In addition, if you got that beautiful tan during the summer these stunners are just perfect on the skin and you wear them with elegant dresses, casual comfy outfits or your beach wear.
Delicate rose gold bracelets for a feminine look
Via Pinterest
Also, delicate bracelets are much more comfortable to wear on a daily basis and so easy to style.
For some people is quite uncomfortable to wear bracelets, especially for all the ladies that write a lot or work on the computer, but these pieces are different because of their discreteness.
Add dainty bracelets to your look for a girly style
Via Pinterest
It is very simple to express yourself even if you decide to go for these subtle pieces. If you like, you can always stack different kinds of delicate rose gold jewellery pieces on your arm and create the perfect arm party for the day.
Dainty bracelets with pendants for a symbolic wear
Left: Heart Bracelet ; Right:Bright Sun Rose Gold Bracelet by Happiness Boutique
Try to give a chance to these rose gold dainty chains with amazing and cute pendants from Happiness Boutique.
A bright sun or a heart for the perfect cozy and happy style that will put a smile on your face instantly.
Get a soft touch from these delicate breath-takers because they will always be the perfect addition to your outfit.
7. Belly chains for an attractive and seductive beach wear
Here is an idea for all the ladies who want to be more attractive, original and seductive at the beach or while you wear your favorite trendy crop tops.
Belly chains are also very trendy right now, therefore don't hesitate to give them a chance as well.
For a distinctive look accessorize your body with belly chains
Via Pinterest
They can go with any of your bathing suits and also you can add a kimono if you like. Belly chains look so attractive, especially when you get a tan during the summer.
Also, if you prefer try to wear a whole body chain for more noticeable and accessorized style.
Body chains are perfect if you want to attract people's attention and make your looks alluring
Via Pinterest
In addition, besides from being able to rock the belly chain with separate bikini set or a cropped top, you can layer it on top of your one piece bathing suit.
However, make sure that it is possible to see this delicate chain when you pair it with your beach wear. For example, monochrome bathing suits are a good choice.
8. Ankle bracelets for a distinctive gypsy-inspired look
Another distinctive and authentic way of accessorizing your body is the rose gold ankle bracelets that creatively decorate your legs.
A great add-on for your summer or vacation destinations days where you can experiment with different kinds of rose gold jewellery.
Decorate your ankles with a stack of foot bracelets
Via Pinterest
Also, if you are on a budget and already have a rose gold delicate necklace, get imaginative and create your own ankle bracelet.
In addition, feel free to wear one with gentle and feminine charms to give your look extra sparkle and interest.
9. Beaded bracelets with charms for a bohemian look
Going on vacation? Living in a country where it is warm all year long? Want to prepare your top fashionable jewellery for summer 2017?
Great! You just need to add these boho-inspired colorful beaded bracelets with gentle and personalized rose gold pendants. This is an absolutely relaxed and at the same time stylish look.
For a boho inspired look wear a stack of beaded bracelets
Via Pinterest
Don't you just love the contrast between the skin and the bracelets? Try to pair these with more casual or gypsy inspired outfits.
For example, combine them with a long floral skirt or flowy loose dress. Or, simply throw on your most preferred pair of shorts with a loose tee and there you go!
Bracelets with beads are perfect for a gypsy inspired look
Via Pinterest
Wear different kinds of bracelets that have a rose gold details or elements on them. They will make your outfit to become very catchy and trendy.
10. Hand chain wrap bracelets for an original look
In the spirit of the chain here is the hand chain wrap bracelet that will instantly make your outfit more feminine and stylish because the chain are very fine.
In addition, to make your hands the centerpiece of your look make sure to add other rose gold jewellery such as rings, a dainty necklace or a simple pair of earrings.
Accessorize your hands with hand chains for an original look
To be extra feminine try to go for a rather neutral or settled color on your nails.
This way, your style becomes appropriate for any type of event. Depending on how comfortable you feel wear all of these rose gold jewellery of course.
For an authentic and catchy look accessorize with a hand chain in rose gold
Via Pinterest
As you can see this is definitely not an over-accessorized look even though we are talking about hand chain. You can also stylize whichever way speaks to you and your personal style.
In addition to your bracelets wear a stack of rose gold rings
Left: Horseshoe Ring ;Right: Pink Jewelled Rhinestone Glitter Ring by Happiness Boutique
If you own a hand chain and you are wondering how else to make your look more creative and original, feel free to check out these rose gold rings, from Happiness Boutique, that will perfectly do the job.
For example, add to your collection a horseshoe ring for a more casual wear. Or a glitter rhinestone ring to make your outfit much more sparkly and glowing.
11. Statement rings in rose gold for a sparkling look
To complete your look in an elegant or sparkling way you don't need much to do. Simply get yourself a sparkling and shiny statement rose gold ring. Then, you are ready to rock the streets like a pro fashionista.
Rhinestone statement rings in addition to your trendy outfits
Via Pinterest
In contrast to golden rings, the rose gold rings will better blend with your skin making the pieces more subtle or invisible even though they are statement pieces.
Sometimes all we need to top off our look is a small, yet unforgettable ring.
Statement rings with stones for a free spirited look
Source unknown
In addition, you can wear different kinds of rose gold rings to create a layering effect. Or, wear them since they can give a splash of color to your looks.
In addition to your jewelry collection add some sparkling rose gold rings
Left:Rose Gold Glamour Band Ring ;Right: Rose Gold Swirl Cross Ring
by Happiness Boutique
These statement pieces are just enough to shaken up your style and give it a little swirl. Add glamour and chicness to any of your looks by simply adding a sparkling rose gold ring.
Finally, thanks for reading and hopefully this fashion blog post was engaging and also inspiring for you!  
Please leave us a comment if you like this new rose gold jewellery trend. Also, let us know what is your favorite rose gold jewellery and how do you like to wear it! 🙂
Save
Save
---