If you love your classy and timeless all favorite stud earrings, then you are at the right place. The delicate designs of the stud earrings is what makes them so special and precious. In addition, you can wear them at all times no matter of your occasion or fashion style.
Studs are very easy to style and comfortable to wear. You can effortlessly pair them with other jewelry pieces or wear them alone.
In addition, they could be suitable for casual or leisure outfits, but at the same time they are a great addition to glam, elegant and working outfits.
I hope you will enjoy these following style tips and types of stud earrings. Very subtle, but still very different from one another, therefore we need to be careful when choosing a pair to go with our outfit, mood and character.
Happy Reading!
1. Working outfits and stud earrings for a super stylish & dressy look
When going to week you definitely want to feel confident, elegant and well put together. Well, this is could be sometimes very time consuming and we all know how busy it can get.
However, if you dress up your normal working outfits by accessorizing them, then you can end up within seconds with a very stylish look.
In addition to your professional attire wear stud earrings
Via Pinterest
Throw on a dress or stylish top and jeans, put on a delicate necklace that would perfectly go with your stud earrings and you are ready to go.
Stud earrings and working outfits are a perfect combo
Stud earrings and professional attire are such a great combo because these jewelry pieces are very subtle and comfy, yet stylish and always trendy. They could give you the charm and elegance that your usual outfit can't do alone.
Stud earrings are always appropriate
Left: Dainty Little Flower Statement Earrings; Right: Elegant Smoked Grey Triangle Stud Earrings
By Happiness Boutique
If you are a busy woman that still wants to look sleek, sharp and stylish, then make sure to check out these elegant stud earrings from Happiness Boutique.
2. Wear stud earrings with your girly outfits for a cute and feminine look
Sometimes a piece of clothing can't reach the girly level that we would like to create. Therefore, you can always decorate your ears with discreet, but sparkly and girly stud earrings along with your feminine outfits.
For a girly look wear sparkling stud earrings
For example, a lace dress that is cinched at the waist for an hourglass figure could definitely give you a very womanly style. Yet, by adding a pair of studs could enhance this look even further. In addition, don't hesitate to wear such an outfit with cute flats, wedges or comfortable heels.
Wear glowing stud earrings to achieve the perfect feminine look
Let your gentle side be shown through your outfits by wearing cute flowery prints, lace, ruffles and let us not forget to accessorize to complete the look. Also, there are tons of stud earrings so you will easily be able to find the design that will go with your own style.
Accessorize any of your girly outfits with a pair of sparkling stud earrings
Left: Druzy Stud Earrings Rose Gold; Right: Vintage Style Daisy Stud Earrings
By Happiness Boutique
These two pair of studs from Happiness Boutique are very trendy, sparkly, comfy to wear and easy to style with any type of an outfit. In addition, studs earrings are always appropriate because of their subtle designs.
3. Statement delicate earrings for a remarkable elegance
We have seen many delicate studs, but what about a chunky stud earring? Those statement, but delicate earrings are great if you want to have a distinctive piece of jewelry. It could be just enough to give you a catchy vibe and stylish appeal to your overall look. 
For a noticeable but delicate look wear big stud earrings
In case that you feel that you don't have anything to wear in your wardrobe you can always look for a trendy and hip piece of statement studs to revamp and refresh your old clothes. Don't underestimate the power of the small details that make up the whole outfit.
Give your look interest by wearing statement stud earrings
Also, these bigger pieces of jewelry could be suitable for all the fashionistas that just like to be trendy from the top of their head to the tips of their toes. Now, when the warmer days are here you can allow yourself to go for bright vivid colors and experiment more on layering your outfit.
Decorate your ears with trendy and remarkable statement stud earrings
Left: Starlight Burst Statement Earrings; Right: Fresh Spring Bloom Statement Earrings in Gold
By Happiness Boutique
For all the ladies that like to show their love for fashionable jewelry pieces, here are two pairs from Happiness Boutique that could go very well with stylish, elegant, hipster or glam looks.
4. Give interest to your looks by wearing fun stud earrings
When styling your outfit, try to have fun while you do it. It is just so fun to add cute, colorful and fun pieces of jewelry that could brighten your clothes in a more different way.
For example, you can accessorize your looks with stud earrings in the shape of animals, stones, lips or other girly objects.
Wear fun stud earrings for a playful summer look
Also, if you happen to wear similar earrings, well, it is a guarantee that they will put a smile on your face. Regardless of their unusual design or color, they are still effortless to style with any outfit. You could wear them to school, in the office, for special occasions or during the weekend.
In addition to your daily look add a pair of lip stud earrings for a fun look
Feel free to match them with a bracelet or a necklace if you preferred a more fuller look or jewelry sets. Also, these may not be the classy and timeless piece but you can definitely get many compliments on them.
The perfect pairs of stud earrings for fun and easy going summer look
Left: Flamingo Earrings Gold; Right: Paw Stud Earrings Gold
By Happiness Boutique
In case you want to bring your normal outfit to the next level or you want to lift your spirits, try to decorate your ears with some of the stud earrings from our collection. Feel free to check out the rest of the collection → here
5. Give a little sparkle to your outfit by wearing rhinestone studs
Sparkles and shines! Yes, this is what you can get by adding these small, but significant pieces of jewelry. Stud earrings with rhinestones on them could also be styled with other types of outfits. For example, you could wear them to parties, to work, when travelling or when having lunch with friends.
Jazz up any of your fashion styles with a pair of rhinestone stud earrings
You can style your hair up or down because both ways are great with these earrings. In addition, they could be a great option for the ladies that don't like to spend a lot of time accessorizing their looks.
In addition to your ordinary look wear rhinestone stud earrings
Via Pinterest
Rhinestone stud earrings could effortlessly be styled with your everyday jeans and top looks. You can dress them up by adding heels or wear them with comfortable sneakers or sandals. In addition, by wearing these studs you can match your other accessories with no effort.
Rhinestone stud earrings are always a good idea
Left: The Golden Stud Earrings in Rose Gold; Right: Square Rhinestone Stud Earrings
By Happiness Boutique
Whether you want to embellish your casual or formal looks, these studs from Happiness Boutique got you covered at all times.
6. Stacked stud earrings for a funky look
Another great way on how you could wear your studs is by stacking them with other earrings. Feel free to get some fake pieces if you don't wear many pieces in general to achieve this fuller, funky and cool stacked look.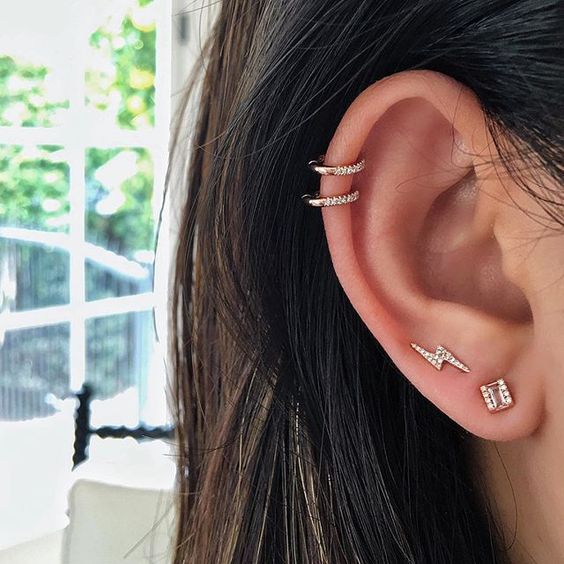 For a funky and eye-catching style stack up different studs
Via Pinterest
The best thing about this look that you are the creator. You can select the earrings according to your personality and individual preferences. As a result, you can end up with a very unique and cool personalized style.
Get creative with your delicate earrings!
Via Pinterest
In addition, you can mix up different kinds of stud earrings. For example, a melange of rhinestone earrings with cool shaped earrings for an attractive look.
7. Pearl studs for your classy days
Probably one of the most worn earrings are the pearl earrings because they are just so timeless. One can never get enough of pearls because of their luxurious and sophisticated appearance.
In addition, the same pearl pair of earrings could be worn to weddings, proms, glam nights, parties, special occasions or just to go to the supermarket.
Stay classy and elegant by wearing pearl delicate earrings
Source unknown
To achieve a very feminine look you can dress up in a lace dress, make a cute hairdo, add a pair of stylish shoes and small clutch. This could be a perfect weekend night out look for a dinner gathering with friends.
Pearls could never go out of style
Via Pinterest
Also, if you are not a bride to be, but you are invited to a wedding, then the pearls are also a great option. They could go with any color or type of a dress.
For a timeless elegant and feminine style wear pearl stud earrings
Left: Pearl Paradise Stud Earrings in Gold; Right: Pearl Drop Earrings Rose Gold
By Happiness Boutique
Be sure to have at least one pair of pearl in your jewelry box because every should have a classic pair of earrings. Our suggestion from Happiness Boutique are a pearl drop earrings that will gently sway as you walk or a pearl paradise pair of earrings that will shine bright.
8. Wear double ball studs for a trendy look
A trend that was spotted some time ago, but still resonates across the fashion world. The double ball earrings look very different, stylish and trendy. Try to pair them with dressy or smart look like a fitted dress or suit.
In addition to your stylish outfit accessorize with a pair of trendy double ball earrings
However, you can wear them with casually chic outfits as well. For instance, a pair of skinny jeans, cute heels or loafers and a girly top with cute details. These earrings are able to be combined with other jewelries with no effort.
Wear double ball pearl earrings for a fashionable and trendy look
The double ball earrings will bring chicness and comfort to your outfits, but make them remarkable because of their unusual design. Also, you are able to find these earrings in many different colors, therefore you can match them with the rest of your look and accessories.
Add to your jewelry collection a pair of trendy double ball stud earrings
Left: Simplicity Pearl Earrings; Right: Simplicity Pearl Earrings in Hot Pink Matte
By Happiness Boutique
For the moments when you want to have a remarkable and stylish pair of earrings that is also very comfortable to wear, you can go for the double ball stud earrings.
9. Minimalist stud earrings for a girly casual look
The minimalist trend is here to stay, therefore hurry up and get yourself a pair of minimalist stud earrings. They have an almost invisible appearance but when you take a close look at them they are pretty stylish and modern.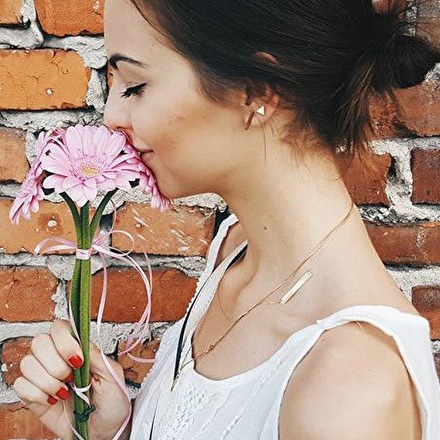 For a modern look wear minimalist stud earrings
Modern Lines Earrings in Rose Gold by Happiness Boutique
These minimalist inspired earrings are literally very versatile and adaptable pieces of jewelry. You can wear them with dresses, skirts, jeans or even your PJs. 🙂 Plus, they are very flexible when it comes to pairing them up with other accessories.
So comfy, yet so beautiful and stylish – minimalist stud earrings
Victory Earrings Rose Gold by Happiness Boutique
For example, you can get a jewelry set of minimalist earrings and a necklace. This set would look beautiful on any type of a lady and you can rock the style anywhere you go.
In addition to your casual look wear minimalist stud earrings
Left: Modern Lines Earrings in Rose Gold; Right: Victory Earrings Rose Gold
By Happiness Boutique
If you want to add a pair of minimalist earrings to your jewelry box feel free to give a try to these two pairs from Happiness Boutique. Very modern and trendy!
10. Stud earrings appropriate for your glam nights
Many times we have seen celebrities to wear stud earrings when on the red carpet. As we mentioned before, stud earrings have a small, but significant presence when styled properly. For your glam nights try to go for something colorful and royalty looking.
Glam up your night out look by adding a pair of glowing and elegant stud earrings
Via Pinterest
Wear your glamorous and elegant dresses with confidence and let your stud earrings be one of the main elements to your look. They will definitely bring sophistication to your style.
Sparkle all the way with a pair of glam stud earrings
Via Pinterest
If you want a glam, but trendy look you can combine your stud earrings with a trendy rhinestone choker.
For a super elegant style wear sparkling stud earrings
Left: Royal Blue Teardrop Earrings; Right: Sparkling Gem Stud Earrings
By Happiness Boutique
Feel free to check out these two stud earrings from Happiness Boutique that could perfectly embellish your glam outfits.
Finally, I hope these styling tips and suggestions were interesting and informative for you. It is always better when we like the outfits we wear and feel passionate and self-assured.
In addition, feel free to leave a comment and share your favorite types of stud earrings and how do you like to style. And, let us know if you would like to try out some of these suggestions.
Thank you & Happy Styling!
Save
Save
---