Tassel earrings became so popular lately and I am just wondering why just now. They look so chic, sophisticated and a truly versatile piece that you can style with literally any outfit.
In addition, you can wear them with your boho looks, professional attire, to music festivals or just to make your outfit prettier and more stylish on a daily basis. 
In addition to your spring outfits wear trendy earrings
These swaying earrings come in different colors, textures and designs so make sure to select a pair that will blend with the vibe of your style.
I hope you will be enjoying these styling tips, different kinds of tassel earrings and trendy outfits in the following blog post. Don't forget to leave us a comment if you'd like and share with us your favorite ways of rocking these babies.
Happy Reading!
1. Wear tassel earrings for a romantic look
One of the best ways to style tassel earrings is when you go somewhere romantic. A fitted dress, bold makeup, styled hair, your feminine attitude and confidence, and of course, accessorize with a pair of black tassel earrings.
Statement earrings and romantic looks are such a great combo
One of the classiest ways to go is by combining black and red. You can never go wrong with such a mix. In addition, don't forget to put on your favorite and trendy high heels or wedges to finish off the look.
For a romantic look wear a long dress and a pair of tassel earrings
However, to achieve a great romantic look you don't need only black or red. You can wear with no doubt lighter colors, especially in the summer days. On the other hand, to show your elegance and style, it is better to wear a dress with this look.
Give your attractive look a twist by wearing trendy earrings
Furthermore, there are many options on how we can achieve a romantic girly look. But we can also go for a sexy romantic look by wearing a fitted short skirt and high heels.
To make this otherwise really night out look more relaxed and easy going, feel free to make a loose braid that you can place on one of your shoulders or replace the heels with cute flats.
2. Give a splash of color to your all black looks for a sophisticated style
Another way to rock your tassel earrings is when we wear our black on black looks. Most of us ladies like to dress up in black even in the warmer days. However, there is a way to make your all black look more spring summery or more exotic - just add a pair of bright colored tassel earrings.
Give your all black looks a pop of color with bright colored earrings
These jewelry pieces could never be left unseen. In addition, they could bring a very special and unique vibe to any of your outfits. This look is great with sandals for a comfortable wear or with heels if you want to dress up more the outfit.
Colorful earrings are a great way to bring the spring vibes to your looks
Feel free to give a little twist to any of your monochrome outfits. You can wear tassel earrings with your professional and dressy suits or to a night out soirée where you need to look classy and elegant.
Pretty tassel earrings are a great add-on to monochrome outfits
Also, you can use your tassel earrings to accessorize your sporty elegant or your casual going to a café type of dress. They come in different sizes, designs and color, therefore you can find a suitable pair that will just help you to complete your outfit.
3. Long tassel earrings for a feminine look
For a more extravagant and daring look you can always get a pair of very long tassel earrings. These will definitely help you to steal the show. Try to wear them with strapless tops or dresses so you don't end up with a very distracting and busy style. 
Wear long tassel earrings for a remarkable style
Via Pinterest
Regardless of their size, long tassel earrings could be very comfortable to wear. Especially great when you pull back your hair and you show their beauty to the fullest.
In addition, these long babies could be a great addition for simple dresses, for festivals, special occasions or whenever the exotic side of your personality is calling.
Glam up any of your casual looks by wearing long tassel earrings
One of the greatest things about the tassel earrings is their versatile characteristics. You can style the same pair of earrings with literally most of your clothes that sit in your wardrobe. Plus, they are a must have for this season.
Add interest and chicness to any of your looks with these tassel earrings
Baroque Tassel Earrings by Happiness Boutique
Happiness Boutique offers you these amazing and elegant long tassel earrings that could instantly enhance any style of yours. These could be worn all year long and you will be able to style them according to your occasion.
4. Elegant tassel earrings for a stylish wear
Many fashion bloggers and fashionistas showed their love for the tassel earrings and how they like to style them. The results were so diverse and creative. How can you not fall in love with this amazing trend? Tassel earrings could really be suitable for any type of a lady.
In addition to your chic looks wear tassel earrings
One of the ways that we've spotted fashion bloggers to style tassel earrings is very simple, but elegant and appropriate for our everyday fashion looks. For example, a trendy fedora hat paired with tassel earrings, a cute handbag and a fashionable top.
For a super chic outfit wear crystal tassel earrings
Via Pinterest
This is a great weekend look spent with family or friends. You can stay comfortable, but at the same time still looking sharp and well put together.
Just throw on your favorite top, a pair of jeans or even leggings and end up by accessorizing with your favorite tassel earrings.
Crystal tassel earrings are so timeless and beautiful
Crystal Black Tassel Earrings by Happiness Boutique
In case you want to dress up and glam up your next weekend, then don't hesitate to give a chance to these crystal black tassel earrings from Happiness Boutique.
5. Add a pair of exotic tassel earrings for a remarkable festive look
The most we step into the spring and then summer mood maybe some ladies like to show their exotic and tropical side. If you have a planned vacation to a far away land then this look could be just right for you.
For your next vacation wear a pair of exotic tassel earrings
Even for the city girls these tassel earrings could be a great option to spice up your normal outfits. If you want to achieve this look you will need a pair of bright colored tassel earrings that have a chunkier design to be able to recreate this particular style.
Exotic tassel earrings are perfect for any summer outfit
There is no doubt that this look will put up a smile on your face. Who doesn't get happier when thinking of a foreign place where you can listen to waves of the ocean or the sea. A warm place where you can relax, but look good at the same time.
6. Spice up any of your looks with casually chic tassel earrings
The next way of styling tassel earrings is by decorating our casually chic or super casual outfits. Here it is better to go for a pair with a subtle design and matte, earthy or settled colors.
In this case your earrings are not the statement piece to your look but they are just enough to give interest to your basic outfits.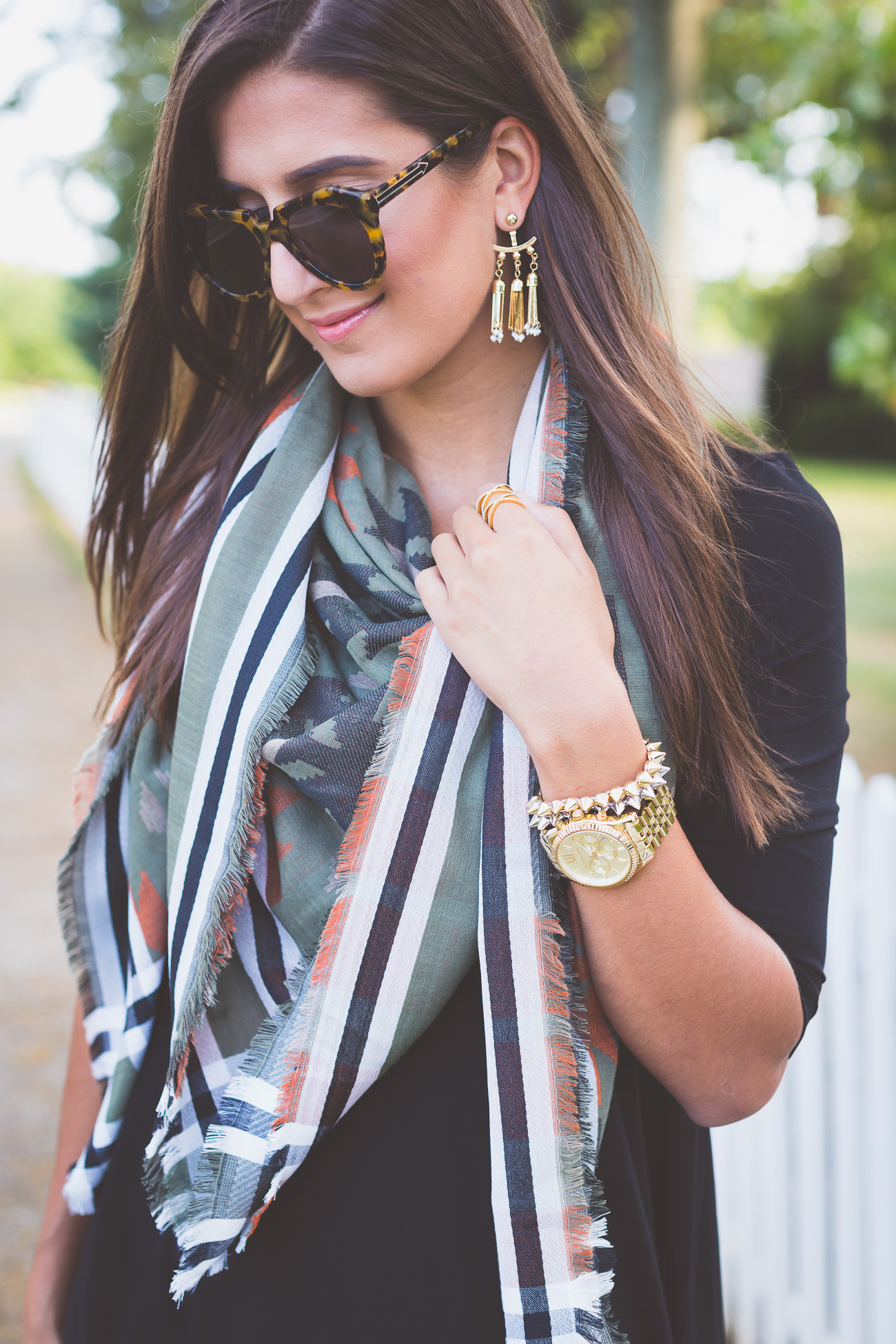 Accessorize your casually chic outfits with a pair of tassel earrings
Sometimes it is great to have a pair of earrings that we could wear on a daily basis without having a concern that we would look too beachy or too kitsch.
Obviously you don't need to stand out from the crowd every single day with a piece of jewelry that is not meant to be worn with a casual look.
Spice up your casual outfits with a pair of tassel earrings
There is nothing wrong of wearing tassel earrings that have a more invisible appearance or settled colors because they are still making your outfit prettier and more stylish.
However, they don't shout out "look at me and my new jewelry pieces". Instead they accessorize the outfit in a very feminine and subtle way.
7. For a noticeable trendy look wear oversized tassel earrings
On the other hand, if you do want to have a pair of tassel earrings that could be seen from a distance and scream look at my amazing earrings, then you need these oversized stylish tassel earrings in your life.
For a unique and trendy look wear oversized tassel earrings
You could still wear them with destroyed jeans, espadrilles and a cute top, but the earrings are definitely your statement piece.
In addition, you don't need to add other jewelry pieces since these earrings are just enough. But for all the jewelry lovers we can't say no to more beautiful pieces hanging from our chest or decorating our fingers and wrists.
No matter of your outfit – oversized tassel earrings will do the magic
If you have a special event coming up, but you don't have the time to go shopping for a complete outfit then get oversized tassel earrings.
In addition, you can rock these babies with an old dress and make it so much more interesting and eye-catching by simply wearing big earrings.
8. A different kind of tassel earrings for a distinctive look
For a different kind of look you would need a different kind of tassel earrings. We have here more metallic based tassel earrings that will instantly give you a refreshed younger look.
Also, you can wear them with other jewelry pieces such as a delicate necklace with a symbolic pendant or rings with turquoise stones and elements. 
Be unique and different with a different kind of tassel earrings
Via Pinterest
Very discreet, yet fashionable and remarkable design, these earrings are as great with casual as with elegant style to make them more different and attractive.
Decorate your outfit with tassel earrings and you will take it to the next level
Source Unknown
In many situations earrings with a subtle design or settled colors could look more sexy, impressive and stylish than a colorful or exotic pair of earrings.
To end up with an outstanding look and vision you need to style everything properly because it is not just about one element but your whole ensemble.
Wear tassel earrings because they are simply so great
Left: Peacock Tassel Earrings with Clip On Ear Cuff; Right: Tassel Statement Earrings  
by Happiness Boutique
These two pairs of tassel earrings from Happiness Boutique have a very particular and subtle presence, therefore they could be a great option if you want a different kind of look.
9. Delicate earrings for a graceful look
You will be able to find other kinds of subtle tassel earrings that you can wear to work or whenever when you need a little touch of fashion and style to your otherwise simple look.
For example, try to find a delicate pair of tassels that will accessorize your style in a very feminine way.
For a delicate look wear subtle tassel earrings
There are tassel earrings that are made from plastic and usually come in more discrete designs. It is up to you to decide whether you want silver or golden based earrings. The importance is to style them with a girly top that has ruffles, delicate fabrics and lace as part of it.
Baby pink is a must have for this season
Via Pinterest
Also, these subtle earrings are perfect for all the ladies that have many girly clothes with a lot of detailing on them. Try to stay classy even when you wear hipster, urban, street style or elegant outfits. Don't over accessorize or go outside without having a look in the mirror.
10. Bohemian looks and tassel earrings are the perfect combo
One of the most widespread way of styling tassel earrings is in a gypsy bohemian inspired way. This is usually achieved with fluffy tassel earrings and earthy colored outfits.
In addition, you can wear flower printed long skirts, rompers with boho elements, wedges, pom pom sandals, clothes with loose and comfortable designs. 
In addition to your boho inspired looks wear boho earrings
The boho style is great for music festivals, road trips, special occasions or brunch with friends. Plus, the boho fashion is back, therefore this look is a must have this season. Also, for a perfect summer look you can wear a jumpsuit with boho elements paired with some wedges or sandals.
Boho earrings are a must have for the summer times
Elements such as tassels, pom poms, feathers or animals is very typical of the boho fashion. Also, try to focus on brownish and sandy colors so it looks as if you are appreciating the nature and you blend with it.
For a fun and free spirited look wear boho earrings
Left: Boho Statement Earrings; Right: Color Block Tassel Statement Earrings
By Happiness Boutique
For any of your boho inspired, gypsy or summer looks, these two pairs from Happiness Boutique are very typical of this fashion style. Don't hesitate to check them out! 🙂
11. For an attractive and luxurious style wear glam tassel earrings
Tassel earrings are also great if you have a glamorous and luxurious type of event that you need to look on point. Earrings with an elegant and expensive appearance are perfect for this situation.
In addition, try to get your hair, nails, toes and makeup done in a professional way to end up with a very red carpet inspired style.
In addition to your chic looks wear a glam pair of tassel earrings
Via Pinterest
To recreate this opulent style don't forget to wear yourself with confidence and a defined purpose. The secret of looking good at all times is in your attitude, gestures, language and eyes.
In addition to your red carpet outfit wear glam statement earrings
Via Pinterest
It is better to wear fitted outfits that you can possibly pair with high heels for this glam look. These earrings are great with hair down or placed in a low pony tail.
Furthermore, you can play around with different kinds of hairstyles because your dangle earrings would still show up and give you the posh vibe that you desire.
I hope you enjoyed these suggestions on how to wear trendy earrings. They are truly unique and trendy pieces that you need in your life and jewelry collection.
In addition, try to get yourself a pair that speaks to you and your personal style. Then, play around and style it accordingly so you end up with the perfect tassel earring look.
Refresh your old wardrobe with a pair of trendy earrings
If you find this blog post helpful, interesting and engaging please leave a comment and share your favorite ways of wearing tassel earrings.
Thank you & Happy Styling!
Save
Save
Save
---