Most probably you believe that unique jewelry could only be a handmade piece of jewelry. This might be true, but in today's blog post we can show you some pretty amazing and unique jewelry designs and how to style them in a very unique way.
In addition, today we will explore some of the most trendy accessories, but styled in a more distinctive and remarkable style.
If you happen to love the uncommon and extraordinary way of wearing your outfits and jewelries, then feel free to get some inspiration from these following suggestions.
Happy Reading!
1. Simple uniqueness - bold hoop earrings for any of your looks
Hoop earrings are certainly not very unique in their detailing or even design. However, once put on your ears and paired with your outfit their appearance is very visible, unique and unforgettable. No need to put too much effort to end up with a truly unique look.
Find uniqueness in the simple things
Source Unknown
The street style lovers could completely take advantage of the simplicity of the hoops. Very sleek, trendy and modern pieces of jewelry that could never over accessorize your outfit.
For example, a printed long dress layered with a colorful faux fur jacket that is also multi colored and a belt to create a beautiful hourglass shape and the illusion of long legs.
Add a modern touch to your outfit by wearing a pair of hoops
Hoop earrings are the perfect add-on to your jeans outfits or to your pencil skirt and blazer type of an outfit. This is what makes these earrings so unique and timeless. The ability to adjust them according to the vibes of our looks within seconds.
In addition to your regular outfits add a pair of minimalist hoop earrings
Left: Geometric Hoop Earrings; Right: Bold Hoop Earrings by Happiness Boutique
The ladies who would love to give their unique vibes to a timeless classy pair of earrings, we have these two very sleek and chic pairs in the collection.
2. Boho chic outfits and unique jewelry pieces for a remarkable style
What truly makes an accessory or a piece of jeans unique and special is your own aura and way of presenting them. It all depends on you to make the ordinary extraordinary. It is not that hard as it sounds, but you need to dive into your creative side.
Chunky boho necklaces are a great addition to your summer looks
Via Pinterest
For example, a chunky wooden necklace that is matched perfectly with a belt and a couple of statement rings. This highlights the important role of the accessories and how they can instantly make any outfit more unique and special.
Layer up your boho statement necklaces for a remarkable style
In addition, you can combine the chunky necklace with a longer wooden necklace that will create a beautiful dimension to your boho chic style. Whether you go for detailed or a simple top, these unique jewelry pieces will definitely enhance the overall look.
Metallic chunky necklaces in addition to your summery dresses
Furthermore, feel free to get some very bold and ancient inspired jewelry that could beautifully accessorize your boho chic outfit. Don't forget to modernize the look if you'd like by adding a contemporary watch.
The perfect addition to any look is a unique statement necklace
Left: Bold Statement Necklace; Right: Boho Bohemian Statement Necklace
By Happiness Boutique
For the days where you want to be chic, yet boho inspired, these two amazing statement necklaces are a great add-on to such an outfit. Very trendy, versatile and bold. Great to be paired with dress, suits or jeans and shorts.
3. Unique hand jewelry for an outstanding look
In case you don't have the time or the desire to dress up in fancy clothes, but still want to look good and outstanding, we present you a unique jewelry meant to decorate your hand and fingers.
Be daring and unique by wearing a hand jewelry
Via Pinterest
It could be a combination of a statement ring attached with a dainty chain to a delicate bracelet. This traveling along your hand jewelry is very unique, yet so simple and easy to style with any of your outfits. For example, a simple top layered with a blazer and a pair of skinny jeans.
Stand out from the crowd by adding a unique jewelry to your outfit
Or, it could be two delicate minimalist inspired rings attached to each other by a chain. A more simplistic, yet out of the ordinary piece of jewelry that even you can create yourself.
The best thing about accessories that you can jazz up on your own is their distinctiveness and uniqueness of course.
Express yourself through the beauty of the unique jewelry pieces
Via Pinterest
For a rather cool and street style inspired look you can go for a bolder type of a hand chain. Here, you can dress up in a more hipster, colorful and almost non matching clothes that could perfectly compliment your hand chain.
4. Unique jewelry pieces for a bold masculine inspired look
Some days even the most sensitive and girly women feel like being bossy and bold for the rest of the day. One of the steps to achieve such a look is by adding some very bold and detailed, almost men inspired, jewelry pieces that will stand out from the usual items.
Vintage inspired unique jewelry for a masculine and bold look
For example, a statement ring that looks very royal and powerful. Also, try to focus on darker colors that don't remind us of cotton candy or ice cream. In addition, add one or a couple of statement bracelets that will give you this warrior type of look.
Spice up your basics by wearing bold pieces of jewelry
Source unknown
Also, a pair of faux leather bracelets or spiky bracelets is another way to go for this look. Feel free to wear very chic, but simple outfits so you can let your jewelry pieces to be the focal point of the look.
5. Remarkable earrings for your trendy looks
If you happen to love handmade jewelry, but you don't want to spend a lot of money on it or can't really make it yourself, then you get yourself a budget friendly pair of earrings that looks like it's been handmade. Some fashionistas showed their love for the unique jewelry pieces during the fashion week in NYC.
Fun and playful long earrings for any of your looks
For example, two hoops attached to one another along with some small hoops hanging off of the main part. In addition, this long pair of earrings is very playful, fun to wear and definitely has a unique appearance.
Plus, the design allows you to style them with chic, casual or even more elegant outfits.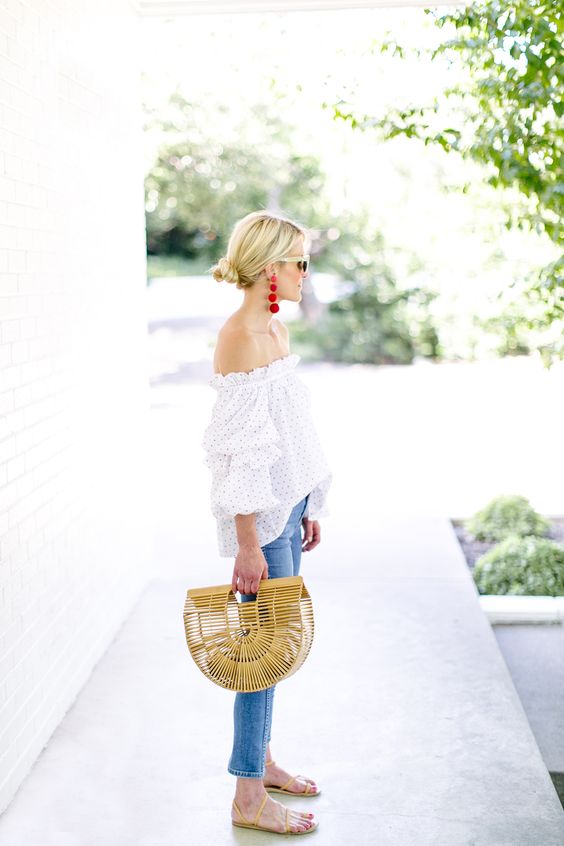 In addition to your trendy looks add a pair of long earrings
The girly girls will appreciate this very long, modern and sleek pair of drop ball earrings. The oversized piece of jewelry is completely enough for any of your basic tops that need a little twist to become more fashionable.
Unique jewelry pieces are great with simple outfits
Also, to spice up your trendy, elegant or even your most casual looks, add a pair of stone statement earrings.
These could come in different shapes and sizes, but try to get some bigger ones to accentuate this part of your look. On top of being so unique, these earrings are effortless to style because of the nude colors.
6. Ear cuffs for a distinctive look
Another amazing unique jewelry that could make your outfit more trendy and distinctive is the ear cuff. Whether you add a full cuff or a more subtle one, the result would still be amazing.
In addition, they are more comfortable to wear than it looks, therefore you can wear it all day long with no worries.
For a remarkable style wear ear cuffs
The ear cuff is so unique on its own, but definitely feel free to combine it with a dainty necklace or a ring. In addition, regardless of its size it could look very elegant and sophisticated if you pair it with a tight wrap dress for example.
Give a pop of color and funkiness to your street style looks by adding a pair ear cuffs
Based on the design, you can even wear ear cuff to school, while shopping or traveling. To get the absolute remarkable look feel free to pair the ear cuff with a stack of minimalist rings. Both accessories are such a unique jewelry and also very trendy at the moment.
Fearless and bold – the perfect pairs of ear cuffs for any of your looks
Left: Asymmetrical Ear Cuff; Right: Rock Chic Statement Full Ear Cuff
By Happiness Boutique
Trendy or not, these ear cuffs from Happiness Boutique are definitely a must have if you want to end up with a truly unique outfit. These unique jewelry pieces are great for your glam nights, casual days or special occasions.
7. Fashionable chokers for a super trendy look
Chokers are very trendy - yes. They are worn by so many, therefore can we assume that they are unique jewelry piece in the true sense of the word - no.
Yet, they look so different on every person and so beautiful no matter of your style. So it is up to you to make your choker necklace look unique and remarkable.
For a sexy look wear a choker
Via Pinterest
Sometimes a thick band choker is all you need to complete your look. For example, a pair of baggy jeans in the style of the boyfriend jeans combined with a dressy top. To finish off this rather comfy, but stylish outfit put on some heels.
Bandana chokers for a distinctive style
In case you don't have a choker, then you are more than welcome to create yourself one with a piece of scarf or a bandana. Very funky, creative and unique, especially because you create it.
Of course if you want to be more distinctive take a piece of scarf rather than the usual bandana.
Chokers are always a good idea
Via Pinterest
Some tops come with a choker, but again, if you top doesn't give you the illusion of having a choker, then simply create one yourself. This is a very attractive and chic outfit, especially if your jeans are that ripped.
These chokers are appropriate for any of your looks
Left: Black Rock Choker; Right: Gothic Lace Choker by Happiness Boutique
For the fashionistas, the street stylers, the working ladies or for your leisure time - we have these amazing chokers. They are so easy to pair up with any kind of fashion style.
You can make them your unique jewelry piece with your confidence, personality and way of present them when styled with your outfit.
8. Bold wrap rings for a chic look
Lately, we  see a lot of minimalist and delicate rings to be very popular, especially when all stacked together. However, the big chunky wrap rings are still not that trendy, but their time is coming with the speed of the light.
In addition to your trendy outfits you can accessorize with modern wrap rings
They look very sophisticated, elegant and daring. Because of their minimal design these unique jewelry pieces are great with working and business attires as well as more funky outfits. Regardless of their size, it is possible to style them with any outfit that you have in mind.
Wear a bold wrap ring in addition to your elegant outfits
In addition, if you want to give this extra sparkle to your outfit you can add a bold wrap ring with rhinestones. The appearance would be very elegant and luxurious, especially if you wear tem with dressy outfits.
9. Creative cuff bracelets for your artistic and chic outfits
Being able to make a not so unique jewelry into a very one of a kind piece with your style and way of wearing is very creative and daring method.
However, you can always purchase an already unique and creative piece of jewelry that even when styled with your most casual outfits it would still look very outstanding.
There is nothing better than a unique jewelry piece
Via Pinterest
For example, this elongated minimalist inspired bracelet and almost futuristic looking unique piece of jewelry is very eye-catching and out of the ordinary.
The design is very interesting, therefore even your all black outfit could turn into a masterpiece with such a bracelet.
Minimalist inspired unique jewelry pieces for your professional attire
Source unknown
Or, a thick cuff bracelets that has cutouts all over it could be a great option. This bracelet is very simple, modern and definitely not one that you could cross on the street everyday.
It could go well with jeans, shirts, dresses or professional outfits.
10. Art deco necklaces for the creative spirits
Last, but not least on the list are these art deco necklaces that we can buy, but of course we can have them handmade. This could be a truly unique jewelry piece because of its design and lack of popularity among the fashionistas.
Get creative with your looks by adding a trendy art deco inspired necklace
Via Pinterest
In addition, even though the designs of these art deco necklaces are so artistic, creative and fun, they are very easy to style with any kind of an outfit.
For example, if you like to keep it basic you can always spice up the boring outfit by adding a similar necklace. These are also great for parties and working outfits.
Finally, I hope this was interesting and inspirational after all. Remember that unique jewelry doesn't only mean a handmade, one of a kind, piece because you can make any item a unique jewelry.
Also, please leave a comment and share your opinion with us! Feel free to let us know which style do you like the best and how do you like to make your accessories a unique jewelry piece.
Thank you & Happy Styling!
Save
Save
Save
---