Learn more on how to style your unique necklaces here. In addition, in today's fashion blog post we'll go over the latest necklace trends and some really cool ones. Make sure to read further to explore these amazing jewelry pieces and to learn how to master their styling.
Wear a unique necklace for a unique style
Via Pinterest
Also, feel free to share in the comment section what is your favorite necklace for this season and how do you like to style and combine it. Don't hesitate to hit the like button if you find this blog post interesting or informative.
Hopefully, these following styling tips will boost your confidence and you will wear your unique necklaces like a pro.
Happy Reading!
1. Wear a boho inspired necklace with your summer looks
The boho inspired necklaces could range from statement necklaces to super delicate boho chokers. They are very appropriate for the summer or to jazz up your normal looks during the other seasons. These boho necklaces are great to be worn all year round.
In addition to your summer look wear a statement boho necklace
For example, clothes with embroidery, feathers or fringes, animals prints, leather or velvet are very typical of the bohemian fashion. In addition, you can throw on a loose floral dress and add a cute boho choker. The boho jewelry pieces are also great for festivals or traveling.
Jazz up your plain outfits by adding a boho necklace
Via Pinterest
Whether you prefer golden, silver or rose gold, you will able to find what you are looking for and make your look much prettier. The ancient coin necklaces are also very popular among the boho fashionistas. They will gently dangle as you walk around and give such an interesting touch even to your non-boho outfits.
Achieve an eye-catching style by adding a bohemian inspired necklace
Via Pinterest
The boho inspired necklaces are very detailed which makes them so precious. Also, in many cases, they as if there is a hidden history behind them. These jewelry pieces are appropriate for all kinds of ladies because they come in different sizes, shaped and design.
For a cool summer style wear a boho necklace in addition to your outfit
Left: Stunning Silver Toned Statement Necklace by Happiness Boutique
This detailed and textured necklace from Happiness Boutique could be a great option if you are looking for the perfect statement boho inspired necklace.
2. Long unique necklaces for an easy-going look
The long necklaces are very appropriate for chic and fitted outfits. Many working ladies could take advantage of their beauty because they could easily be combined with a dressy shirt or trousers.
Nowadays, we see that the wide legged pants are so trendy, therefore you can style your long unique necklaces with such pants and end up with a very chic and modern style.
Give dimension to your outfit with a long unique necklace
Via Pinterest
You can wear them all year round with no effort. For example, in the summer times if you prefer to dress up with brighter and white clothes, then get yourself a colorful long necklace and make your outfit more eye-catching and playful.
Take your monochrome outfit to the next level with a long necklace
Long necklaces are great with jeans, casual looks or very chic night out outfits as well. They are very versatile and adjustable according to your fashion style. Feel free to add a pair of heels if you want an elegant result or sandals for a comfy wear.
Long necklaces are a great combo with a chic outfit
Left: Triangle and Dots Tassel Long Necklace; Right: Beautiful Golden Tassel Statement Necklace
By Happiness Boutique
These two long necklaces from Happiness Boutique have a delicate chain and tassels as pendants. They will definitely give a twist to any of your styles because of the trendy pendants. In addition, they are very to pair up with other jewelry pieces.
3. Modern layered necklaces for an attractive look
Another super trendy look that you can create on your own is the layered necklace effect. You can purchase a pre-layered necklace or make it yourself.
Simply add three or four different necklaces and you are ready. However, try to select necklaces that go with each other so you can keep the same thematic.
For a trendy look wear a layered necklace
Via Pinterest
Also, you can add different in length necklaces to give more interest to your outfit. If you happen to be wearing a deep V-neck, then you can add a longer necklace in combination with a shorter one. Here, you are the creator, therefore let your imagination create a truly unique combination of necklaces.
In addition to your fashionable style wear a layered necklace
The good thing about the layered necklaces is that you don't need to add any other accessories because they will embellish your look just enough to make it more modern and fashionable.
But, if you are the type of lady that wants to show her love for these delicate and precious pieces - feel free to add a stack of delicate rings or a dainty bracelet.
Any of these unique necklaces will enhance your outfits
Left: Circle Layered Necklace Rose Gold; Right Pearl Star Layered Necklace Rose Gold
By Happiness Boutique
Very trendy and delicate, these two layered necklaces from Happiness Boutique are so cute and girly. You can wear them with any outfit you like because of their delicateness.
4. Cute and unique necklaces for a girly look
For the spring and summer you can accessorize your looks with bright colored or pastel colored unique necklaces. They look very modern, fresh and fashionable. You can wear them with more simplistic outfits and let your necklace be the statement piece of your look.
In addition to your professional look wear a cute necklace
The pastel colors of this necklace look so feminine and gentle. You can wear similar necklaces to work, for special occasions or whenever you want to take your outfit to the next level. In addition, you can wear your hair in a cute hairstyle if you have a special event or leave it down.
For a different style wear a different kind of unique necklaces
These unique necklaces are so attractive and could give an instant interest to any of your styles. Feel free to wear them with heels for a more elegant and feminine style or with flat shoes for easy walking. Plus, the fresh colors of these necklaces will definitely put a smile on your face.
Add a girly touch to your chic outfits with this unique necklace
Left: Pastel Colors Statement Necklace by Happiness Boutique
Here is a super feminine and modern statement necklace from Happiness Boutique. This jewelry piece will decorate your outfits in a very gentle and cute way. Feel free to check them out.
5. Add a crystal necklace to your look for a feminine style
Crystal necklaces look very appropriate for special occasions such as wedding, prom, parties or birthday celebration. However, if you know how, you can rock these sparkling babies to work or even on a daily basis.
Give a dazzling style to your outfit with a crystal necklace
In addition, they look great with a dressy shirt, therefore you don't have to worry that you will look too glam at the office. Also, you can leave it as your statement piece because crystal necklaces are already very detailed and shiny.
Floral necklaces are great for feminine and professional outfits
Crystal necklaces could be worn with detailed or simple outfits. These necklaces look very luxurious and their sparkles could make any outfit more dazzling and attractive. Many ladies like to spice up their old or basic looks with similar necklaces.
6. Accessorize with a wrap choker for a trendy look
Embellish any of your outfits with one of the most versatile and modern necklace - the wrap choker. This type of choker is so comfy to wear because of the velvety soft material. In addition, you can wear it in so many different ways.
A must have for the season – a wrap choker
Via Pinterest
Feel free to rock this necklace with your girly outfits. For example, a modern dress paired up with heels and a cute handbag. Or, wear it with your most casual t-shirt and jeans look. No matter of your style, the wrap choker is always a good idea.
Add a versatile and timeless piece to your wardrobe, called – choker
Via Pinterest
Wrap choker are also great with winter outfits because it is always great to be able to jazz up your sweaters and jeans. You can wear it by wrap it around or you can leave the stands hanging off. This way you will give dimension to your look.
Any of these wrap chokers will make your outfits better and more stylish
Left: Timeless Wrap Choker; Right: Lace Tassel Choker Set
By Happiness Boutique
You can wear a single wrap choker or a set of two and combine them together. These two wrap chokers from Happiness Boutique are very popular at the moment, therefore don't hesitate to check them out.
7. Modern and unique necklaces for your fashionable looks
As we speak about choker, we should definitely add the metallic chokers to this list. They look so fabulous and amazing. In addition, you can wear them in combination with other necklaces and create the layering effect or wear them solo.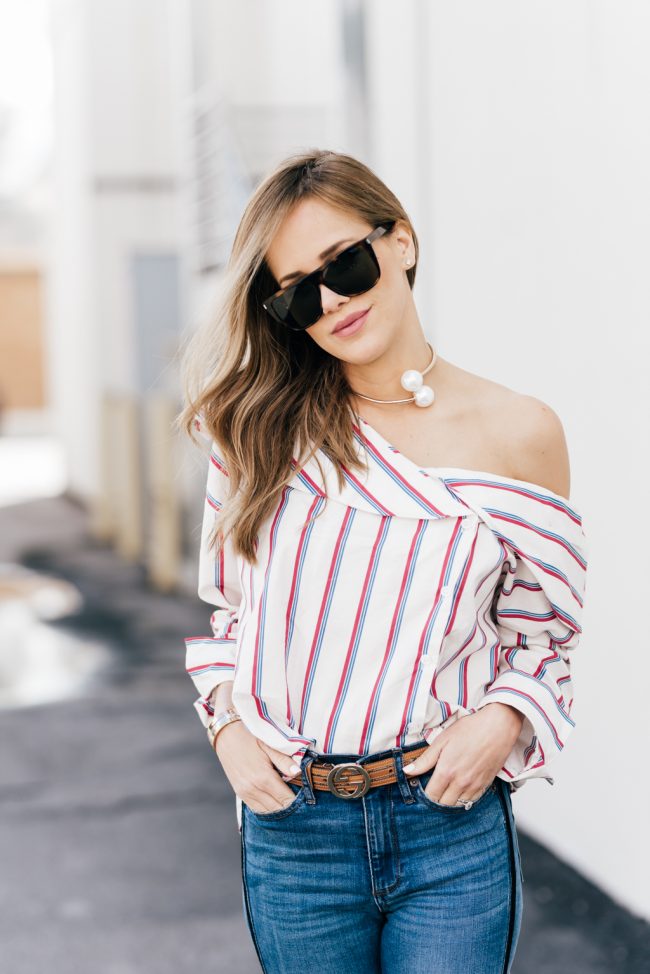 Metallic choker are such a fashionable and edgy accessory
Via Pinterest
This type of chunky metallic choker is great for work or special occasion. It will definitely give you a very futuristic, yet elegant vibe. For example, you can wear it with a strapless dress for a very elegant style. Or, you can wear it with trendy tops and show your girly and feminine side.
Give your look a touch of chicness by adding a delicate metallic choker
Via Pinterest
Furthermore, if you prefer delicate jewelry pieces, then a delicate metallic choker could be a great option for you. It is very comfortable, versatile and modern. You can easily wear it with all kinds of outfits or pair it with other jewelry pieces such as rings, bracelets or stud earrings.
In addition to your trendy looks wear a unique choker necklace
Left: Glitter Choker Rose Gold; Right: Bubble Bliss Pearl Choker Necklace in Gold
By Happiness Boutique
Any of these two metallic chokers from Happiness Boutique could make your outfit more modern and refreshed. You can easily style them with any outfit that you prefer because these chokers are very adjustable.
8. Wear a pearl necklace for an elegant style
Even the classic pearl necklace could be so unique, therefore if you are looking for something classy, yet modern and elegant, then you should check out these following styling tips.
Although, in most cases, pearl necklaces are worn with dressy outfits, there is always a possibility to wear them in a more casual or day to day way.
Make a statement with a chunky pearl necklace
For example, you can wear pearl necklaces to work, while shopping, and of course to business meetings. Throw on a satin shirt, a pair of heels and a pencil skirt, and you are all set for your important day.
In addition to your vintage or classic looks wear a pearl necklace
However, you can wear a choker pearl necklace, which is so unique and remarkable. This type of pearl necklace is definitely great for daily outfits. For example, try to wear it with a simple top and jeans or skirts. It looks very feminine, yet appropriate for any casual look.
Any pearl necklace is always appropriate
Even chunky pearl unique necklaces could be worn with more daily outfits. You can keep it girly by wearing a skirt, but it is definitely possible to wear this pearl necklace with super casual and basic looks. The best thing about the pearl necklaces is that you can wear them the way you want rather than styling your outfit based on the necklace.
Add a timeless piece to your collection such as these two pearl unique necklaces
Left: Pearl and Diamond Statement Necklace; Right: Pearl Blossom Statement Necklace
By Happiness Boutique
These two chunky pearl necklaces from Happiness Boutique are super versatile and elegant. You can wear them in many different ways with no effort, therefore feel free to check them out.
9. Unique necklaces with crystals for a galaxy inspired look
One of the latest fashion trends is this galaxy and stardust crystal necklace. It looks very magical and celestial inspired. It is very bendable and appropriate for any kind of occasion. In addition, you can add a similar bracelet or a pair of earrings to complete your galactic look.
Smashed crystals? Yes, please!
Via Pinterest
This necklace is very lightweight and versatile because you can style it with a casual t-shirt or with a fitted dress for a night out look. Plus, the tiny crystals will gently sparkle as you move around, which is a very interesting and attractive effect.
For a sparkling look wear a stardust crystal necklace
If you want unique necklaces that are possible to wear day or night, then these bendable and filled with tiny crystals necklaces will be just the right on-the-go jewelry for you. They look great with working outfits such as a fitted shirt and trousers. Or, you can spice up your plain or old outfits.
Finally, I hope that you enjoyed this blog post and find it interesting. In addition, I hope that you liked these styling tips and ideas on how to wear unique necklaces.
These are our favorite picks, how about you? What kind of necklaces have you been wearing the most lately?  
Don't be afraid to share your favorite types of unique necklaces in the comment section or to hit the like button if you like our selection.
Thank you & Happy Styling!
Save
Save
---