When we think of wrap dresses, wrap rings or even wraps in a fast food restaurant, we can imagine what the wrap bracelets could look like. It is not just a jewelry piece that you place on your wrist, but a design that could wrap around your skin.
In addition, wrap bracelets are really cool and popular at the moment. If you don't really know what I mean, then feel free to read further and explore the amazing world of wrap bracelets.
Unexpected and trendy designs that could suit any of your occasions or personal fashion style. 
I hope you will enjoy these ideas and styling tips on how you can wear your wrap bracelets.
Happy Reading!
1. Minimalist wrap bracelets for a subtle and modern look
Minimalist inspired bracelets don't have to be necessarily subtle. They could have a very statement and visible design, but it has to be consisting of very clean and basic lines.
The minimal trend is all about the basics, which give us so many options to play around and style them the way we want.
Wear minimalist wrap bracelets for a modern look
For example, a knot bracelet that has a very interesting and unusual design because of the knots themselves. You can easily combine your minimalist bracelet with statement, detailed or other minimalist inspired bracelets.
Add a modern touch to your look with a minimalist bracelet
Via Pinterest
In addition, these bracelets are very comfortable to wear because of their lightweight and simplistic design. They are great to be worn at work, while on a business or leisure trip, to art galleries or museums.
2. Wrap bracelets with pearl accents for a feminine style
Any jewelry piece that has pearl elements on it could become a very feminine and elegant item. However, pearls are also great with more modern accessories, therefore no matter of your style pearls will always look great.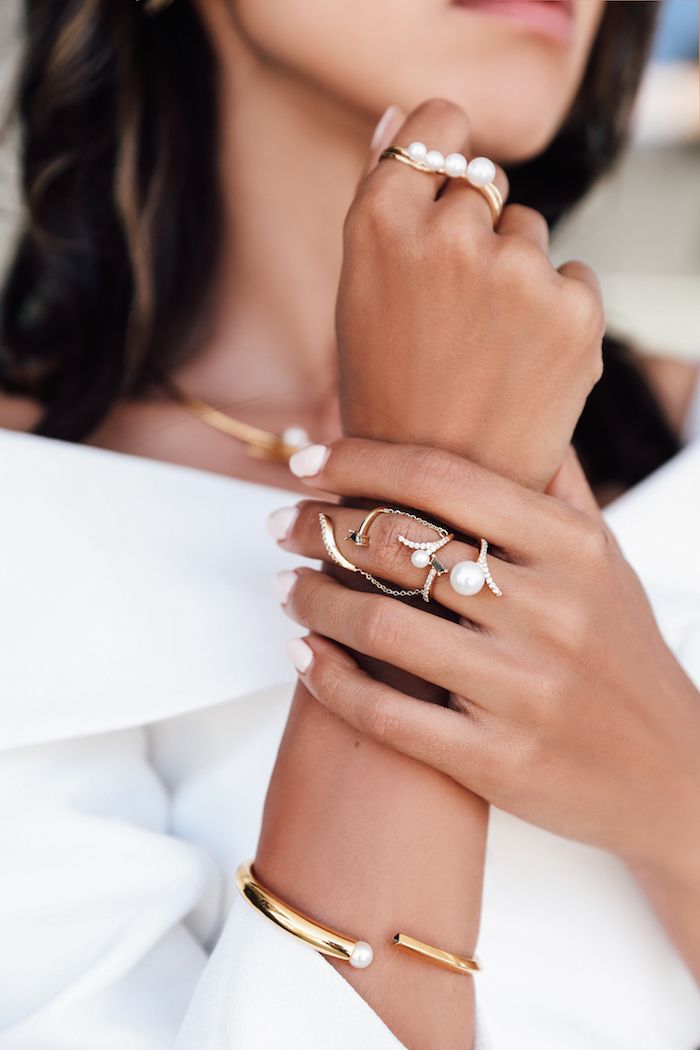 Bracelets with pearls have a lot of elegance to them
Via Pinterest
In reality any type of a bracelet could be considered a wrap bracelet because they all wrap around your wrist. Weather you go for a cuff bracelet or delicate bracelet with pearls you are guaranteed to end up with a very stylish look.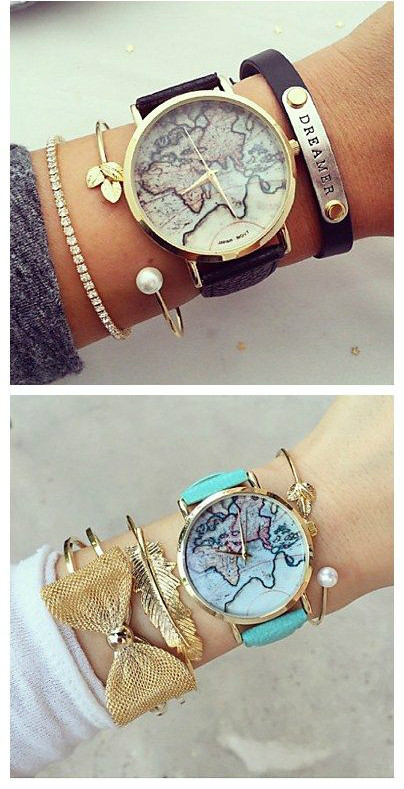 Give your look sophistication with a pearl wrap bracelet
Via Pinterest
These wrap bracelets could be worn all year round and they are very easy to pair up with other bracelets, especially if you want to achieve a stacked look.
Try to combine together delicate bracelets to get a feminine and subtle look or a combination of delicate and statement bracelets for a more visible style.
3. Leather wrap bracelets for an urban cool look
Bracelets made from faux leather or real leather have a very specific appearance that could not be for anyone. But if you want a visible, confident and almost masculine look, feel free to give them a try.
For a masculine inspired look wear leather wrap bracelets
In addition, these leather wrap bracelets could be styled with very delicate rings to balance out the style. This way you have one bold and one delicate piece to give your look a cool melange of styles for a truly unique outfit.
Leather wrap bracelets are so trendy this season
Also, if you want to dress up your leather wrap bracelets just throw on a pair of high heels, a stylish handbag and a pair of skinny jeans that will give the illusion of long and feminine legs.
If you get creative with your accessories you can easily transform any of your looks into a more stylish, elegant, casual or whatever you want style.
4. Wrap bracelets with sharp ends for a trendy look
Another trendy style of the wrap bracelets that is rising lately is bracelets with sharpy ends. These sharp ends could be made from stones, marbles or just blend with the rest of the bracelet. A very young and fresh look.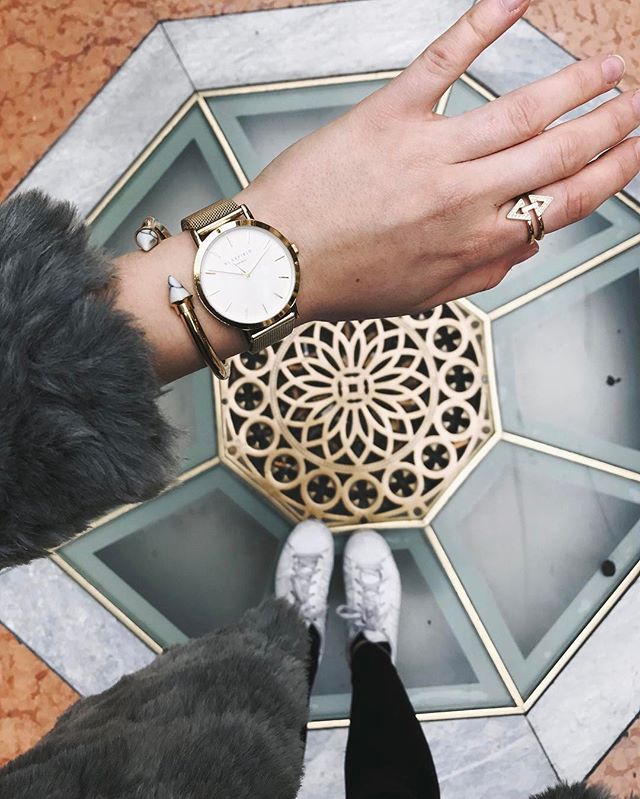 Sharpy ended bracelets look so cool and remarkable
Sharp Point Double Spike Cuff Bracelet with White Marble by Happiness Boutique
These jewelry pieces are also very easy to pair with other bracelets or simply with a watch for a more stylish look.
And, their design will instantly refresh and give a modern touch to any of your looks. In addition, you can choose from a silver, gold or rose gold color depending on your outfit and accessories.
Add to your look a sharp ended bracelet for a trendy style
Double Spike Cuff Bracelet in Rose Gold by Happiness Boutique
In addition, you can stack your sharpy point bracelet with other similar bracelets or with bracelets made from other materials to spice up your look a little.
Depending on the bracelets that you choose to stack with your sharpy one, you can end up with a perfect boho look, hipster look or a stack that is appropriate to wear at work.
Add any of these to your collection to freshen up your looks
Left: Double Spike Cuff Bracelet in Rose Gold; Right: Turquoise Bangle Cuff Bracelet
By Happiness Boutique
If you happen to love these sharp ended wrap bracelets fee free to check out these ones from Happiness Boutique. In the collection you will be able to find similar bracelets in rose gold or gold.
5. Marble wrap bracelets for a stylish look
There is no doubt that any jewelry that has marble on it has a very elegant and sophisticated appearance.
Also, the marble gives a very luxurious style that you can wear with confidence. In addition, you can match your marbled bracelets with a necklace that has marble on it for a more complete look.
Wrap bracelets with marble effects are so chic
Via Pinterest
Wrap bracelets with marble on them could evenly look good when worn with sneakers as well as with heels. You can rock this look to parties, to school or work or just for fun.
Furthermore, if your marble bracelet is delicate you can wear it in combination with minimalist inspired bracelets for a very modern and sophisticated look.
Bring chicness to your style with a marble wrap bracelet
White Marble Cuff Bracelet in Gold by Happiness Boutique
If you decide to pair your bracelet with just a watch, then try to match the metals of your bracelet to your watch. For example, a gold bracelet with a golden watch or silver bracelet with a silver watch. It looks very stylish, delicate and cool!
These two marble bracelets look so luxurious
Left: Minimalist Style White Marble Bracelet; Right: Black and Gold Effect Arrow Cuff
By Happiness Boutique
These two marbled wrap bracelets from Happiness Boutique could make any of your looks more catchy, chic and modern. They could be a great addition to any lady's wardrobe.
6. Casually chic wrap bracelets for any of your looks
If you want to add a versatile piece of jewelry to your collection, then you can get yourself one of these following bracelets. They are great to be dressed up or worn super casually.
Also, you don't need to add other bracelets or jewelry pieces to make a statement. These wrap bracelets are just enough to make your outfit more interesting and special.
Make any of your looks more interesting with a chic wrap bracelet
These wrap bracelets have a very cute and elegant detailing to give you the sparkle that you outfit was missing. At the same time they are pretty comfy to wear and easy to pair with any type of an outfit.
Stylish wrap bracelets are perfect for special occasions
The styling of this wrap bracelet depends on your personal preferences. Try to wear it with a fitted sparkling dresses when you go to parties or other special occasions. Or, wear it to a brunch with friends for a very casual style.
7. Wrap bracelets with stone elements for a symbolic and festive look
For all the ladies that like stones and symbolism, you can accessorize your outfit with a wrap bracelet that has stones.
Furthermore, you can select a stone to bring you a certain energy or to cleanse your energy, therefore you end up with a trendy piece of jewelry that has a symbolic meaning to you.
For a festive look wear wrap bracelets with stones
Via Pinterest
If you understand the meaning of the different stones you can even stack up a couple of stone wrap bracelets to achieve the wanted energy. However, if you don't research the meaning and power of the stones they still look very feminine and trendy.
Energize your aura with a stone wrap bracelet
The natural vibe of these wrap bracelets is what makes them so special and unique. Also, the pastel colors enhance the look in a very elegant and sophisticated way. You can wear similar wrap bracelets in combination with a delicate ring or necklace for a fuller look.
For the perfect boho look wear wrap bracelets with stones
Left: Classic Teal and Silver Bangle; Right: Strength Statement Bracelet
By Happiness Boutique
For the ladies that appreciate jewelry pieces with stones, here are two recommendations from Happiness Boutique's collection. These wrap bracelets are great for your vacation or travel outfits.
8. Glam bracelets for an elegant look
If you have any special occasions coming up you can accessorize you glam looks with a wrap bracelet with glitters and rhinestones. They could make your outfit much more elegant and stylish.
Glam up your normal outfits with embellished wrap bracelets
You can wear similar bracelets with your professional outfits or fashionable look. Don't hesitate to combine your glamorous with other chic bracelets for a super modern, but chic look. You don't need a night out outfit to be able to rock this item.
Brighten up your style with a rhinestone bracelet
Glitter Cuff Bracelet Rose Gold by Happiness Boutique
Also, you can wear this wrap bracelet with other sparkling and shining rings. The stacked trend is still widely worn, therefore don't be reluctant to try it out. Feel free to wear this type of bracelet all year long, because it is so versatile and timeless.
Wear more glitter to be less bitter
Left: Glitter Cuff Bracelet Rose Gold; Right: Gemstone Cuff Bracelet Rose Gold
By Happiness Boutique
These two wrap bracelets from Happiness Boutique could bring a lot of elegance and an individual style to any of your looks. Don't hesitate to check them out! 😊
9. Boho wrap bracelets for a super easy-going style
For your festive or elegant outfits you can always go for a boho inspired bracelet. You can choose a bracelet that has boho elements such as feathers, stones, arrows or dream catchers.
In addition, the best thing about these bracelets is that you can dress them up or wear them casually.
Bohemian wrap bracelets are perfect for the summer season
Feel free to style your boho inspired wrap bracelets with heels and girly dresses for an elegant boho style. However, you can perfectly wear them with jeans, shorts and sneakers.
Bring out your free spirited soul with a boho look
One of the most popular of styling these boho inspired wrap bracelets is by wearing a free spirited dress with brown booties. You can also style your hair in a cute boho way to enhance this style.
For a free spirited look wear any of these two boho wrap bracelets
Left: Free Spirit Feather Charm Bracelet in Gold; Right: Minimalist Style Arrow Bangle in Gold
By Happiness Boutique
For all the boho loving ladies you can accessorise your looks with these free spirited bracelets from Happiness Boutique. They could go very well with high waisted shorts and a crop top.
10. Stacked wrap bracelets for a super trendy look
Of course you can indulge into the world of the stacked bracelets. Try to experiment with bracelets that speak to your personal fashion style so you end up with a truly unique style. Here the best thing is that you are the creator of your own style.
Stack up your wrap bracelets for a remarkable style
Via Pinterest
It is possible to stack up different kinds of bracelets for a cosmopolitan look. Based on your style you can select wrap bracelets that could go with your vibe. In addition, you can style different kinds of bracelets for a remarkable look.
Stacked bracelets are so trendy this season
Stacked bracelets are especially great for the warmer days where you show off your creation. Try to wear your chic bracelets with more dressy or girly outfits, but it is possible to wear them with just a t-shirt and shorts or jeans.
Finally, I hope that you enjoyed these styling tips and ideas on how you can wear wrap bracelets. There are endless options, therefore you will easily find the right style for you.
Also, you can wear wrap bracelets with any of your looks you just need to pay attention when selecting the type of the bracelet.
Wear wrap bracelets and be happy!
Via Pinterest
In addition, don't hesitate to share with us your favorite style and how do you like to wear them. And, feel free to let us know if you like to try out some of the styles that we share with you.
Thank you & Happy Reading!
Save
---