Minimalist Jewelry - How to Style Minimalist Jewelry
It is just so hard to get enough of this minimalist jewelry trend that has been going on for some time now. This is why I will share with you some styling ideas on how to wear your minimalist jewelry. Also, if you are one of those people that has fallen in love with these delicate jewels, then please keep reading. In addition, you can learn about some very cool and interesting suggestions on what to buy and how to style your minimalist jewelry.
In addition to dressy outfits wear stacked bracelets
Sometimes it is even pointless to buy the biggest trends. They are harder to pair up with everything you have in your closet and only here to stay for a while. However, this is not the case with your minimalist pieces. They have very simple and clean lines, less colors and discreet way of presenting your sense of style, which means that they could be worn at any moment you'd like.
Minimalist rings are so easy to style and look just amazing on the hand
Currently, the most preferred ways of styling minimalist jewelry is by stacking them all together. For example, placing different types of delicate rings and distribute them to your fingers
Featuring Minimalist Style Wrap Ring Gold
It is very popular to create a layering effect by combining one long and one short delicate necklace to your look and ta-taah!
If I got your attention then let's get to these easy styling ideas for your minimalist jewelry!
1. Delicate necklaces for a Parisian look
Add a Parisian-inspired style to your looks by pairing up a quality basic t-shirt with a delicate necklace. This way you will make your outfit very neat, clean and classy because of its simplicity. Also, try to go for some trendy flat mule shoes. However don't underestimate the power of the delicate minimalist jewels.
Flat mule shoes, leather jacket and minimalist necklaces are a perfect combo
You can always take one of your very long minimalist necklaces then turn it into a beautiful double chain that can perfectly accessorize your V-neck top. To really approach the Parisian stylish way of dressing take a thin scarf to add an extra interest to your look. In addition, the good thing about minimalist jewelry is that you can always combine it with other accessories. For example, a long thin scarf that will match with your minimalist necklace for a sophisticated Parisian look.
Parisian-inspired looks are so feminine and stylish
 Minimalist jewelry allows us to achieve a class, an eye-catching style and a trendy look. You can simply add a discreet jewel that is just enough to complete the desired look. Also, it is very easy to combine such a necklace with other accessories to get a truly unique design.
2. Stacked rings for a cool hipster look
Normal skinny rings or midi rings are very easy to style. In addition, you can team them up with any of your outfits to achieve a trendy hipster look that will definitely change a little your normal way of dressing.
In addition to your hipster cool look wear a stack of jewelry
Via Pinterest
Minimalist jewelry is the perfect stacking accessory because it will never look over-the-top or tacky. Furthermore, you can create endless combinations according to your style and preferences.
Normal and midi rings for a very stylish look
Stacking up different kinds of minimalist rings is a good way to make a statement to your look. For example, you can take a delicate golden wrap ring then pair it up with other similar rings to complete your style.
You don't necessarily need big or colorful pieces to look stylish or trendy. Throw on your favorite outfit and accessorize with many skinny rings to refresh and modernize your oldies.
3. Layered jewelry for a fashionable style
The layering style is definitely one of the most preferred trends. It looks very feminine, remarkable and fashionable. You can also combine different types of minimalist jewelry to give interest and dimension to your look.
Layer up all kinds of minimalist jewelry for a perfect fashionable look
Via Pinterest
For example, try to pair up your delicate layered necklaces with your skinny minimalist rings or bracelets to achieve a very cute futuristic look.
Featuring "Layered Lucky Charms Necklace in Gold"
You don't always have to layer all of your minimalist jewellery together. However, you can buy at least  two different in length delicate necklaces that would perfectly go with your open necklines.
Combine a longer and shorter delicate necklaces for a trendy style
Or, you can accessorize your look with different kinds of minimalist bangle bracelets that will make your look very neat and elegant.
Professional attires in addition to minimalist bangles
Graceful minimalist jewelry style is great for professional attires. You can always buy yourself a couple of dainty clean lined cuff bracelets to end up with a very stylish look.
4. Chokers and dainty accessories for trendy look
Wear a velvet choker along with your layered minimalist jewelry for an ultimate modern look
The elegance in this look comes from the basic shapes and alignments presented by the velvet choker along with the layered necklaces that prove us that simple is not boring.
Combine different metals for a modern look
It is amazing how many choices we have when it comes to chokers. You can always buy a choker such as this minimalist golden choker necklace then pair it up with one of your longer simple shaped pendant necklaces to recreate this noticeable stylish look.
5. Minimalist stacked jewelry for a cool look
If you like your monochromatic outfits, but want to give them a personal touch, then you can always pair them with your minimalist jewelry.
Give a color to your all black outfit with minimalist necklaces
Style your black-on-black outfit with some stacking rings
Basics are great for everyday styling. Plus, they are effortless to put together, but at the same time look as if we've really took our time to style them.
6. Hoop earrings for a vogue-like look
Clean lines, geo shapes, flat designs, and highly polished are some of the characteristics of the most preferred minimalist inspired hoop earrings. They look very voguish and modern when styled with your casual, professional or dressy outfits.
For an elegant look add a pair of geometric hoop earrings
These modern looking geo shaped hoop earrings are typical of the minimalist trend. However, let's not forget that minimalist doesn't necessarily mean delicate, but rather emphasizing the beauty of simplicity and basic shapes that could make your look very chic and stylish.
Featuring "Bold Hoop Earrings Gold"
Plated geometric hoop earrings look so classy and stylish
Here, we notice that these earrings are a great example of a chunky piece of jewelry that is still considered as a minimalistic jewelry. Try to pair them up with your dressy outfits to make your look stand out from the crowd.
Get a pair of hoops and wear them with confidence and elegance because they look simply amazing!
7. Cuff bracelets for a modern look
Cuff bracelets! You have probably seen this style since many fashion bloggers, models and celebrities have been showing their love for this minimalist jewelry trend. It look very simple, yet chic and modern, especially when you pair it up with your favorite watch.  
For example, you can easily pair up a simple classy bangle with a delicately engraved and accessorized with rhinestones circle bracelet to end up with a very chic and modern style.
Chunky warm sweaters and cuff bracelets are a must have
Featuring "Arm Party Rose Gold Bracelet"
Please feel free to check out some of the stylish and trendy minimalist bangles from Happiness Boutique. You can take, for example, this Classy Silver Clasp Bangle and pair it up with your daily outfits for school, work or any of your special events. Yes, this is how versatile and adaptable these stunning pieces are!
For a graceful look add a minimalist bracelet with a pearl pendant
Via Pinterest
The minimalist jewelry trend allows you to easily style your pieces according to your personal way of dressing. For example, if you like classy and elegant jewelry, then I recommend that you add to your collection a simple pearl cuff bracelet for a modern elegant style that you can easily combine with a delicate lucky charm necklace.
8. Ear pins for a girly and artsy style
If you want a distinguishable pair of earrings with a modern touch to them. I suggest the minimalist ear pins that will instantly make your look more artsy and girly.
Ear pins are the perfect add-on to your artsy outfit
source unknown
These ear pins are so versatile and suitable for all your dressy, trendy or casual outfits because of their simplicity and minimalist sophistication.
Stack your ear pin with some minimalist rings for a very girly look
You can always combine your delicate ear pins with some stacking rings to complete your discreet minimalist fashion style.
Combine your ear pin with a cute minimalist bar necklace for a stylish look
Featuring "The Sign Curved Arrow Stud Earrings Rose Gold"
For example, you can combine a beautiful pair of ear pins such as this curved arrow pin from Happiness Boutique along with a cute minimalist bar necklace to get the perfect modern and personalized look.
9. Chunky necklaces for a bold look
Chunky necklaces with simple clean lines could give your look the chicness and modernity needed to achieve this stylish trend.
Big sweaters and minimalist-inspired necklaces for a fashionable look
You will definitely turn some heads and receive compliments for your ability to put together statement pieces and make them look so modern and chic.
Wear an elongated arm cuff with your summer outfits for a very chic look
Elongated pieces with clean lines such as this arm cuff are a great way to show your passion for the minimalist jewelry. If you like printed or very detailed clothing you can accessorize with such simple, contemporary and trendy items. 
Wear a metallic choker for a top fashionista look
source unknown
Thick metallic chokers are the perfect add-on to your minimalist jewelry collection. You can also wear them for night-outs or special events where you want to be the top fashionista.
10. Wear a hairpin for a feminine look
I know that hairpins are not a jewelry, but I decided to include them because they are super trendy at the moment and can also give you a very feminine and neat look to your outfit. Many of us have long hairs that we like to style in a very cute, but easy way.
What a better way to express your feelings for this trend than by styling your hair in seconds with a minimalist-inspired hairpin.
In addition to your cute wear add a girly and stylish hairpin
Besides from being very popular right now, this accessory is very useful. Also, it can make our daily lives much easier. It is great for all these moments that you don't want your hair in your face! For example, you can pull this look for work, school or your careless vacation times.
11. Stacked bangles for a funky look
Just the way we like to stack our midi rings and minimalist style rings, we can  combine a lot of simple bangles to create a very funky look. This look is great for all the ladies who like to wear a lot of jewelry. You will hardly have enough when wearing minimalist jewelry.
Ripped jeans in addition to stacked bangles for a cool look
Try to combine these bangles in addition to a pair of boyfriend jeans or a detailed top for a cool girly and unconventional style.
In addition to your chic outfit wear a stack of funky bracelets
You can stack up your cuff bracelets for a casual or dressy look with no effort. However, make sure to also buy some cuff bracelets that are simple or monochromatic  to complete your minimalist hip style.
12. Triangle earrings for feminine look
If you prefer to wear your jewelry in a very subtle  way, then I recommend that you also draw your attention on a beautiful pair of triangle earrings, which are great for any style or outfit.
In addition to your discrete and girly look add a pair of triangle earrings
source unknown
These earrings are suitable for the working or going to school ladies that like their jewelry but the environment doesn't allow them to go over the top. In addition, they look very feminine and discreet. At the same time you can shaken up your normal outfit.
Featuring "Geometric Triangle Stud Earrings"
Endless options of triangle earrings to show your passion for fashion
Via Pinterest
There are endless options to choose from so indulge yourself into these delicate and feminine pieces that will definitely give a minimalist and also stylish twist to your overall look.
13. Tube rings for a modernize chic look
Tube rings are an exceptional add-on to your outfit to make it more modern and sleek. Also, these statement rings  are great when comes to representing the minimalist jewelry trend.
In addition to tube rings wear your modern outfits
Via Pinterest
I suggest that you place the thickest ring on your middle or ring finger to balance out the various sizes of the rings on your hand. In addition, these rings also could be worn with casual, funky or dressy outfits.
Stack your geometrically shaped rings for a very stylish and trendy look
You can always get yourself a stunning minimalist heart beat ring such as this one offered by Happiness Boutique. This piece is a statement on its own that will definitely make your outfit more funky and trendy. Also, you can pair it up with a cute love statement bracelet to complete the look.
Tube rings and arm cuffs are the must have pieces for a minimalist look
When you combine different in size or thickness tube rings, you add a fierce and trendy touch to your look. You can create your own sets of rings to end up with an original style that will express your persona.
When you try to achieve the minimalist-inspired look make sure to focus on jewelry or accessories with clean lines, basic shapes and less colors. In addition, the minimalist jewelry trend is very easy to recreate and beautiful to look at.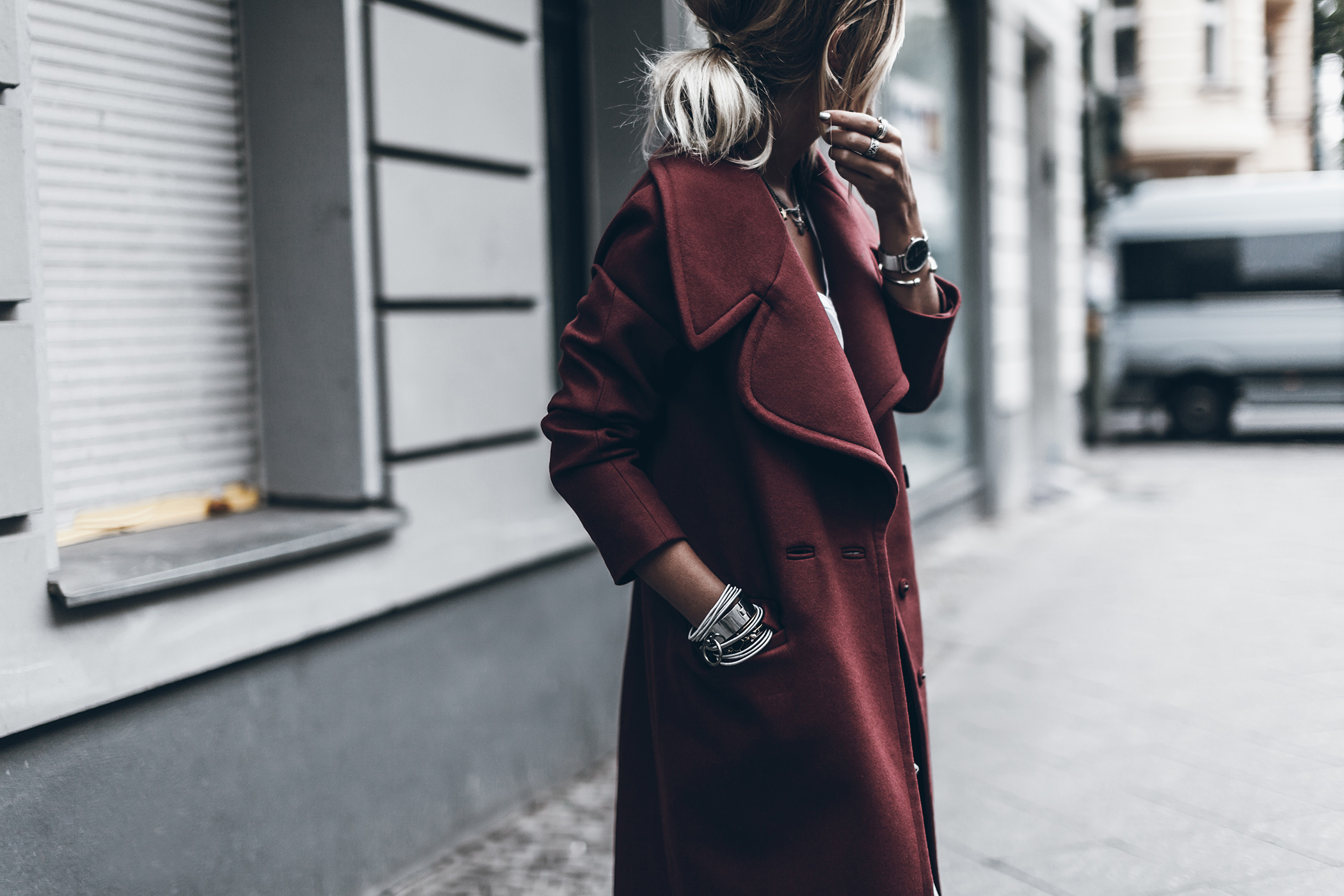 In addition to trendy outfits wear fashionable bracelets
In addition, I hope that these styling ideas for your minimalist jewelry were inspiring and helpful! Also feel free to share your  thoughts or ideas on this trend. Finally, leave a comment to let me know what is your favorite minimalist jewelry look!
Save
Save
Save
Save
Save
Save
---