How to Style Your Golden Jewelry
In today's blog post you can explore the beauty of the golden jewelry and the most trendy and popular pieces at the moment. In addition, you can learn about some really good tips and ideas on how you can wear your favorite golden jewelry pieces.
Golden jewelry could make any of your looks very stylish
Via Pinterest
Furthermore, golden jewelry is perfect to be worn all year long and you can rock these items with any of your outfits. Keep reading to check out these creative, stylish and out of the ordinary fashion styles so you can be able to wear your golden jewelry like a pro.
1. Chunky gold statement necklaces for a bling bling look
Add interest and style to your casually chic or basic outfits by wearing a chunky gold statement necklace.
For many people the chunky chain necklaces are an over-accessorized look, but for others it looks very stylish, especially if your wear the right clothes. Make sure to focus on more simple tops.
In addition to your simple top wear a chunky golden chain necklace
If you want to be extra sparkling and noticeable you can go for a chunky golden chain necklaces with rhinestones. This way you can make your plain outfits much more fashionable and glowing. You can easily wear this type of a look with chic, dressy or even casual looks.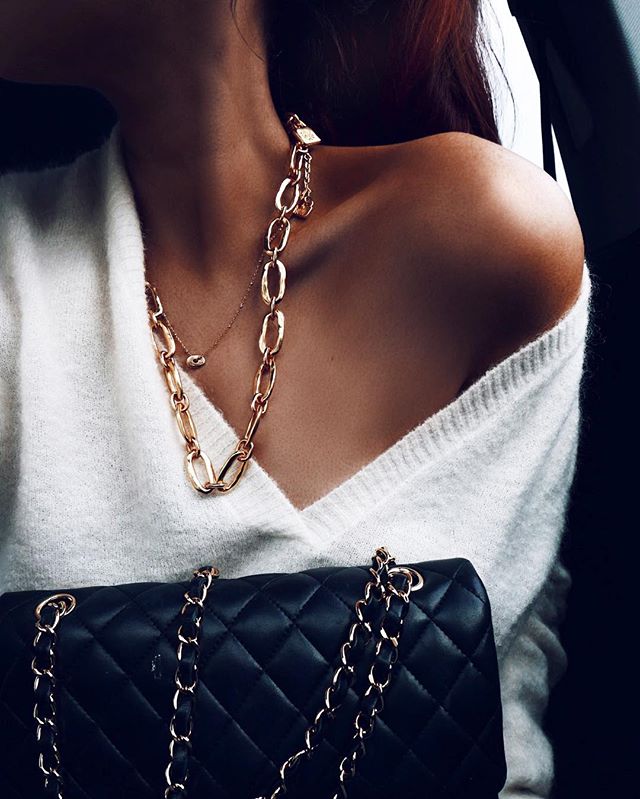 Wear a chunky chain in combination with a delicate necklace for a trendy look
In addition, you can wear other types of golden jewelry to your statement chain necklace such as rings or bracelets, but it is better to focus on minimalist inspired jewelry.
Some people really like to show their passion for big statement pieces that are the centerpiece of their look.
Add a golden crystal statement necklace to your dressy looks for a stylish wear
Golden and Crystal Statement Necklace by Happiness Boutique
On the other hand, if you want to make your necklace the center and main element of your look you can for this stunning golden and crystal statement necklace from Happiness Boutique.
You can easily add a splash of color to your look because of the colorful crystals. Some people might think that this is an over accessorized or too bling bling look, but for others it is a true pleasure to the eye.
For a bling-bling look wear a chunky golden chain necklace
Gold Exquisite Chain Necklace by Happiness Boutique
If you are interested to recreate this style make sure to check out this similar necklace by Happiness Boutique called gold exquisite chain necklace. It definitely has its own personality and it could look very modern and stylish when paired with your outfits.
To complete your look add a pair of matching earrings and a bracelet
Left: Via Pinterest; Right:Golden Chain Earrings exclusive by Happiness Boutique
In addition, to top off your look so it looks more complete you can go for a pair of golden chain earrings. These simple, yet so modern and trendy earrings will instantly make your look more distinctive and catchy. Wear these chunky pieces with more basic and possibly with single colored tops.
2. Mixed silver and golden necklaces for a distinctive look
For a more appealing and elegant style wear a mixed golden chain with a beautiful silver pendant with crystals for a more sparkling look. You can wear this style for work, business meetings or for your special occasions and celebrations.
In addition to your daily outfit add a mixed silver and gold necklace for a distinctive look
Summer Days Statement Necklace by Happiness Boutique
In addition, this type of a necklace will instantly make any of your outfits very stylish because of the crystals. Feel free to wear a basic top and let you necklace be the focal point of your look.
Mixed golden and silver necklaces for a casually chic look
Ecstasy Statement Necklace by Happiness Boutique
Another suggestion for a mixed necklace is this beautiful ecstasy statement necklace from Happiness Boutique that could be worn with casual or dressy looks.
Also, even though it is a statement necklace with crystals you can easily wear it with your comfy sneakers and favorite pair of skinny jeans.
3. Delicate golden rings for a stylish and girly look
If you want to style your chunky and comfortable sweaters in a cute and girly way make sure to also accessorize your hands with a stack of delicate golden rings.
They look so pretty and are so easy to style with any outfit during the whole year. Also, if you want to be extra glowing simply add a couple of rings with rhinestones and you are ready to go!
Chunky sweaters in addition to delicate golden rings are a must have for this season
Delicate rings are a great way to make your looks more completed and stylish, especially when we like to layer up a lot of clothes during the colder days.
Furthermore, there are always methods that allow us to stay trendy and fashionable no matter of the season, therefore feel free to try them out.
Be a lady with class by accessorizing your dressy look with a stack of delicate rings
You can also wear your delicate rings in a very elegant and stylish way. For example, throw on a cocktail dress or more fitted clothes and accessorize with some beautiful and sparkling golden rings.
For this look you can go with heels or if you want to be more comfortable you can wear a pair of trendy sneakers or boots.
Delicate rings are the perfect addition to any outfit
Left: Romance Crowned Pearl Ring; Right: Dainty Flower Ring in Gold by Happiness Boutique
If you are interested in this look make sure to check out these beautiful pieces by Happiness Boutique. Also, if you want to add more rings for a stacked look feel free to check out some of the other golden delicate rings in the collection.
4. Dainty necklace with a pendant for casual everyday looks
Being able to accessorize your casuals and make them better could be a challenge for some people.
Many of us underestimate the power of a delicate necklace with a pendant, but in fact these pieces are very easy to style and have their own personality. Therefore they are perfect for your everyday looks.
Make your look more interesting by adding a pendant necklace
Delicate necklaces are great to be worn with basically any type of outfit. For example, if you want a cute, but comfy outfit combine a trendy skirt and a chunky sweater along with your favorite pair of shoes.
To top off the look wear a longer dainty chain with a symbolic pendant hanging off of it.
V-necks and long pendant necklaces are a great combination
Another way to style your fine necklace is by wearing a V-neck or a top with a neckline in order for your golden jewelry to decorate your naked skin. Also, don't forget to add other types of golden jewelry if you want a more accessorized look where you can emphasize on the jewelry rather than the outfit itself.
For a symbolic look wear a necklace with a meaningful pendant
Left: Half Moon Necklace ;Right: Circle Pendant Necklace by Happiness Boutique
To achieve this cute and stylish look feel free to add some of the dainty necklaces from Happiness Boutique because the vast selection of necklaces will definitely offer you a style that is just right for you and your personality.
5. Golden tassel earrings for a boho-inspired look
Most of us like to enjoy the summer days and what a better way to make your days even better than a good outfit. For example, a pair of tassel earrings that will give you a boho vibe to your look and make it so much cooler and trendy. 
A pair of golden tassel earrings for a careless relaxed look
Tassels, fringes or feathers are great elements that could guide you on how to recreate this boho inspired style. Also, you would need a flowy loose dress for a very free spirited and relaxed wear.
Tassel earrings for a boho-inspired look
Via Pinterest
However, tassel earrings are also perfect for more dressy and elegant outfits as well. There are so many types and designs of tassels earrings that there is no doubt that you can easily find the right one to suit your occasion and style.
Earrings with tassels and golden elements for an easy going look
Left: Boho Statement Earrings; Right: Color Block Tassel Earrings by Happiness Boutique
Here are two suggestion from Happiness Boutique that might be great for your everyday or dressy looks. For instance, if you want to add color and joy to your look make sure to wear these colorful pairs of boho earrings. They are the perfect add-on for casual, gypsy inspired or even dressy looks.
6. Modern golden hoop earrings for a minimalist inspired look
Hoop earrings are a huge fashion trend at the moment therefore if you want a modern and stylish look focus on minimalist inspired hoops. These pieces are very adjustable to any style and this is why they are so easy to style.
Classic hoop earrings for a stylish look
However, if you want a rather dressy and fitted end result make sure to wear an open neckline paired with a trendy pair of heels. For a more distinctive and authentic style focus on jeans that have many patches on them because they look so cool and funky.
In addition to your geometric hoops wear a trendy outfit
Via Pinterest
A true minimalist inspired look definitely requires a pair of geometric hoop earrings. These earrings are so sleek and simple, yet very stylish and transforming your outfit would be so easy. In addition, you can wear these items to work without looking tacky or inappropriate.
There is a pair of hoop earrings for every style and personal taste
Left: Classy Hoop Earrings ;Right: Golden Hoop Earrings by Happiness Boutique
There are many great designs that you can choose from to style your looks. No matter of the style of the earrings you would still look very good because of their simplicity and elegance.
7. Delicate golden layered necklaces for a feminine look
Another fashion crush that many ladies have is the delicate layered necklaces. They give you a fuller and more accessorized look, but in a very discreet and feminine way. Beautiful dainty chains with cute pendants that could easily represent your individuality.
Delicate layered necklaces are great for a feminine look
Also, throw on your favorite top and add the layered necklace and within seconds you have a very stylish look.
In addition to your layered necklace wear a stack of trendy rings
You can wear such a look with your V-necks or without any necklines and still look good. Also, as you can notice, they are perfect for stylish or working attires as well as casual and comfy sweaters that you can wear on a daily basis.
Layered necklaces are the perfect add-on to your fitted and dressy outfits
Left: Layered Lucky Charms Necklace; Right: Layered Geometric Necklace by Happiness Boutique
If you want to try out this beautiful and feminine look don't hesitate to give a glimpse at these stunning layered necklaces from Happiness Boutique.
8. Golden cuff bracelets for a stylish and modern look
How can we miss to mention the golden cuff bracelets in our golden jewelry trends. In addition it is very stylish and modern, but at the same time very easy to pull off look.
In addition to your chunky sweater wear a combination of different cuff bracelets
Via Pinterest
Great look to be worn at work, school, for shopping or any other activity where you want to rock this style. Very chic and sleek this bracelet could instantly make your ordinary outfit more stylish and trendy.
9. Chokers with golden elements for an ultimate trendy look
Golden chain chokers are huge right now, therefore if you want to achieve a super trendy and attractive look you can wear a golden choker and combine it with other dainty necklaces.
In addition to your metallic choker wear a trendy outfit for an attractive look
It is possible to wear this pieces with very busy outfits because the piece itself is very simple and monochrome. Also, wearing a stack of rings in combination to your golden choker is very trendy and looks absolutely amazing.
Minimalist inspired chokers for a catchy look
To make your basic tee more interesting and attractive feel free to accessorize your neck with a golden collar necklace and a couple of short fine necklaces. In addition, it looks very funky and cool!
In addition to your basic tee wear a layered choker for a cool look
Layering Choker by Happiness Boutique
We've mentioned that the layered necklaces are widely worn by many fashionistas, but what about the layering choker. Also, it look very cool and you don't have to think about what other necklace goes well with your choker because this job is already done for you. How easy, right?
Chokers with golden elements for an ultimate fashionable look
Left: Gold Chain Choker; Right: Tassel Choker by Happiness Boutique
Here are some other ideas of chokers with golden element on them that look so great and will instantly spice up your outfit.
10. Golden statement rings for a chic look
If you don't like to wear many golden jewelry you can focus only on one item such as this golden statement ring. In this case, you don't really have to balance the colors of your clothes with your jewelry because no matter what you wear this one piece will still be appropriate.
For a noticeable look wear golden statement rings
Via Pinterest
To accentuate your hand add a cool nail polish that goes with the season and your outfit and there you go. You have made your look very trendy and chic in just seconds.
In addition to your elegant looks accessorize with a stack of golden rings
Via Pinterest
On the other hand, if you prefer to wear a stack of mixed statement and delicate rings than it is better to wear a nail polish that will go with anything such as white or black.
The perfect add-on to every fashion look is a golden statement ring
Left: Early Bird Pearl and Gold Claw Ring; Right: Crystal Half Moon Wrap Ring in Gold
By Happiness Boutique
To end up with a similar look as shown in the photos you can go for these babies with really cool details on them. For example, if you want a more ladylike style go for a statement rings with pearls. Also, if you want a more chill and casual look go for a crystal half moon wrap ring.
11. Wear long golden jewelry for a stylish look
Add dimension and details to your basics by decorating them with one or a couple of long necklaces. For instance, if you want to get imaginative and original, wear a couple of different necklaces such as a long golden necklace combined with a wrap choker where the strand are freely hanging for a stylish look.
Give dimension and interest to your looks by wearing a long stylish necklace
This is a rather delicate style even though there are multiple necklaces combined together.
In addition to your professional attire wear long golden jewelry
Via Pinterest
This longer golden jewelry piece stacked with a shorter one is perfect for the working environment. It looks like just the right amount of jewelry that is suitable to go to work.
Wear long pendant necklaces for a feminine look
Left: Forever Love Long Necklace; Right: Half Moon Long Necklace by Happiness Boutique
If you want to add dimension and style to your basics or you are just in love with the look here are two long golden necklaces with beautiful pendants by Happiness Boutique that could do the job.
In addition, I hope this was interesting and inspiring for you! If yes, please leave a comment and let us know, which style do you like and how do you like to wear it! Today it's all about the gold!
Thank you for reading and happy styling!
Save
Save
Save
---